Hey, Listen! NXNE Updates!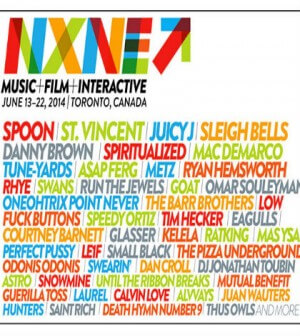 Yo, friends! I'm super excited to announce I'll be covering the North By Northeast festival in Toronto from June 13th-22nd! I'm looking forward to giving you all a look at some of the incredible shows and insane parties I'll be attending – and can hopefully introduce all of you to some new Toronto talent. NXNE offers music, film, comedy and a whole bunch of other awesomeness, so no matter what you're into, NXNE has got you covered. There are a ton of incredibly talented artists playing the festival all over the city, so if I've made you discover your new favourite band by June 22nd, I'll have done my job!
If you want to catch some of the amazing artists I've already filled you in on, take a peek below.
Saturday, June 14th @ 9 PM – Sneaky Dees
Wednesday, June 18 @ 11 PM – Silver Dollar Room
Wednesday, June 18th @ 10 PM – The Mod Club
Thursday, June 19th @ 7:30 PM – Analogue Gallery
Friday, June 20 @ 1 AM – Bovine Sex Club
Sunday, June 22nd @ 2 PM – Live in Bellwoods
Xprime and Stacey Kaniuk
Friday, June 20th @ 9 PM – Cherry Cola's
I'll see you on the dance floor! Oh, and if you showed up and bought me a drink I wouldn't be mad about it…
About Alex Payne
Alex Payne is a fashion student living in Toronto, and a complete pop culture junkie. She's an avid blogger, writing about beauty, fashion, dating, music and film. She's obsessed with cupcakes, Kate Spade and The Simpsons. Oh, and vodka.