Winchester Kitchen
By
Proton
on November 21, 2011
Have you ever had an experience so unreal it stole your vocabulary? Have you ever eaten something that made your eyes give into sheer ecstasy? These are the kind of experiences that shape the history of a location: its memorability. Originally a hotel yet abandoned and left to the throes of time, the Winchester oozes history and today has been re-invented as a restaurant and bar. Located in historic Cabbage town at 51 Winchester street, it is also surrounded by visual chronicles of times past. Unlike some restaurants in the GTA where decadent and luxurious atmospheres are created to 'raise' the quality of the food, the Winchester remains true to its roots. Upon arrival a large staircase is your first foe, lined with crosshatched metal and topped with a sparkling crystal chandelier. Before we enter, a word of caution. This kitchen is not for pretend foodies, the complexities of the menu and the intricacies of the palates will dizzy you. Be prepared to have a dinner that stimulates your senses and aims to seduce every taste bud.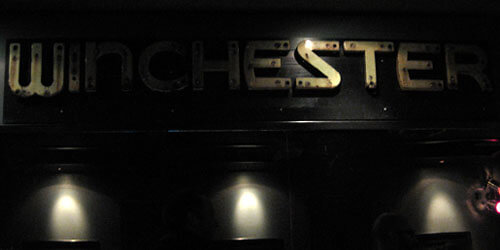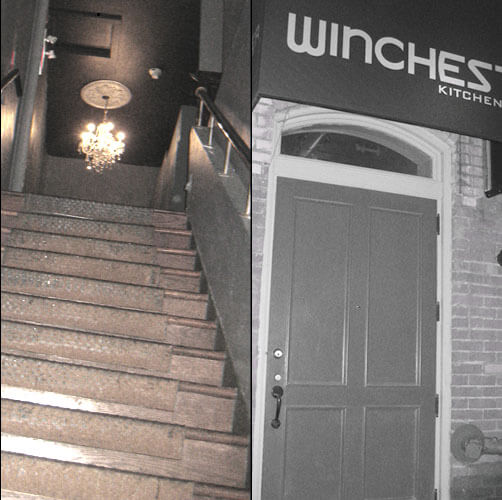 As you walk into the Winchester kitchen, having mastered the stairs and been reminded of your outfit by large mirrors, you are faced with a long room. On your left the bar stretches for what seems like miles, on your right wooden tables are lined up along a long tufted bench and fireplaces cozy at intervals between the windows. On the far end, a stage as the focal point hosts a variety of events like stand-up comedy and karaoke on Thursdays as well as bands on Saturdays. As a dinner guest you face a classic (and fully stocked bar) and are reminded of the history by the original hotel sign in all it's aged glory slung high above.
We were not fortunate enough to meet the owner, but we did have the honor to meet the chef on that chilly Thursday night. Binh Nguyen whose personal history includes the Spoke club is the guardian of the Winchester kitchen menu and his focus is home food. Hearty meals with a focus on local. But what's most impressive is the menu's fluidity, an ever changing list of dishes that will (mark my words, this will be the hardest choice you will ever make with respects to food) have you debating over your dinner choice for hours. Besides an intricate selection of dishes, you can also eat two ways – prix fixe (a separate menu) at a rate of $50 per person you get a choice of one of three of each appetizer, main and dessert. With choices like Roasted Pear and Arugula Salad, Rabbit Gnocchi and a Maple Panna Cotta you won't be dissatisfied by the limited choices. There's a separate chef's menu Thursdays through Sundays filled with goodies that strike both comforting chords but exude a musk of novelty. Aside: There is also an incredible brunch menu that can be found online (yes, brunch doesn't have to be synonymous with summer) as well as the most unique drink menu I have seen at a restaurant.
So let's talk food (and drink). We ordered off the Chef's menu to get a feel for his style and range although we were continuously drawn to the prix fixe menu. We started with the Beetroot Tartare and Three Little Pigs with a sample size of the Braised Lamb Neck Poutine. Yes, those really are the names of dishes and their descriptions are even better, of course tasting them is the ultimate step to Nirvana.
The best part about the menu is that it isn't split into Appetizer and Main, but rather Small and Big which plays on the appetizers as potential meals in their own right (and rightly so). The Beetroot Tartare is an absolute dream. The beets are soft, sweet and fresh whilst pairing them with goat cheese smooths the palate into a creamy delight of sweet and salty. To add crunch, candied pecans are strewed to give you the option for extra oomph. I personally loved the interplay between the beets and goat cheese so much that I ignored the pecans (which in their own respects are a delicacy). Most interestingly I found the cucumbers to be somewhat palate cleansing between bites of richness.
The Three Little Pigs are a man's dream come true. It's a miniature, cracker like version of build your own sandwich. A beautiful wooden tray is brought out with a unique selection of pork meats (a prochetta, rillette, and terrine) and pickled peppers as well as in house made mustard. Your job is to butter up your mini baguette and top it to your liking, then enjoy. Although it wasn't a dish I would personally choose, meat platters aren't what draw my eye or taste buds, I must say that this was delicious. The house mustard was just present enough to take the saltiness of the pork away and the terrine was perfectly balanced. My favourite piggy on this platter however was the rillette, like a rich pate it was flavourful and sumptuous.
Our sample of the Braised Lamb Neck Poutine was the most decadent Canadian classic. What made the difference here was the punch of the white cheddar cheese in conjunction to the gamey flavour of the braised lamb neck. I, clearly not enough of a foodie to appreciate Nguyen's art, thought it had a pork-like flavour but was quickly corrected that what I was tasting was similar to game. I told you this is for serious foodies!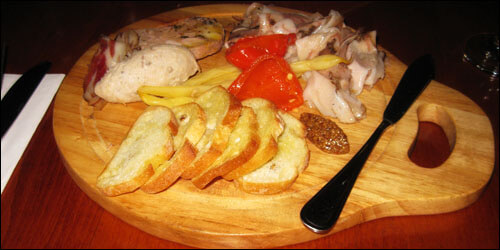 What was extremely nice is that before our main we were brought a lemon sorbet that was meant to cleanse our palates before the climactic peak of our meal. For our entrées we chose the Cabbagetown Rolls and the Smoked Ontario Trout. I need to day dream for a minute here because both dishes were, well, ORGASMIC!
The Cabbagetown Rolls are massive, about the size of your hand, and beautifully executed. Filled in an edited classic European style with ancient grains and pork, topped with tender bits of rabbit and a delicious confit. My favourite feature of this dish was the hint of cinnamon that emphasized the sourness of the cabbage and richness of the pork stuffing.
Thanks to my eastern European roots this dish was a must try and retrospectively I can say that I wish my grandmother could make them like this. Likewise the Smoked Ontario Trout was impeccable. The fish is smoked in house for that classic, thorough smokiness while still remaining tender. Served on bitter greens and fingerling potatoes this dish not only makes your taste buds squeal with joy but has every note of proper comfort food. Smokers are hard to work and many of us who have tried end up with either burned meat or meat that is too dry, and let's not forget that getting an even smokey flavour is yet another hurdle many cannot clear. The Winchester Kitchen has perfected the art and if you want to try a hearty, smoked fish meal, I highly recommend this.
Lastly, and almost impossible to finish because after an appetizer and meal your stomach is at complete rest, the dessert is battered clouds served on a bed of rainbows sprinkled with unicorn dust. No, actually it was just Lime Leaf Panna Cotta but it might as well have been battered clouds. Personally, I love panna cotta and I adore Asian flavours and this sweet afterthought managed to combine both.

The Lime Leaf Panna Cotta is VERY limey (without the sour punch) and if you have ever had anything classically Vietnamese you know exactly what lime leaf tastes like and the flavour I'm talking about. This flavour was embodied in the panna cotta and received a perfect drizzle of blackberry compote. Not only is this dessert rich and smooth on the tongue, but the lime and blackberry pair together perfectly.
Would I order any of these dishes again? Yes, every single one. Is there anything else on the menu I would try? Yes, every single thing. But what about having a nice cocktail with dinner? Ooh boy are you in for a treat. Since The Winchester Kitchen is also a bar, their selection of drinks is extremely thorough.
The drink menu is split into shots, cocktails, and martinis. More impressively, their cocktails are further organized into bourbon, Canadian whiskey, rum, gin, and vodka. Being Canadians at heart we tried a Manhattan (Canadian Club whiskey, sweet vermouth, and bitters) and an Electric Whiskey (Canadian Club, Aperol, lime and sweets).
The Electric Whiskey is absolutely delicious and although it sounds strong it smells like fresh cut orange and is absolutely smooth. Likewise the Manhattan sticks true to a properly made Manhattan with an orange rind that negates the strong aftertaste of the whiskey. Yes, a girl can enjoy a nice Manhattan here without worrying about an after-kick. Other notably named drinks, just to get your liver jumping, Bourbon Slow Fizz, French Kiss, Al Capone, and a sexy Mocha Martini.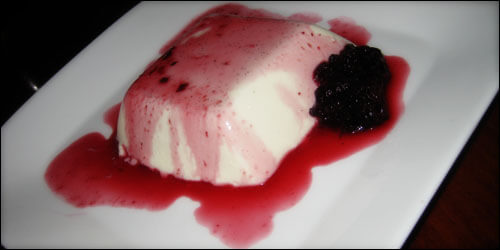 So the Winchester Kitchen and Bar is not only a proper restaurant but also a proper bar. How else will they impress you? Saturday nights they feature live music (for listings see their website listed at the end) and on Thursday nights live comedy followed by karaoke. We were fortunate enough to witness the live comedy show which was hilarious as well as the karaoke which we felt was a bit of a bust. But as our wonderful hostess reminded us, it's hit or miss with which I can only agree full heartedly. No one can control a comedian's script or a karaoke singer's song choice.What I can guarantee however is an electric atmosphere that will never be the same.
If I had to rate the establishment (out of 5) I would allocate 10/5 for food (yes it was THAT good and the portions are very gracious), 10/5 for drink (yes it was THAT good), 10/5 for service (do I have to repeat myself?) and 5/5 for entertainment … it is, after all, more entertainment than you will find at any other establishment with this quality and is not in their direct control.
I strongly recommend the Winchester Kitchen and Bar to anyone looking for a dinner date, an evening with friends, or just a nice after-work drink, but most importantly I strongly recommend you visit a historical part of the city and let yourself be carried away by what it has to offer.
http://www.winchesterkitchen.com/
51A Winchester Street
Toronto, ON M4X 1A8
(416) 323-0051