Top 5 – Scotch Spots in Toronto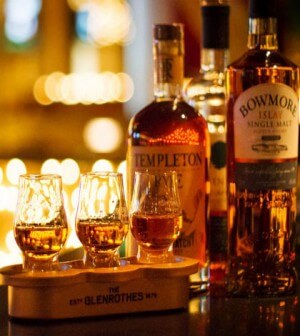 If you're a fan of Scotch, chances are you're: A.) A sophisticated silver fox. B.) An alcoholic with a refined palate. C.) Ron Burgundy.
Whatever the case may be the more pressing issue is, where are you drinking tonight? Toronto is a city where people of all tastes and interests can find their niche, and lovers of fine whisky are certainly no exception. If you know that bourbon is "whiskey" and Scotch is "whisky" then you deserve to know where to find the finest Scotch selection Toronto has to offer. With that said, here is your official guide to Toronto's restaurants with the best Scotch selection.
The Caledonian
Whisky enthusiasts and full-blooded Scots (let's be real, they're one and the same) can take refuge here at The Caledonian where authenticity reigns supreme. Opened in 2010, The Caledonian boasts the finest and truest Scotch selections with more than 150 variations to choose from. Here you will find the best of the Highlands and the Lowlands and all regions in between. Whisky Flights are available for patrons who want to follow a tasting guide and sample multiple selections. A section of the Scotch menu is dedicated to world malts and blends which include popular faves such as Johnnie Walker Scotland Black (Red and Blue too), Peat Monster, and Pendryn Wales. Come for the drink, stay for the Haggis fritters!
Spirithouse
This King West whisky bar is the king of whiskey – it has the expansive list to prove it. Situated on the southwest corner of Portland and Adelaide, Spirithouse is a self-proclaimed "off the beaten bath" watering hole, but one worth the hop, skip, and jump. Whether you're a slow sipping bourbon lover or a straight up 'Merican whiskey drinker, this spot has everything for everybody. Their menu boasts an impressive Scotch selection with single malts and blends galore, staples such as The Famous Grouse and The Macallen Sherry Oak standing out among the list. Spirithouse features a kitchen that's open late so take advantage of their mouth-watering grub and stop by for a bite and a dram.
Miller Tavern
An award-winning cocktail bar with an innovative mixologist is a great place to start when you're in the mood for premium scotch. With over 100 whiskey selections to choose from Miller Tavern has a laidback yet sophisticated vibe that is perfect for catching up with old friends and enjoying a few high quality drinks. Their downtown location has an excellent patio to enjoy during the summer, which means super posh briefcase toting Bay Streeters looking for some after hours unwinding can find solace in this little joint.
The Feathers Pub
Another widely known whisky well, The Feathers Pub is a single malt bar where you can find a plentiful assortment of scotch from distilleries all over Scotland. Whisky Magazine awarded Feathers Pub the Gold Bar for outstanding presentation, promotion, and knowledge of great whiskies. If that's not official enough for you, I don't know what is. Their tasting menus feature flavour selections ranging from smoky to sea salty to heavily smoked peat. Whatever your preference, they're sure to have it. The Feathers Whisky Tour is also available for learning about Scottish single malts and sampling some from different regions – a great opportunity for new tasters!
The Emmet Ray
Okay, so you consider yourself a connoisseur of fine whisky. You're a seasoned Scotch swigger and you're on the hunt for a bar where you can pull up a stool and drink with the best of them, no rookie business. In that case, The Emmet Ray is where you need to be, you distinguished ol' chap. Drown your sorrows or your joys in something from the Highlands, Lowlands, Campbeltown and everywhere in between. Whether you're ringing in Happy Hour or taking in some live music, The Emmet Ray promises a good time. So put on your most dapper attire and order that Scotch "neat" just the way you like it. Don't forget to trim your mustache.
There you have it. Bottoms up!

About Courtney Gilmour
Courtney is a Toronto-based writer and editor whose work has appeared in various digital and print publications, and probably the back of your chair in high school. She is known for her ability to create a near perfect plate of nachos and her inability to properly close a pizza box. Follow her on Twitter: @minxcourtney