Hazelton Lanes Shopping Centre: The Heart of Bloor-Yorkville
Hazelton Lanes Shopping Centre, situated in Canada's most affluent shopping and entertainment district, on the corner of Avenue Road and Yorkville Avenue, is undergoing a transformation to better serve a growing neighbourhood. For 35 years Hazelton Lanes continues to be a destination with exclusive brands and services. Soon shoppers will enjoy a new oasis, the results of Hazelton Lanes revitalization which includes a modern day piazza – the "Oval Square" – the expansion of Canada's first flagship Whole Foods Market, along with a renovated and expanded 18,000 sq. ft., multi-level flagship TNT (now open).
"We are excited to provide our visitors with a great environment to shop, and welcome them to our newly renovated rotunda which offers a year round haven to relax and connect," says Hazelton Lanes Marketing Manager, Marcella Abate. "The Oval Square will serve as the perfect place for community events including fashion shows, cooking demonstrations, art exhibits, concerts and more."
Hazelton Lanes' fresh facelift rejuvenates the two-story shopping centre and allows for function and flow throughout the building. The Oval Square, designed by Johnson Chou Inc. will operate as a year-round, free wi-fi enabled hub and serve as the perfect place for gatherings, both large and intimate. The remodeled rotunda, to be complete by September, 2011 will be more aesthetically pleasing and include an architecturally striking balustrade that wraps around the upper level of the rotunda, consisting of mezzanines and a variation of balconies in the archways along with a new boldly designed curved stairway. Additional improved features include cozy conversation areas with soft seating, built-in lunch bars, community and free standing tables.
Located in Yorkville, a village within Toronto, Hazelton Lanes serves as the modern village square. As a convenient one-stop-shop, the centre offers desired services and amenities, allowing those on tight schedules to accomplish their to-do lists in one environment. The retail and service mix at Hazelton Lanes is updated to reflect the communities changing needs and includes coffee shops, dry cleaners, a post office, pharmacy, health clinics, salon, gym etc. As a favorite for unique finds and well known brands, the centre continues to serve as the long-term home for over 20 years to retailers such as: Hugo Nicholson, Fabrice, Petra Karthaus and Hefter Collection Luxe Accessories. The brand new TNT location is already creating buzz in the city and drawing in visitors from all over. Hazelton Lanes continues to update its mix with new retailers including Heidi Ho 2, which features a wide array of stylish clothing and jewellery.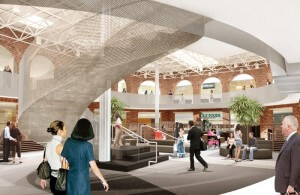 The Bloor-Yorkville neighborhood – which once served as an oasis for Canadian musicians – has since become home to luxury retailers and condominiums and has grown substantially, with 16 active residential projects currently in the area (ReaNet Canada Inc.). With Victorian-style historical residences, one-of-a-kind boutiques, trendy art galleries, cafes and restaurants it is a very desirable place to live, work and socialize. Hazelton Lanes remains a charming destination for people to escape and embrace the village atmosphere.
Hazelton Lanes will soon host a newly renovated Whole Foods flagship food emporium, with increased seating and a new entrance adjacent to the Oval Square. The remodel will be complete with gourmet take out, stir fry station, gelato bar and dine in facilities.
Hazelton Lanes Shopping Centre – located at 87 Avenue Road Toronto, ON, Hazelton Lanes Shopping Centre has been serving the Bloor-Yorkville community for over 35 years and is a centre of firsts- home to Canada's flagship Whole Foods Market (since 2003) and Marina Rinaldi (since 2006 and plus-size sister-store of MaxMara); executive fitness centre – The Yorkville Club (a full-service facility with concierge) and as of recent, a new TNT mega clothing emporium.
Hazelton Lanes is a community hub and provides services such as 30-minute pet-sitting, parking and detailing in its underground facility. Hours of operation are Monday – Wednesday 10 am – 6 pm; Thursday 10 am – 7 pm; Friday and Saturday 10 am – 6 pm; and Sunday 12 pm – 5 pm. All statutory holidays (except Christmas Day), 10 am – 6 pm. Hazelton Lanes is accessible via TTC, walking distance from Bay subway line. For more information visit www.hazeltonlanes.com.
This post is brought to you by Budman and Associates