Doll Bar Inc. – Hair Extension Bar
I have read many reviews of Doll Bar Inc., a new salon dealing exclusively with hair extensions, which opened in June in Queen West. Doll Barn Inc.'s USP is professional extensions at a significantly lower cost than customers are used to paying.
As someone who absolutely adores full, beautiful, bodacious hair I am fascinated and obsessed with hair extensions. I've had my fair share of hair extension experiences. Some fabulous and some absolutely terrible. I was immediately drawn to the idea of an all-extension beauty bar – brilliant! I needed to visit this wonderful hair-sanctuary and find out more, immediately.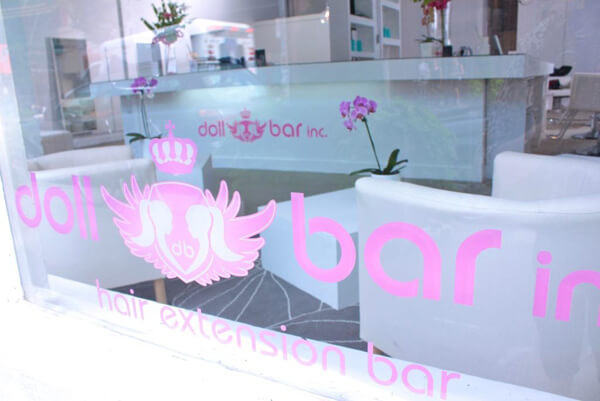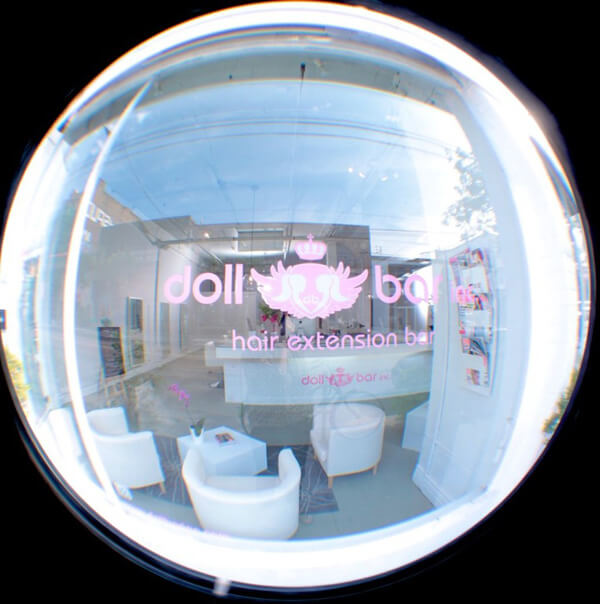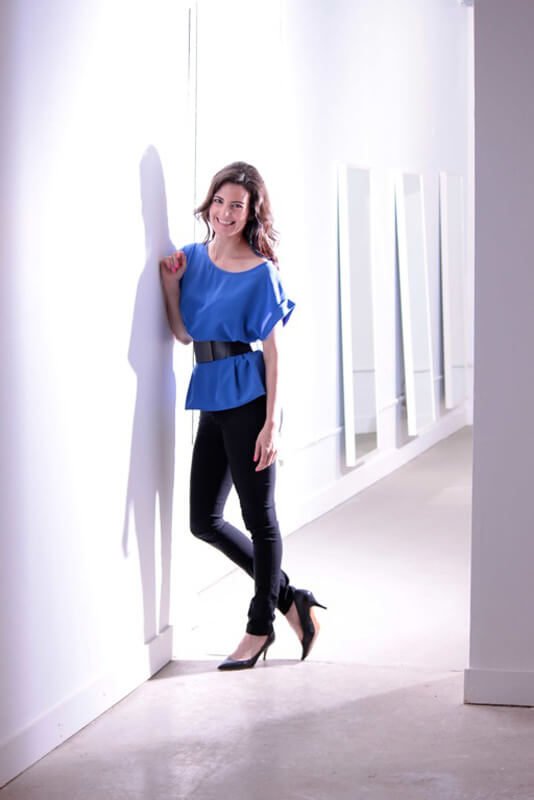 The business is the brainchild of Melissa McKenzie a hairdresser who realized that customers were starting to baulk at paying up to $1,000 for extensions but was dismayed at the quality of cheaper products often delivered at the customer's home. Melissa recognized that costumers wanted the salon experience and realized that offering that environment along with affordable and professional-standard extensions was a sure-fire win.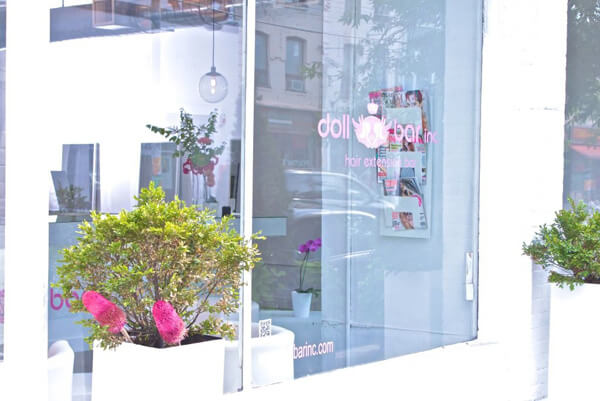 Melissa explained this to me as we sat and chatted while sipping a cappuccino she made for me at the salon. She has worked as a stylist in various salons throughout the city doing everything but realized that her passion was extensions. As a child with naturally very fine hair, full-bodied hair became something of an obsession for her, and she loves the instant gratification of making a woman feel sexy and beautiful. The confidence a carefully crafted extension can bring a woman gives her much personal joy and love. Her vision is for a place women can come to and leave feeling wonderful about themselves.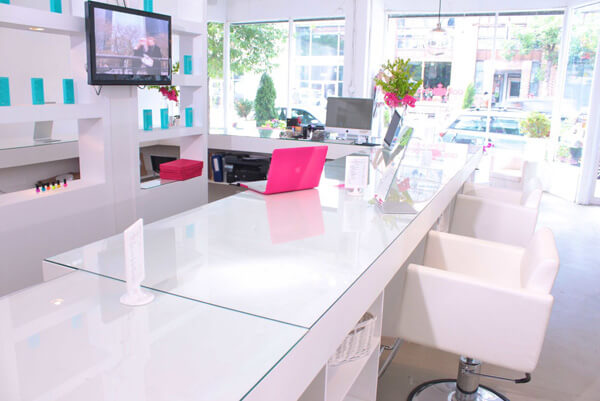 My initial impression of the salon was very favorable. It is decorated in pink and white with very clean, almost austere lines. It has a very modern feel that helps reassure the customer that it is a professional business and not a discount venue. I asked Melissa about the color concept and in her view no matter what our age, all women are instinctively drawn to pink. So she felt that the pink accents and the pink logo were important to set the brand for the business. Certainly the impression it gives is one that is crisp, clean and innocent. But a lot of the thought has been given to the interior design, even down to the fresh and clean bars of soap that echo the white accents. I loved the fact that my favourite TV show – Sex and the City – was playing in the background. Who doesn't love New York, Carrie Bradshaw and shoes??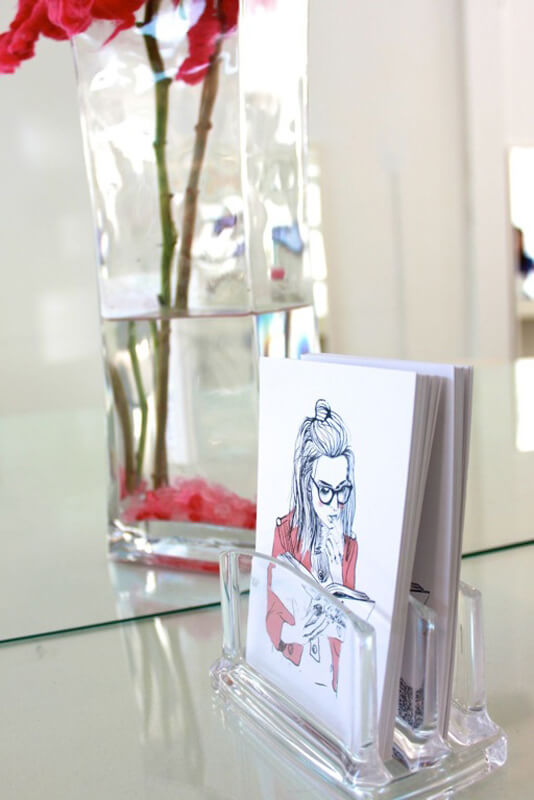 Melissa's aim is to provide her customers with an experience as well as a personal service and complete package. Certainly from my experience she is very skilled at making the customer feel important and cherished. You don't feel that you are just being placed on a conveyor belt – everything feels bespoke and personal. In her own words, she wants every woman to feel like a princess the moment they walk through the door. Music to my ears! She described it as the difference between shopping at Holt Renfrew and Tiffany & Co. – even if making only a small purchase, by shopping at Tiffany she was made to feel important and that her purchase was both posh and significant. Her hope is that her customers will leave Doll Bar Inc. feeling the same way.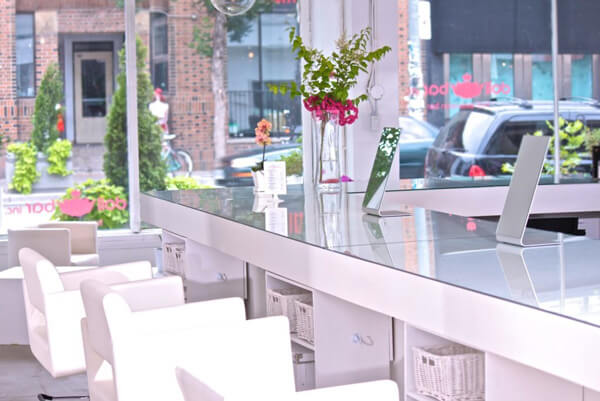 Providing a first class service is important to Melissa and that includes the smallest detail. For instance all purchases, no matter how small, are gift-wrapped. All women love gifts and we all understand the joy of unwrapping, even for something we have bought ourselves. Her entire staff are professionally trained stylists that are So.Cap certified.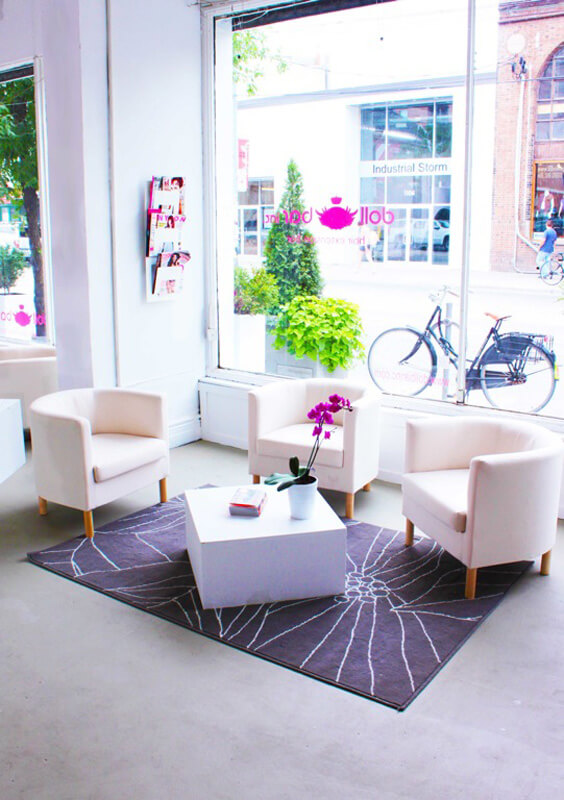 Inevitably my chat with Melissa ended up being about my hair. We started talking about feather extensions and without being pushy, she convinced me into having some. My initial visit was to receive hair extension bangs that I could put in and take out as I wish. With the up coming fall season I found this was the perfect accessory to compliment the hats that I love to wear during the cool weather season. Melissa matched up my hair with the extensions, clipped them in, and began to customize them to my face. I looked adorable with my new bangs!
Well, let's face it, what woman can resist getting banged after being seduced by talk of being pampered like a princess? Melissa was certainly right about the experience her salon gives; I left feeling like a millionaire, refreshed and ready to take on the world!
Make SURE to visit Melissa and her fabulous staff at Doll Bar Inc. located at 1099 Queen Street West, Toronto.
Walk-ins are most certainly ALWAYS welcome as Doll Bar Inc. is fully loaded with all of the hottest hair colours to suit your needs. However, if you want to call and make an appointment you can contact them at 416-792-4455.
http://dollbarinc.com/
www.twitter.com/dollbarinc