Summerlicious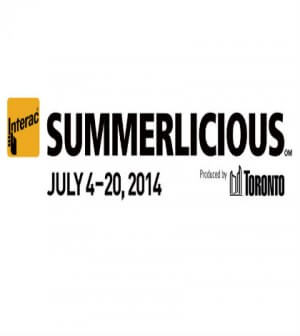 The first official day of summer has just come and gone, which means the season is now in full swing with plenty do around the city. Or more importantly, plenty to eat. Toronto is easily one of the best places to be during the summertime as the dining options are copious and on point in terms of high quality food. If you want to explore your city and all of the incredible cuisine it has to offer, you need to check out this year's Summerlicious 2014 event.
For those unfamiliar, Summerlicious is an annual dining event that brings foodies out of winter hibernation and into the glorious light of gourmet summertime cooking. It's a chance for Torontonians and tourists alike to get to know a wide array of highly esteemed restaurants all over town by sampling their fare at a significantly discounted price. Restaurants of all kinds offer prix-fixe menus with specially created lunches and dinners that showcase their menu's finest.
This year 150 of Toronto's top restos are participating in Summerlicious and the list is certainly impressive. Here are all 150 restaurants in alphabetical order:
…Just kidding. That information can be found on the Summerlicious Guide where you can also browse options according to highest ratings, best patios, popular faves, etc. From live jazz at Alleycatz uptown to luxe dining at Archeo in the stunning historic Distillery District, you're sure to find something outstanding to suit your taste buds. The prix-fixe menus include several courses so that you can have an extensive sampling of what restaurants have to offer. There's no better way to dine lavishly and in style than to take part in Summerlicious, so make sure you check the listings and prepare to fill up your schedule with a new spot every night! Or, you know, at least a few times.
Summerlicious runs from July 4-20th: check the site for restaurant selections, menus, and reservations. Bon Appetit!
@LiciousTO

About Courtney Gilmour
Courtney is a Toronto-based writer and editor whose work has appeared in various digital and print publications, and probably the back of your chair in high school. She is known for her ability to create a near perfect plate of nachos and her inability to properly close a pizza box. Follow her on Twitter: @minxcourtney