Home
>
Press Releases
>
Oliver & Bonacini celebrates Summerlicious with 16 diverse prix-fixe menus
Oliver & Bonacini celebrates Summerlicious with 16 diverse prix-fixe menus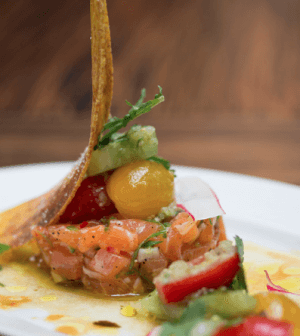 Oliver & Bonacini Restaurants is proud to be participating in Summerlicious for its eleventh year, and is celebrating with a round up of new and fresh flavours for the season. Known for its focus on local produce and freshly picked ingredients, it's no surprise that phone lines at Canoe and Auberge du Pommier have crashed in previous years due to overwhelming demand. Reservations for 2014 open today, June 19, with Summerlicious beginning on July 4.
With 16 menus spanning across O&B's eight properties during Summerlicious, each restaurant offers a different dining experience. Whether you're looking to enjoy lunch al fresco or a romantic evening out, O&B's diverse menus have something for everyone, all at affordable prices. Additionally, vegetarians are well accommodated with fully vegetarian alternatives that pack serious flavour.
This year, feast on dishes from Auberge du Pommier, Bannock, Canoe, Canteen, Jump, Luma, O&B Café Grill at Bayview Village and Biff's Bistro. Post your photos to social media using the hashtag #OBlicious for a chance to win $50 O&B gift certificates daily. Winning posts will be chosen by Michael Bonacini himself!
Here are some highlights from some of the participating restaurants:
Jump
Choose Jump for its sky-high glass atrium and signature New York-style bar, but stay for its renowned handmade Farfalle pasta (simmered cherry tomatoes, basil, extra virgin olive oil and warm Ontario ricotta) or Heritage Salmon Tartare (smoked caviar, plantain crackers, tomatillo relish and maple ponzu). Nothing goes better with locally sourced ingredients than Jump's large collection of whiskey, bourbon and scotch.
Lunch: $20 | Dinner: $35
Canteen
Summerlicious 2014 marks the first season that Canteen is participating. Enjoy the market café's large outdoor patio and casual atmosphere, along with some its best chef-prepared offerings. Spice it up with Jajangmyeon Noodles (spicy ground pork, ramen noodles, pickled vegetables & chili sauce) and the Beef Tostada (beef escabeche, refried black beans, tomatillo relish, queso fresco & avocado), and sweeten up with S'mores Dip for Two, served warn with graham crackers.
Lunch: $15 | Dinner: $25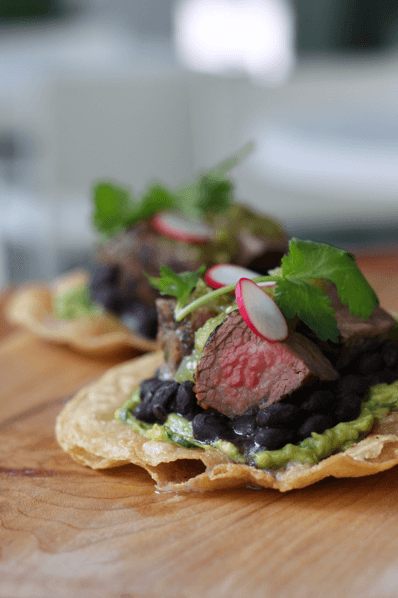 Biff's Bistro
As a neighbour to St. Lawrence Market, Biff's Bistro continues to bring its French-inspired dishes to the Summerlicious menu with light, fresh tastes made with all things local. The Chicken au Pistou (grilled chicken, tossed green beans, tomato & basil pistou bouillon) will satisfy traditionalists, while the Cha Ca La Vong (sautéed white fish with turmeric & dill, vermicelli and Kernal peanut sauce) highlights chef Amanda Ray's melding of French and Vietnamese cuisine.
Lunch: $20 | Dinner: $35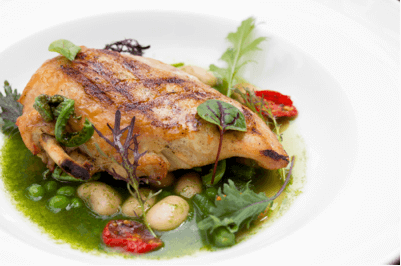 O&B Café Grill at Bayview Village
With its open kitchen and leather banquets, Torontonians outside of the downtown core can still get the full urban, upscale experience without leaving their neighbourhood. For lunch try the Seppia Arrosto (roasted calamari, shrimp & clams, tomato minestra of escarole, farro & Parmigiano-Reggiano), while the Zuppa di Melone Fredda (chilled melon soup, bottarga, extra virgin olive oil & vincotto) and Spalla di Vitello (simmered veal shoulder, farrotto primavera, prunes & asparagus) are must-haves from the dinner menu.
Lunch: $15 | Dinner: $25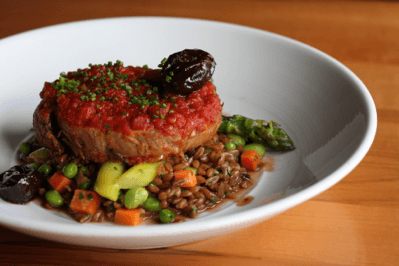 For a full listing of participating O&B restaurants and menus, click here. Reservations can be made by calling the restaurant directly or on OpenTable (where available).
Website: http://www.oliverbonacini.com
Facebook: Oliver & Bonacini Restaurants
Twitter: @Oliver_Bonacini; #OBlicious
Instagram: @Oliver_Bonacini; #OBlicious

About Jessica Strickland
I'm a lady whose ordinary, needs that 'extra'. With a background in corporate communications, I love the thrill of connecting with audiences and engaging with their interests. I'm fairly certain in a past life I was a mermaid…ok, I'm totally certain. One day I'll be living ocean side again. I love animals, and my golden retriever puppy Briar, is my pride and joy. @pr_in_heels http://jessandbriarblog.wordpress.com