Look Book – Flared Jeans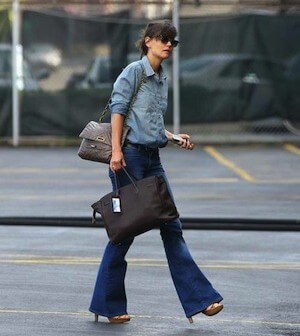 After recently watching the well known movie Almost Famous starring Kate Hudson as a rock and roll groupie named Penny Lane, I was inspired by her hippie-like wardrobe and I revisited my denim drawer to find my favorite pair of flared jeans. Rachel Zoe is probably my number one go-to stylist when it comes to boho chic while I'm looking for inspiration, however many celebrities have been caught bringing back this bell bottom look including Victoria Beckham, Jessica Alba, Nicole Richie, Taylor Swift and the curvaceous Sofia Vergara. The great thing about this style of denim is that anyone can wear it, as long as you have it tailored to your height. It also adds length to your body and will make you appear taller, which is really great for those ladies looking for more height.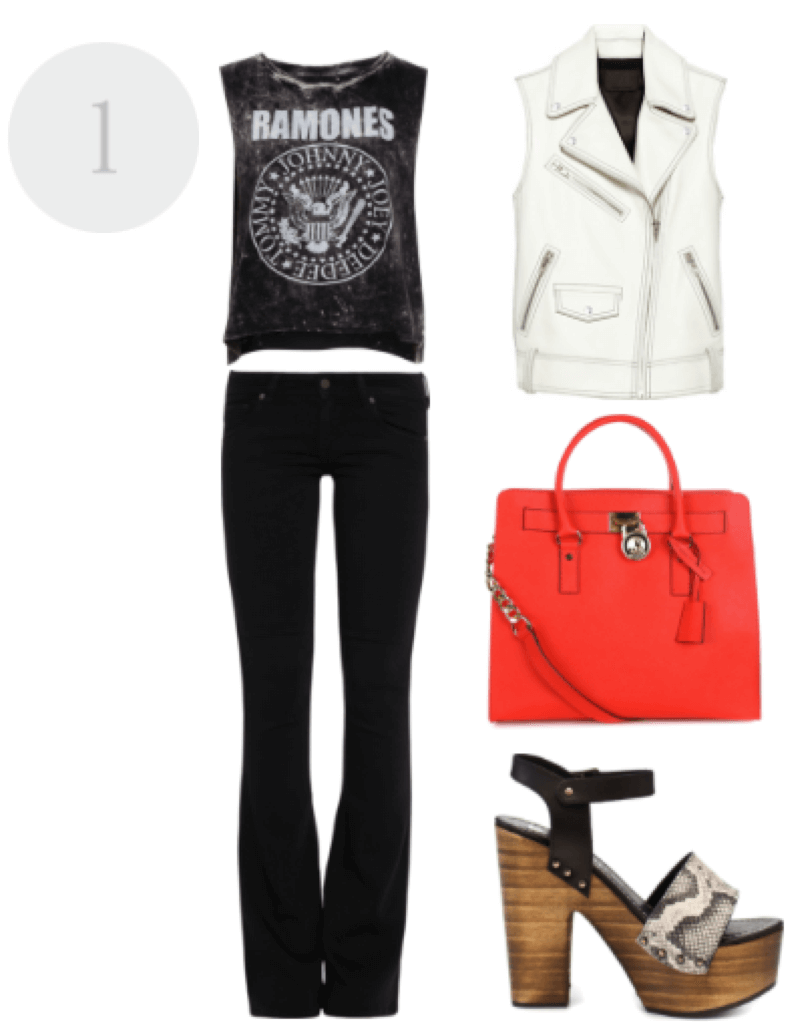 What's black and white and red all over? You are! Try a pair of flare denim in black and pair it with a graphic tank and a cool white leather biker vest. These thick wedges are über comfy and the wood on the heel will make this look less biker chick. Add a pop of color with an oversized bag and you're ready for the streets!
Look 1:
Top: Pull & Bear
Pants: Genetic Denim
Vest: Alexander Wang
Purse: Michael Michael Kors
Heels: Heels.com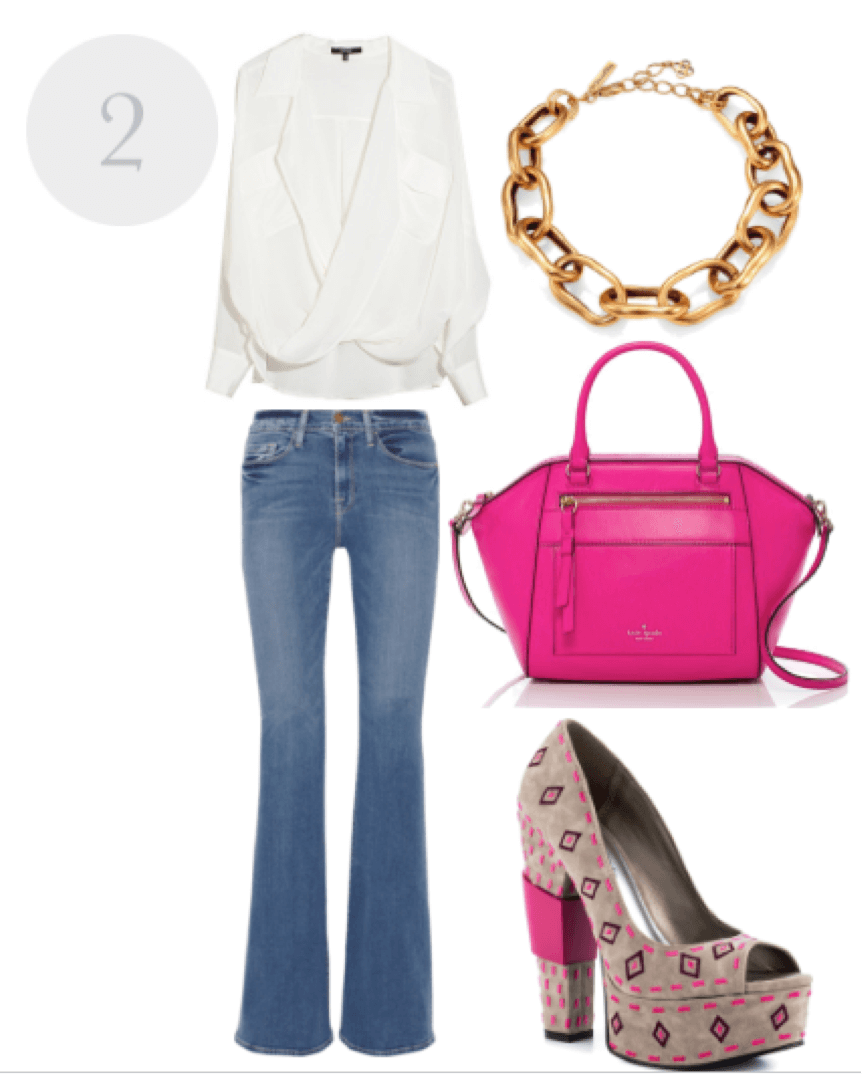 When wearing flare jeans you should always wear heels because wearing flat shoes with this style of denim will end up making you look much shorter than you need, or want to be! Pop some color into your wardrobe with these funky shoes, and with this medium wash you can toss on a white blouse and match your accessories up to finish your boss lady boho look.
Look 2:
Top: Collective Habit
Pants: Frame Denim
Necklace: Oscar de la Renta
Purse: Kate Spade
Heels: Heels.com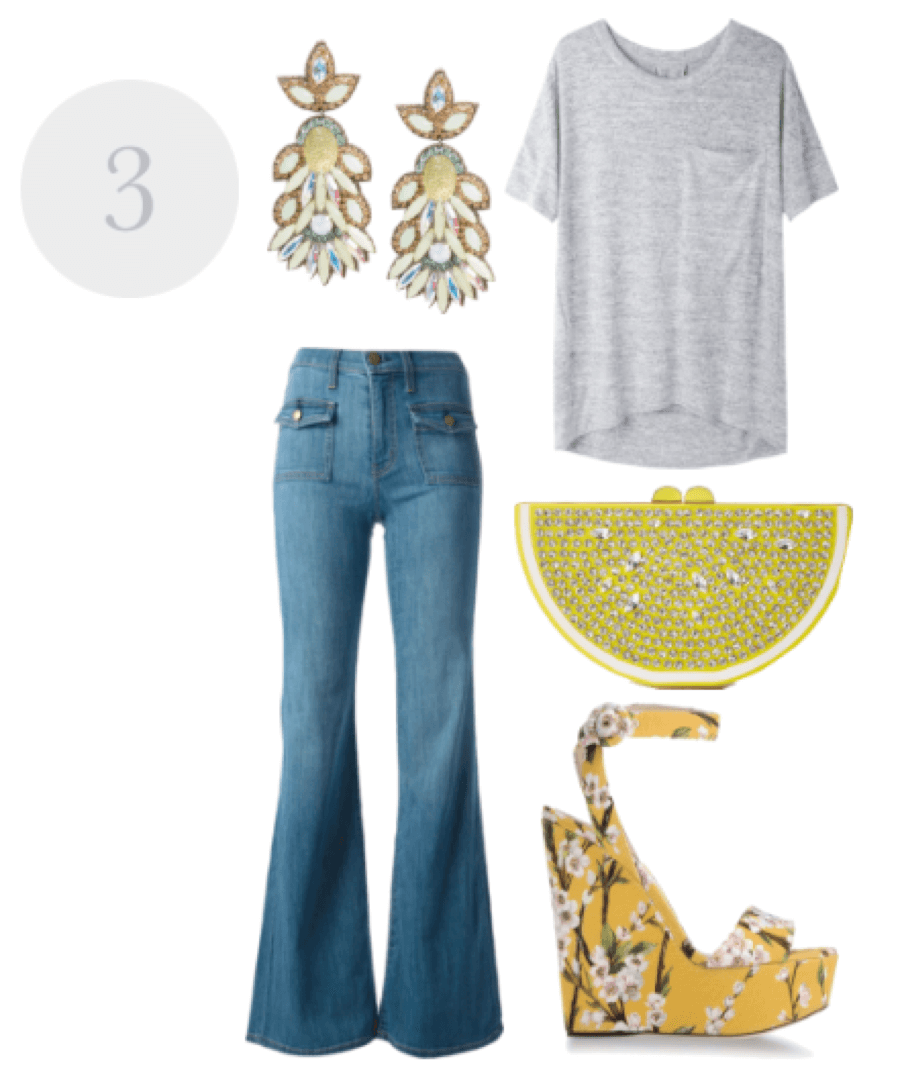 When life gives you lemons, make a Kate Spade clutch and never look back! These amazing retro denim pants are my fave! I'm actually obsessed, especially with the pockets; it reminds me of That 70's Show and just makes me wish I lived in that era. Pair them with a basic grey tee and accessorize from head to toe with some bold earrings and wedges. Obviously this clutch is a must.
Look 3:
Earrings: Suzanna Dai
Pants: Current/Elliot
T-Shirt: Rag & Bone
Clutch: Kate Spade
Wedges: Dolce & Gabbana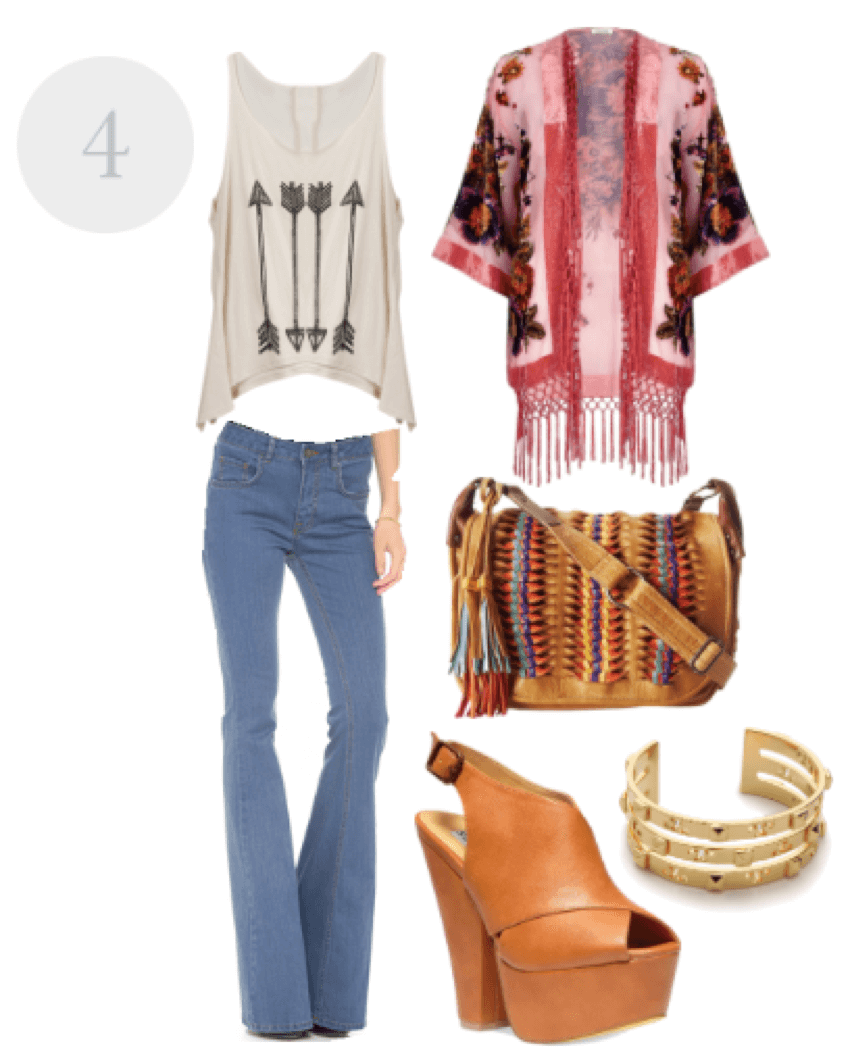 Get inspired by music festival styles and try a kimono with your wide leg jeans. Pair it with a basic nude wedge and a unique cross body bag for that "I woke up like this" kind of look (we get it Beyonce, we can't all look like you).
Look 4:
Tank Top: 2020ave
Pants: Victoria Beckham
Kimono: River Island
Purse: Zappos.com
Heels: Steve Madden
Bracelet: Tory Burch
Are you embracing the flared pant? Let us know! @TOCityGossip @Mel13Marchand

About Melissa Marchand
I am originally from Nova Scotia, but in 2013 I moved to the 'big city' of Toronto to study fashion. I am a big believer in following your dreams, working hard but staying positive, and taking advantage of any opportunity that comes your way. I love yoga, wine and high heels…and wine. Follow me on Instagram @melissamarchand and Twitter @Mel13Marchand.