Top 5 Juice Delivery Services In Toronto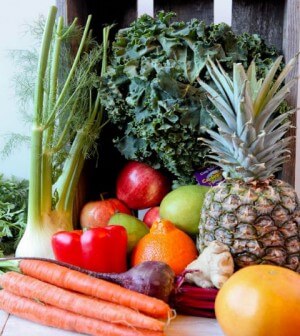 Easier said than done for some right?! The relationship one can have with unhealthy food is powerful. Canada ranks 35 on the list of fattest countries according to Forbes, and the scary part is children obesity continues to increase. It is essential to break the cycle of families who have grown to be dependent on saturated fats, refined carbohydrates, processed foods and excess alcohol and caffeine. Research has shown that we can not only be HEALTHIER, but actually REVERSE some severe chronic disease by changing our diets. One of the best ways to help get your internal system to its best is by doing a juice cleanse.

USE PROMO CODE TOCITYGOSSIP and receive 10% off
When you're in the market to start a healthier lifestyle,you mean business. It's all about getting stronger, getting happier, and when possible, keeping it organic. That's why Total Cleanse uses a blend of organic and locally sourced fruits and vegetables to detoxify the body while clearing the mind, boosting the immune system, freshening up the skin… the list goes on!
Developed by Rebecca Prezler, Total Cleanse developed in partnership with nutritionists and health professionals alike to create an incredibly stellar, health-conscious juice cleanse system that can be used by both hard core juicers and beginners. They want you to know that what's on the label will be literally what you will get out of the bottle. When you're choosing the right cleanse for you, make sure that you're a big fan of the specific blended goodness that you're getting inside. The labels are clear and easy to follow, so don't worry, you'll know what you're in for before you take the ultimate health plunge.
Unlike some other cleanses out there, the Total Cleanse is about as user friendly as it gets. Their website even has a free download that gives you specific instructions about how to prepare for your cleanse, including your before and after care. Let no detoxifying stone be left unturned!

Aside from their online instructions, you are free to check out their boutique store at 1080 Dovercourt Road for more information about your specific needs (and if all else fails, they do deliver!) The company really works for their clients needs, and its clear from their customer care protocol that they are always there to lend a helpful, delicious hand.
Total Cleanse has four specific programs; revitalize, energize, refresh, and purify. Not to be outdone by the competition, they also offer a fifth option for a catered cleanse, encompassing whatever the client would like to work on in accordance with their own health concerned. The freshness is truly never-ending, and the taste is to die for! Even actress Julie Benz (of Dexter fame) is a huge fan of the system!
If you're looking for a big business cleansing program that is ready to support you every step of the way, you've come to the right place. Total Cleanse also offers:
Consultations
Overnight delivery to the GTA and Montreal
Delivery one day before specific cleanse
Phone support from the experts
Affordable rates, starting at $45 per day

@totalcleanse

#/totalcleanse
Website: http://www.totalcleanse.ca/
Location: 1080 Dovercourt Rd (Corner of Dupont and Dovercourt)
Contact: (647)230-3699

It's comforting to know that health is finally in vogue. At a time when obesity has become the greatest threat to North American society, there is a silver lining in the eyes of our healthcare providers; people are really getting into being healthy. What once started as a craze is now starting to dance to its own, long-standing rhythm. Every time our focus on health swings, a nutritionist gets their wings.
Enter Cold Pressed Juice, a juice cleanse company that rooted itself into Toronto's fertile soils in 2010. With the help of some of the greatest body cleanse experts, this company provides juices to detoxify the body, build the immune system, reverse signs of aging, improve mood, and shed any unwanted pounds of toxins. Since its beginning, Cold Pressed Juice has blossomed into something beautiful, distributing its wares to Pusateri's, Noah's health food stores, Richtree Market, and Healthy Planet, Summerhill and many more ( the company doesn't have a walk-in store, so to place an order you can call, or go online, or check out one of these locations to get on board).
Make no mistake; this is not your average Juice Cleanse. This is the safest way to remove any and all toxins from your system. Not only does Cold Pressed Juice vow to rid your body of toxins, but it also aims to improve the senses (especially taste and smell). A unique claim to be sure and one that is undoubtedly a super bonus to becoming a happier, healthier human. As this juice cleanse reduces any digestive stress received from whole foods and heals the bodily functions at the same time, it's pretty much the closest program to making you a superhero (fame and perilous danger not included).

Cold Pressed Juice uses a four level cleanse; 1. Green Alkaline (which helps to balance the body), 2. Colon Cleanse, 3. Liver cleanse, and last (but certainly not least), the 4. Wellness Beauty Program. The company uses the Angel 20K Juicer to create its deliciously magical products, an innovative one-step, twin gear technology system that doesn't use High Pasture Pressurization (or HPP). This means that the juices have the highest content of fibre and enzymes possible.
The packaging of the products is simple, but eye-catching, allowing for purchasers to have a really in- depth look at any of their twelve deliciously flavored products. Though their juices are available at health food stores, the company recommends that you ensure that you meet all the requirements for their detox program before you try it (a helpful list is posted up on their website). You will see nothing but rave reviews from people who have tried the program.
Some of Cold Pressed Juice's other services include:
Wholy Tea / E3Live BrainOn supplements
Healthy Lifestyle Packages

@CPJuices

@CPJuices
Website: www.coldpressedjuice.ca
Contact: (647) 351- 5433

A lot of people these days seem to be hesitant about the word "guru", especially when it comes to your health. But really, what's in a name? To Eliane Bejjani, it's all about letting her satisfied clients and customers know that when it comes to raw juice cleanses, they're in very capable hands.
As a personal trainer and holistic nutrionist, Eliane was not happy with the way her clients were eating. She does a juice cleanse four times a year, so it's naturally a pre-requisite now when she takes you on as a client. After seeing and feeling the difference in her own body post pregnancy, Eliane wants nothing more than to share the raw, organic power of her juice cleanse with the world.
Organic lovers rejoice; 70 percent of the fruits and veggies in the juices are grown on Raw Juice Guru's very own farm (that's right, they have a farm). This is what really sets them apart from their competitors in a big way. As a result, they have over 900 juices to choose from; an assortment that isn't nearly as daunting when you have an in depth consultation from the gurus themselves! Since no one body is the same, no cleanse system is the same either. They're catered to the clients' needs, tailor made to fit every health concern in the book.

Raw Juice Guru claims that "food is your medicine." After the juicing and you're properly cleansed, you can essentially heal your own body. This is the core belief of the company and a thing that helps drive all clients to be healthier and more vibrant. Known by her clients as the "encyclopedia of nutrition," Eliane says that it's not about fasting, but more about feeding your body with the proper enzymes and nutrients while giving it an opportunity to heal itself. If only everything in the medical world could be so simple!
Clients can't say enough but this program, and business is booming. You can pick up these delicious juices in several locations all over the GTA (just look for the vibrant bottles and gorgeously lettered labels, and see their website for exact locations). With a goal of making a juice cleanse safe, easy, and affordable, Raw Juice Guru has a package available for each number of days desired, starting at a one day raw food cleanse and going all the way to a thirty day cleanse. If you're looking for quality at an affordable rate, you've come to the right place. They are also available to fitness and wellness centres at wholesale prices. For a full review click here.

@RawJuiceGuru

#/pages/Raw-Juice-Guru

@rawjuiceguru
Website: www.rawjuiceguru.com
Contact: 1-800-831-9028

Delivering quick, healthy, and delicious food to the fair city of Toronto isn't always an easy task, but it's a challenge that Pulp Kitchen is up to. Not only does this spot specialize in juice elixars and smoothies, but it also has a fine assortment of soups, sandwiches, and salads to dazzle the tastebuds and make every health skeptic a believer. Hallelujah!
The goal is simple; to serve up the finest in healthy eating while also educating Toronto about the benefits of putting all of the good stuff into your system. The solid foods are all organic where possible, free of all animal ingredients, and made gluten free upon request. Vegans and vegetarians need not be fearful; this is a place that will more than welcome your health conscious lifestyle.

Pulp Kitchen opened its doors on Queen East in 2001 and has been going strong ever since. Aside from its incredible food items, their 30 uniquely flavoured smoothies and juice blends are designed to cleanse the body and boost the immune system, helping you build the healthiest body possible. These blends are chalk full of all the nutrients you need for an optimum, clear-minded, happy you! The power of raw organics knows no bounds.
Open every day of the week, so you're sure to find yourself a quick and delicious meal any time (and before 7pm, of course). Be sure to check out our full review here.

@PulpkitchenTO

#/pages/Pulp-Kitchen-Juicebar-Healthy-Eatery/
Website: www.pulpkitchen.ca
Location: 717 Queen Street East
Contact: (416) 461-4612

Serving both Vancouver and Toronto, Chasers Juice has been in the game for over ten years. With that kind of track record, you know that they have to be serving up the best. With a variety of fresh juices available for wholesale, retail, and cleansing programs, Chasers Juice holds on to a tight group of professionals who help to create the very best in tasty, gold standard, sugar and preservative free ingredients. Rest assured, the incredible taste you're getting is all completely natural. As Tina Turner once said, they're "simply the best."
Having started out as a business in a private residence, Chasers Juice has now grown to wholesale victory, slinging out hundreds of litres of juice a day. And they're all about quality assurance. Each day, quality fruits are squeezed either mechanically or by hand and in-house recipes are followed to create the perfect juice. The standards are high and the work is meticulous. At the end of the day, the juices are shipped out to their destinations, customer satisfaction guaranteed.
Aside from their regular deliciousness, three cleanse systems are available for those who want to boost up their immune systems and maintain optimal health; Chasers Greens, Chasers Immediate Cleanse, and Chasers 3 Day Revolution Cleanse. With the exception of the final option (which is simply a three day cleanse), the other two are available as a one day, two day, or three day program. The website gives in depth information about the hows and whys of their detoxifying cleanse, including the parts of the body that will experience the greatest changes. It's extraordinarily user friendly, and that's what makes it amazing.

Check out their product list and you'll see an array of delectable products, including purees, ciders, syrups, and zest wedges (think a flavourful cocktail that's good for you and minus the "kick"). Though they do not deliver to private addresses, you can order through their website (just please make sure it's before 7am so that they can ensure that your order will get processed). If all else fails, you can check out their headquarters in Etobicoke. They'd be more than happy to show you the ropes!
If you want to revolutionize your diet and your life, Chasers Juice is here for you! Visit their website for more information to optimize your health today!

@ChasersJuice

#/pages/Chasers-Fresh-Juice
Website: www.chasersjuice.com/
Contact: (416) 259-1557