Top 5 Historic Distillery District Must Do's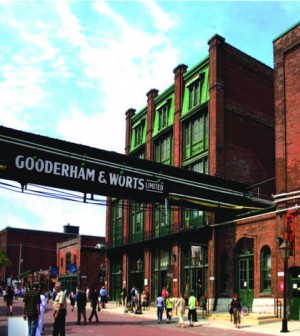 Caffe Furbo
Need an escape? Care to pretend you have ventured off to some romantic European city, if just for a few hours? Saunter down the cobble-stoned Case Goods Lane and find Caffe Furbo, a sanctuary for the senses. Inside exposed brick walls are decorated with owner, Kevin Bonnici's soulful art. You can be sure the barista will greet you warmly every time and make your handcrafted beverage of choice to perfection. On warm days friends sit under the ruby red umbrellas people watching and sipping espresso imported straight from Haiti Roma Italy. It's licensed so you can savour a European wine or beer with their delectable paninis and freshly baked goodies. Book this venue for special soirees, events, and parties. This really may be Toronto's best kept secret.
12 Case Goods Lane
416.833.6560
Soma
There is chocolate and then there is Soma. It is the best chocolate in Toronto bar none. We are talking small batch, artisan chocolate made from fair trade organic cacao. The micro-factory has floor to ceiling windows where children and adults alike can gawk at how these morsels of heaven are made. Each piece of chocolate seems like it was especially made just for you. Choco-holics can put back pure liquid chocolate shots or a spicy Mayan hot chocolate with a bit of bite. During the major holidays like Valentine's Day and Easter get the innovative seasonal Soma product while it's available. Some chocolate bars, biscuits and truffles are only developed and distributed in limited quantities. Day or night this is a place you want to return to again and again. Out of towners may request monthly shipments from the locals – it's that good.
32 Tank House Lane
416.599.7662
El Catrin
A newer addition to the Historic Distillery, El Catrin has quickly picked up a loyal following. The outdoor patio adorned with fire pits and large comfortable furniture is especially enchanting at night when the lanterns dazzle like jewelry. Indoors, the atmosphere is lively like the Mexican dishes, which are offered in both modern and authentic style. A large neon mural, which took nearly 100 days to complete by three artists, mesmerizes guests as they put back creative cocktails and perfectly spiced sharing dishes created by master chef Olivier Le Calvez. Perfect for every occasion as described by its owners: "It is an unforgettable experience not just a meal."
18 Tank House Lane
416.203.2121
Soulpepper Theatre
Soulpepper is a gift to Toronto's entertainment roster. Theatre can often be like modern dance: either really good or really bad. Soulpepper does not disappoint. Plays range from contemporary to inspiring interpretations of the classics, all of which are presented in an intimate theatre setting. The Actor's are so convincing that I cannot imagine meeting them in broad daylight as anyone other than the character they play. It's a shame you missed this year's presentation of The Norman Conquests and Kim's Convenience. I would've seen each twice! Ohhhh, I understand. You don't like theater. Perhaps too many Shakespearean nightmares for one lifetime? Well, Soulpepper is to theatre what Cirque du Soleil is to Vegas. This is a theatre company that brings honour to Canadian artistry and in doing so is a diamond in the rough that is not to be overlooked.
50 Tank House Lane
416.203.6264
Gotstyle
Dear fashionistas, metrosexuals, Bay Street crowd, hipsters and everyone in-between, Gotstyle is waiting for you to step in and fall hook, line and sinker into their clothing delicacies. Within minutes you will be seriously considering not only trying on but buying a three-piece suit even if your day job involves civvies. You will also begin concocting a career change in order to justify sporting tailor made garments along with cheeky cufflinks. Ladies, Gotstyle carries brands that are not easily acquired elsewhere like Drifter, Rebecca Minkoff and sexy fitness wear by Michi. This location boasts a pool table incase you really get comfortable and staff that are too cool to be snobby. They are more likely to woo you with their charismatic personalities and disarming knowledge of all things fashion. Worth the trek to the Distillery District just to shop here? Absolutely.
21 Trinity Street
416.260.9696

About Natalya Sebastian
Natalya is a fitness and health devotee with her hand on the pulse of what's innovating in Toronto's fitness community. She's been teaching Pilates and Yoga for over a decade, is a former professional contemporary dancer, freelance writer, Mother and lover of life. Notable fitness career highlights include working with Athletes, guest appearances on ET Canada, contributions to Canadian Living, Tonic Magazine and leading Pilates and Yoga classes all over the GTA. What can you expect from her biweekly column? An educated fitness professional's scoop on any given workout. Catch Natalya reviewing everything from a rock climbing gym to a Jiu-jitsu class, spinning, parkour, barre classes, yoga for the hardcore, yoga for the newbies and so much more. Have a fitness question? Need information on a workout method, style or training? Email Natalya at: info@pilatesbodyworkout.com or visit her website at http://www.pilatesbodyworkout.com & sister-site: http://www.pilatesmommyworkout.com