Top 5 Spray Tans In Toronto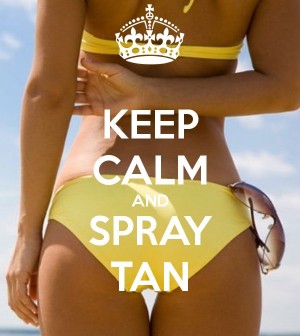 Let's be honest here; months of terrible, terrible Canadian winter can leave us feeling pretty "blah." We feel lack lustre about almost everything, and our physical and mental health often takes a toll. Part of the price we pay for being Canadian during the arduous months of snow is pasty complexion, a thing that is likely laughable to all of the sun-kissed residents of the south. But as health consciousness rises, we find ourselves wanting that sun-kissed glow without all of the risk from sun exposure. That's why spray tanning is a definite, risk-free alternative.
The cold long winters in Canada is exactly why insTANt attraction got into the biz. Aside from their extremely clever business name, this company prides itself on giving you a celebrity glow that won't bust your budget. The owner, Sindy Sun, is a celebrity spray tan artist, and her claims of having you in and out in less than ten minutes is perfect for any beauty buff on the go. In no time, you'll be sporting a natural, gorgeous glow that will make the California guys and gals envious.
And be assured, it's spray tan only (no beds, and no UV rays). The products are natural, organic, and come in three patented forms; insTANt sun – solution (for initial spray), insTANt sun – can (for touch ups in between sessions), and insTANt sun moisture (all natural moisturizer with DHA to extend the tan). Every staff member is individually trained to the product line, allowing the very best in customer service and knowledge. Your bronze is in good hands!
Sindy Sun has been in business since 2008 and has had numerous print write-ups and interviews about her sun-sational business. They are the official spray tanners for the NBA Toronto Raptors Dance Pak, so you know that they mean business! insTANt attraction is a private studio with numerous Certified Artists across Canada that are trained and Certified by Sindy Sun all of which use the same technique and Sindy's proprietary product line, insTANt sun. Being features on 5 TV interview Sindy Sun is taking the spray tan industry by storm.
Prices range from $5 to $45, with packages available. Special rates apply to bikini and fitness modeling competitors.



@IASprayTanning

#/pages/InsTANt-attraction-certified-organic-spray-tan/
Website: www.instantattraction.ca
Location: 7 Bastion Street, Toronto, ON
Contact: (416) 882- 8248

If you want to talk super innovative, Tan On the Run takes the cake. This is a mobile tanning service that serves customers in the GTA with a tan that not only gives you the to-die-for bronzed glow, but is also home for the incredible shrinking tan, a system that helps you lose inches! As the first of its kind in these respects, there is no way that you can't be totally intrigued by their business module!
The business was started by Nicole Hyatt in 2008 and has since earned itself over 25 franchises. Nicole was also featured on Dragon's Den in 2009, and then again on the 2013 show where they made a deal with Jim Treliving. Needless to say, business is booming! Tan on the Run has since had the pleasure of tanning several high profile celebrities, including Lady GaGa, Kate Beckensale, and Fergie. They have also been featured on Cosmo TV, Matchmaker, Rich Bride Poor Bride, and My House Your Money. Now that's what you'd call "spray-ing power!"
The hypoallergenic, organic products are exclusive to the international Tan on the Run business venture. That means that you will not only find a Tan on The Run all over Canada, but you'll also find them in Greece, Egypt, Uruguay, and Trinidad. Talk about being part of a big community! The products are sprayed on fora approximately fifteen minutes and the results are immediate. The delectable blend of vitamin E and aloe help that glow last without any trace of unwanted orange hues for 7 to 10 days.
Rate are available for bridal parties, bachelorette, or any time that you want to get a group together to get your tan on (dance groups and fitness competitors may also apply). The website gives you some handy instructions on what to do pre and post tan, and even gives you a list of products to avoid in order to maintain your tan. You really can't beat that level of customer service!
Franchise options are also available to spas, health clubs, tanning salons, and resorts.


@totvancity

#/nicole.hyatt.52?fref=ts&ref=br_tf
Website: www.tanontherun.com
Location: All over the GTA
Contact: (416) 838-8266

With one of the catchiest names that I've seen in a long time, GoldiFox Tanning promises you the bronzed and beautiful look that you'd get right off the beaches of the European Riviera. Non-sticky and without the unpleasant odour, her product line has you looking like a golden goddess in no time flat. And what's not to love about that?
The owner, Michelle, is a self-described "girly-girl." Having been a big fan of sunless tanning for close to 10 years, Michelle wanted to find the best of the best when it came to sunless products and most importantly, the perfect colour. With her love of hair and beauty at the forefront, the GoldiFox salon was born. Its goal; to provide clients with a gorgeous natural looking tan, in a comfortable boutique environment.
The look is totally natural (thank God). GoldiFox uses Norvell sunless colour and products. Not only are these products good for all skin types, but they are also full of rich, antioxidant blends that help reduce the appearance of wrinkles, fine lines, and other signs of skin damage. Add the fact that they are gluten free, 100% vegan, paraben, and nut free, and you have a recipe for a truly sensational product line. GoldiFox now carries the Venetianline; a line of colour that produces that stunning Mediterranean sun tan that us Canadian lust after.
What matters most at Goldifox, is quality. Michelle makes sure to personally connect with all her clients a couple days before hand, to make sure they know all the essentials on how to prepare for their tan. As well, when you go to the website, you'll find a set of instructions that will help you achieve the best tan humanly possible. Tips for maintaining your glow and getting the most out of your sessions are also included in her helpful guidelines. Her secret for giving her clients the best tan: it's all in the PH balancing spray. She sprays every client with a PH balancing spray right before the colour to help level out the PH levels in your skin, help with exfoliation, and to lock in and bring out the richness in the colour.

GoldiFox services include:
sunless tanning (Loyalty and referral programs included)
packages for prom
custom consultations
hair extension services
clip in extenstion services

#/pages/Goldifox/
Website: www.goldifox.ca
Location: 5 Manor Rd West. (Yonge & Eglinton)
Contact: (416) 219-4481

When Saul's Beauty Shop heard that the rate of skin cancer was on the rise, they decided to take action in the best way they knew how; with their best, most handsome/beautiful foot forward. As a gender neutral salon and spa, Saul's decided to offer a sunless spray tan option for all of their clients in a laid-back, relaxing atmosphere that puts them ahead of the pack. It's a no stress/no mess world in there!
Saul's Beauty Shop is SLS and petrochemical free. The beauticians at Saul's pride themselves on using the highest quality product ingredients that a re SLS free. On top of that, each staff member comes equipped with years of experience. Did you get your spray and really not like the results? No worries! The salon/spa is also equipped with a shower, so you can just wash it off and have it reapplied. Disposable nose filters are also offered to ensure the most healthy tan for your lungs too.
Eliss, the resident esthetician and person-in-charge, started her esthetics education at an early age, gaining years of experience before Saul's quiet opening in 2014. The product of choice is Fake Bake, a line revered for its superior results on even the palest of skin tones, and, most importantly, its non-sticky formula. The application itself involves a barrier cream prior to airbrush by hand, just to ensure that the colour doesn't go too dark or patchy.
Of course, home care is also key. Eliss stresses the importance of the client's commitment to their tan, depending on how long they want it to last. The results usually stick around from 7 to 10 days, but be sure to keep your workout, exfoliation, and shaving routines in mind. Open Tuesdays to Saturdays!

Saul's Beauty Shop also offers:
Spray tanning and consultations
Facials, waxing, and tinting
monthly specials for their clients; be sure to take advantage of them

@SaulsBeautyShop

#/saulsbeautyshoptoronto

@SaulsBeautyShop
Website: www.saulsbeautyshop.ca
Location: 904 Dundas Street West
Contact: (416) 368 SAUL (7285)

DIY
Some of us out there (myself included) really like to hold onto their cash. It can be difficult to be your best and most beautiful you on a budget, especially when it comes to spray tanning. Your summer self is saying "yes yes yes!" to marching into a salon and getting sublime spray tan, but your wallet is constantly saying "no no no!" It's a raging tug of war for anyone who wants to look and feel their best (especially after being victims of the long, pasty months of winter).
That's why Toronto City Gossip felt that it was important to add one final option to our spray tan glory cheat sheet; a do it yourself option. We've searched high and low, and out of all the competition, we eventually came across the King of the Spray. At the end of the day, our reigning champion turned out to be VersaSpa Sunless Self Tanning Spray 360.
Of course, it can be easier to have someone else do it for you, but when push comes to shove, the option of purchasing your own products is nothing to sneeze at. These 7.8 oz cans are meant to last a while, so don't get yourself going to crazy on the first sprays (you can see the "meant to last" truth in the $46 price point. You can also order a few cans online at amazon.com for a lesser price point per product). Filled with ingredients such as Vitamin D3, avocado oil, and caffeine, you're guaranteed to get an even, professional looking tan that costs less than a visit at your local tanning salon. You can even use it for touch ups in between a full spray!
As you won't have a tanning specialist there to monitor your process, proceed intelligently. This means that you should only spray in an easily cleaned area (eg. Your bathroom) and you should be prepared to wear comfortable, loose fitting, and preferably not-white clothing after your tan has settled. Remember to exfoliate before, moisturize, and be prepared to not sweat for the rest of the day (the gym can definitely wait, OK?) Be sure to follow any and all instructions on the bottle and if all else fails, wash it off and start again.
Though a bit more involved than a trip to the salon, do it yourself spray tanning with VersaSpa is well worth the time and effort. All enough time for the tan to dry, be dedicated to the cause, and you can achieve the same professional results that you would at any spa location. Remember the trick is to follow the instructions, and when in doubt, have a brief chat with Google in order to clarify any further concerns.