A Perfectionist's Pursuit of the Perfect Sunless Tan

All of my teenage/adult life I have been searching for the perfect tan. One that would leave me perfectly bronzed and radiant, without the unwanted side affects and damage of the sun or tanning beds. Over the years I have tried it ALL! No exaggeration. From the $10 Shoppers Drug Mart bottles of sunless tanner, to the higher-end $50-$100 bottles. I am quite literally now known to my circle of friends as the all wise one of the sunless tanning world, forced to answer all of their tedious questions (juuuuust kidding girls, you know I adore helping out.) Along my way I came across few I liked, and many I did not. But nothing can possibly compare to tan of ALL tans I was introduced to about 10 months ago.
It was during a typical King Street night out, a rather lack-luster birthday party I do believe, when the flawless, oh-so-evenly tanned complexion of a friend caught my eye. I simply HAD to know her secret. Now friends, I warn you! If you choose to un-vail the secret and continue to read on, what you will learn is comparable to Pandoras Box, once it has been opened, there is no turning back. Your life will never be the same if your quest for unparalleled bronze-beauty has been as long and full of heart as mine! You just may find yourself in a blissful, new, highly addictive and exclusive skin care relationship.
Now for the highly-anticipated tid-bit of information you have all been waiting for, where on earth can I find this miracle treatment? Well after gushing to my girlfriend about how amazing her tan looked, she told me that she had been loyally receiving an amazing spray tan treatment at a local tanning salon; Sol'exotica. She continued further, regailing me with tales of her successful experiences at this salon. She passionately mentions that they not only have the best spray tans in the city, but also the best deals. I couldn't wait any longer, I had to find out for myself. The next morning I woke up and made my way over with a girlfriend. We arrived at Sol'exotica and were greeted by two young women, one slightly saucy, but we over looked it since we were so excited about what was yet to come. We both purchased a platinum package which included unlimited access to everything Sol'exotica had to offer; two levels spray tans, a variety of tanning beds varying in intensity, a hydro-massage and a hydration station. All for the reasonable price of $112 monthly, which also gave us a 20 per cent discount on a collection of tanning products.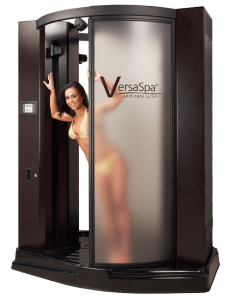 Now for the moment of truth! After learning the steps of using the spray tan system, I de-robed, slipped on a shower-cap, applied barrier cream to my palms, finger tips and perfectly pedicured toes (to ensure they all stayed looking fresh and beautiful) and stepped inside. The machine does four passes of spray, each pass is accompanied by a different pose. The spray was light and rather refreshing! After the spray passes are complete, four air passes finalize your treatment, set in the tanning product and leave you feeling dry. Any product left over is either tabbed off lightly with a towel, I opt to rub it in. I put my clothing back on, and was quite impressed about the fact I felt neither sticky or wet. The result set in within a few hours, and I couldn't have been more pleased! Not only was I now donning an exquisitely radiant new tan, but my skin was softer and smoother then ever! Five big shiny gold stars to Sol'exotica for its amazing services.
Sol'exotica is a chain of tanning salons throughout the GTA, my personal location of interest is at 169 Church Street (Major intersection: Church and Dundas,) just a few minutes walk from the Eaton Centre downtown Toronto. Sol'exotica is host to one of the most innovative spray tanning systems I have experienced thus far in my quest. The product used is Versa Spa professional skin care. Versa Spa offers more then just a sunless tanning spray, you can also have the pleasure of a pre-sunless PH balancing treatment, as well as a post sunless super hydrating treatment. Both of which promises to extend the life of your spray tan and do wonders for your skin. These treatments, however, are not part of the Sol Exotica platinum package, and can be purchased seperately for an additional cost of $5 per use. (You may also add an extra level of bronzer to your spray for $5.)
So friends, I strongly recommend Sol'exotica for ALL your tanning needs, not just sunless. Since this faithful day ten months ago, I have had the pleasure of trying out all of the services Sol'exotica has to offer and have yet to be disappointed.
For more details on the products and services above, please visit www.solexotica.com & www.versaspa.com
For timely updates of the brutally honest pursuit of love & happiness through the eyes of an intelligent, witty, & overly emotional buxom blonde, please feel free to follow me on twitter www.twitter.com/TdotTweetHeart
xoxo,