Pulp Kitchen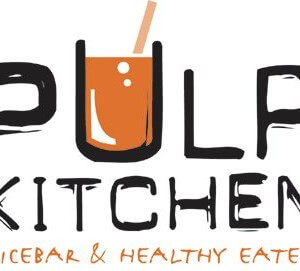 It's been a long winter and most of us have spent it in hibernation with an itinerary that includes a couch, fuzzy blankets, and pizza delivery on Friday nights. Then Chinese on Saturdays. Pad Thai on Sundays. Leftovers during the week. You get the idea. In other words, healthy eating is not exactly on the menu during the colder months. However, a few glimpses of sunshine over the past couple of weeks have prompted me to finally kick my delivery diet to the curb and take on fresh, clean, starch-free eating in celebration of Spring's pending (and tardy) arrival!
You know, at least for a day.
So that's what brought me to Pulp Kitchen on Queen Street East for some lunch time juice cleansing. My guest and I were drawn to the menu for its focus on gluten free and vegan options; she has a gluten allergy and I just love trying out a brand new bill of fare. If "go green!" was going to be my new mantra, I figured I might as well "go big" with the crème de la crème.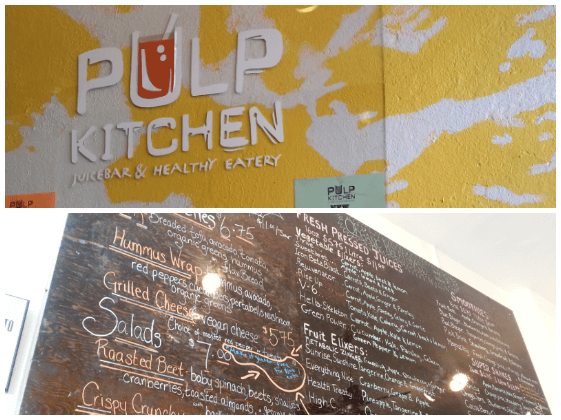 I arrive at the cozy and ever so colourful Pulp Kitchen just in time for the lunch hour, and it doesn't take long for my guest and I to realize that this place is buzzing like crazy with hungry health nuts. We're excited to be among them and enjoy the grab-and-go theme that must be perfect for a work break fix. I know how tedious it is to prepare lunches to bring in to the office every day, so having a place like Pulp Kitchen nearby must be a dairy-free dream come true for anyone who works around Queen & Broadview. But today, we have all the time in the world and we are eager to get our hands on some tasty morsels.
First up: Shots! Shots! Shots! Of juice, that is. It's noon on a Tuesday, let's be real. We're chatting with Marie Crawford, PK's owner, and she graciously welcomes us with our first round of fruit elixers. We have the "Metabolic Znger", which is made with apple, strawberry, ginger, and red grapefruit. It's delightfully tangy, definitely has a 'zing' to it with the ginger. The second fruit elixer shot is "High C", a blend of orange, strawberry, and carrot. We enjoy both and I'm convinced that if I'm going to drink carrot juice, mixing it with sweeter fruits is definitely the best tasting way to do it. Lastly, the "V-6" shot. This fresh pressed juice is made with tomato, kale, celery, green pepper, beet, carrot, and lemon. It's a great way to get your veggie intake all in one go. For people like myself who love vegetables but can never seem to find enough time in the day to get them all in every meal, juices like these are a perfect solution. Bottoms up!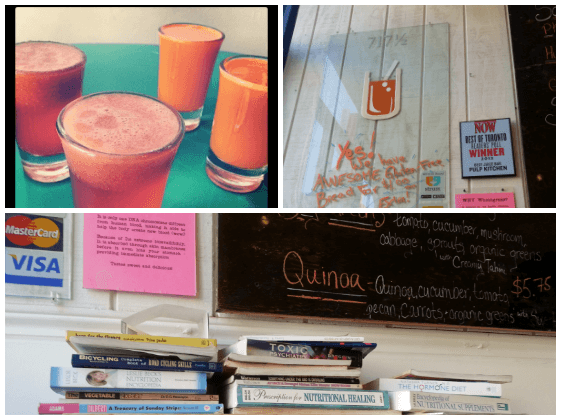 Next we decide that a good sammie is in order. Is there anything better than ooey-gooey grilled cheese? No, of course not, so that's exactly what we want. What makes PK's grilled cheese sandwich so unique is that it's cheese-less! Made with vegan Daiya brand cheese and roasted sweet red peppers, you would honestly never know that this magical melty panini is devoid of dairy. It's toasted to perfection on O'Dough's gluten free bread and is just so deliciously flavourful and grilled-cheesy that we are left awestruck. Really. We eat in silence because we just can't understand how it's possible that a gluten free, vegan grilled cheese sandwich can be this good. Highly recommended, if you haven't concluded that by now. In between bites we are also indulging in a sweet and creamy Vitality Shake, which is made with apple, kale, banana, ginger, vegan protein powder, and cayenne. It's got a nice kick to it from the ginger and cayenne, which balances beautifully with the fruit.
Our last menu sample is the Crispy Crunchy Salad. This is a unique and creative spin on traditional tofu salads in that the crunch factor comes from blanched green beans and long, thinly shaved cucumber strips. Did we mention long? It's a bona fide labyrinth of cucumber that acts as the salad base, with shitake mushrooms, seasoned tofu strips, and a light cider vinaigrette. We love when foodies get creative with salad! The tofu is delicious and everything about this dish screams 'fresh'.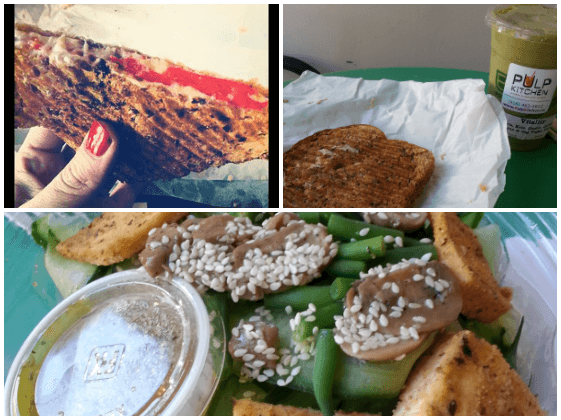 Looking around at the bright turquoise and yellow colour themes, the narrow and intimate space, the vibrant image of a citrus orange on the wall, we get the sense that Pulp Kitchen is a breath f fresh air for food lovers on the hunt for gourmet cuisine that is healthy, wholesome, and unpretentious. On the way out Marie fills us in on the success of her very busy juice bar, and we order one last Super Shake (the "Funky Monkey") to go before heading out and letting her tend to a line up of patrons. Once we're out the door I realize that I forgot to ask if Pulp Kitchen is a pun for "Pulp Fiction", my favourite movie. Of course it is, I think to myself. But It's not like this hot spot needs the bonus points. We will definitely be back.
***Pulp Kitchen offers daily $10 lunch combos from 11:30 am – 2:30 pm, including soup, sandwiches, and fresh salads.
Visit Pulp Kitchen's website to view the full menu: http://pulpkitchen.ca/
Be sure to follow Pulp Kitchen on Twitter: @PulpKitchenTO
717 Queen St East, Toronto – (416) 461 – 4612

About Courtney Gilmour
Courtney is a Toronto-based writer and editor whose work has appeared in various digital and print publications, and probably the back of your chair in high school. She is known for her ability to create a near perfect plate of nachos and her inability to properly close a pizza box. Follow her on Twitter: @minxcourtney