Melt Grilled Cheese
When I was child growing up I always looked forward to lunches with my Grandma. Typically these would consist of something utterly nutritious and delicious AND (of course) ending off with something sweet. There is nothing that I love more than Grandma's grilled cheese sandwiches; one of my biggest weaknesses. Three cheeses topped with garlic and chives—as a kid, I didn't understand what made this so delicious! I just thought it was butter and cheese with a side of ketchup to dip.
As I evolved into an adult, so did my taste buds for grilled cheese. Now I like to put more toppings into the sensation between the two pieces of crusted toast, heavenly suffocating with dripping cheese oozing from the sides. Just cheese? Come on! Add some excitement to that sandwich!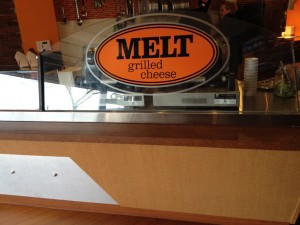 When receiving the news about my upcoming visit Melt Grilled Cheese, I promptly rushed to their website to see what it was all about. All of a sudden the excited little girl inside me sprung to life. Finally! I get to try a grilled cheese sandwich that I didn't make and most likely be satisfied! I'm a huge critic when it comes to the grilled cheese sandwich. It can really be a master piece when done properly. There is such a wide range of toppings, cheeses, spreads, breads, etc you can use to create an explosion of flavors in your mouth. And, not to sound conceited, but it is difficult to beat my grilled cheese master pieces. Hold onto your seat readers, as I am about to do a throw down in what you are missing out on if you haven't yet experienced Melt Grilled Cheese.
As you walk into the lovely and cute little eatery, you are greeted by a delicious menu of choices – 9 melts to choose from. However, if you are coming in starvation mode then I warn you, you will WANT IT ALL! At Melt Grilled Cheese each sandwich takes about 4 minutes to perfect on the grill. The four minutes of anticipation felt like forever! Take a seat at the bar lining the front; a garage door that opens up making it an ideal summer go-to spot, (especially for Humber students,) or cozy up in one of the back booths, or high-top tables.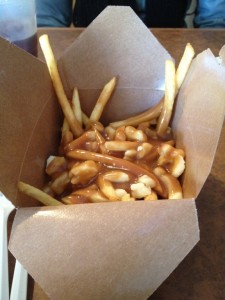 I cannot describe to you our excitement for these sandwiches. To begin our Melt adventures, Barb (one of two partners– Tom is the other lovely owner) brings over a poutine that LITERALLY is a blast from the past—tasting JUST like the poutine you would find in your high school cafeteria—only BETTER! Remember, those days of skipping glass and heading out to the lunchroom to get yourself some poutine? I do! Memories… Drizzled with home-made gravy, the fries are dusted with fine sea salt & deep fried in trans fat & cholesterol free 100% canola oil.
To accompany the blast from the past was an absolutely delicious, cheesy and hearty grilled to perfection #1 seller 'Tattooed Chicken' (crispy chicken, cheddar, mozzarella, bacon, herbed tomato & Melt sauce, $6.99.) I know this picture makes you want to bite your screen. Look at that deliciousness! It tastes even better than it looks.
So you're a vegetarian and think there is nothing on the menu for you here? Think again. A creamy, light, healthier alternative is available which of course also was mouth watering and at the same time nutritious. This unique sandwich was one of my favs since I am a HUGE lover of Ricotta cheese. It's a spinach pie (ricotta, feta & wilted garlic spinach, $4.99.)
Next a little heavier option came out; the 'Wake 'n' Bacon' breakfast sandwich which was yet another mouth watering experience. Cheese, egg, a hashbrown patty, bacon, melt sauce and, a POW WOW! This sandwich used to be just featured on the breakfast menu but due to its popularity it is now offered all day! If you have a hangover or just wake up craving something hearty and tantalizing, scoot on over to Melt Grilled Cheese and mow down this sandwich. The perfect hangover/morning starvation cure especially for students of Humber College between classes, all for $4.99.
Now, if you have a sweet tooth there is something for you here too. The 'Sweet Stuff' for $2.99 is a delicious and not so nutritious sandwich made with cinnamon raisin bread. Slapped in the middle is mouth watering mascarpone cheese, strawberry preserves and chocolate chips. Each sandwich comes with a choice of dipping sauce and the 'Sweet Stuff' comes with whipped cream. Mmmmmm!
This place is so simple. Good food, quick and painless. The three of us each had a favorite which was a great way to share and taste a variety.
Only opened for over a month (since February 15th, 2012) Barb and Tom have had nothing but phenomenal results and have sustained constant traffic coming through their doors. In fact, they were so busy in the first week of opening that they had to close early because they sold out and ran out of supplies! Demand beat the supply!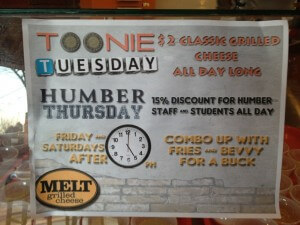 Being situated right beside Humber College you would think the vast majority of their clientele base would be students when in fact a larger percentage is business professionals (only 30 per cent are students.) Who would of thought?!
Melt Grilled Cheese's patio will be opening soon, and it will be enhancing its choice of bread to a more artisan European selection versus the Western bread it currently is using. So you think there is a lot of flavor now, wait until the switch. I know I will be back.
If you are busy during the week and find yourself not being able to commute that way, on Friday and Saturdays you can combo up for a dollar so make sure you go drop in and experience the Melt escape.
3341 Lakeshore Blvd. West. Etobicoke, Ontario
Phone 647-344-5555
Twitter: @Meltgrilledchz
Hours of Operation:
Monday- Friday 11am – 9pm
Saturday & Sunday 10am – 9pm
http://www.meltgrilledcheese.com/
<a href="http://www.urbanspoon.com/r/10/1653079/restaurant/Etobicoke/Melt-grilled-cheese-Toronto"><img alt="Melt grilled cheese on Urbanspoon" src="http://www.urbanspoon.com/b/logo/1653079/minilogo.gif" style="border:none;width:104px;height:15px" /></a>