The Skinny Girls Guide to SLAB BURGER
Disclaimer: By no means am I going to mislead you by claiming I went at Slab Burger using "skinny girl" methodology… After all, double-burgers, bacon on your poutine and sky high topping's is just necessary from time to time. If you hunger easily please proceed with caution.
Slab Burger opened its doors in June of 2012 and its real estate is truly a statement of its beliefs- simple. At Slab Burger you can expect simple, fresh ingredients prepared with minimal modifications to allow the food to speak for itself rather than being masked by additives/processing. A gourmet burger topped with foie gras and truffle oil you will not find at Slab Burger, but instead fresh beef, ground and delivered daily with a giant list of free toppings to create your very own masterpiece. This is what owner Costa stressed to us over and over during our delicious dinner. Costa is clearly passionate about a lot more than just his bank account, as he animatedly described the processes his establishment goes through to serve its clients fresh food at fast food prices. Adding too much to something that is delicious in its simplicity is just a "waste of food," Costa explained.
On the menu for our evening:
The original Slab double-burger topped with classic burger toppings; mustard, ketchup, tomato, lettuce and pickle. (Hold the bacon & cheese- that will come into play in another dish.)
The Spicy Chicken Burger nestled under mayonnaise, tomato, lettuce and spicy hot pepper relish.
The Veggie Burger with sautéed mushrooms, caramelized onions, spicy BBQ sauce and hot peppers.
Bacon Poutine
Fresh Fries with a side of ketchup and Slab Sauce.
Go hard or go home.
First to reach our table was the bacon poutine- fresh cut fries (which are only blanched once and sprinkled with just a tiny pinch of coarse sea salt,) accompanied by gravy, fresh Quebec cheese curds and whole slices of crispy bacon. This was comfort food at its finest. We dug our forks in with vigor, cracked the bacon into tiny pieces, tossed the whole mess around and watched as the giant cheese curds melted amongst the fries and gravy- what a sight to behold. Its beauty would grow as we tasted it to reveal more than just a superficial attraction- YUM! I mean do I really need to go into detail? Fries, bacon, cheese and gravy… It was good, what else can I say?!
*Skinny Girl Tip- Ask your girlfriend/boyfriend to order this and steal ONE bite… Savor it. To quench a craving one bite is often all you need. Another idea- order the side salad and have it topped with the delicious Quebec cheese curds.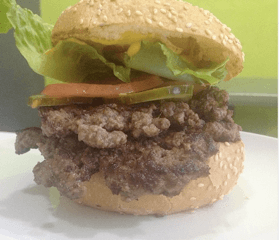 Next up were the burgers. The classic beef burger was exactly that; classic. Think backyard BBQ with homemade burgers on the grill- the smell, the taste, and even the look- but sans all that extra fat and grease and your Dad setting himself- or worse yet, the burgers- on fire.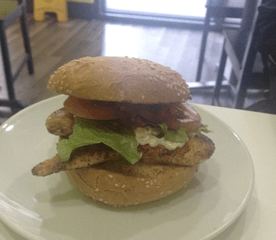 The spicy chicken burger was a perfectly pretty real chicken breast with nothing but our delicious topping selections perched merrily on top. It was fresh and juicy and would never leave you feeling guilty.
The veggie burger was probably the best I've ever had in my life; ideal for those vegetarians who are looking for something to truly reflect a beef burger. The toppings we chose were a PERFECT combination- the mushrooms, onions and rich flavorful BBQ sauce should just be mandatory for all orders!
*Skinny Girl Tip- When it comes to beef burgers, stick to the single sans cheese & bacon. For all burgers- to ensure you won't be tempted by that fresh and delicious sesame seed bun it is served between, ask your server to only serve you the bottom half. Another option would be to ditch the bun altogether and order a side salad (fresh romaine, tomatoes, peppers and cheese—ditch the cheese) and put your burger on top. As for the toppings- (think MORE fresh vegetables- tomatoes, lettuce, jalapenos, FEW salty pickles and banana peppers, and LESS sauces.) Do as Costa says and let the burgers speak for themselves; why add too much to something that is already so delicious?!
I know, I know, you're probably wondering why we even bothered with the plain fries after we already owned that bacon poutine- well because in true Slab Burger form, we wanted to try it without all the fancy distractions. Even though the fries are only blanched once they were perfectly crispy. The addition of good old fashioned ketchup was simply-delightful. And just to say we did- we HAD to try a dip of Slab Sauce (ranch dressing, real sour cream and chives made in-house) and thank goodness we did- mmmmmmmmmmmm! Totes addicting.
*Skinny Girl Tip- Swap your fries for a side salad. It's as easy as that. I am sure one of your friend's won't have as much self-discipline as you do and you can steal one or two from them when they aren't looking.
Some final words of advice for surviving Burger Slab on a bikini-body-budget:
Opt for the chicken burger or single beef burger and load it up with fresh veggies. If sauces are a must, select non cream-based options. Plan your Burger Slab visit on a beautiful, sunny day… Toss on your runners and jog over. Challenge yourself to jog home after, but briskly walking will do just fine. Hit up Burger Slab for lunch rather than dinner so you have ample time afterwards for physical activity. Drink plenty of water before and during your meal to help you feel fuller and more satisfied which will keep you from over-eating and giving into cravings. Have a nice hot herbal tea or hot water with lemon afterwards to aid in digestion. The beef and chicken burgers are just so simple and good that you really shouldn't feel guilty afterwards- remember they are NOT processed, so your body knows what to do with it!
Always remember to listen to your body- if a burger with cheese and a bun is what you want- go for it! It's not going to kill you. To indulge is a tasty, rich dish once in a while is human. Savor every last bite to carry you the whole month through until your next undeniable craving.
Be sure to check out Slab Burger on Facebook #/SlabBurgers & Twitter @SlabBurgers.
47 Charles Street West, Unit B
Toronto
tel: 647.350.5883
Email: info@slabburgers.com