The Burger's Priest
Is The Burger Priest a classic American burger joint? HELL YES, I mean heavenly YES! I have been hearing through the grape vines all about this burger joint. To myself, all I thought, geez ANOTHER one of these little spots opened up. Toronto was giving birth to burger joints all over – the trend of 2011. Which one will survive?
Everyone and their mother kept bragging to me about this "Burger's Priest." So, guess what we did it! We contacted Shant Mandirosian, a Tyndale University College and Seminary graduate, also the founder and creator of this masterpiece of a burger joint. We tested out our taste buds there, original location over by Coxwell and Queen.
BP meets TCG. Hearing all about it, I had a slight idea of what I was going up against. Growing up in central Etobicoke, my religious burger joint was Apache Burgers. Even when I moved out to the suburbs when I craved a burger, I would head to the Kipling and Dundas area to get my fix. However, can't say I have been there recently to make the judgment if it's still any good like back in the day.
I skipped out on breakfast just knowing my calorie intake was going to be off the roof. My stomach in starvation mode and my taste buds just utterly excited. I was ESTATIC!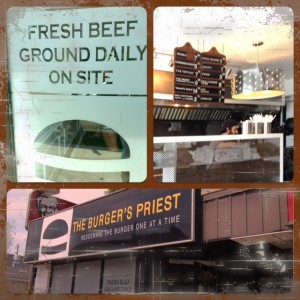 As we were heading there, my anticipation was exceeding by the minute not to mention the growls in my stomach were increasing. As we are driving along, we get stuck for a solid 10 minutes at the lights, while Camila and Charles drive by with their entourage of security and police officers. I guess they didn't get my memo that TCG was on their way to The Burger's Priest and for them to get out of the way! We were kind and waiting patiently for them to pass as my stomach continued to growl.
Not what I expected but I like it! Literally, it's what each burger joint should be. Walk in and there is a small sitting area at the right side of the square shaped store. Bar stools for you to sit on as you devour your meal. This is what some of the members of TCG got to do. 2012 meets 1970s (not like I know what the 70s where like but according to my imagination this is what it would be like).
Now, as we waited in further anticipation for our order of The High Priest (double stacked Priest), The Vatican (not listed on the menu) and The Option to join with us.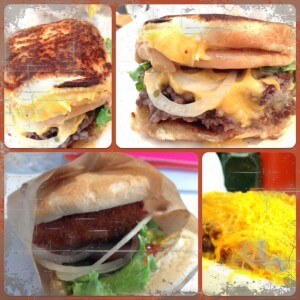 We couldn't help but over hear a customer come in and ask for a burger, which wasn't on the menu, however, she didn't know the name of it and just described it. The staff's response was "We don't know what you are talking about Ma'am, you must know the name in order to get it." There is a hidden menu in which Torontonians have to discover all through word of mouth in order to enjoy the deliciousness of unique burger not listed on the written BP menu. On the classic menu you will find yourself deciding between cheeseburgers, double cheeseburgers (recognized on the menu as 'the double'), veggie burger made of fried Portobello mushrooms stuffed with cheese (referred to as 'The Option'). Than there is 'The Priest' which is basically an option plus a cheeseburger. Simple menu, yes, it's a burger joint what else do you want?! Oh yes, fries exist too, fresh cut daily AND never frozen. All the burgers start from a custom blend of ultra premium beef which is ground in house throughout the day and rolled into a 4 ounce of deliciousness aka balls with just a sprinkle of salt and pepper. The patties are cooked on a flat- top griddle.
The Burger's Priest solution "Fresh ground beef, soft bun, simple toppings, griddled to perfection."
So now to the juicy part of the story, "the experience." As soon as I saw the Vatican my mouth started to drool – two grilled cheese sandwiches made from bun with two cheeseburgers. The most perfect hung over burger. It is everything like it sounds like, heavy, cheesy, delicious, and mouth watering. A little too much cheese for me. But I can definitely understand why it is a secret favourite amongst many.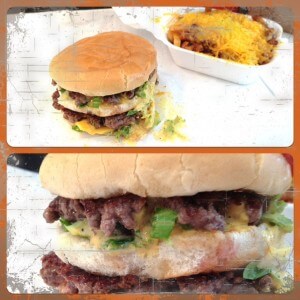 McDonald's Big Mac in a real bun with real patty's. This was JUST HEAVEN in my mouth. Literally! I have always been a huge fan of the Big Mac since the early 90's McD's. However, not so much anymore as McDonald's doesn't make them the same. Craving a Big Mac, don't even bother go to the golden arch, get into your car and get to The Burger Priest and order yourself "The High Priest." Double stacked (two beef patties), special sauce, lettuce, cheese all compressed between a non-sesame seed bun. This one is a MUST to try!
Than came "The Option" to try, which is a veggie burger made out of fired cheese stuffed Portobello mushrooms. It was a favourite amongst one of us, however I yet found it to be too much cheese. A big fan of portobello mushrooms, I did enjoy it. For the non meat lover, this is definitely an ideal hang over alternative burger choice. If I didn't enjoy my meat so much I would travel for this deliciousness especially if you are a cheese lover.
It is to no surprise why The Burger Priest has become a trendy spot in the city. You definitely do not come there for the service. The staff isn't the friendliest but what does it matter, it isn't a sit in restaurant. Grab and go! Due to their popularity, I would recommend ordering ahead of time just to run in and pick up. Try to find the secret menu and you'll be ahead of the game. Don't forget to order the fresh cut fries. Just like the ones you find out in the country.
LOCATONS
1636 Queen Street East. Toronto, ON M4L 1G3
(647) 346-0617

View Larger Map
3397 Yonge Street. Toronto, ON M4N 2M7
(416) 488-3510

View Larger Map
HOURS OF OPERATION
Monday-Wednesday 11:30 AM – 9:30 PM
Thursday- Friday 11:30 AM – 10:30 PM
Saturday 12:00 – 10:30
Sunday CLOSED it's Church Day!