Delysèes Authentic French Bakery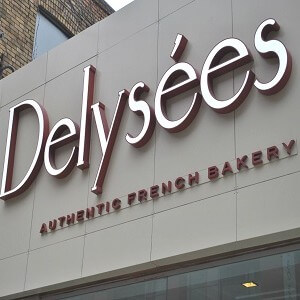 A small bite should have BIG flavour. Delysèes takes this concept to a whole new level with its amazing, and authentic (Parisian) French cuisine.
From the second we walked in the bakery, we felt warm, and welcomed. Whitney, the lovely woman behind the counter, immediately greeted us with a smile. You could tell that she was genuinely happy to be there, and that happiness was contagious.
The bakery itself is a charming spot. It has a very cozy feel to it considering the size and modern decor. There was lots of white on the walls which gave the restaurant a very chic, simple and clean look with a focus on the colourful pastries in the front display. However, the walls aren't bare. If you stop and take a moment you'll find paintings of various places in France hung throughout the bakery.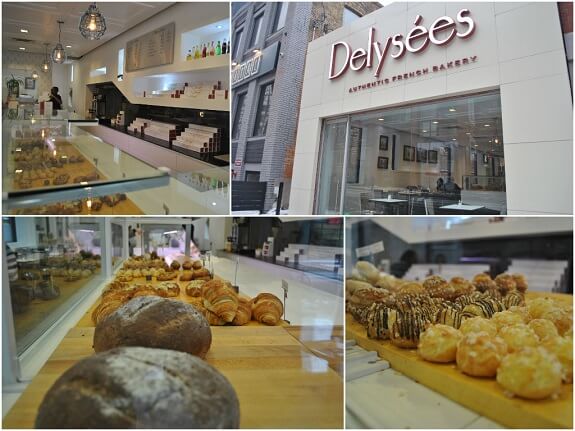 Shortly after we sat down Fred Naggar, the owner, asked us kindly if we wouldn't mind waiting a minute to begin our conversation. Why? Because he needed a second to take the pastries out of the oven in the back. Note: It was just slightly after 4:00pm, hello fresh!? I think it's great to see owners getting their hands a little dirty to make sure the business is successful, and that everyone is happy.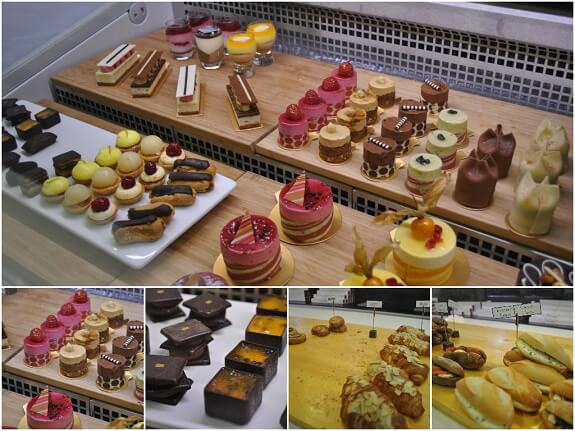 Fred brought over three pastries which they call "Heaven". We laughed when we heard this, but when we tried these pastries, we literally felt like our tastebuds had just experienced a small piece of heaven. There were three kinds of "heaven" that we tried: Matcha and cranberry, pralines and hazelnut, and custard with raisin. These pastries literally just came out of the oven, so they were delightfully warm. We tried the matcha cranberry first. It was very light, perfectly soft with some flake, and an extremely unique combination of flavours. The tartness of cranberry is balanced with the sweetness of the custard, but the entire bite felt smooth. Next was the hazelnuts and pralines. If you are a Nutella lover, be sure to get this pastry. It was absolutely divine! The hazelnut "Nutella" flavour is prominent, and there is a nice crunch from the nuts. Lastly, we tried the custard with raisins. This custard pastry was a decadent, rich treat. Normally, I hate nuts and raisins in baking, but here, they both work beautifully.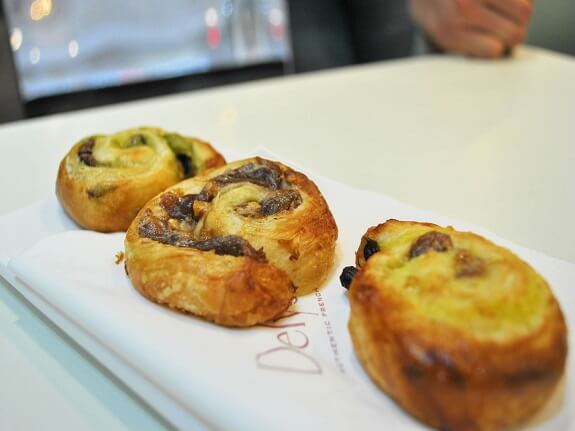 While sampling a piece of "heaven", I was handed a warm café latte. There was a nice bold espresso flavour, with fresh steamed milk. This is where we began seeing Fred's love and passion for quality. His espresso machine, for example, filters water three times, just to make the espresso!
Fred is a super friendly and genuine person. He is so passionate about the bakery, literally calling it his baby. He loves this place and wants to make it comfortable and accessible for all. He also wants the bakery to live up to the expectations of the quality of food one would find in France.
When asked what inspired him to star this bakery, Fred said that when he came to Toronto, he couldn't find any genuine French food. This spark grew into the beautiful fire that is Delysèes. Keep in mind, this is a genuine French bakery. You won't find any "crossanwichs" or large meals, but you will find freshness and flavours that people line up around the building for on Saturday and Sunday mornings. The bakery is also open till 8 pm on weekdays, and 9 pm on weekends. Fred strives to serve his guests the best and the freshest. How fresh you may ask? Well, pastries are made in super small batches with a 40 min expiry time.
Now, back to the food! We tried six amazing French macarons, out of 29 different flavours. And, that's not all! The bakery is coming out with seven new flavours, just for Valentine's Day. They are not overpowering in sweetness, but bold in flavour, which is nice because your palate isn't overwhelmed with sweetness. The flavour isn't sharp and instantaneous, instead, it continues to build until your senses are taken over. The macarons are served chilled with the client in mind, so that by the time they are back home and ready to eat they are enjoying them at the perfect temperature. The consistency is moist, and not too flaky. They can also literally be cut it in half, which is a rare find with macarons. They are priced at $2.25 per macaroon or 12 for $25, which believe me, is worth every penny. Especially because they are presented in a beautiful box that easily become a gift for anyone with a sweet-tooth! For Valentine's Day, they created a sleek and sexy black macaroon box. Fred says that if people are going to come in and spend their hard-earned money on his cookies, they deserve a box that they can be proud to gift to someone. We couldn't agree more.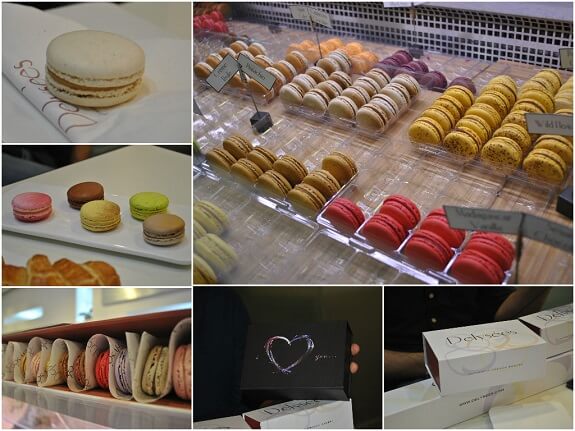 The first macaron we tried was one the salted caramel, which wasn't cloyingly sweet, but a rich caramel flavour that builds in your mouth and makes you melt. No wonder this is his best-selling macaron! Next, we tried the pink lychee with raspberry in the middle. Raspberry and lychee is well balanced in sweet and sour, and both flavours come through. Next, was the double dark chocolate. Now, many people don't like dark chocolate because it can taste very bitter and assertive, but this isn't the case here. This is made with 80% dark chocolate, and is reminiscent of chocolate cake in terms of flavour and even texture. The macaroon has bitter notes but is smooth in chocolate flavour. Next up – the yellow Madagascar vanilla macaron, which was extremely smooth and not your typical "vanilla" flavour. The basil lime green one was fantastic. Fresh, with a light basil after taste. Finally, we tried the chestnut macaron which is lighter brown in colour. The chestnut has a natural fresh nut flavour, and definitely was one of the must unique.
As our macaron tasting was coming to an end, Fred brought over a beautiful plate with a butter croissant, mini chocolate croissant, and a second matcha cranberry "heaven". Yes a second, it's that good! The butter croissant is hands-down the best croissant I have ever had – and we all agreed on that. It was perfectly soft and doughy in the middle (the way a true Parisian croissant should be), full of flavour, slightly flaky (without making too much of a mess), and quite literally melts in your mouth. This is partially because 31% of the croissant is made with butter – not margarine, real butter. Only 6 are made at a time so naturally, people can be seen lining up and even calling ahead just for the butter croissant. And at $2.45 per piece, it's a true steal! If things couldn't get any better, we got to try the chocolate croissant. The chocolate is 80% dark chocolate sticks. The croissant has full chocolate flavour, without the added sweetness. The chocolate runs throughout, so there is chocolate in each bite, but without it being so much that the chocolate spills out the sides. And for those wondering, no the dark chocolate didn't add any bitterness, just deliciousness! These croissants will literally leave you craving for one with your coffee every, single, morning.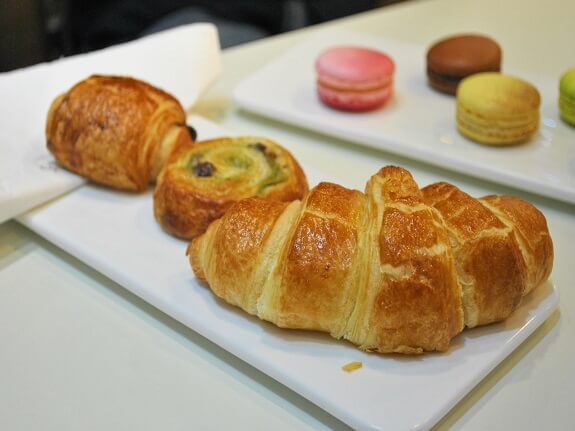 Our last food items were mini sandwiches. These aren't ordinary sandwiches by any means; they are the highest quality sandwiches you will ever eat. They offer four kinds of in-house bread, including a standard French Baguette, olive bread, and rye bread. What makes these breads unique is that they aren't a roll, or a slice of bread, they are their own individual mini baguettes. Other examples of the high quality ingredients in the sandwich? Well for example, the ham in the ham and cheese sandwich is imported from France, and the prosciutto is made in Italy. We got to try two sandwiches: the chicken pesto and the smoked salmon. The chicken and pesto were both super fresh. Next, we had the smoked salmon. The sandwich has capers, Atlantic salmon, and mayo mixed with Dijon mustard. The sandwich was full of flavour, but had none of the "fishiness" in smell and taste. The mini-sandwiches are $3.50 each or three for $10.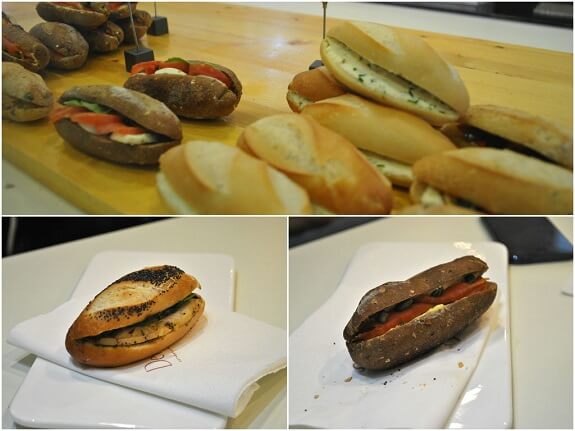 Overall, this bakery is a true gem, which I believe any lover of food needs to experience. The heart, love, and genuine passion that Fred puts into every ounce of this bakery is reflected in his delicious, and fresh food (And the lineups around the corner on weekends). He is equally passionate about his guests, saying hello to every single person who walked in the door. My only regret about going to Delysèes is that we had to leave. I tip my hat to Fred who has created a warm, welcoming, and loving environment where anyone can come in an experience a little bit of France here in our beloved city of Toronto.