Estrella Taqueria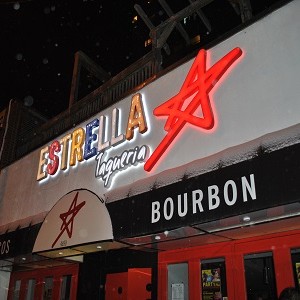 You don't have to go downtown to enjoy a delicious, unique, and vibrant restaurant. That is what I learned when I visited Estrella Taqueria, which is located on Yonge street just off of Sheppard Ave. West. This restaurant, which only opened a few months ago, is truly a hidden gem when it comes to delicious food in the city.
When we walked in the door, we were greeted with big smiles from our hostess, who promptly showed us to our table. As we were walking to the table, we noticed the unique decorations found all over the restaurant. Everything from rescued crates being used to store liquor, to the original artwork found on practically every room.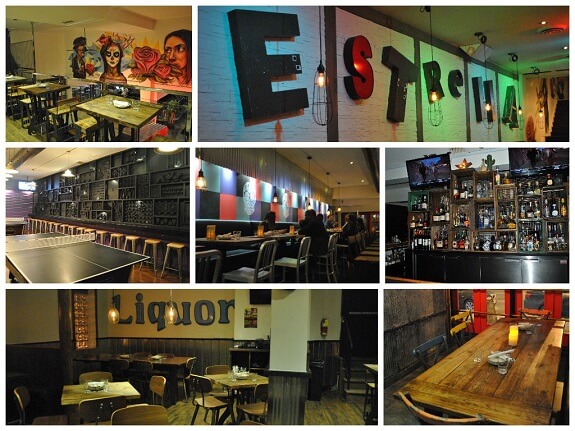 Now, onto the food and beverage! Let's begin with the amazing selection of drinks they have. The restaurant boasts over 50 kinds of tequila, over 30 kinds of bourbon, 60 kinds of wine, and 30 kinds of beers (many of which are from Europe). We were fortunate enough to try three tequilas and a bourbon. I never realized tequila could have so many different taste, strengths and even flavours!
My friend tried the Flying Monkey – Hoptical illusion beer. It was smooth with a bitter hoppy aftertaste, but the bitterness is not overpowering. This beer is reminiscent of the Barking Squirrel. I tried three specialty drinks, starting off with the palomo. This is basically a mojito made with tequila, lime, grapefruit, sugar and mint. It tastes just like a traditional mojito with a very light "alcohol" taste, with just a touch of tartness from the grapefruit.
Next was the bourbon Sour which was made with bourbon, lime, simple syrup, and egg whites (like in a traditional whiskey sour). It honestly looked just like a coffee, and will wake you up like one too! It had a very nutty aroma and had a nutty taste to it to. My friend wanted to be a little adventurous and try a mixed drink too so he ordered their version of a caeser. He was wowed, because this was not like any other ceasar he ever tasted before, and that is because they use tequila instead of vodka. It is sweet, and spicy, partially due to the Montreal steak spice rim that garnishes the glass.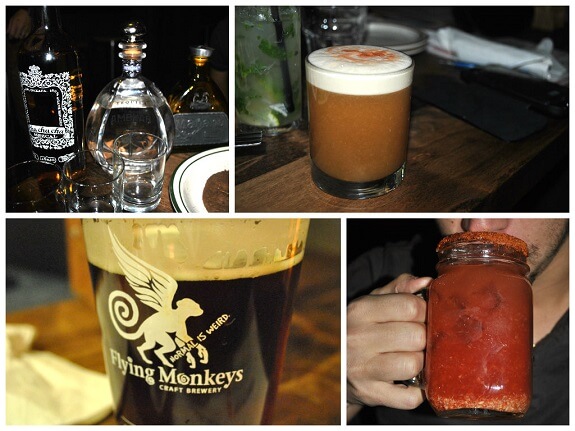 But Estrella isn't all about the good drinks; they are also about the good food too! We started our journey with an order of guacamole, which was hand mashed with a mortar and pestle at your table. You can really taste the avocado, but the taste is also very well balanced. That is to say, you can taste the tomato, onion, and avocado equally. All the ingredients are super fresh, and the flavour proves it.
Next we had the chipotle roasted peanuts. Peanuts are roasted with chipotle sauce and brown sugar to create a sweet flavour with just a hint of spice. The peanuts were very warm, because they were fresh from the oven, and offered a chewy texture with a bit of crunch. This was however because they were warm and freshly roasted. The longer you wait, they cool off more and more to become crunchier.
Our next course consisted of tortilla soup and a fresh salad called Ensalada Estrella. The soup is chicken stock based, and since I am a vegetarian, I can't try it but my friend raved about it. The taste can only be described to be a cross between a warm Mexican salsa, and your mom's tomato soup. It is mild in heat and is garnished with tortilla strips and sour cream. What makes this soup truly unique is that some of that hand mashed guacamole is in the centre of the bowl. This was his favourite part if the meal, and he wouldn't stop talking about it for days!
I had the salad, and I must say, I was pretty wowed. I generally stay away from salads at restaurants, because most of the time, they are done in such a simple way, that the flavours are wear or non-existent. This salad used very fresh ingredients, including the topping of the salad with sprouts, which added a surprising crunch that would normally be done through the aid of seeds or nuts. The vinaigrette was amazing and the deviled egg on top was a nice spicy, but delicious addition to the dish. The yolk could be mixed in with the rest of the salad to create a whole new salad experience.

Next we tried an assortment of Estrella's specialty tacos. The first was the short rib taco, which was very tender. It was so tender that the meat was falling apart. This is thanks to the unique coca cola and cinnamon "marinade" that the meat goes through. It was mild in heat, and topped with "yuka" sticks which are like potato sticks, but made with cassava.
I tried the Elota, which is made with corn and is absolutely delicious! It has a light spice, but flavour wise, the corn is for sure the star of this taco. It is topped with pico de gallo with black beans spread on the bottom. The corn fritter is fried beautifully to golden perfection. It was crisp, but with an almost creamy texture. Gosh, my mouth is watering just talking about it. This taco was my favourite part of the meal, and will be the main reason why I go back again, and again.
The last taco we tried was the fish taco. There is a good kick of spice and heat. Fish is very flaky, and the batter makes the fish very crispy and crunchy, but is not heavy in oil. We then tried a vegetarian dish, the Rajas con Crema Tostada which comprises of a dollop of black beans, a big corn chip in the middle, and topped with crispy leeks and poblano peppers. This dish does have a little kick, but there is a red sauce on the plate which is VERY spicy. You can then add more spice to the dish if you really want to kick things up.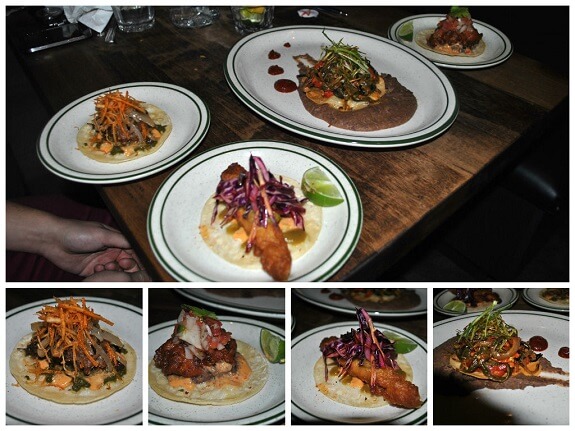 To end off our night we had four dessert dishes. The first was a corn ice cream with a sangria sauce. The ice cream itself was sweet and if eaten on its own, you can really taste the corn, but the taste is fresh. The taste is completed with the sangria sauce, which neutralizes the prominent corn flavour but at the same time adds a tartness that balances well with the ice cream.
Next, we tried the poblano ice cream. Yes I know what your thing – first corn now chilli, are you crazy! But I really liked this ice cream dish! The flavour is very unique, but can be contrasted to a savoury pistachio ice cream. What's interesting about this dish s that you get the flavours of the pepper without the heat. The ice cream lays on a layer of a dark chocolate ganache. Normally, I hate dark chocolate, but this ganache was bold, but balances super well with the creaminess and flavour of the ice cream.
Next, the ever popular and delicious Churro. It was warm and very fresh. It is served with a caramel sauce which the right amount of sweetness that completes the churro experience. Last but not least, we have the pineapple ice cream, which was one of our favourites alongside the churro. There is a strong and very prominent pineapple taste, but it was a genuine pineapple flavour. The ice cream is topped with macadamia nuts which add a nice crunch. The ice cream is a little tart, but the Dulce de leche sauce that came on the dish really compliments the ice cream and helps balances out flavours.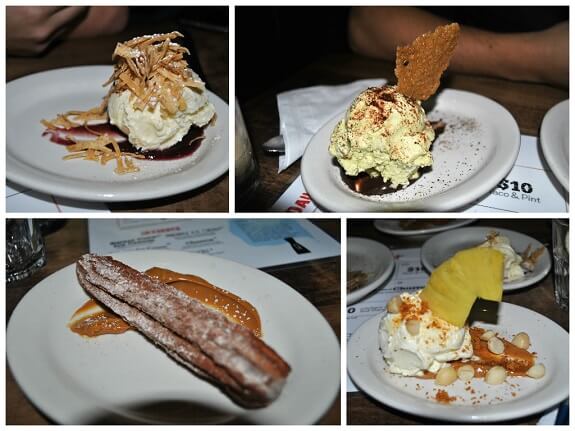 The food at this restaurant is amazing, but it isn't the only reason why I would go back. The people who works at the restaurant are all super friendly, warm and welcoming, especially our waitress Cassandra. She checks in often to make sure everything is ok, and is very kind. She also really knows the menu, like it was the back of her hand. She knows the flavours and gives you honest and real advice when it comes to the menu. She compliments the atmosphere of the restaurant.
We also had the honour of meeting the owner, Otta, and the head chef Jeremy Dyer. Otta is a very passionate and very kind. He is also amazing with customers, sitting with guests and chatting like they have been good friends in a past life. He built this restaurant piece by piece, so he has a story for literally everything in the story, down to the lampshades!
Jeremy is not a cook, he's a chef. He is very versatile, loves to cook, and seriously knows his flavours. It helps of course that he loves Mexico and Mexican food. In fact, he cook in a technique Otta coined as "French-Mex" which a fusion of French cooking styles with ingredients found in Mexican cuisine.
This restaurant truly is amazing. Walking in feels like you're walking into a good friend's home. The atmosphere is light and warm, and very friendly, and the food can't be beat. This is a must try if you are in the area and if you're not, make a trip! You won't regret it!