Coquine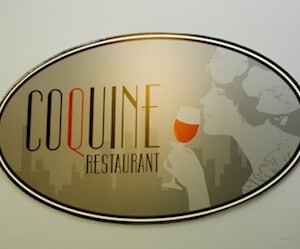 Battling the crisp winds of late April, we arrived at what looked to be a quaint eatery at 2075 Yonge Street. Once we passed under the black and white canopy, we entered an entirely different world at Coquine Restaurant. It felt less like we were in Toronto and more like we had caught a flight to Europe.
Greeted at the door by Luke, general manager, we were escorted through the lively crowd to a back corner table that was softly lit by candles. This provided an intimate setting, well suited for this French Bistro.
David, our waiter was quick to welcome us and give us ample time to soak in the atmosphere and peruse the extensive menu; their options seemed endless.
It wasn't difficult to choose our appetizers while munching on slices of sesame seed baguette fresh from Petite Thuet (Toronto) with a creamy roasted garlic and bean dip, served gratis.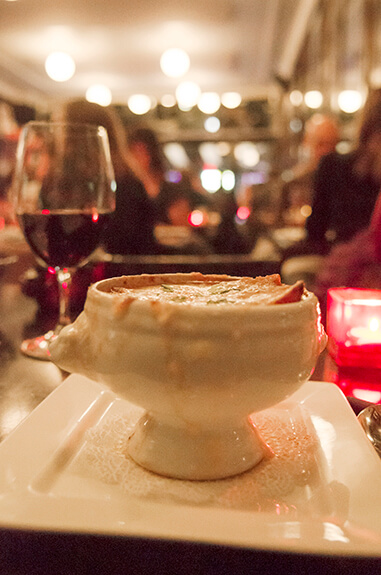 David informed and unintentionally persuaded us to go for their Poutine ($14) and Soupe Gratinée å l'Oignon ($10); as if we really wanted to say no to mounds of melted cheese. Both dishes have been voted best in Toronto, the poutine won first place at the 2013 Toronto Poutine Festival and the soup has been named Toronto's best French Onion by Mid-Town Post, two years in a row. If eating famous food doesn't make the whole experience that much more exciting, what else would? The soup was delicious with a veal stock and thick layer of Gruyere cheese and the poutine with perfectly cooked Yukon potatoes, topped with Brie and Provolone melted in your mouth.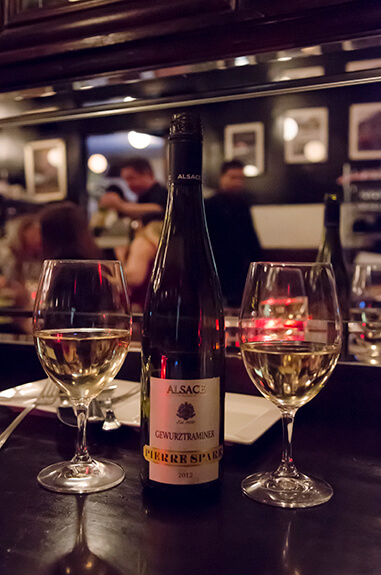 The generous portions of the appies meant wilfully waiting to choose our main course. It was the perfect excuse to slowly (but surely) sip our recommended wine, Pierre Gewurztraminer ($11 for 6 oz.) and Cesari Mara Ripasso ($12 for 6 oz.). Each was the perfect compliment to our palates.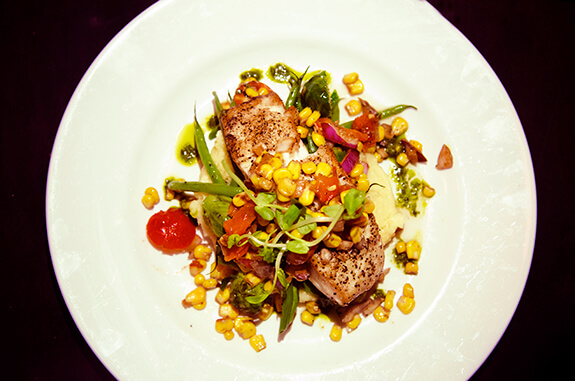 We were fully committed to our main course choices: the special of the evening, pan-seared halibut on a bed of mashed potatoes, sautéed french beans, crispy brussels sprouts and corn salsa ($27). As well as, the Poulet Roti, a roasted 10 oz. chicken breast with lemon herb butter, served with mashed potatoes, french beans, crispy brussels sprouts and roasted garlic ($24).
Still having difficulty appreciating brussels sprouts after your rough relationship through childhood? I guarantee Coquine Restaurant will cure your hesitation.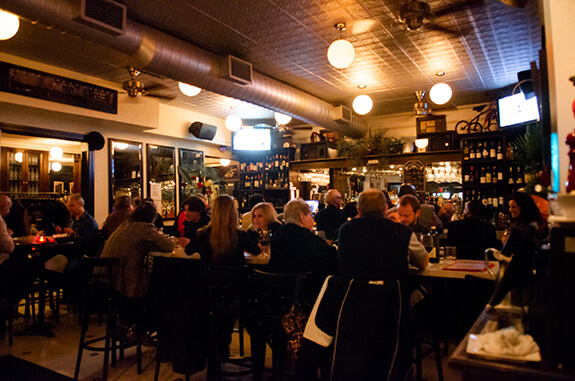 While waiting for our main course we embraced the atmosphere of this bustling bistro. It was evident people came here to enjoy delicious food and a charming experience with close friends, family and colleagues. This delightful restaurant has been operating for seven years by owner Rob Prete, formerly of Grazie Ristorante and according to Luke, 70 per cent of the clientele are repeat customers within a kilometer radius.
After somehow devouring each portion that had come to the table, we had no choice but to split a dessert. Obviously we weren't going to leave without tasting the Pudding Chomeur, ($9) a delectable maple apple cake topped with vanilla gelato. David described it as a traditional Quebecois dessert and the presentation was as elegant as the flavours.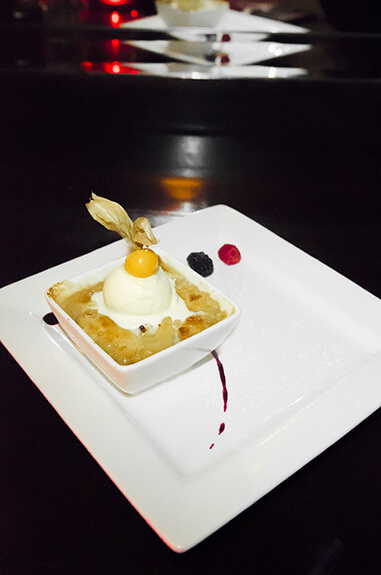 While waiting for our exquisite dessert, Luke surprised us with treat called 'hot shots,' expertly layered combinations of coffee, espresso and Kahlua, a must try for coffee lovers.
All in all, our time at Coquine proved to be remarkable. The attentiveness of our waiter and general manager was highly complimented by their expertise in our food and wine choices. We left abundantly satisfied and inspired to share our experience.
Visit the website for the full menu detials here: http://coquinerestaurant.com/
Be sure to "Follow" on Twitter @CoquineBistro and "Like" on Facebook here
2075 YONGE STREET
P. 416.322.6767