Vita Sociale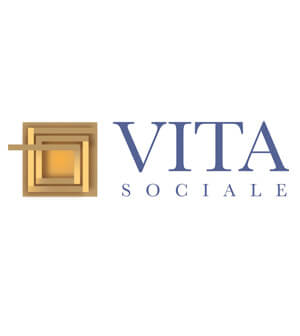 If Toronto had a prince charming of restaurants, Vita Sociale would be crowned for its captivating charm. The magic started as soon as we stepped through the big blue doors. Adorned with a golden handle, the playful look was reminiscent of a childhood fairytale. Tagged with the restaurants name, a red carpet led us into the main room: the realm where all of our senses would instantly be ignited. The restaurant had an enchanting beauty. Owner Armando Mano's signature style of elegance and class was apparent in every detail of the décor. High ceilings, exposed tri-coloured brick and floating iron chandeliers accentuated the richness of deep rustic hues in the space. With table and booth style seating, the locale was bustling with energy for a Tuesday night.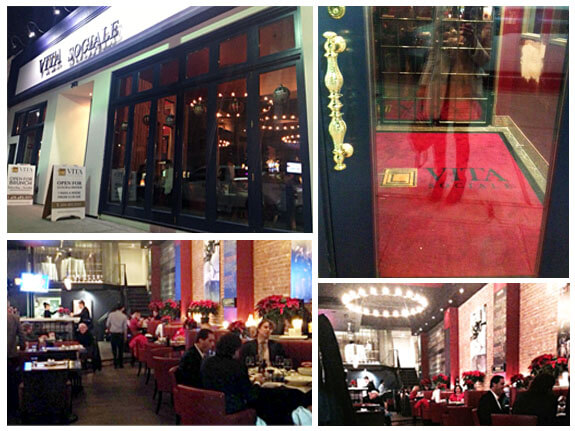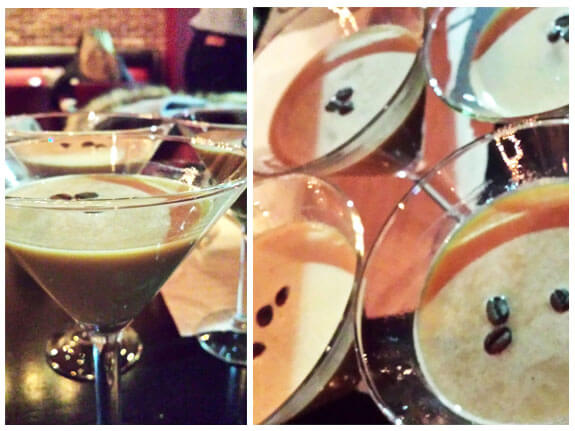 Paul was our server for the evening. He welcomed us with a round of delicious creamy espresso martinis made by Sulla the bartender. The cocktail had affluent notes of vanilla and hazelnut making this drink a coffee lovers "go to" for a quick pick me up before a night on the town. Armando appeared within minutes of our seating. He checked in with each of his guests, working the room like an industry pro. His service and gratitude of appreciation was omnipresent as he greeted each visitor, both old and new, along his path. A true restaurateur, Armando's staff reflected the same virtuous qualities of impeccable service only few in the hospitality industry were privy to learn. The menu also reflected Armando's years of experience. Nothing was too heavy or too light but just right, satisfying all types of food lovers. A party of four or more can expect to be enticed by a variety of sharable items just as much as a party of two making this place a fun hot spot for friends and lovers alike.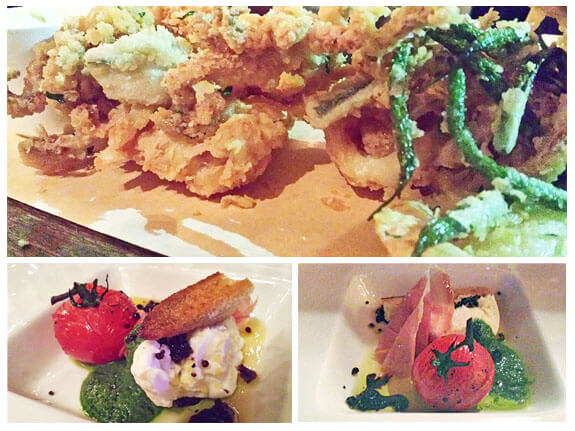 Head Chef Symon Abad and Chef De Cuisine, George Adamo, had our mouths and eyes watering for more, more and more, dish after dish. Heirloom candy cane beets with mascarpone and goat cheese mousse topped with a frisse and pistachio crumble was an excellent first starter to our evening. An earthy blend of local produce and crunchy sweetness from the candy pistachios, delivered the perfect balance making the dish bittersweet. The prosciutto, buffalo mozzarella and arugula pesto without pine nuts, paired with Otto 2012 Classico from Italy, was beautifully followed. Based with balsamic reduction pearls, the pesto, the fresh melt in your mouth buffalo mozzarella and the straight from the vine tomato was another hit as well. The balsamic reduction pearls gave the slightest tart taste to the smooth dish accompanied by an extremely generous portion of mozzarella. Deep fried calamari, smelts, shrimp and artichoke heart served with green beans gilled lemon and caper aioli comprised the party classic seafood platter. Popular on most restaurant menus, this familiar and fun starter didn't disappoint. Rather, the favourites of the night were the roasted bone marrow topped with braised short rib and roasted pepper jam in addition to the linguini with shaved bottarga, both paired with a glass of 2012 McManis Pinot Noir.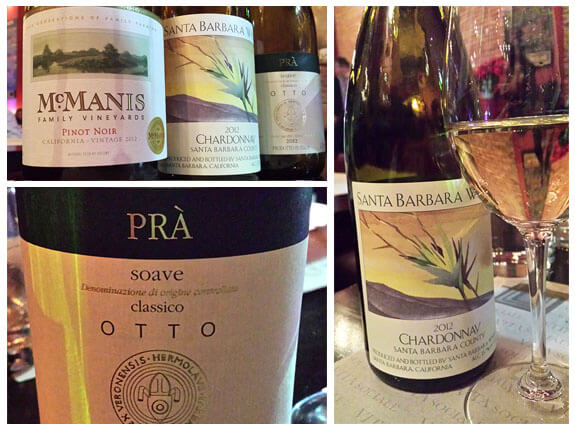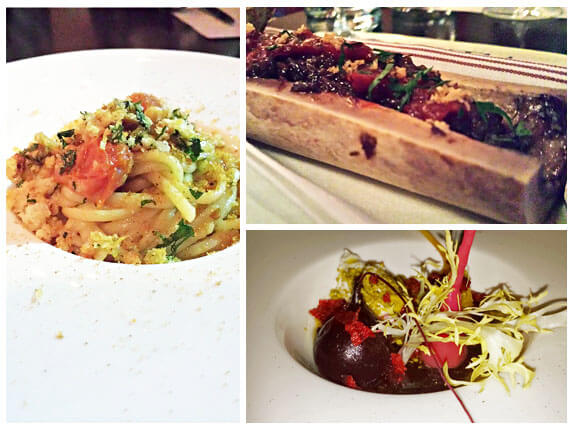 Meat lovers rejoice! This by request only specialty item was an explosion of flavours from the first taste. The roasted red pepper jam and the braised short rib gave the soft bone marrow the added sweetness to its unique taste, however what made this dish sublimely perfect was its presentation. Served in a halved bone, eating this delicate treat was nothing less than exciting. The linguini with shaved bottarga (or tuna) was also savoury due to its light lemon and olive oil base . Suitable for patrons wanting pasta without the heavy sauce and the lethargic feeling, this dish topped with chili peppers was infused by the small shavings of tuna and the perfect crispy crunch of deep fried tuna flakes.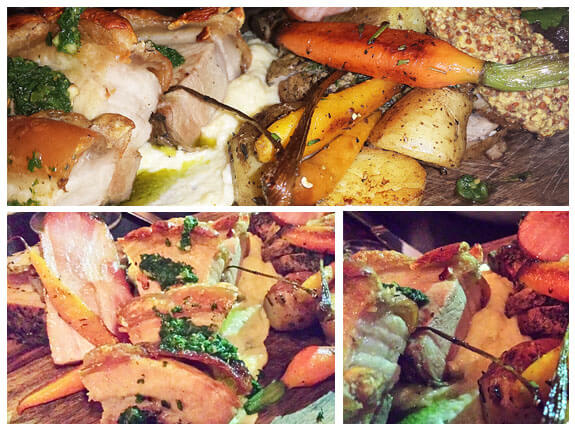 The biggest surprise of the night was Chef George Adamo who personally presented our table with the "pork duo" platter. A blend of everything pork, the platter was a combination of pork chop, porchetta (a pork loin wrapped in pork belly and then roasted) and double smoked bacon all served with baby carrots, roasted potatoes, polenta, braised red cabbage and a grainy mustard rapini pesto. This southern delight of tender, juicy, nicely cut Ontario heirloom pork had the entire table feeling spoiled and overjoyed.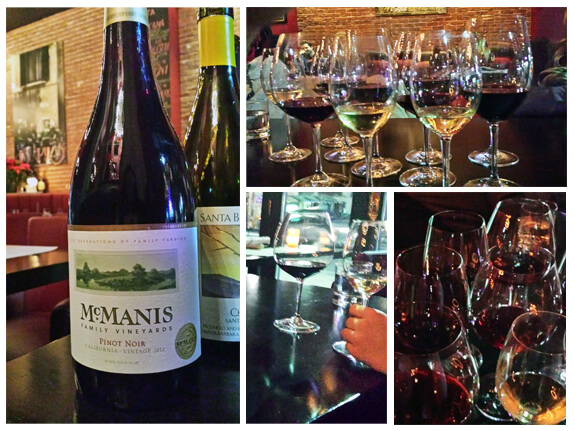 With all the excellent food, we couldn't resist getting caught in the moment. The euphony of holiday cheer from two private parties and an enthusiastic crowd kept us in our seats. Unlike other restaurants, which resemble a revolving door, rushing patrons in and out, at Vita Sociale we were free to eat, laugh and be merry while enjoying the illustrious atmosphere. When dessert arrived, we were all too engaged in conversation to notice the beautiful spread of warm chocolate cake, pana cotta with an ameretti cookie, dolce leche ice cream, pear tart and pistachio conotti.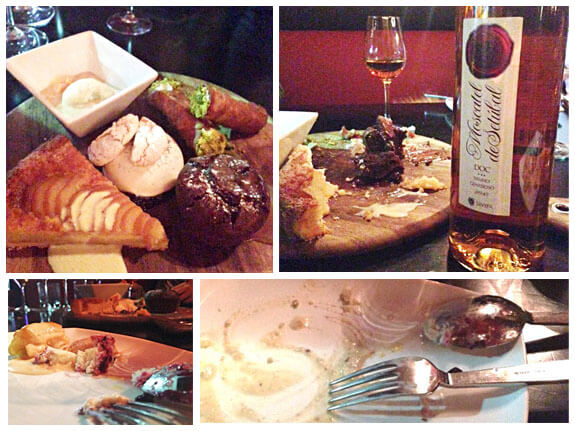 The sensational evening slowly came to an end as our dessert plates sat bare with only a few crumbs. We kindly said our thank yous' and good-byes to the incredible staff that made our night astonishing. As an Italian restaurant in Toronto, Vita Sociale provided the flare of downtown, all at a reasonable price (comparable to a Terroni or Grazie) without the stuffy downtown scene. It's an uptown journey that won't let you down.
www.VitaSociale.ca @VitaSociale
Address: 2472 Yonge St, Toronto, ON M4P 2H5
Phone:(416) 483-2211
Hours:
7 days a week, Mon-Sun, 11:00 am – 11:00 pm
Brunch, Lunch, Dinner