How to be Manly while Drinking Wine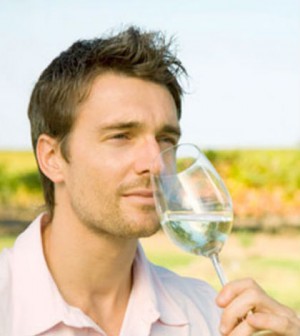 The universality of wine knows few boundaries. The joy in discovering this vinous liquid is often surpassed by the hidden power it possesses in bringing people of different gender, color, beliefs, social classes, and knowledge. It does all of this without holding any judgement. Amen to that!
My area of expertise specializes in the grape species, and not the Homo sapiens male species. This topic therefore demanded I think outside the wine crate. To help me in this process, I sipped a glass of Torrontes from Terrazas de los Andes Reserva, and pondered what my Argentinian amigos would do. What else? Seek professional help!
I immediately called upon my "manly" and not so "manly" friends from around the world for their advice in addressing this sensitive subject. The perfect responses came from a country of over 8000 wine producers pumping out more than 1.255 million litres of fermented grape juice in this past year alone, Chile!
These rugged, and some more ruffled, Latino men with dark brown piercing eyes all proudly stand tall to shout; there's nothing unmanly about drinking wine! In fact, if you think about it, it's quite a man's activity from the beginnings of times.
Think back to Biblical times with the Greeks and Romans, and their Bacchanalias. These were drunken revelries in honor of the god of wine Bacchus, where these libations were possibly responsible for the origins of theatre. Still to this day, the artistic crowd will often cluster over a cup of wine. Ask any student what they drink when they convene outside class, and wine will surely be at the top of the list.
Think of warriors in ancient times and what they got drunk on while gathered by their camp site fires. They weren't just sipping grape juice and singing camp songs.
Drinking wine has always been an expression of camaraderie and bonding between men.
Take it from my friend Cristian in which he states: "In fact, here in Chile, one of the most renowned wine countries in the world, men will gather in their small town and country bars; places almost banned for women of respect. Their beverage of choice? Wine of course, any kind, any source, any origin. It's only in the big cities that wine and wine paraphernalia has become an elegant and refined activity. Almost too refined and elegant to be considered manly".
My amigo Rodrigo then relates to me a survey done by Côtes du Rhône Wines asking the British aged drinking boys their "bevie" habits. The result: 91% love wine…..at home, and just like a pumpkin, the wine turned pint at midnight and the manly men drinking wine stumbled to 24%. Gentlemen please, don't be wine Wallies.
Knowing about wine, surrounding it of specialized knowledge, and appreciating the importance of the appropriate tools to perform its ritual; are all so very important and can enrich the experience, but in no case feminize it.
Even when thinking of a seduction tactic; a man may share a glass of wine as a sensual and arousing experience with the object of his affections.
So tell all to whine no more for wine is still part of the realm of men.
Salud to Dr. Cristián Jorquera and Dr. Rodrigo Sierra for their contributions while sipping their glass of Carmenere.

About Sommelière Mimi
Sommelière Mimi was born in Montreal in a wine loving family. Her wine tasting experience dates back to an early age and after studies in English Literature, Languages, Medical Laboratory, and even a Pilot License, she finally decided to officially learn the language of Cava, Prosecco, and Vitis vinifera by obtaining the Sommelier Diploma. Her "day job" as a Flight Attendant enables her to keep discovering products from around the world. Mimi has decided to pursue her wine studies and also share her joy in discovering wine.