Fonda Lola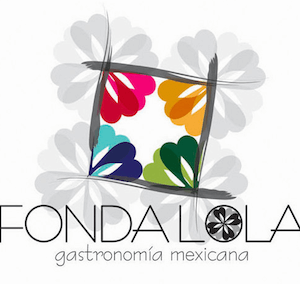 There are meals you look forward to because you're ravenous for food, and there are meals you count down the hours to because you know that it's going to be simply amazing. As a longtime fan of Mexican cuisine and all things 'caliente' I have been eager to try out one of Queen West's newest neighbours – Fonda Lola. I'm prepared with an empty stomach – not the smartest choice for tequila indulging, but hey, we make sacrifices – and a palate ready to be overthrown with flavour. As I enter the rustic cantina with intimate dim lighting, antique wood, hand painted ceramics, and gorgeous hanging bird cages, I know I'm in for a night to remember. Or forget, depending on my tequila intake. (Kidding, I'm classy…ish)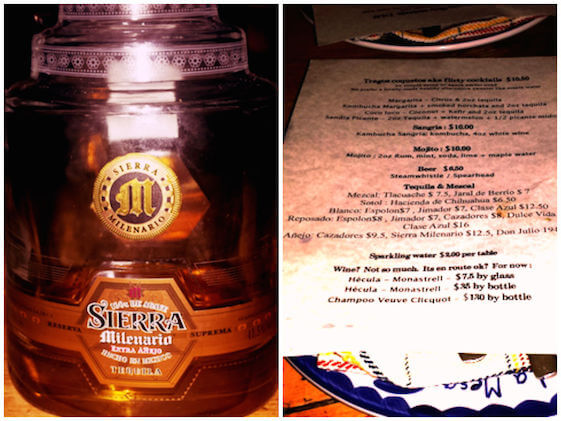 We begin our fiesta the right way, loyal to tradition – guacamole and margaritas. Not just any guacamole and definitely not just any margarita. It doesn't take long to realize that at Fonda Lola nothing is average or mediocre, which is why we're off to a great start with a smooth, mousse-like guacamole. I'm used to chunky guac that sits heavy on the chip, but this is a light, perfectly dippable texture; cool, mild, flavourful.
We're drinking Kombucha Margaritas; fermented black tea, plus tequila. Kombucha is said to provide countless health benefits and it's a rare find as a cocktail mixer, but of course this forward-thinking cantina serves it on tap. We've also just learned that tequila helps with weight loss, so "keep 'em comin'!" is our mantra of the night.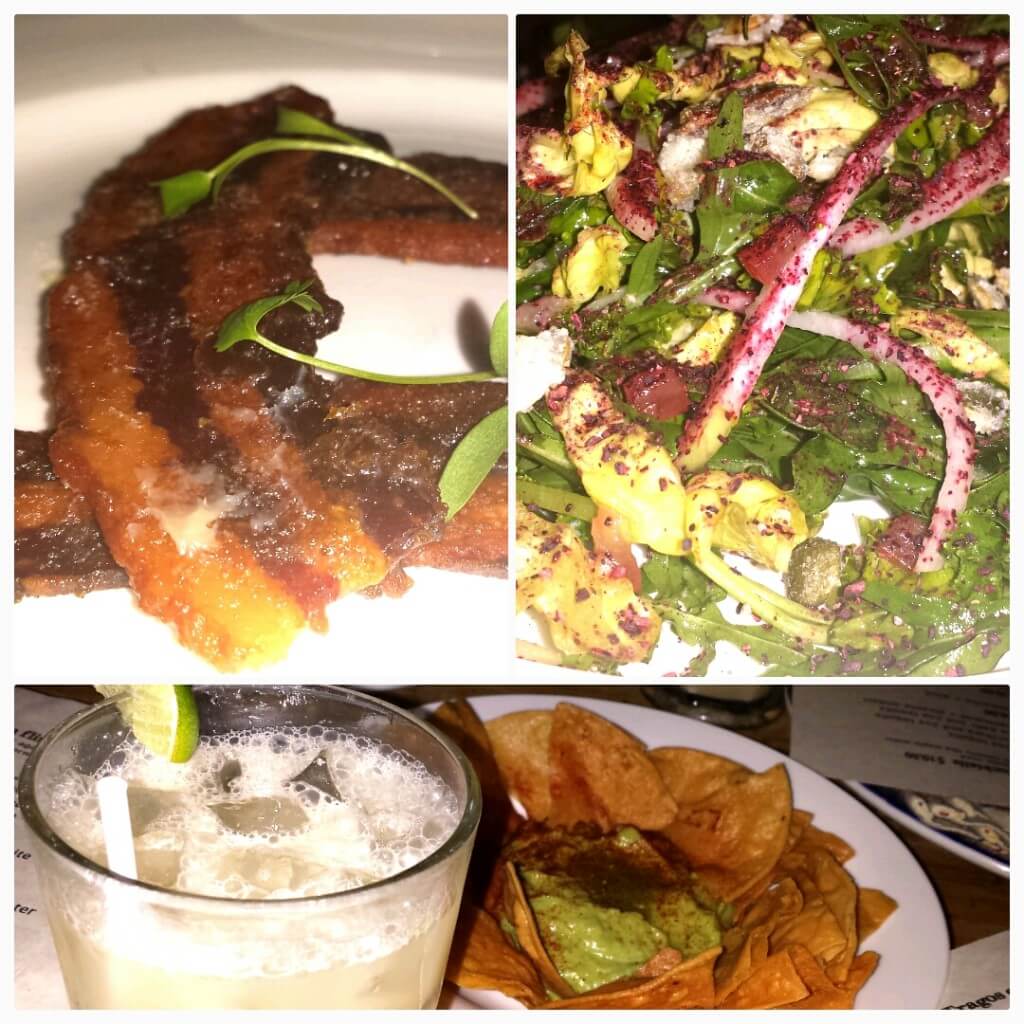 Now it's time for a delicious green salad, Ensalada de Kale con Chayota ($7) – a mix of kale, arugula, chayote, caramelized pepitas, candied jalapeno bacon, and agave lime dressing. It has just the right amount of zest, crunch, and sweetness. We love a good salad so when the leafy greens are a highlight, you know you have a winner. As a sweet and spicy side dish we are also indulging in some candied bacon, which is deliciously chewy and subtly smoky.
As dishes and drinks are coming and going, we say hello to owners owner Andres Marquez, Ernesto Rodriguez, and Chef Howard Dubrovsky. Andres sits down with us between courses to chat about everything from his roots in Mexico City to the proper way to shoot tequila (fun fact: don't inhale after, exhale through your nose!). We quickly take note of Andres' exuberant personality. His hosting skills are impeccable and the sparkling wit he delivers them with doesn't hurt either. He has us laughing non-stop with jokes every time he comes over; this guy definitely has panache and it gives the entire restaurant a fun, colourful vibe.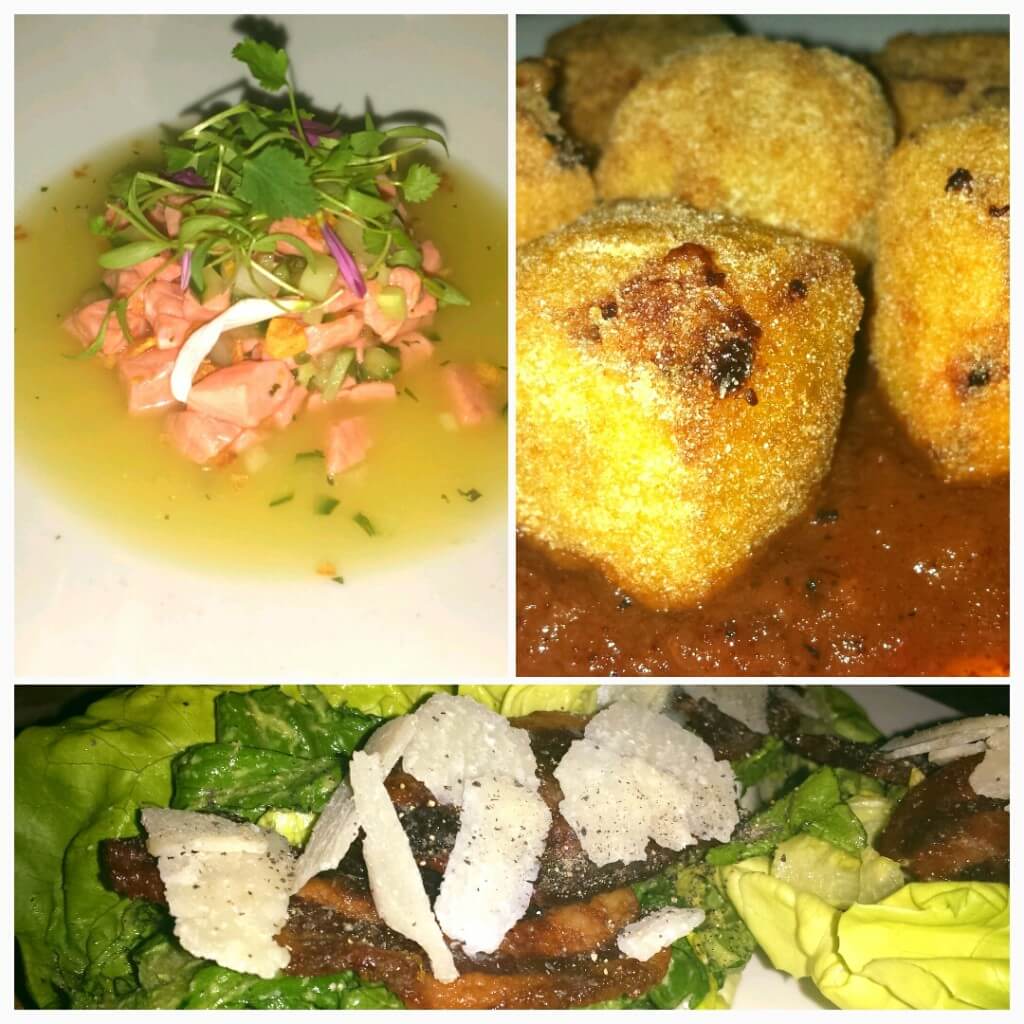 On to the Panela Poppers ($7.50), a spin on jalapeno poppers; jalapeno marinated in panela cheese, coated in cornmeal. These are bite-sized and tasty, a bit of heat but not overwhelmingly spicy. Honestly, they're kind of addictive so it's a good thing we only ordered one plate. Next up is the Hand Held Caesar ($8), a unique take on caesar salad, in the form of a lettuce wrap. Boston lettuce, caesar avocado mousse, candied jalapeno bacon, and cheese make for a mock-taco (mock-o? ..no, nevermind) of epic proportions. It's crisp, tangy, packed with that traditional caesar salad flavour and does not disappoint. The textures work well and the sweet heat of the bacon stands out with an extra zip. Andres tells us it's "better than crack", and we believe him.
We would love to spend all night drooling over the caesars but we must forge ahead. Onwards we go to the Pescado al Mojo ($12), which is sustainable fish sauteed with garlic and pasilla and sweet potato puree. This dish is a winner especially for fish lovers; it's light and flavourful and the puree is smooth and mild. Next up is the Trout Aguachile ($8.50), a citrusy trout ceviche served with chips. The ceviche was delicious, though it didn't seem to want to stay on the chips. We had to "fish" for it – fitting?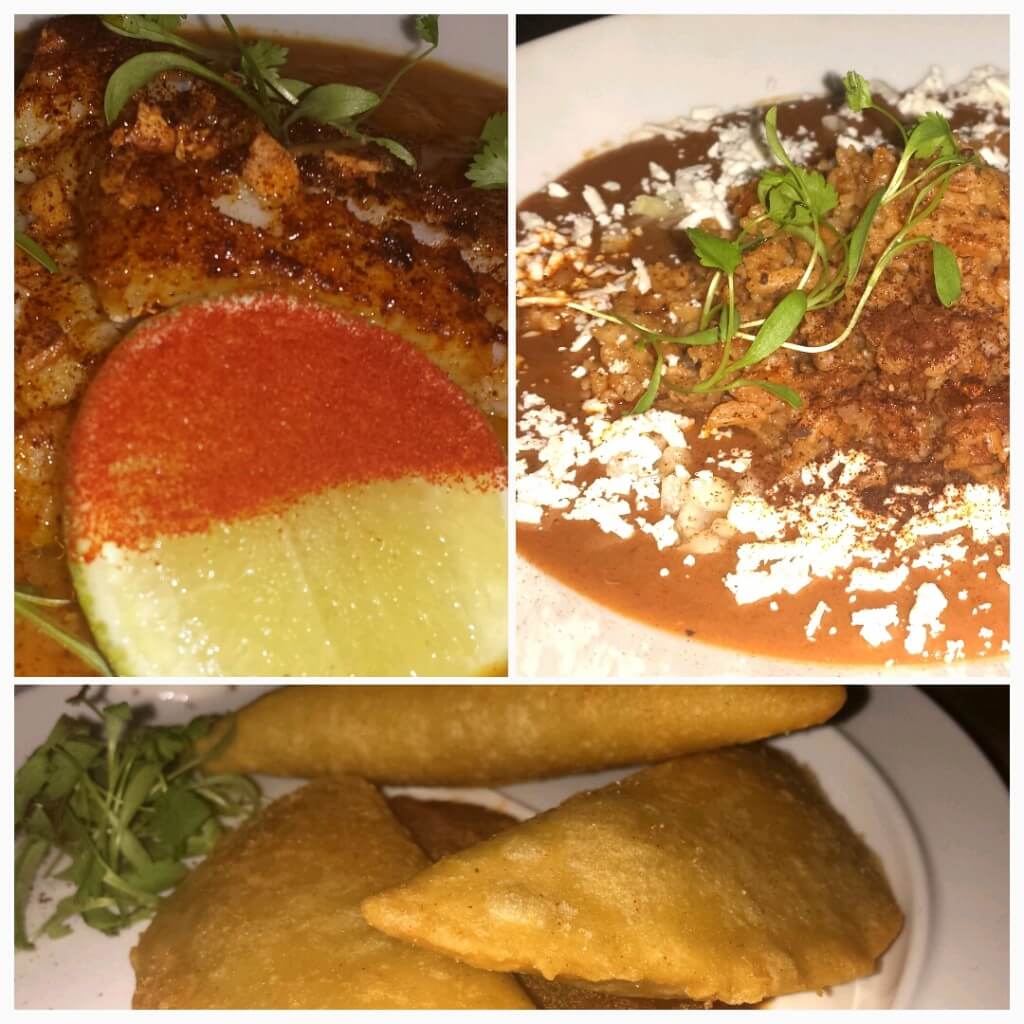 You can't dine at a Mexican restaurant without trying the quesadillas, so we won't dare. But of course Fonda Lola has their own version, Quecas ($5), which are mini quesadillas stuffed with Oaxaca cheese and huitlacoche. They look like little calzones and are absolutely delightful. I'm enjoying the compactness of them, the outer layer is crispy and hot and biting into them is where that ooey gooey melt-y cheese filling gets going. Alongside our quecas we're enjoying a dish of Cinnamon Chile Rice ($5) which the menu tongue-in-cheekily points out as "Yeah, fancy rice". And fancy it is. Perfectly sweet, perfectly spicy, I can see this rice being a great side dish.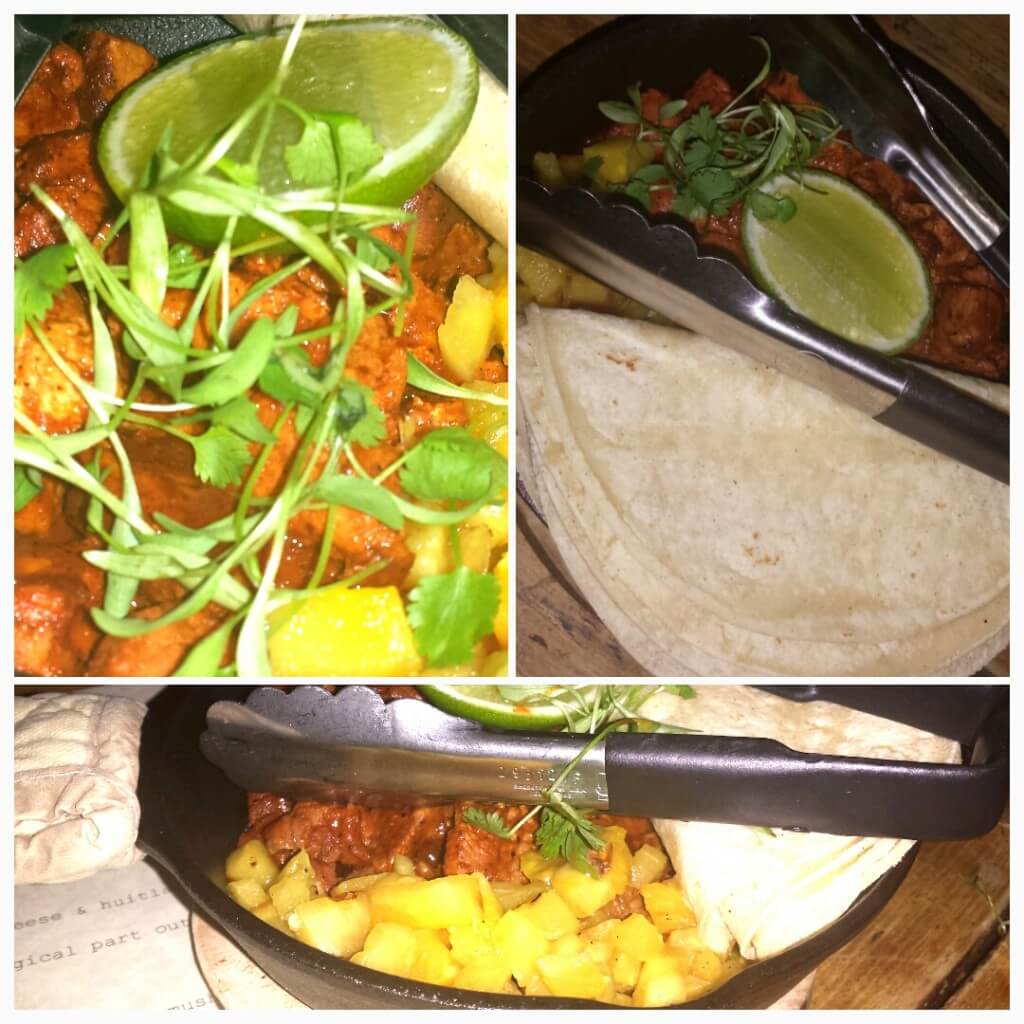 The piece de resistance is here at last…tacos! Tacos al Pastor ($10.50) are available via "pick your protein" with pork, beef, and tofu. We try the pork and beef with all the fixins and it's a fiesta in our mouths. Hot, fresh tortillas are served up with the toppings on the side so you can pile them on exactly the way you like. We don't hesitate to dig right in and…pig right out. So good.
Well, we're officially stuffed and ready to roll home. We couldn't handle one more bite. But wait….why is Andres coming over with another dish? No, no, we're done…we couldn't possi–…are those churros?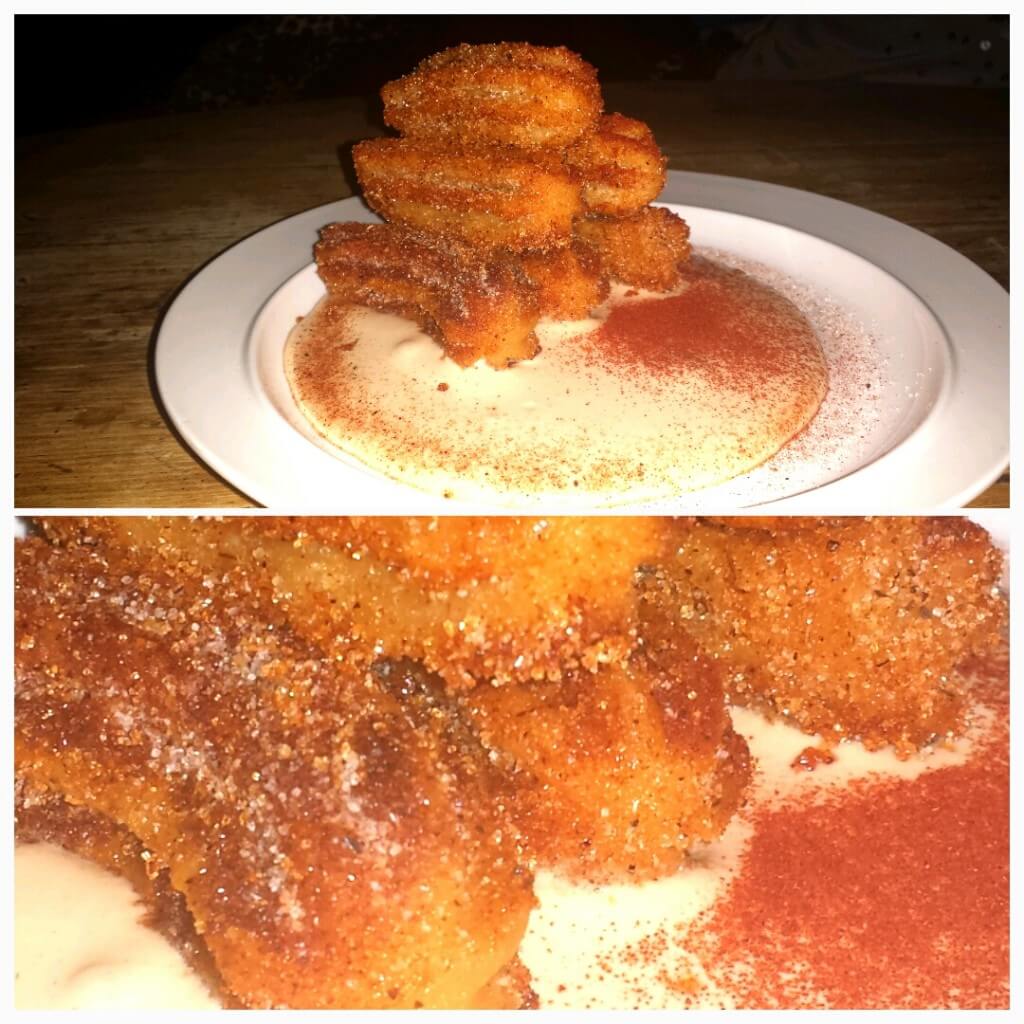 They're churros.
Soft, sweet, slightly crispy, and beautifully presented on a plate of silky caramel sauce. Our stomachs are saying no, but our hearts are saying yes. It proves to be a good choice because these churros are mouth-wateringly fantastic. The sweet, decadent caramel sauce (cajeta) pairs wonderfully with the crispness of the batter. Lovely.
Okay, we're done for real this time and so we say goodnight to our outstanding hosts. Just as I predicted I would be, I'm fond of Fonda Lola. Salud!
Fonda Lola is open 6:00 am – 10:00 pm most nights, 11:00 pm on Fridays and Saturdays. They offer a "Mexican Fiesta" for $100 which includes samplings of the whole menu.
942 Queen St W, Toronto, ON (647) 706-9105
Follow them on Twitter: @FondaLola

About Courtney Gilmour
Courtney is a Toronto-based writer and editor whose work has appeared in various digital and print publications, and probably the back of your chair in high school. She is known for her ability to create a near perfect plate of nachos and her inability to properly close a pizza box. Follow her on Twitter: @minxcourtney