Milagro
I always try to take life with a grain of salt… and of course a slice of lime and some tequila. So, please tell me what goes better with tequila than some mouth watering authentic Mexican tacos?!
I had heard so many great things about Milagro Cantina, people telling me they have the best tacos in the city and the mojitos and margaritas are to die for. Oh and did I mention that at the Queen St location they have a tequila bar and a killer patio upstairs? It's a perfect place to hit up on a Friday night – and that's just what I did. A friend and I went to check out this buzzed about taco joint, hungry and looking to catch a tequila glow.
I was excited to walk into this busy restaurant. It's a small narrow place, so as we walked to our table we squeezed by a few people enjoying nachos with guacamole, salsa, and bowls of oooey gooey cheesy refried beans. I almost bumped into a couple of tables topped with large goblets filled with margaritas and mojitos. It would have been a shame to watch one of those gorgeous drinks fall and crash on the ground!
We were seated and it was cozy, surrounded by people enjoying their meals and a truly Mexican feel with the decor. We were greeted by our server and a small glass of Mezcal – yum! It is like the 'scotch' of tequila with a smoky oaky flavour and smooth finish. The one that we tried was called Sinai; it was served with a slice of orange dipped in a spice mixture. You must try this for yourself, it was fantastic. It was now time for a Pepino – Cucumber Margarita, we ordered two and sat back to look over the menu.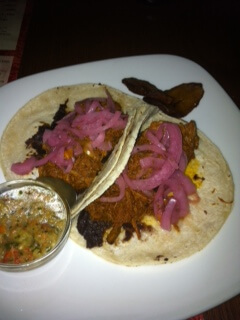 A few minutes later our drinks arrived along with the chef, who presented us with our first taco of the night to share. It was the Carnitas Panchos – pulled pork confit with refritos, pickled red onion, fried plantains, and the hottest habanero salsa on the side. He told us that this was actually a main dish on the menu and you can ask for any of the main meals to be put into a taco for you. This equalled into a perfect little hand held bundle of goodness. The best part about this taco for me was the crispy and almost sweet plantain inside.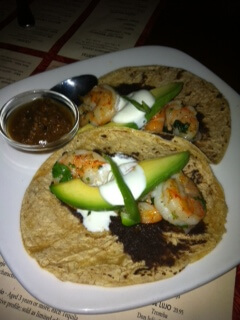 We were then sent over a Milagro favourite, the Tacos Rosarito. This was sautéed shrimp with refritos, avocado and crema. The shrimp was cooked perfectly and went so well with the creaminess of the avocado and crema. It was served with a side of smoky chipotle salsa.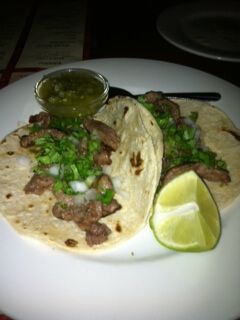 Next we had the Tacos Capital which was described as food stand style seared rib-eye tacos with cilantro and onions. This taco was the most simple and I think the most delicious. The rib-eye was crispy and went so well with the fresh cilantro and lime squeezed on top. These were served with a mild tomatillo salsa verde on the side.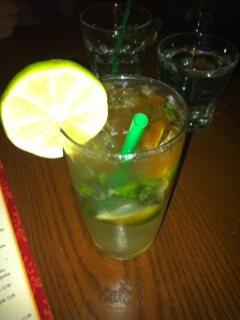 There was a small break between taco tastings so I ordered a Mojado, a twist on the classic Mojito, made with tequila. It was refreshing; the mint and lime complimented the tequila so well. The Tacos La Perla came next, Basja battered snapper tacos with tropical slaw and chile crema. I was looking forward to these babies because I love fish tacos! However, I was a little disappointed that the fish wasn't crispy. It was almost mushy when you bit into it. The fact that the slaw was crunchy gave it the texture it needed – the pineapple in the slaw was a very pleasant and delicious surprise.
There was one more Mexican specialty I had to try before I left, The Pollo Con Mole. This was a main dish that I asked to be turned into a taco for us, grilled chicken breast in Puela style mole sauce. I don't normally like Mole, but I thought I'd give it another try, my whole "when in Rome" mentality…Rome is overrated.
Just when I thought we were done and starting to come down from our taco tornado it was Postres time – dessert! As soon as I took my first bite of the Natilla De Cajeta which is just like a Mexican Crème Brule, I found room for about 5 more bites. This creamy and crunchy carmelly custard was so good; you must save room for it during any visit to Milagro, I know I will.
After we finished with dessert we headed upstairs to La Perla, Milagro's tequila bar. We enjoyed some more tequila and chatted with the friendly staff. We sipped on Tromba Blanco which was recommended to us by the bar tender, it was a huge hit for me. We also had a glass of XO Cafe Patron, a coffee liqueur made with tequila, this was 'lick your lips' yummy!
It was most defiantly a successful night at Milagro. We came to fill up on yummy tacos and try some different tequila and tequila cocktails, both goals were met with gusto. We left comfortably full and both had a sweet little buzz to walk home with. Thanks Milagro for a great night and excellent food – I plan to make it back again soon.
http://www.milagrorestaurant.com/
Tacos and Tequila: Milagro Cantina Mexicana, Queen St.
By: Erin Scheel
<a href="http://www.urbanspoon.com/r/10/1531755/restaurant/Queen-West/Milagro-Cantina-Mexicana-Toronto"><img alt="Milagro Cantina Mexicana on Urbanspoon" src="http://www.urbanspoon.com/b/logo/1531755/minilogo.gif" style="border:none;width:104px;height:15px" /></a>

About Erin Scheel
Food Lover • Blog Girl • Recipe Rebel! My name is Erin and I am in a constant search for a full belly. I have lived in Toronto most of my life and have been enamored with the city's food culture and fascinated by the culinary possibilities this city has to offer on a daily basis. I'm really into cooking, vintage clothes, chocolate milk, craft beer, french fries, leftovers and then working it all off at the gym! Read it and eat it here: www.erinlovesfood.com, Twitter: @erinlovessfood, Instagram: erindotcom