Belly Busters Submarines
Fresh ingredients, soft bread and all the meat you could possible want stuffed into a sandwich is what makes a Belly Buster Submarine. Add your favorite condiments and the fact that these guys have been rocking out these sandwiches for the last 40 years and you've got a winning combination.
I visited Belly Buster's new King Street location last week, the second location for the iconic North Toronto staple and felt like I was walking into a piece of history. Evidence of happy eaters over the last 40 years hung on the walls, new and vintage, everyone in these pictures were smiling. The new location features seating for 16 in its 600 square foot space. Communal tables and steel stools gives it a modern look, yet, the red and yellow colours throughout along with the famous "faces of the satisfied" wall stays consistent with what you would find at the original shop. It's clear that their goal is to preserve The Belly Buster's identity and feed more Torontonians with this tried and true sub.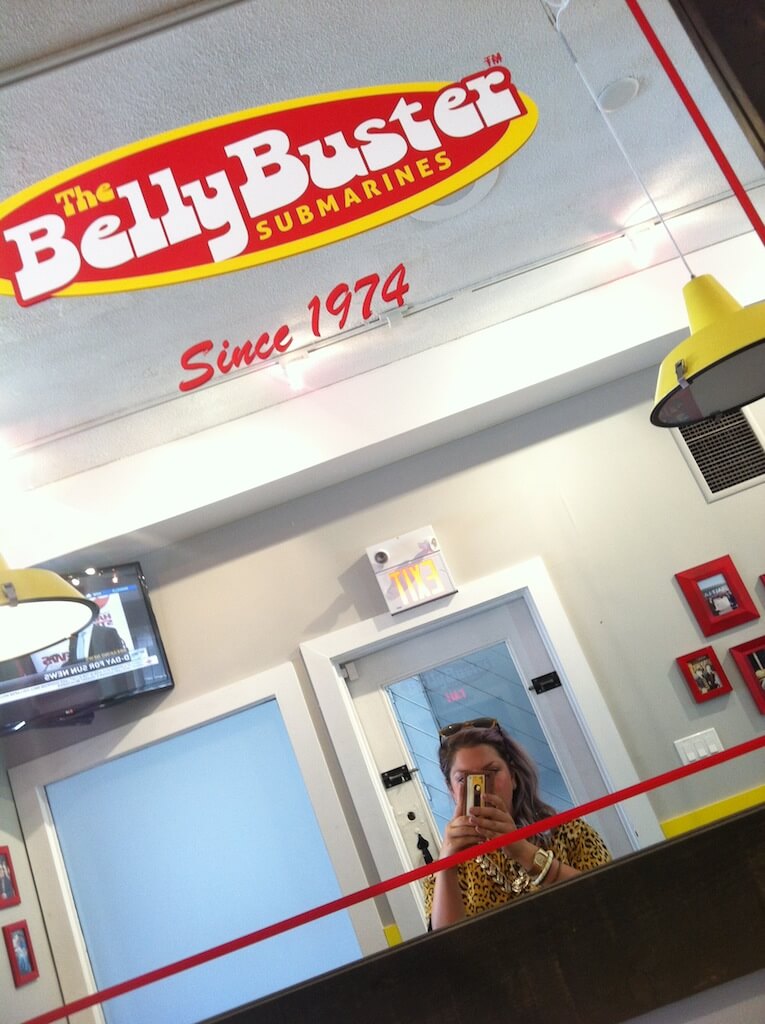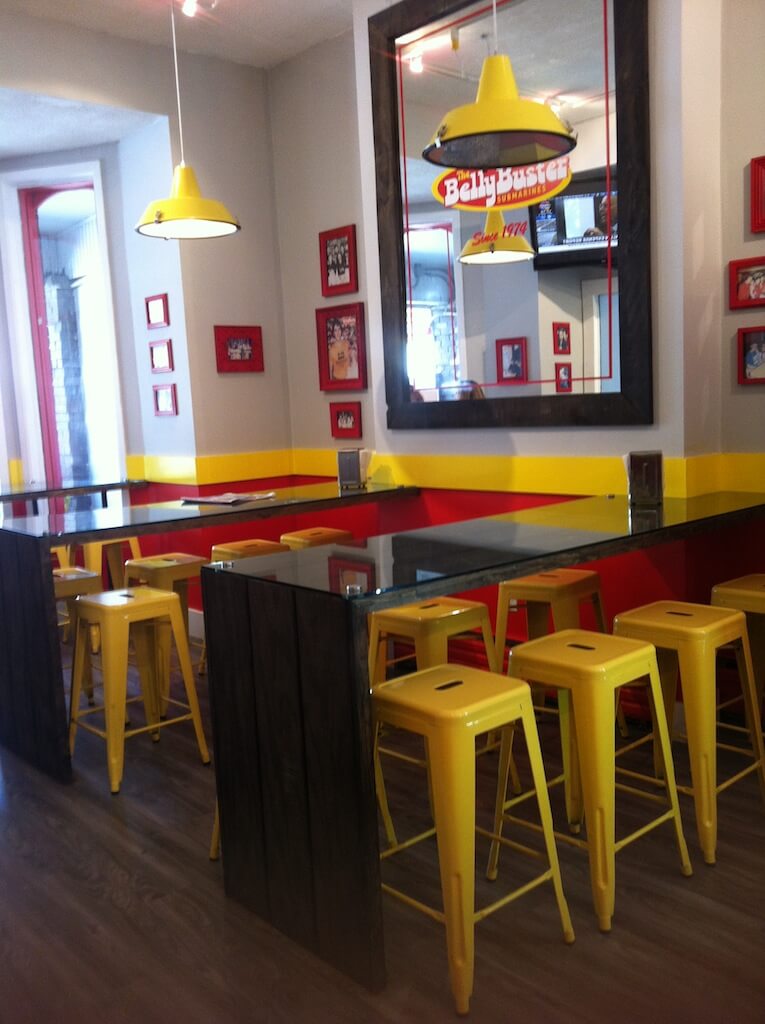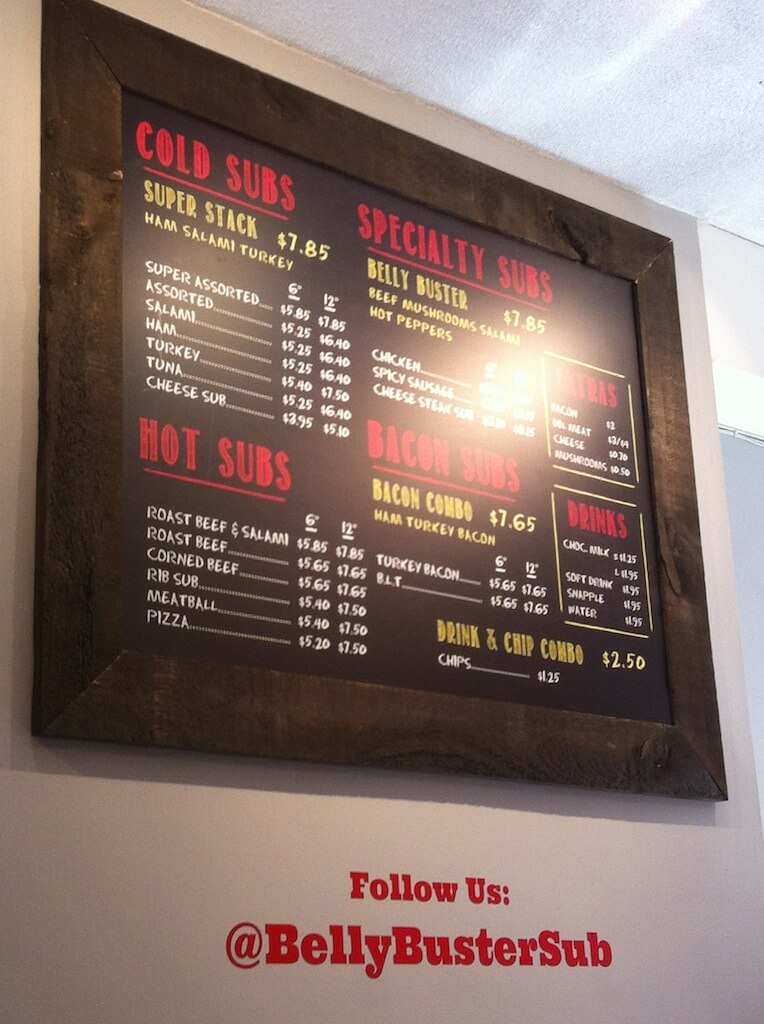 The vibe was welcoming and friendly as I waited in line to order my sub(s) –C'mon, I had to try more than one to make sure this place was really legit! Oh, and it was. I ordered the fan favorite, turkey bacon and the breaded chicken sub to which I added bacon. I might have gone a little overboard with toppings which included perfectly shaved ice berg lettuce, cheese, tomatoes, pickles, hot peppers and sub sauce – I mean, they don't call them belly busters for nothing! No matter how much or how little you want on your sandwich – this place really delivers one of the best subs I have ever had. Other signature subs to choose from include meatball, cheese steak, and the "Belly Buster" (cheese, lettuce, tomatoes, onions, hot peppers, salami, roast beef, mushrooms and gravy), to name a few. Prices range from $5.50 to $10. New features at the King Street location include a front patio and the introduction of salads.
The Belly Buster Submarines will be open Sunday to Wednesday from 11 a.m. to midnight and Thursday to Saturday from 11 a.m. to 3:30 a.m. – if I walked away from Belly Busters with something other than a full and satisfied belly, it's put bacon on everything!
389 King Street West, Toronto ON
647.748.1588
http://www.bellybustersub.com/
@bellybustersub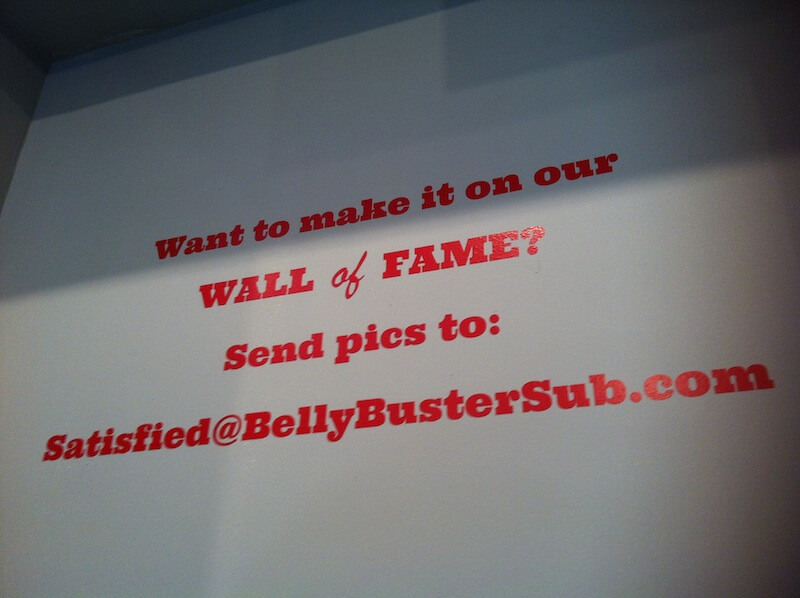 About Erin Scheel
Food Lover • Blog Girl • Recipe Rebel! My name is Erin and I am in a constant search for a full belly. I have lived in Toronto most of my life and have been enamored with the city's food culture and fascinated by the culinary possibilities this city has to offer on a daily basis. I'm really into cooking, vintage clothes, chocolate milk, craft beer, french fries, leftovers and then working it all off at the gym! Read it and eat it here: www.erinlovesfood.com, Twitter: @erinlovessfood, Instagram: erindotcom