TOP 5 MAKE UP REMOVER CLOTHS
You know those nights you just feel like hitting your bed, but you have all your make up on and are dreading splashing your face with water and want nothing more than to pass out? In this case, your best alternative skin care solution is to use a face wipe. I cannot tell you how many brands and different types of skin care products I have tried that are in the wipes and towelettes category. The wipes that have made my Top 5 remove all residue. Yes, ladies they get rid of all traces of makeup, and oil to cleanse your skin to its natural condition and leave you feeling refreshed.
These products are the easiest to use. Use daily to cleanse and thoroughly remove make-up, dirt and impurities. No need to rinse when using these cleansing towelettes, however, to attain full results I recommend you use these towelettes as a daily regimen followed by your usual daily skin-care routine.
1. Equate Facial Cleansing Towelettes
By far my favorite; they cleanse and remove all make-up, (even waterproof,) and is made for all skin types. This product contains chamomile, vitamin e and triple tea complex, which makes it extremely gentle on your skin. It is also alcohol and oil free. These make up wipes do not sting and they will take off your entire face with just one cloth. There isn't a strong scent, which is great since after all fragrance is not good for your skin (dries it out.) It comes in two packets for just under $10 and contain 60 pre-moistened towelettes (18.4 cm x 14 cm.) That's 120 wipes for $9.99 at eight cents per wipe.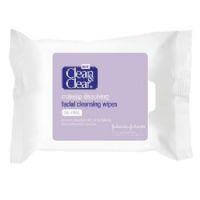 2. Clean & Clear Facial Cleansing Wipes
Like the product above, these wipes take off all make up including water proof mascara and leave you feeling refreshed. However, the only problem I found was they left a greasy residue on my eye lids. This product it not as cost effective as other options; a pack of 25 wipes is $9.99.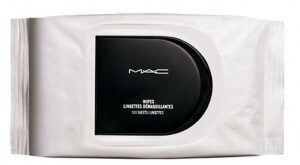 3. MAC Wipes
These wipes leave the skin feeling super soft. They have a refreshing clean and tingley feeling, however they burn around the eyes. They are good because they can remove ANY make up on your face. These wipes are on the pricier side; a pack of 45 wipes is $19 and 100 wipes for $31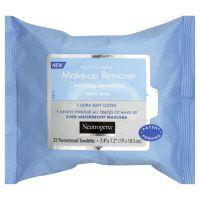 4. Neutrogena Make-Up Cleansing Wipes
They remove about 99% of everything and leave the skin feeling refreshed. They also aid in helping the skin break out a less. They thoroughly and easily remove all traces, even eye makeup. Personally for the price, I would expect a lot more to come in the package. A pack of 25 wipes will cost you $13.99.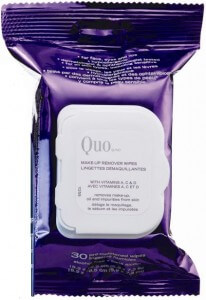 5. Quo Make-up Remover Wipes
By far the best packaging yet in make-up wipes, and what makes them even better is Quo is a Canadian owed company. You do not have to worry about these drying out as they come with a friendly opening little door. The package contains 30 wipes at a cost of $10.00.