The Great Canadian Cheese Festival at Cheesewerks
The Biggest cheese show ever in Canada!
In its second year, the expanded Great Canadian Cheese Festival returns to historic Crystal Palace in Picton, in the heart of Prince Edward County, on June 1 to 3, 2012. The Cheese Festival is the only event in Canada to bring together cheese makers from all over the country in order for cheese lovers, foodies and culinary tourists to learn, talk, taste and buy the best in artisan, farmstead and specialty cheese. The largest exhibition of Canadian artisan cheese ever will feature more than 125 different cheeses and will have more than 30 producers from Vancouver Island to Prince Edward Island. Artisan food producers, craft wineries and breweries along with other vendors will occupy another 50 booths – making the Festival a destination for any fine food lover.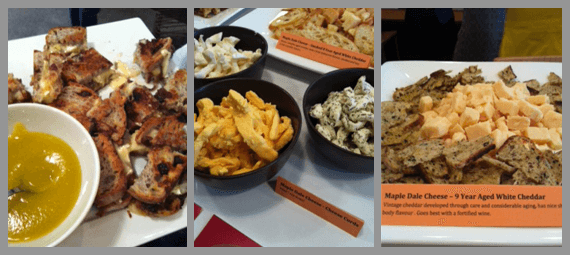 At the Toronto media launch last week I got to meet founder and director, Georgs Kolesnikovs, who provided an excellent preview of The Cheese Festival offerings and was excited to tell us about guest appearances at the Festival by Food Network star Bob Blumer and Lost Girl co-star Kris Holden-Ried. Both are cheese lovers. One will grill gooey pizza, the other, grilled-cheese sandwiches, to support a scholarship fund for young Canadians pursuing careers in cheese.
Kevin Durkee of Cheesewerks, Official Grilled Cheese of the Festival played host to the cheese loving media and shared two of Cheesewerks signature grill cheeses. We tried The Houston made with Jalapeno Jack and Braised Brisket grilled on Sour dough and The Charleston with double crème brie and apricot chutney grilled on walnut raisin bread. Both were cheesy, full of flavour and not too over done with toppings. They have many more combinations that looked so tasty, all inspired by Kevin's world travels.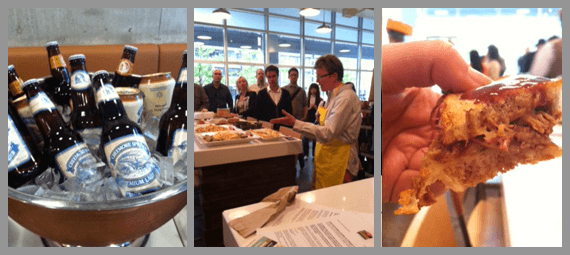 We were also introduced to John Thompson of Kendal Vale Cheese, a new Ontario-Quebec artisan producer. He brought a few of his cheeses along with him for us all to sample. The Brie was gooey and had the perfect texture that any cheese lover could appreciate. Caroline Granger of The Grange of Prince Edward Vineyards and Estate Winery was also there. One of the wines she brought was an amazing Pinot Noir that you can find at the LCBO, it went so well with Maple Dale's 9 year old aged cheddar samples. The Maple Dale cheese curds were the highlight of the cheese tasting for me, made fresh that morning we noshed on herb and garlic, garlic, and cheddar curds.
Girl-about-town Ivy Knight, co-ordinator of the Cooks & Curds Gala was there to tell us about the culinary and social highlight of the Festival that will take place Saturday evening. Jamie Kennedy of Kennedy Kitchens, Toronto and Michael Blackie of National Arts Centre, Ottawa are just two of the 8 Canadian chefs who will be creating tasting dishes showcasing artisan cheeses. Separate tickets required.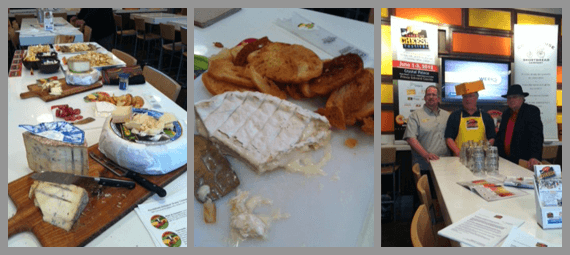 The Artisan Cheese & Fine Food Fair on Saturday and Sunday, June 2 and 3, is the showcase event of the three-day Festival. Admission includes 10 tasting tickets, a large souvenir Festival cooler bag for cheese purchases, a souvenir Festival glass for sampling wine and beer, access to 80 exhibitors and vendors, the Festival dairy farm, a food court, plus FREE parking, plus a BONUS feature of cheese seminars in the All You Need Is Cheese® Annex presented by Dairy Farmers of Canada—all for only $35 in advance, $40 at door if available. Please go to the official Great Canadian Cheese Festival website in order to buy tickets for the event and for the extra Tutored Tastings tickets.

About Erin Scheel
Food Lover • Blog Girl • Recipe Rebel! My name is Erin and I am in a constant search for a full belly. I have lived in Toronto most of my life and have been enamored with the city's food culture and fascinated by the culinary possibilities this city has to offer on a daily basis. I'm really into cooking, vintage clothes, chocolate milk, craft beer, french fries, leftovers and then working it all off at the gym! Read it and eat it here: www.erinlovesfood.com, Twitter: @erinlovessfood, Instagram: erindotcom