Jock Yoga
Given this is my first post with my new, amazing team, Toronto City Gossip, I figured I should include a little background of myself…
Ever since I was a little dude I always remember wanting to do something with all the energy I had. Whether that be running five laps around a track for a couple of extra loonies from my Grandma or joining the eighth grade basketball team, I always found myself being athletic in some way. That being said, it wasn't difficult for me to figure out my passion in life: sports. I can get into almost any sport as each one has it's own uniqueness, which I find both entertaining and intriguing; but from every sport I've ever played, football has always been my number one.
Early on in my playing days I knew two things: I wanted to be a quarterback and I want to play at the "next level". It soon became apparent that becoming a quarterback at the next level wouldn't be an easy task, so mid way through my high school career in Burlington, ON, I decided to take a risk and move down to the States, to gain that edge I needed. The two years I spent at Canisius (pronounced ka-nee-shus) High School in Buffalo, NY, were some of the best I can remember. It was a whole new experience – new people, new city, new everything. From a football perspective, everything I learned and experienced down south was an invaluable experience unknown to a typical Canadian 'baller.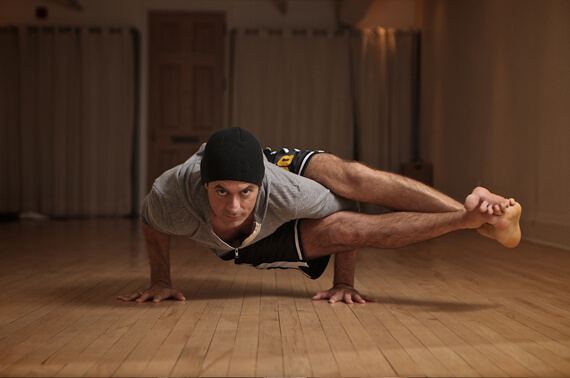 Though it was a great two years, my experience did come to an end and it was time to pack up and head north for another chapter of my life. I got a football scholarship to play quarterback at the prestigious University of Toronto and I plan to bring back the great football tradition that has eluded the program for some time. And this is my life is right now – training for the upcoming season at U of T, nervous as can be for my first year as an undergrad at Rotman Commerce, and writing blogs about the top sporty/university-life related places in this great city of Toronto. Enjoy.
I'm not usually one for all of that mind, body and soul stuff that everyone preaches, but my first time trying out yoga was almost a conversion of some sort. Jock Yoga was an experience I'll never forget, mostly because I never thought that yoga could give me a better workout than just about any football workout ever has. From the moment I walked into the soon-to-be sweat drenched room, Micheal DeCorte, the founder of Jock Yoga, welcomed me, showed me my mat, and just like that it was time to get busy.
Not long into the session I had been happily reassured by one of my classmates that I was about to get my butt kicked – and he wasn't lying. DeCorte's teaching style is a unique version of the typical yoga you hear about but amped up with the method of increased repetition and hold times, to really get the muscles firing. Holding positions like downward dog and warrior mixed in with movements for what seemed to be nearly ten minutes at a time is truly a test of strength and endurance. The activation of nearly all the muscles in the body can easily be felt but from calming stretches and soothing music accompanying the workout, it makes it all that much better.
To succeed in the class, determination is needed, and that is what was most apparent to me during the session. Above all of the false hope DeCorte gave to us during each pose by repeatedly saying, "this is the last one" and everyone in the room knowing damn well that wasn't the last one, each member of the class fought through the burn and continued to hold their heads high in the dense, sweat filled air.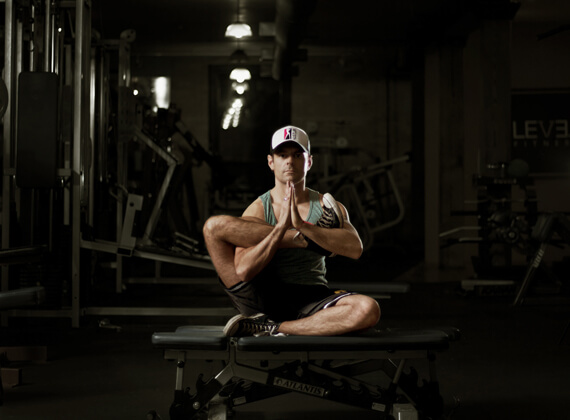 To me, it looked like a real team: a group of individuals that came together for a common purpose and goal, and I wasn't alone. After the class when I got a chance to speak to some of the other yoga practitioners, I consistently heard words like "camaraderie" and "friendship" – it was immediately noticeable how kind everyone truly was. What was more apparent was the variety of ages, shapes, sizes, and fitness levels in the class. Although the name may be Jock Yoga, it really is a class for anybody that wants to get into shape no matter how physically fit you already are or if you believe your age is holding you back. The encouragement and sociability of the class will help anyone succeed regardless of any preconceived notions. Take Michael DeCorte's story as an example and inspiration.
Ten years ago he found himself overweight lost in the world of drugs, alcohol, and clubs. Wanting to change his life, DeCorte went on a mission to transform himself. First it was hardcore running and lifting to get into shape, but he soon found the spiritual strength of yoga. After years of dedication to his craft, he has successfully made himself a new man and now finds himself helping others achieve their own goals of physical fitness.
I've heard tons of stories about yoga prior to this experience, how calm and relaxing it is but not overly difficult, certainly nothing an aspiring athlete or workout junkie could do as an alternative training method; but as Bradley Cooper said in the movie Limitless, "I was blind but now I see". Michael DeCorte's Jock Yoga takes a unique, modernized approach and is something everyone can do to attain his or her own physical goal.
I want to give many thanks to Michael DeCorte for the amazing experience! If the opportunity ever arose again, I would definitely go back for more. I insist any of you who love challenges to strongly consider a class at Jock Yoga to see for yourselves how incredible it really is.
Find the Jock Yoga whereabouts and schedule here: http://jockyoga.com/
Also, please follow Michael on twitter @JockYogaGuy