Top 5 Florists in Toronto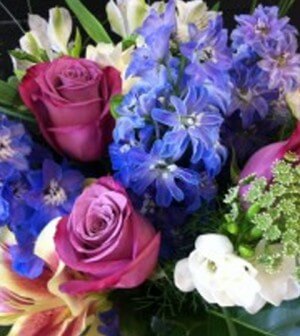 Flowers are admired for the beauty, exquisite forms, amazing scents and diversity of colours. Flower creations can be found among these shops on a yearly basis and they will make a difference in the feel in your home, not to mention the scent. The creations are limitless and that is what you will have to check out for your own.
With the arrival of Spring and Mother's Day around the corner, the flowers outside are blooming, the grass is getting greener, the trees are getting fuller, but these florists have been open around like this all year feeling the love and smell of flowers all year long.
Whether you are decorating your garden, balcony or bringing that sweet someone a surprise – these five shops have everything you need and if not just ask!

Martin's is a family owned establishment that first opened its doors in 1898. After her father's retirement in 1995, Lynn Freeman took over the shop which is now serving its fifth generation. Over a century later, customers continue to put their trust in "The Flower People" for fresh, quality flowers designed with flair.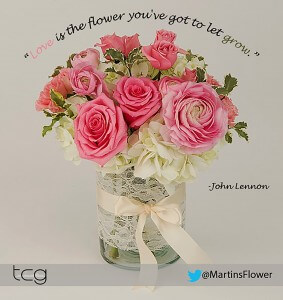 Today, Martin's takes pride in ensuring their flowers and their work are of the utmost quality. While paying attention to detail, clients can be certain that they will receive exactly what they want. Customer service is a 100% guarantee and if someone is not happy, Martin's will do whatever they can to make it right.
The magic behind Martin's stunning arrangements is the design team led by head designer, Susan Weatheral. These experts have won awards and contests and have even travelled to other cities to showcase their talent. With that being said, Martin's guarantees the freshest and most beautiful flower arrangements consisting of roses, tulips and many other flower preparations.
Even though Martin's has never compromised the quality of their product, change is inevitable. Many of their new and returning clients now order their assortments over the phone and online. According to Lynn, there is not much face-to-face interaction with the customers anymore considering the majority of clients have been loyal for many generations; Lynn believes that they are doing an excellent job in meeting the needs of her customers.
Lynn has a fantastic outlook on life when it comes to her business and believes that "each day is interesting and the product we work with is so beautiful". Looking towards the distant future, Lynn says her son Ryan plans to follow in his family's footsteps and will one day take over the shop. With no signs of slowing down Martin's will continue to grow for many more generations. If you're around the Dundas and Keele area make sure to visit their shop for all your floral needs or check them out on their website and Facebook.

@MartinsFlower

www.facebook.com/MartinsTheFlowerPeople
Website: www.martinflowers.com
Location: 3107 Dundas St West
Contact: 416-766-6121

There's an old saying, "Choose a job you love and you'll never work a day in your life". Scott, the owner of VANDERFLEET Flowers, hasn't worked for a very long time. Being described as gracious and compassionate, Scott and his team have become the backbone of a hobby-turned-business that has a lot to be proud of.
Dubbing itself as "A Real Toronto Florist since 1983″, VANDERFLEET has been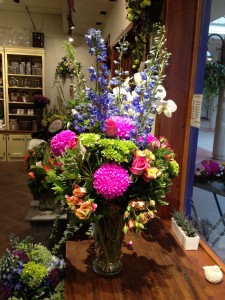 providing its clientele with beautiful floral arrangements and gifts that have continued to impress The Kingsway community and beyond. VANDERFLEET is known to have the freshest flowers, the most unique arrangements and the friendliest staff.
Other than providing superb customer service and remarkable floral designs, purchasing flowers is something that is also of extreme importance to a florist, especially at VANDERFLEET. The shop buys its flowers from Canadian growers, however, Scott has also created relationships with those from Holland, New Zealand, Australia and Ecuador. Without a beautiful spectrum of flowers, VANDERFLEET would not have received the title as the "Best Orchid Selection in the GTA".
"Why survive when you can thrive!" says Scott with a smile. He believes that the secret to any successful business is that there should be an organized system that focuses on the satisfaction of the customer. Certainly these wise words are true coming from the owner of an extraordinary flower shop. Pay these people a visit in Humbertown Shopping Center in Etobicoke and see why our readers highly recommend VANDERFLEET. Rather buy online? Take a look at their extensive online shop but don't get too excited when you see they offer same day shipping worldwide! Be sure to check out their stunning creations on their Facebook Page.

@VANDERFLEET_TO

www.facebook.com/vanderfleet.flowers
Website: www.vanderfleet.com
Location: 270 The Kingsway Humbertown Shopping Centre
Contact: (416)234-0550

Cheerful, positive, enlightening. Words that describe the owners of Flower Creations. The dream all began with a little girl flipping through bridal magazines with the admiration emphasis on flower designs. Lori had a vision and she expressed her desire to create to her brother, Nolan. The journey started off with the creation of wedding arrangements. Lori's passion influenced brother Darryl to join the team. Shortly after, Lori decided to start her own venture. Nolan and Darryl partnered and expanded the business into corporate flowers and then gift baskets.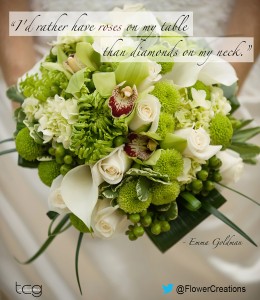 Family operated – the siblings and parents all shared the same passion in creating unforgettable arrangements so they opened the doors to a small flower shop in 2000. Since then, Flower Creations has been setting the bar for Toronto florists year by year. Shortly after, the two shared another vision and Flower Creations began designing and creating corporate flowers for lobbies and reception areas in office buildings around the city.
The family business specializes in flower arrangements, as well as plants and has a talented team that designs products with ideas that are just as fresh as their flowers.
As their talents evolved, their visions have done the same. Nolan and Darryl, realized that not only were they providing their clients with beautiful floral arrangements, but they were also providing tokens of appreciation and thoughtfulness aka gift giving. In 2009, the company took over what they now call Epic Baskets and offer gourmet, chocolate, baby and spa themed gift baskets to their customers. Just to add a little more diversity to their clientele, they not only offer flower arrangements but also goodies to help brighten anyones day. A little appreciation always goes a long way.
Flower Creations and Epic Baskets ensure that their clients are top priority and hold a desire to satisfy all their floral and gift giving needs. With two locations in the heart of Toronto and one in Mississauga, it's safe to say the company is always exceeding expectations. Check out their website and be overwhelmed with what they have to offer.

@flowercreations

www.facebook.com/flowercreationscanada
Website: www.flowercreations.ca
Location: Standard Life Centre 121 King Street West
TD Centre – Royal Trust Tower 77 King Street West
Mississauga 3100 Ridgeway Drive, unit 39
Contact: 1-800-387-9557

Owner Suki is a certified professional who began her floral practice in Toronto with St. Clair Flowers in 2003. Even though she had a successful time in the Wychwood neighbourhood, she decided to stay closer to her home in Etobicoke, and opened up a sweet little floral shop called Queens Flowers and has been serving the neighborhood for close to a decade.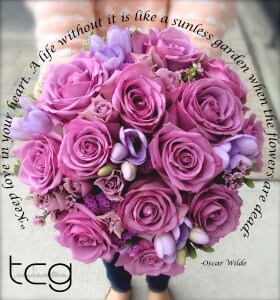 Suki has an undeniable talent in creating arrangements combining blends of radiant colours with rich textures for very impressive results. Her philosophy is simple: provide beautiful blooms, incredible quality and service with designs that are distinctive and fresh!
Nuri, her daughter, is a junior designer. Due to the family floral business growing up, her love for all things flowery, all things weddings and all things lovely are part of her second nature. This Mother-Daughter duo produce floral magic that makes this sweet little shop the first-call florists for weddings, corporate events and special occasions alike.
Queens Flowers carry a unique and wide selection of the finest flowers from all over the world, including orchids and exotic flowers. This sweet little shop is also set up like a boutique where you can find stylish vases and pots and gifts for the home. Whether it is a single stem, a gift for a special occasion, or centerpieces for a lavish wedding, Queens Flowers seek to provide customized creations with the freshest blooms with an appreciation for the season and the beauty in each flower.
This Mother-Daughter duo aim to be a full service flower shop and a place where you can experience the seasons through the colors and fragrances of flowers. Go visit them on The Queensway or simply call in to place an order made just for you!

www.facebook.com/queensflowers?fref=ts
Website: www.queensflowers.ca
Location: 956 The Queensway
Contact: (416) 656- 8570

Passion and creativity is the strongest combination that a designer can have and Weronika possesses both. While attending Sheridan college, Weronika was submerged in art and design and it provided her not just inspiration, but drive as well. Weronika's father saw that his daughter needed to flourish in her craft, and her skills needed to be shared with the city. In 2006, they bought Sophie's Flowers and Weronika's dreams started to come true.
Of course, starting a business was not easy, but Weronika did not let anything stop her. Some of th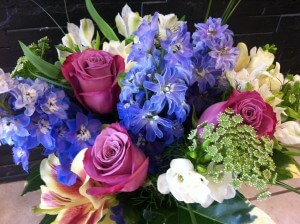 e business' existing clientele had left their loyalty behind, but Weronika proved her worth and has not slowed down one bit. Her clientele has grown based on referrals, so her customer satisfaction guarantee is past 100%.
Going even further, Weronika values her clients feedback and encourages them to share their comments on her arrangements and designs. People get better and better at what they do because they are constantly learning, and with Weronika listening to what her clients have to say, Sophie's Flowers is reaching new levels of success everyday. Her commitment to building a relationship with her customers is what brings her back to work and fuels her energy.
With a focus on design, Weronika specializes in Christmas, Easter and Communion flowers. If you are looking to get exactly what you asked for, with flair and exquisite design, visit Weronika and her family at Sophie's Flowers on The Queensway.
Website: FlowersBySophie.net
Location: 645 The Queensway
Contact: (416) 253-4442