The One That Got Away…
There is no better holiday in the world for me than Christmas. There's just something special about this particular holiday that stands out: the joy, the giving, quality family time and, of course, food. One of the main reasons I've always looked forward to Christmas is simple – Christmas Eve at my Zia (aunt in Italian) Maria's house. God bless this woman's heart as she prepares the BEST and BIGGEST traditional fish feast for 23 of my closest family members (of course, along with about 30 litres of homemade vino). I generally don't eat fish but the choices are just unreal and she cooks it to perfection – pasta with breadcrumbs and minced sardines followed by a platter of fried fish (calamari, shrimp, scallops), bacalla and rapini again followed by a platter of steamed fish (crab legs, muscles, shrimp and on and on)!!! It's prepared with just the right amount of "too much" oil and the bloated stomachs at the end of the meal are a testament to my Zia's culinary wizardry. You can't get a better meal than this!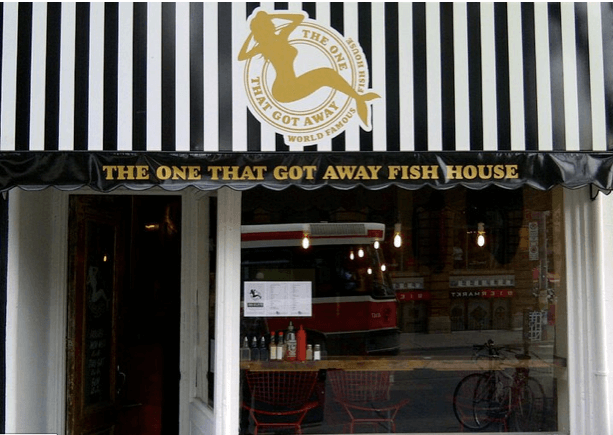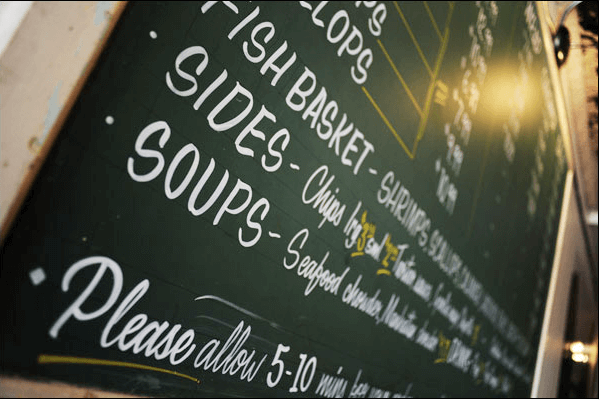 Unfortunately, this meal is limited to that one time per year. And while we have a number of seafood specialty restos or classic fish n' chip joints around, there hasn't been a place where "down home" fish was THE menu and not just a portion of it. Recently, I was excited by the news with the offer to visit The One That Got Away (http://totga.ca/) on King West. I really didn't know what to expect. I've been to a number of the casual dining spots in this area, typically after downing three quarters of a bottle of Grey Goose and willing to put any form of food into my belly at 4 in the morning (aka Reggie's fried mac n' cheese). I always find it funny visiting an area that I frequent only when drunk to see what it's really like – I find that it generally looks completely different and you notice things that you could swear have never been there. Side note: before I stepped in the doors of The One That Got away, I noticed a leather store right in the heart of King West that has been there since the 1950's. I would have bet my life savings that it was never there before in the all the years I've socialized in the neighborhood. Do you know what I'm talking about? No? Next time you're there, have a look and you won't miss it.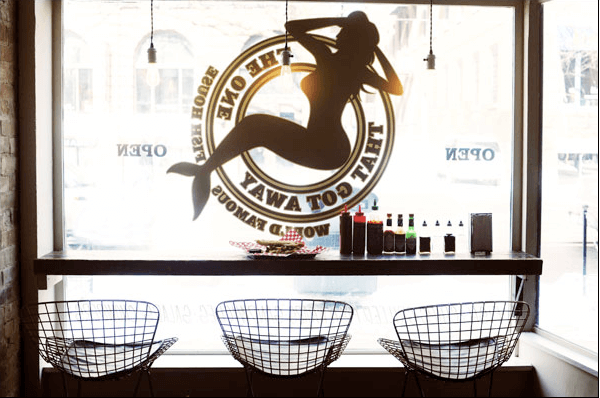 In any case, I was looking forward to this meal and especially trying the fish tacos that I've been hearing about from some friends. I made my way in to find an absolutely phenomenal interior of exposed brick and art deco ceiling with amazing string-style lighting. However, the best part of the interior was the sweet smell of fried fish coming from the kitchen. I made my way to the counter to order – this is the way fish this style is supposed to be served – not with waiters but by approaching a counter and taking your seat. Already, I had the sense that they were getting this right! The owner Phil suggested a fish basket full of goodies such as shrimp, scallops, calamari, haddock, fries and coleslaw as well as an order of fish tacos to get a good idea of what The One That Got Away was all about. Before the food arrived, I asked Phil about the concept. He offered that The One That Got Away was simply delivering good quality and delicious fish in various forms, the grilled salmon sandwich being his favorite. Looking up at the menu, I saw species of fish that I never even knew existed but showed me that the vision was well researched and conceptualized. Even those being mindful of their love handles could focus on protein-rich grilled fish (although how can you resist the fried stuff, really?). The best part? They close their doors at 11pm on Friday and Saturday nights so the place doesn't become a free-for-all of obnoxiousness and, in my opinion, maintains the brand as somewhere to eat a meal and not to satisfy drunken urges.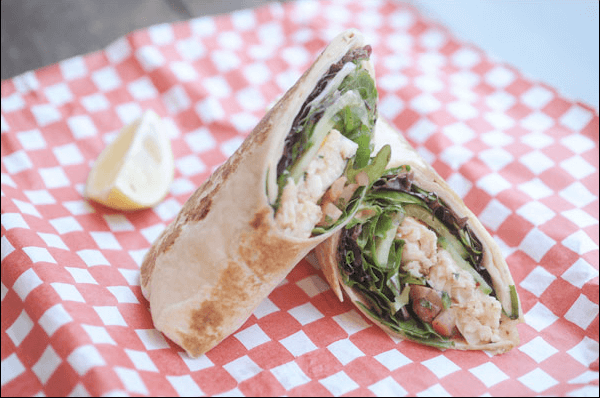 After a quick couple of minutes waiting – no problem since everything is cooked fresh to order! – our food was ready for tasting. In all my travels, I've never had a fish taco so was excited about the experience. What I discovered was a bundling array of sensational flavours! A nice portion of fried fish and a good helping of pico de gallo inside a soft tortilla shell. I had no clue that pico de gallo was a main ingredient in fish tacos but was pleasantly surprised. A perfect combination! I was completely shocked as to how amazing these were and how fresh it all tasted. Once of the best new items I've tried in quite some time.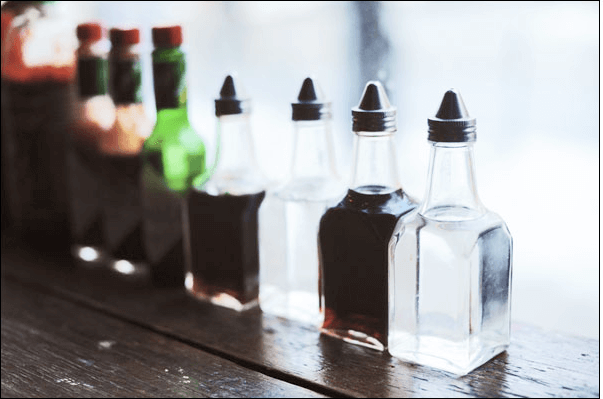 After eating these, I was ready to jump into the fried fish basket and especially my favorite thing is calamari. To say this was a perfectly seasoned and fried assortment of fish is an understatement. Every single piece was beautifully cooked and uniquely flavored. I was surprised that each fish tasted like it was supposed to and not like a meld of everything in the deep fryer. Amazing. I took a small scoop of coleslaw for a refreshing break and discovered my favorite thing on the menu (which says a lot!). The coleslaw, made in house from scratch, is the perfect blend of tangy and sweet and compliments the saltiness of the fish to ensure the ideal combination. And all this for an extremely reasonable cost that won't get you hook, line and sinker (I couldn't resist the bad joke).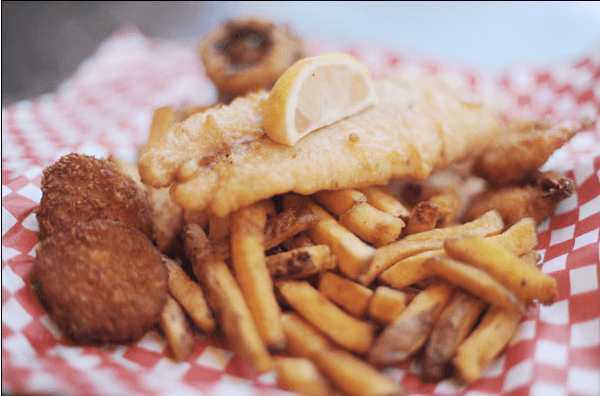 The One That Got Away is an exciting addition to the King West food scene and perfect for those wanting a quick bite in a casual and cool atmosphere. In order to avoid a beating with a wooden spoon from my dear Zia Maria, I will have to say it has the SECOND best fish in the city but the positive is that it can be Christmas Eve dinner for me whenever I want now! Cheers to that!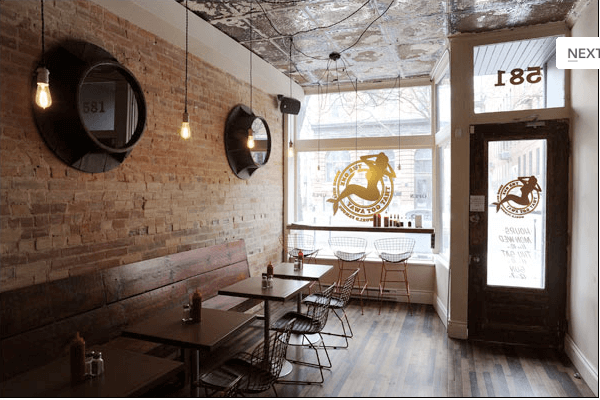 Pictures courtesy of http://totga.ca/gallery.html