Table 17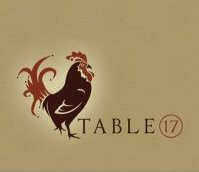 I'm not God (glad we cleared that up). I'm not even really qualified to do anything. I'm just an average girl drawing some average conclusions about restaurants. Though my work does have a surprising amount of parallels with Rocket Science, I must admit to you now before we go any further, Rocket Scientist I am not. I don't even consider brunch my religion, and for a foodie in Toronto that's just blasphemous. An atheist through and through, I believe in nothing beyond enjoying the present moment as best ye can. So pass the wine list, are you done with that cocktail? (I will shamelessly guzzle it down) And yes we will take some more bread, and can we add a charcuterie plate to our steaks? K thanks. Can you smell a touch of hedonism in the air? Yes I can.
It's a Wednesday night when I find myself tucked into a corner table at Table 17 in Leslieville, a continental bistro with a focus on seasonal ingredients and a wine list to write home about. It's pretty empty when we arrive (we are a tad early) but the place filled up fast. As I attempt to draw some mind-blowing conclusions about the décor scheme- is that cedar wood on the wall? The rope is a nice touch! Do you reckon the chandelier is Victorian? I decide to ask our server, Sarah to steer us in the right direction.
"So Sarah, what's the theme behind all this?" I say tactfully.
At first her answer seems like a hodgepodge of different cuisines and cultures, Mediterranean, French, a little Japanese (Chef John Sinopoli after all has a very eclectic past, his experience ranges from the narrow over-populated streets of Tokyo to the finer kitchens of NYC) then Sarah says something that strikes a chord with me.
"We don't want to be pigeon holed."
Ah! It's all beginning to make sense now. Before tonight's reservation, like any good food journalist, I did my research. Though it seemed no matter how many articles/write-ups I sifted through on this joint, I couldn't get a read on this place. And so I arrived tonight, in that glorious state confusion, not knowing what to expect. And so we begin…with cocktails of course.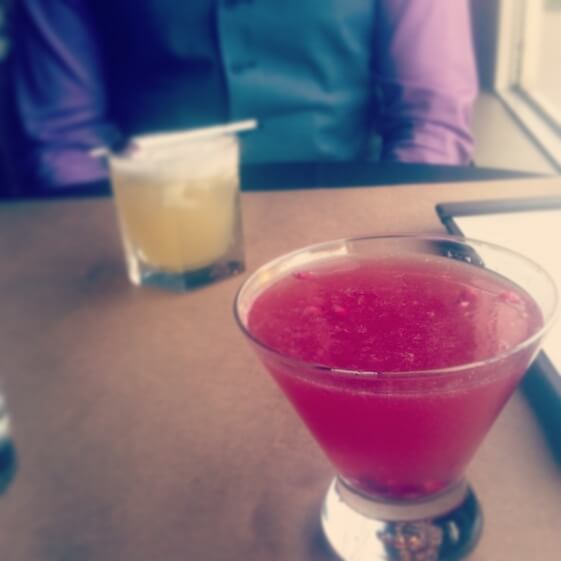 As the haute cocktail scene heats up in Toronto, expectations are amped up. You mean you don't serve cocktails with unicorn bone dust? Psh…what a bust! Moving on. I had my pretty little eyes set on the Pomegranate Sour, a medley of Finlandia Vodka, grapefruit juice, pomegranate juice, and fresh citrus juices ($12) my friend had the more classic Bourbon Sour, Maker's Mark, fresh citrus juices and a "Table 17 marinated cherry" ($12-15) As I said, there was no unicorn dust (which had me a little disappointed at first) but once I managed to come back to Earth, I decided these cocktails were classy, refreshing (duh) and liberally garnished with pomegranate seeds- a win in my books.
Now the wine list. I like my wine, I like it red, and I like it in a big ass glass. I know a thing or two about tannins, I've been around the block, but sadly Sommelier I am not (remember unqualified?) The wine list at Table 17 is extensive. Clip to my face sussing out the list like a pro, then ordering the only thing I can pronounce like an idiot. We choose the 2009 Pagos de Araiz, 'Crianza', Merlot ($11 a glass). It was served lightly chilled, yum.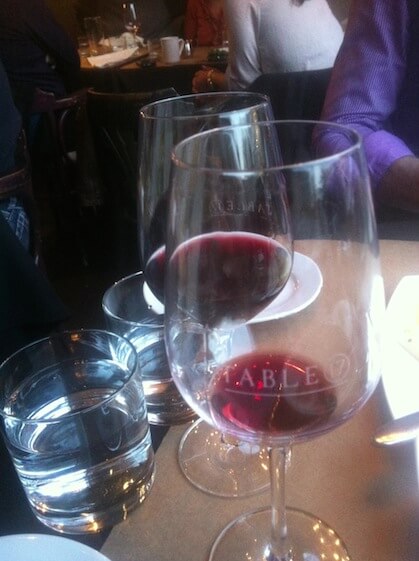 I would argue the most important part of any restaurant experience is the food. Personally I would sit through hailstorms if the ceviche were good enough. We kick things off with some Steak Tartare ($15) and the recommended Polenta Abruzzese ($15). The toppings change on the daily so be sure to ask your server. Today was a Pork Ragu Bianco. The polenta was oh-so-creamy and melt-in-your-mouthy. My only advice would be to add the chili flakes they so conveniently bring you, without them the dish danced about bland.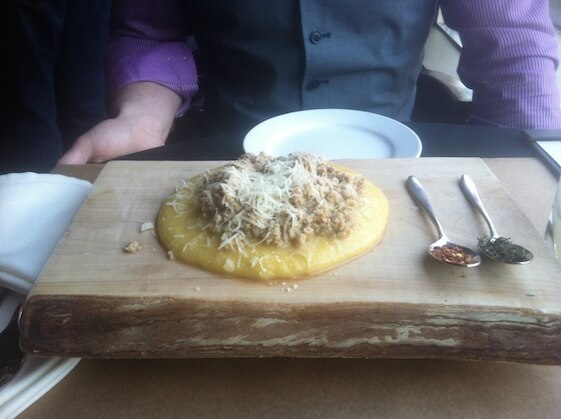 The Steak Tartare came decently portioned, perfect for sharing before the main event. When it comes to tartare I like to think crackers are for the weak. I'm heading mouth agape straight for the good stuff. And these goods definitely delivered, although the tartare wasn't necessarily light and refreshing, it was a tad dense, complex, moody- sort of like the misunderstood emotionally stunted alpha male. Okay…maybe that metaphor was a bit much. Maybe I'm over thinking the tartare? Back to the basics, it's good.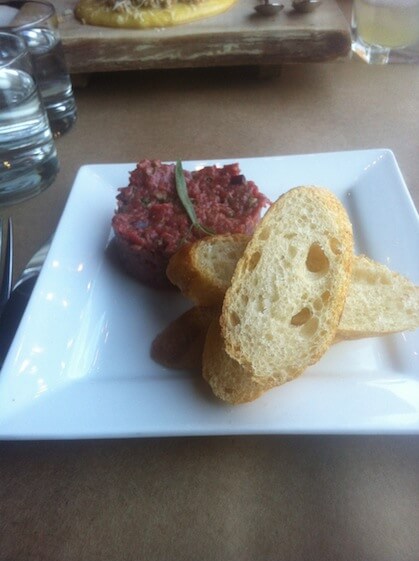 Menu envy. Something that should try to be avoided at all costs. It's that moment when whom ever you're dining with clearly/undeniable/indisputably has ordered the better dish (cue the tears). In times of fear when menu envy grips my soul I almost always resort to duck. However, this time I play the gentlemen, allowing my friend a chance at the Duck Confit and I set my mind upon the Scallops.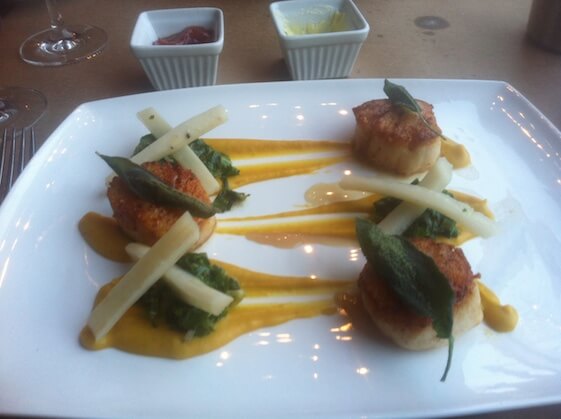 Sea Scallops with Braised Salsify and a Squash Puree ($24). The scallops by themselves would disappoint the ravenous eater. However, being a relatively small woman who has just consumed appetizers I would argue the portion was incredibly ideal. Three plump crispy sea scallops rest atop a decadent squash puree. You know the puree that instantaneously melts in your mouth like magic? Yea it did that. The crispy outer layer balanced well with the soft supple scallop, add some of that miraculous puree and that's a meal that goes down easy. Menu envy I think not!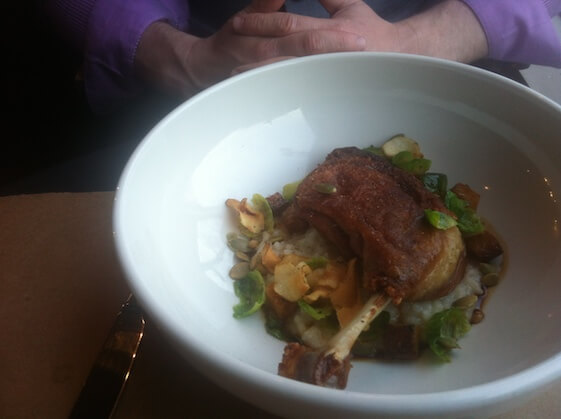 As I mentioned before, duck is to me, like burritos are to most people, something close to a religion. I believe in duck. Duck Confit, Mutsu apple, Brussels sprouts, roasted rutabaga, Jerusalem artichoke chips and Risotto ($21). The perils of this dish are many times the duck turns out a bit too salty. Though this dish was paired with a more mild risotto, which muted the saltier flavors in the best way. Either dish could not stand alone but, brought together, each forkful is harmonious; for a moment it's as if I hear birds chirping ever so peacefully in the background.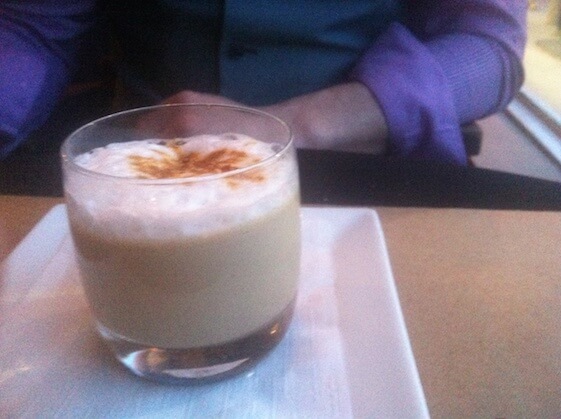 We determine to finish the night with a Chocolate Olive Oil Tartelette and a Cappuccino Panna Cotta. Personally I was expecting the olive oil to be a bit more prominent within the Tartelette, I couldn't taste it at all. Though my friend contradicts me completely, arguing he can in fact taste it and it's very good. Oh the subjectivity of eating! The panna cotta was perfectly infused with caffeinated flavor. Chilled with a buttery texture, no chewing required. Confession: I don't do after dinner drinks. Don't get me wrong, I drink after dinner, it's just usually at a bar with lots of Jameson and regrets, but as for Spanish coffees, finishing wines, what have you, I must confess I have never ventured, until tonight of course. Table 17's bartender, Mike, whips us up one final concoction for the night. He refers to it as "Amaretti" similar to an Amaretto, this after dinner refreshment is made with real biscotti that has been marinating for a glorious 20 hours. It has a thicker consistency and is incredibly sweet.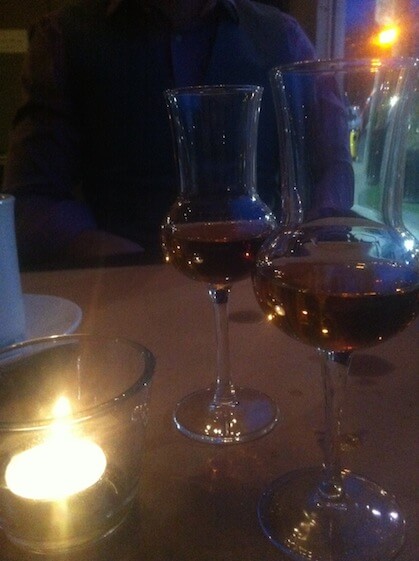 In the restaurant world today, it seems everybody's competing to score the newer hotter concept. Ready for some wisdom? Everybody's trying to be different. And since Table 17's not…trying to be different that is, I believe subsequently they succeed.
Bon Appetite!
782 Queen St E, Toronto
(416) 519-1851
"Follow" @Table17, "Like" on Facebook

About Erin Wotherspoon
Erin, of average height and weight has no special skills to boast of. She graduated from Theatre School at George Brown, where she studied classical acting for 3 years. Erin began to feel like a pawn in a chess game she never consented to and switched her energies towards creative writing. Having had some mild success as a blogger, it is now her main goal in life to write novels. She currently contributes to a couple of food & drink related magazine around the city. @erinspoons