Love, Happiness & BLD
I arrived at BLD Restaurant one lovely Friday with my girlfriend excitedly anticipating what the evening had in store for us. As we reached 36 Toronto Street in the heart of Old Toronto and entered the front doors (located on Adelaide,) we took a moment to take in all the sights; a cozy and intimate setting, mature clientele and a very modern, sexy decor. Very "California meets New York," as fabulous female owner, Lynda Angelucci, confidently describes it.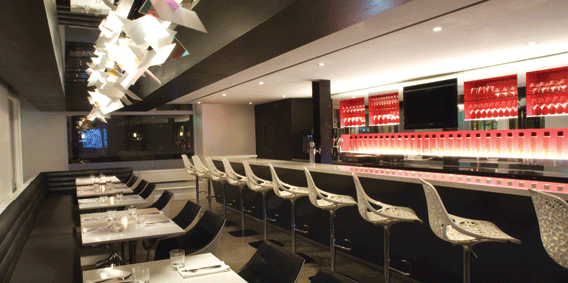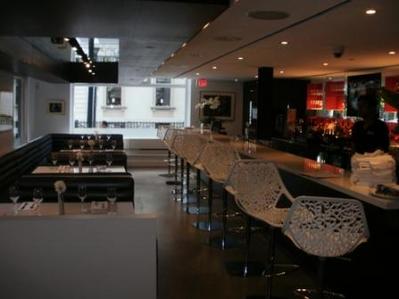 We snuggled up in our corner booth and agreed on how much we both enjoyed the relaxing atmosphere as the manager, Scott, made his way to our table side; two beautiful cocktails in tow. He set the drinks before us explaining that they were two of BLD's speciality martinis, featured daily and that all the fruit juices within the cocktails were made in house.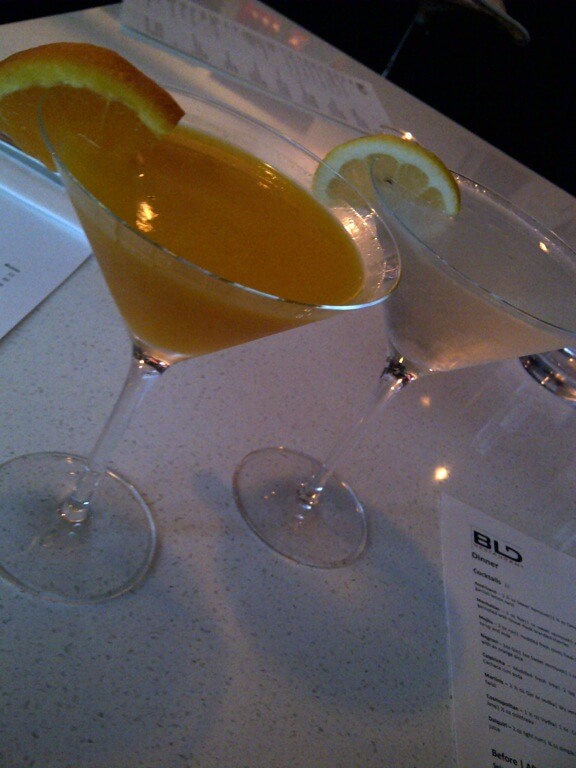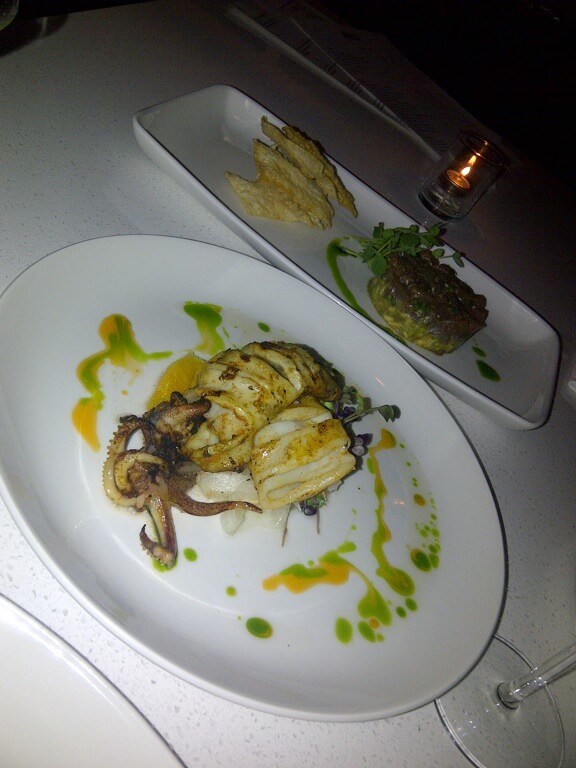 Appetizers arrived promptly; tuna tartar (served with tamari, ginger, scallions, cilantro with cripsy wontons, $14.) and grilled calamari (served with pickled fennel, orange segments, pea shoots, $12.) The tuna was positively hypnotic. I took my first bite atop a crispy wonton and was completely satisfied. An absolutely delicious dish all around– fresh and flavorful with a perfect hint of cilantro which I loved. Next was the grilled calamari. Presentation was beautiful, and for the most part I enjoyed this dish, however I did find the smaller pieces of the squid were a little over-done. Neither dish had any fishiness factor whatsoever which is always key when serving seafood. I would most definitely go back for seconds, thirds, fourths and maybe even fifths of the tuna tartar, but I will leave the calamari for someone who may appreciate it a little more.
After appetizers were served we had the pleasure of meeting owner/operator Lynda Angelucci. She was warm and kind, and welcomed us into her "home." I really enjoyed chatting with Lynda over the course of the evening and hearing about her history in the culinary world. I really felt a lot of love as she spoke about the dishes, the restaurant, her staff and most of all her family. My girlfriend and I were both so utterly impressed and inspired by Lynda's passion, confidence, beauty and drive. Lynda Angelucci is indeed the woman who has it all!
We also had the pleasure of meeting and chatting with Lynda's son, Jonathan Angelucci, and you could really sense what close a family they are. After work at the other family business, Jonathan and his father make their way over to BLD to enjoy dinner with Lynda. It was really refreshing to meet such a great family and it made our night at BLD that much more special being in the presence of such love and positivity.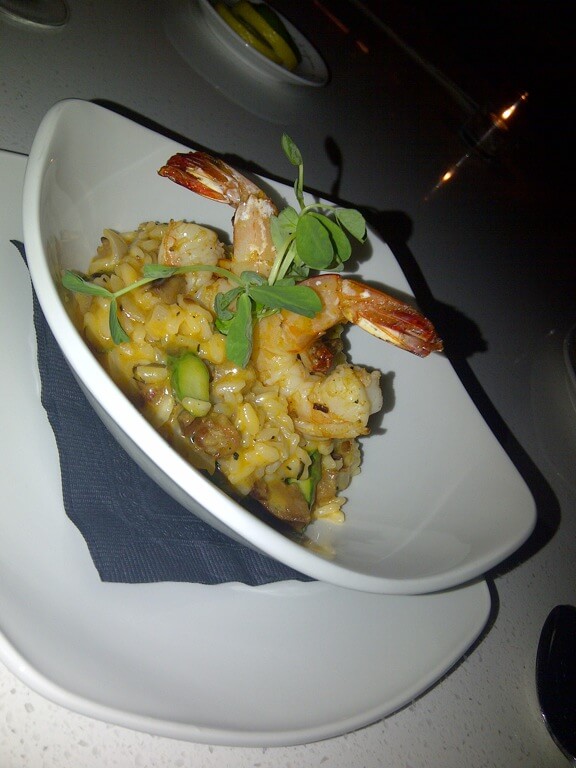 As Lynda left the table, Scott arrived with something to entice our pallets; Spanish risotto (served with chorizo sausage, asparagus, red onion and white gulf shrimp, $25.) Visually appealing– this dish tasted as amazing as it looked. I cannot say enough good things about this risotto; creamy, rich, smoky– oh my! The asparagus was done perfectly with just a little crunch to it, and the shrimp was juicy. What a delicious flavor combination. For those of you who like a little heat with your meal, add a splash of BLD's very own chilli oil (made in house) for an extra kick. The addition of the chilli oil was certainly a tasty one, but not needed. This dish stood proud all on its own. And like the tuna, second, third, fourth and DEFINITELY fifth helpings of this little masterpiece would be MORE than welcome.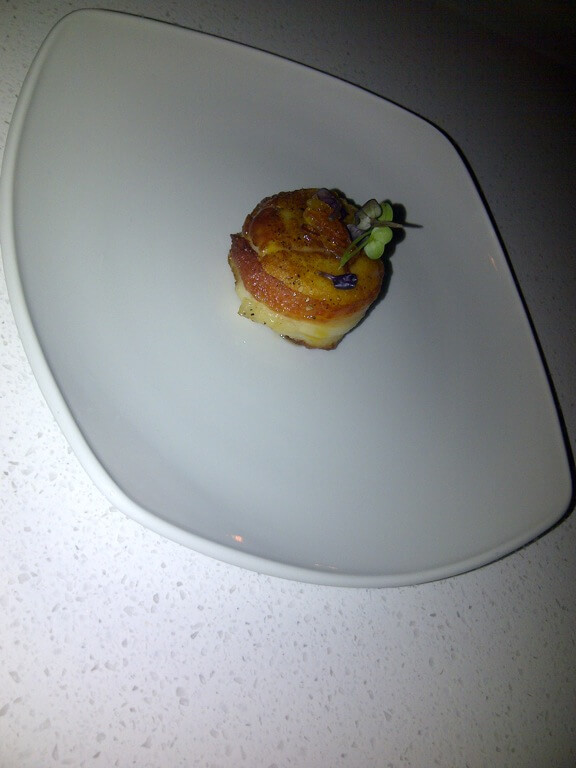 One of the feature items on BLD's menu was a prosciutto wrapped sea scallop, and on this night my girlfriend and I were going to be fortunate enough to try one out. The prosciutto was crisp and the scallop was tender and juicy. Atop this adorable little morsel was orange marmalade and a sweet sauce consisting of orange zest, grand marnier, freshly squeeze orange juice and grilled scallions. What a delightful bite of heaven that was!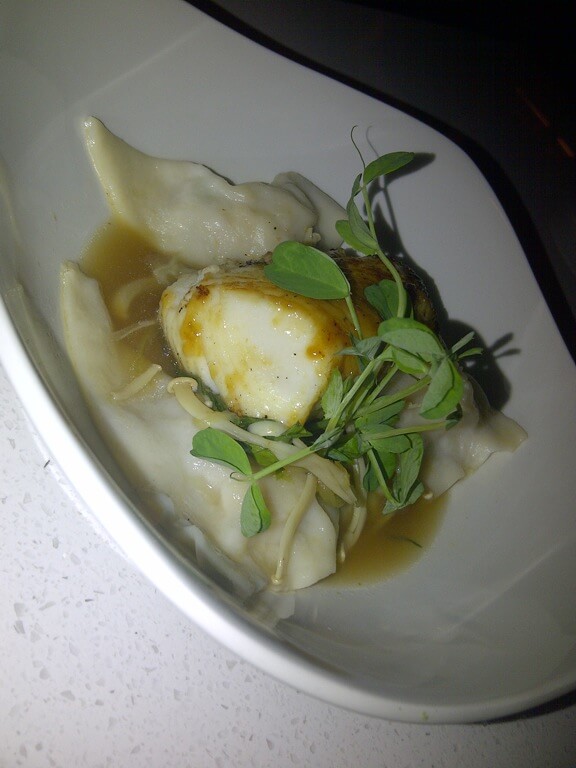 Next up was miso marinated black cod (served with leek and baby bok choy, shrimp and pork dumplings, enoki mushrooms in a soy ginger broth, $23) and oven roasted Cornish hen (served with crisp lemon herb potatoes, prosciutto wrapped asparagus and a sweet blueberry sauce, $20.) After trying the risotto I wasn't sure it got much better than that, but then I took my first bite of the miso marinated black cod and my whole world changed. I felt like I had just received a loving slap to the face! WOW! The cod was tender and juicy, and the broth with the enoki mushrooms was full flavored and bold. I immediately thought of someone I know who eats miso soup semi-daily and couldn't wait to tell him about this dish and how much he would love it. Everything about the cod was perfect in my eyes, however I wasn't a big fan of the shrimp and pork dumplings (but this was probably because I am NEVER a fan of shrimp and pork dumplings, they just aren't something I enjoy.) That being said, I would order this fantastic flavor ensemble again in a heart beat, dumplings or no dumplings.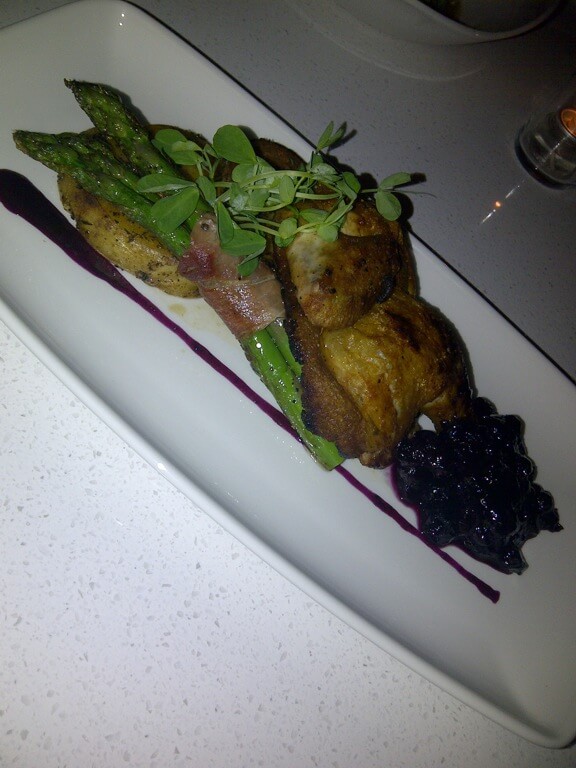 The Cornish game hen was buttery (but not too buttery,) with a thin crispy skin that was light and delicious. The addition of the blueberry sauce gave the dish the vibe of a trendy, modern alternative to the comfy-cozy turkey dinner with cranberry sauce. Originally this dish was served with a sweet pea sauce, but as Chef Marcus Monterio later explained, "it just wasn't there," so for the love of tastiness he switched it up! And thankfully so! Although I never tried the sweet pea version, the blueberry sauce was delightful and I thoroughly enjoyed it. Paired with the prosciutto wrapped asparagus, this dish was light and tasty and didn't leave me feeling guilty afterwards.
As we finished our entrees we had the pleasure of meeting Chef Marcus along with sous Chef Justin. We chatted with Marcus about his experience in the culinary world and it was almost like pulling teeth to get him to share! He was a very kind and humble man who I could tell had a lot of stories to tell, but perhaps was just feeling a little shy. However when the word 'dessert' came into the conversation his eyes lit up. Suddenly he was gushing over his speciality ice creams and couldn't wait to share them with us. We decided to go for the plunge and sample each and every one Chef Marcus had to offer.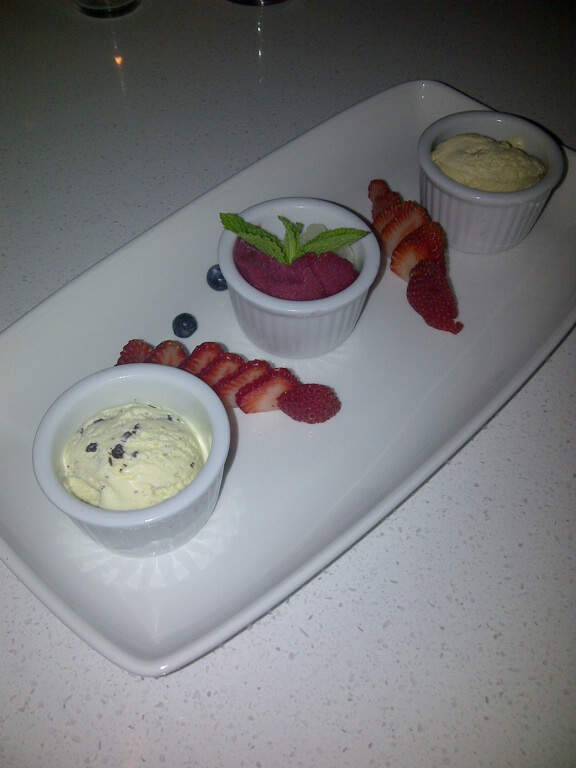 He sat down at our table and placed a dish before us containing two types of ice creams and two types of sorbets; banana-chocolate and chocolate-espresso ice creams, and citrus and berry sorbets. The ice creams were by far the star of the dessert show in my eyes, mainly because I am a fan of creamy decadent desserts over light and fruity ones (yup– I admit it!) Both of the ice creams were absolutely delish! Creamy and rich with a perfect balance coming from each flavor. Mmmmmmm! The sorbets were also quite tasty. The citrus packed quite a punch of lemon and the berry sorbet was fresh and fruity. The sorbets would be a fabulous after dinner treat for those diners looking for something a little less indulgent to end their meals with.
Food, service, decor and ambiance all really made a big impression on me. The food was delicious, the service was flawless, the surroundings were gorgeous, (Warren Gyulay & Diane Paz of 1point0 Interior Designs did a fabulous job turning Lynda's visions into a reality,) but most of all the atmosphere was intimate and cozy with such a wonderful positive vibe in the air. After a hard days work, I would strongly recommend a visit to BLD for something tasty to eat, and to just let the positivity of being surrounded by good people melt your troubles away.
As always, I would love to hear about your own personal experiences. Feel free to e-mail me your gossip or inquiries at aly@TorontoCityGossip.com.
In the meantime be sure to follow me @TdotTweetHeart on Twitter for timely updates on my brutally honest pursuit of love and deliciousness.
BLD Restaurant– 36 Toronto Street, Toronto, Ontario – 416.777.0253
www.BLDRestaurant.ca
Twitter: @BLDRestaurantTO