The Boreal Gelato Company
The Boreal Gelato Company opened up in the booming Parkdale neighbourhood this past July 1st. Owner Melanie Clancy began by offering the neighbourhood a delicious selection of in-house made gelato. Just a few weeks ago on Thanksgiving Weekend, Melanie and her chef Sherine Badaway began a new adventure for Boreal Gelato, brunch! I had the pleasure of enjoying my first brunch at a gelateria.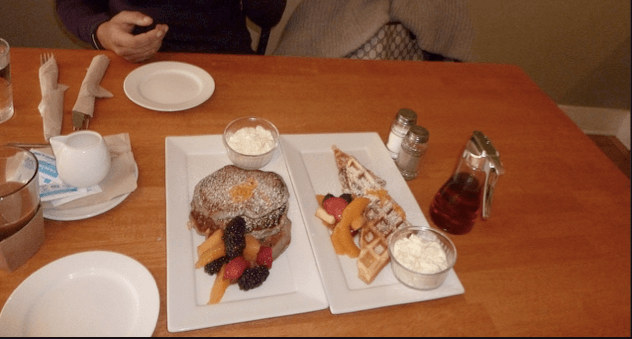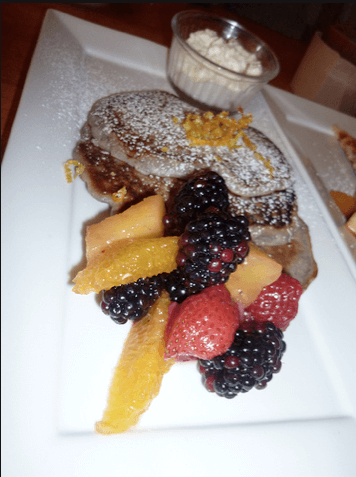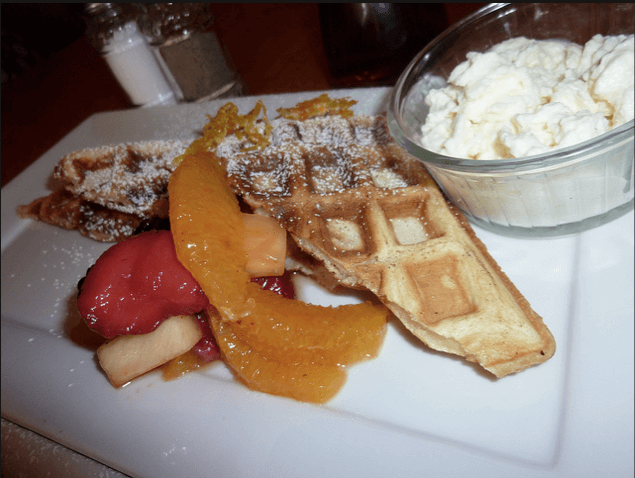 I arrived just after 2pm, and unfortunately Melanie informed me they had run out of a few favourite items, including the Rosti. Not that I'm totally sure what a rosti is, nonetheless I stayed and enjoyed 3 different items. My blueberry pancakes were perfection! Pancakes is an easy dish to make, but it's also easy to get it wrong. Personally I really enjoyed Boreal's take on the pancake. They were chock full of little blueberry bursts, soft, thin, and almost crispy. A fluffy pancake is great to look at, but as soon as you pour on the syrup they turn to mush. These little pancakes really held up! They were garnished with a seasonal fruit compote topped with candied orange zest, and dusted with icing sugar. A little side of simple vanilla whip was served as well. I also tried Boreal's Belgian Waffles. Served the same way as the pancakes, they were good, but nothing really jumped out at me to distinguish them from other waffles. The pancakes were the clear winner.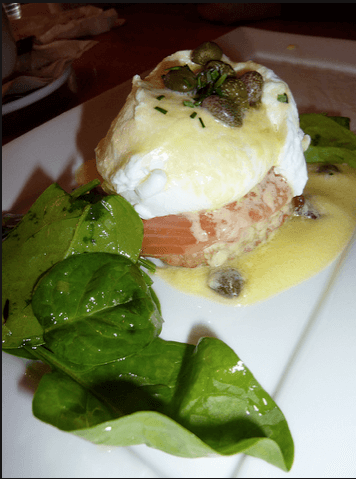 I received an order of Eggs Hemingway – a twist on the classic benny. This dish was a soft poached egg, topped with hollandaise, served over smoked salmon on a biscuit with a side of raw spinach. I really enjoyed this! I'm used to a benny being served on an english muffin, but the biscuit was a great substitute. It's more dense than a soft bread, and therefore held together well and made eating my dish a lot easier. The tanginess of the hollandaise was a great contrast to the smoky flavour of the salmon. Topped with a few salty capers, I found the dish well balanced.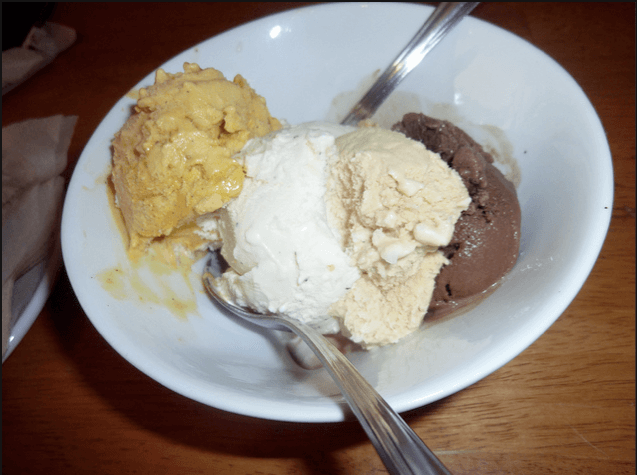 We finished our brunch off with a sampling of a few seasonal gelatos: Pumpkin Pie, Vanilla Bergamot / Earl Grey Tea, Salted Caramel, and Sugar-free Agave Chocolate.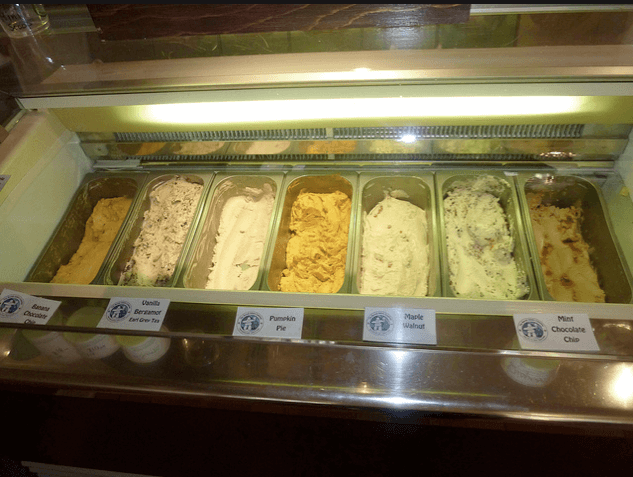 As I mentioned before, all the gelato is made in house, and the flavours are very bold. The Pumpkin Pie literally tasted like a frozen bite of pie! And while I'm not a fan of tea, the Vanilla Bergamot flavour was a tea-lovers dream. When I get gelato, I always choose two flavours that pair well together and I like to mix them to create my own. Pumpkin Pie x Salted Caramel = Yum. The flavours are always changing, so I'd imagine the Pumpkin Pie will soon be replaced by something a little more Christmas-like, perhaps Egg Nog or Gingerbread?
The space inside Boreal Gelato Company is simple and uncluttered. A row of tables line one side, with a few bar stools along the window on Queen Street. A local photographer's work is on display, and the ice cream fridge was painted by a local graffiti artist. Melanie favourite piece in the space is the desk that the till sits on; a reclaimed piece of wood from a construction site just down the road at Dovercourt. I didn't notice it at first, but once Melanie pointed it out, yep, it really it pretty cool. There were about two or three other groups dining at the same time as me. I overheard Melanie saying she had made a smaller brunch portion at a lesser price for their daughter since last week she hadn't finished her meal. I thought that was pretty awesome because it meant a few things: These were returning brunch guests, Melanie remembered them and what their daughter had eaten, and that the guests value and experience was more important to Melanie than getting the menu price.
This was only the third weekend of brunch service and Melanie told me they were working on some kinks. From the guest point of view, there were no major flaws. Yes, they were out of potatoes and tomatoes, but it didn't particularly affect my meal. I do find however that Boreal Gelato Company has a bit of a multiple personality issue going on. The name would suggest it's a dessert place, but they also offer free wi-fi, a big selection of espresso drinks, and a bookshelf with everything from Dr Seuss to David Suzuki. And weekend brunch.
It must be difficult for a business whose main seller is frozen to survive a frozen Toronto winter. Perhaps by diversifying, Boreal Gelato is appealing to different people to attract more customers. While everything I ate was enjoyable, I'm still not sure what their niche is.
The Boreal Gelato Company is located at 1312 Queen Street West (2 blocks west of Dufferin).
Open Tuesday – Friday 1pm to 10pm, Brunch service on Saturday & Sunday 10am-3pm, close at 10pm.
http://borealgelato.ca/
For more stories like this please feel free to check out www.QueenWestGirl.ca