Top 5 Mother's Day Brunches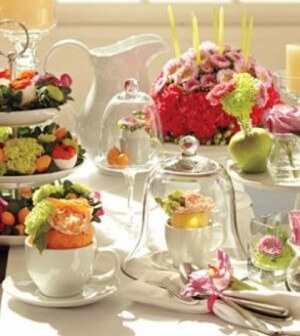 Well friends, mother's day is upon us and if you're still scrambling to find that perfect gift for your favourite person, consider the time honoured tradition that also incorporates something we love almost as much as mom: brunch! Treat your mom and yourself to one of these five fantastic options around the city.
Aunties and Uncles (Little Italy)
Sunday, May 11th – 9:00 a.m. – 3 p.m.
Voted Toronto's best brunch, Aunties and Uncles often means a long but worthwhile wait to sit down eat. Nestled in a small converted house in Little Italy its décor is soaked in fun, retro nostalgia and a warm atmosphere that really makes it feel like home. Thus, the joint might be called Aunties and Uncles but it would be a wonderful place to take mom too! Great hearty brunch choices include banana oatmeal pancakes, challah French toast and a classic breakfast that's to die for.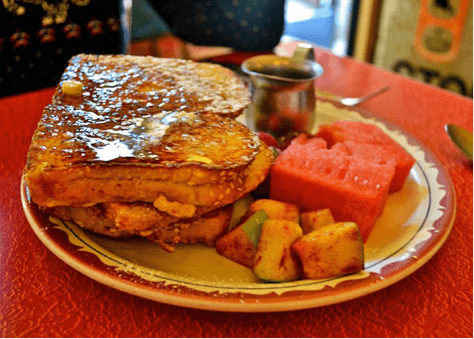 French Toast at Aunties and Uncles
The Drake Hotel (Queen West)
Sunday, May 11th – 9:00 a.m.
Treat your mom to an edgier brunch at Toronto's Drake Hotel Dining room as the hotel's chef explores innovative takes on brunch classics such as the Drake's own warm scone platter, southern fried chicken and waffles or the lobster tartine. The fixed price point menu also includes a take home bag of the Drake General Store's original loose-leaf confetti tea for mom!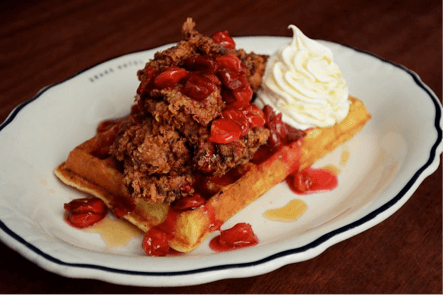 The Drake's Fried Chicken and Waffles, with Niagara Cherry Jam and Crème Fraiche
Dakota Tavern (Ossington)
Sunday, May 11th – 10:00 a.m. – 3:00 p.m.
The fixed price bluegrass brunch at Dakota Tavern is perfect for country music fans and moms alike. The bar is tucked in what looks like a rural Ontario barn, and boasts a wonderfully authentic country saloon style look and feel. All you can eat brunch which has an endless supply of delicious brunch fixtures like sausages, scrambled eggs, fresh squeezed orange juice, real maple syrup and a live bluegrass band that is sure to have you and your mom out of your seat and dancing all afternoon.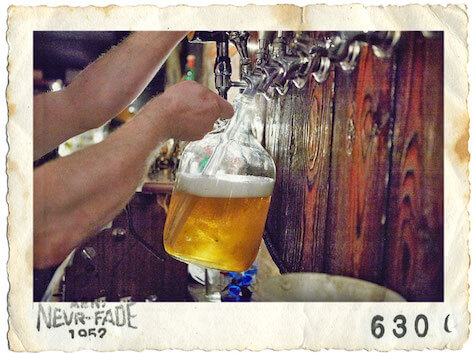 Beer Tap Inside The Dakota Tavern
The Oxley Public House (Yorkville)
Sunday, May 11th – 10:30 a.m. – 3:00 p.m.
The Victorian ambiance in The Oxley Public House goes hand in hand beautifully with its traditional British fare, and makes for a classy and genuine pub experience for visitors. Brunch menu items include sumptuous eggs benedict on a cheese scone, a BLT sandwich with maple-braised pork belly alongside supplementary items such as pudding, pork and sage sausages, caramelized pink grapefruit and the British classic – scotch eggs. Moms will love the authentic and nostalgic whimsy of the public house.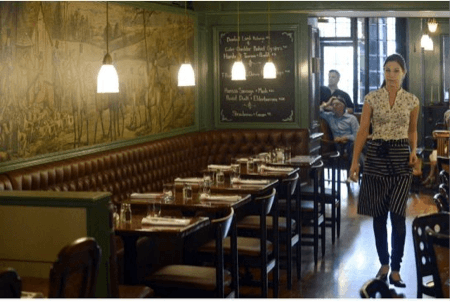 Traditional pub décor at The Oxley Public House
Café Belong (Rosedale)
Sunday, May 11th – 10:00 a.m. – 3:00 p.m.
Last but certainly not least, the perfect brunch for nature-loving moms can be found at Café Belong, which utilizes only local, sustainable and organic ingredients in its dishes. Following a farm – to – table style model, brunch items include local smoked trout on roast potatoes, chocosol pancakes and eggs benedict on house made biscuits with maple-smoked ham. Delicious and environmentally friendly, Café Belong is sure to impress.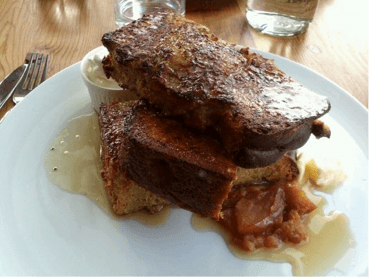 French Toast at Café Belong
About Mary Anderson
Mary is a history student, freelance writer and avid culture junkie. Three years ago she moved from the nation's capital and began a love affair with Toronto that has only grown in strength since. In her spare time she can be found trying to complete her bucket list items of trying a Caesar in every bar in the city or crafting the perfect breakfast taco. Follow her on Instagram: @_mollieanderson