Beach Hill Restaurant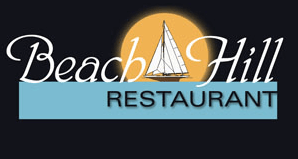 It was a beautiful Sunday morning when my family and I made our way over to Beach Hill restaurant for a much-needed brunch. I'm always so excited to try a new restaurant especially a small intimate one. Brunch was a perfect choice for Sunday morning seeing as the night before was filled with a lot of the sauce, if you get my drift. It was one of those days where track pants, sunglasses and just a pinch of shame were acceptable.
The restaurant was located just east of Little India in the beautiful neighbourhood around Gerrard and Coxwell. At first glance the building presented a huge mural of a beach with a palm tree and small patio out front. As you walk inside, the atmosphere is exactly how you would imagine: cozy, intimate and filled with families.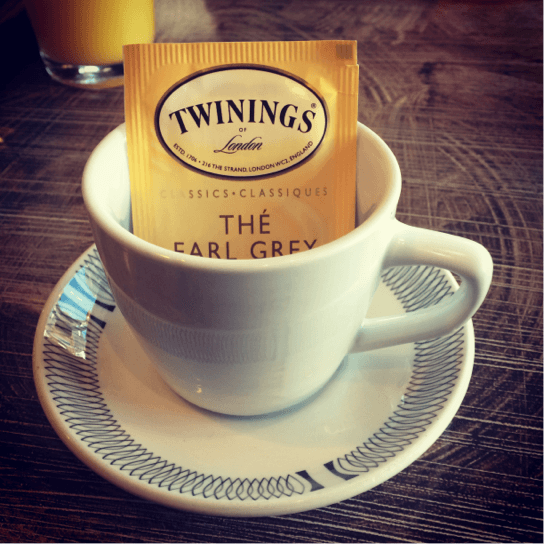 Browsing through the menu I noticed that there were a lot of staple brunch items – think French toast, eggs benedict and grilled cheese, but flipped upside down and added with some interesting ingredients. The first thing that caught my eye was the jerk chicken eggs benny ($12). Now, my family and I are from Jamaica so when I saw that the chef had the audacity to put jerk chicken and eggs together, I got way too excited for my own good. I was like a little kid waking up on Christmas morning to find every toy he asked for under the tree. Altogether my family and I ordered the Jerk chicken eggs benny (served on a multi grain bread, with a house made jerk rub and side salad with fruit), grilled cheese and grilled vegetable sandwich (with brie cheese, grilled peppers and spinach), a standard egg and bacon sandwich on multi-grain bread ($10) and a jerk chicken sandwich with sweet potato soup ($12.50). We were all set for a successful meal.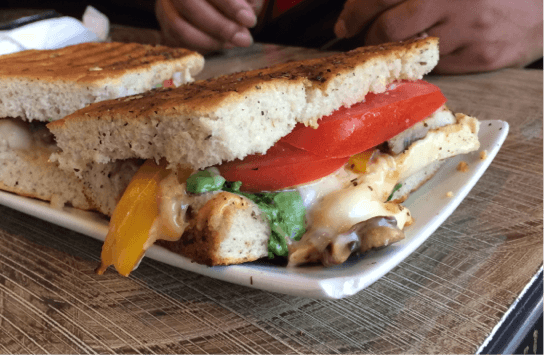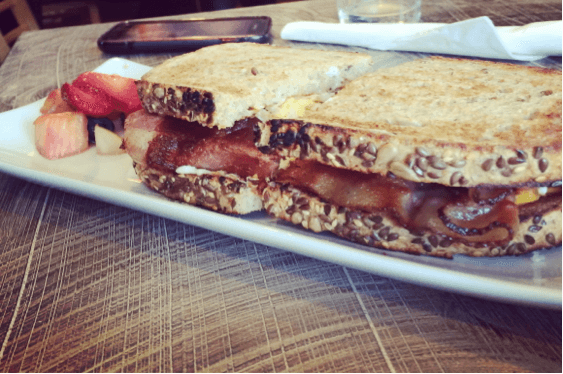 I'm sad to say that after we ordered, everything went a little cloudy at sunny Beach Hill. Firstly, we waited a long time for our server to greet the table and take our drink orders. Then when we finally had a chance to order, we were only able to get through half of the orders before the server left the table completely to ask the chef a question. As someone who is dealing directly with customers, a big no-no is to leave your table in the middle of taking an order. You wouldn't leave in the middle of a one on one conversation would you?
The gang and I brushed off the incident with ease and chitchatted amongst us while sipping our tea. Little did we realize that we had been there for almost 45 minutes already and still had stomachs emptier than Toni Braxton's wallet. When we finally received our meal the food look stunning: very colourful, bright and fresh. The jerk chicken was saucy and flavourful, the sandwiches were delicious and the soup was velvety and smooth. The only main issue I had was with the jerk chicken; it was a little too salty for my taste, but if you have a more savoury palate this is right up your alley.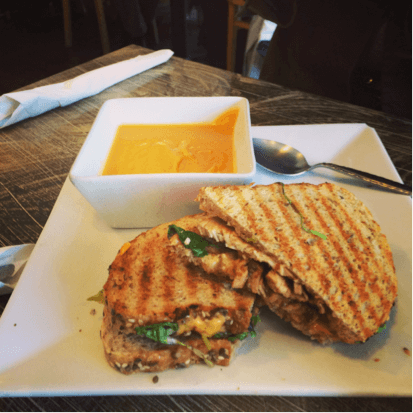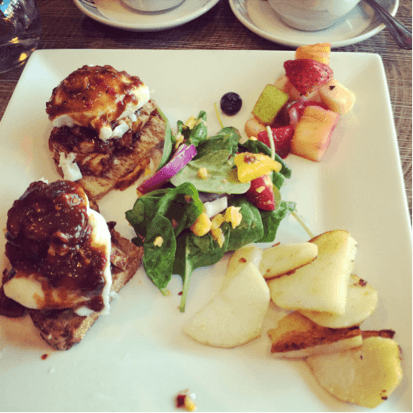 I had the privilege of speaking with Rawle Brathwaite, who is the chef and owner of the restaurant, over the phone to converse about his menu. Chef Rawle is a Toronto based chef with a Trinidadian background and has a love for food like no other. It was really refreshing to hear him speak about food and his love for experimenting with new ingredients. He says that his main goal is to provide guests with a unique experience with food that they would not normally eat at home. In my mind I was like, "You go boy! You let these east-enders have it!" Because it has been such a long time since I've had a good conversation about food. Chef Rawle really enjoys trying new things and I guarantee the menu is subject to change for the better.
1917 Gerrard St E
Toronto, ON M4L 2C2
(416) 465-8002
"Follow" on Twitter: @Beachhill1 and "Like" on Facebook

About Julian Mignott
Julian Mignott has been working in Toronto in the food and beverage industry for almost 10 years. He attended George Brown Chef School at the age of 18 and had the opportunity to further his culinary knowledge in the south of France at the age of 20. He is now currently attending Ryerson University completing a Journalism program as well as doing some freelance writing. Follow him on instagram: @juelz_mignott.