Famoso Annex Review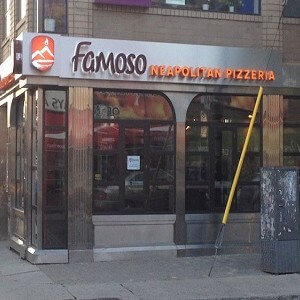 From the second my colleague and I walked into Famoso located in the Annex, we felt like we were walking into a friend's place. It was warm, welcoming, and inviting almost like a second home, which is exactly what owner, Dean Labreche, strived to create – a place where you can feel welcomed. The lighting was at the right level, and the music was too! I hate it when you have to yell a conversation to the people you are with because the music is blaring.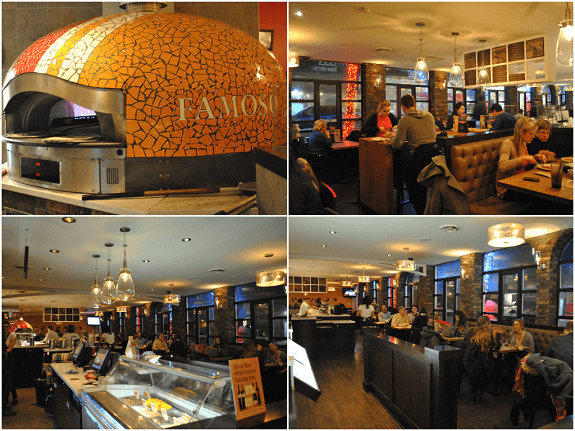 The restaurant itself is beautiful! Edison light bulbs, exposed brick, bright "look-at-me" white shelves, and the crown jewel, a fire pizza oven, which heats up to 900˚F oven to cook their authentic Neapolitan pizzas in 90 seconds. The beautiful pizza oven and the chefs in the open kitchen tossing pizza dough in the air make this a truly authentic experience in Toronto (full disclosure. I have ALWAYS wanted to see someone toss pizza dough in the air, and this guy was good at it! I stood there and watched him for a good five minutes).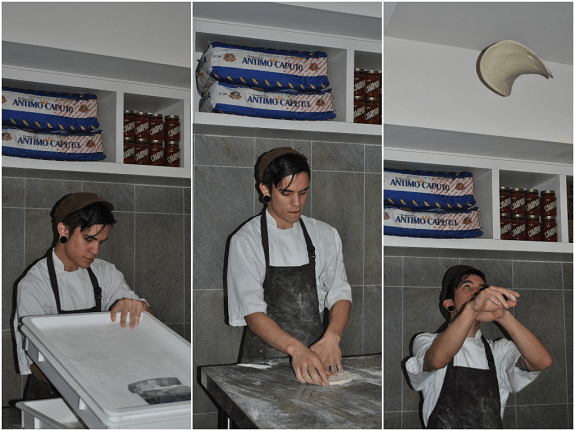 I was soon reminded however, that there is food to be eaten! Our server, Alissa, was super friendly, and really had a lot to offer in terms of insight to the menu. I brought along my good friend Vittoria, who doesn't really skew from the foods or drinks she is familiar with, but Alissa was able to give both of us some awesome recommendations. First up: drinks.
My friend ordered the Italian Greyhound. I expected the drink to be a lot more tart and sour than it was, which for me, was a very good thing. I am not a huge fan of overpowering sour tastes, but it was just enough to balance out with the sweet. This drink is also made with a hint of basil and lime. A light basil flavor comes through, but as a comfortable aftertaste.
I chose the Vodka Italian Soda, which is made with vodka, soda water, and your choice of flavour. I chose to mix mine with some San Pellegrino Aranciata, which is one of my favourite sodas. This drink is truly for the vodka lovers out there. The vodka flavour is prominent but the orange flavour comes through to finish the taste. The vodka flavour was a little too much for me, but I would order it again (maybe with a different flavour next time).
We also decided to sample the Berry Capri, which is made from Aperol, blackcurrant liqueur, Grand Marnier, soda water, cranberry juice, and cucumber. This was a cool and refreshing drink, but I would have liked to taste more of a berry flavour, opposed to the cucumber.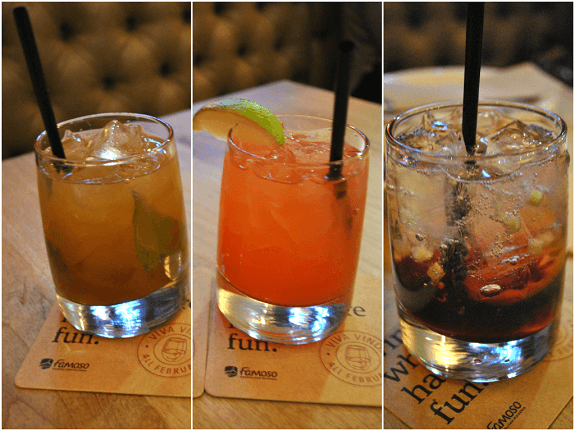 Before I go on, I really should explain how the ordering works at Famoso: everything happens when you're ready. There are menus at the table, and when you're ready to order, you walk up to the counter, and place an order there, for you or your whole table. When your food is ready, a server brings it to your table promptly, and when you're done, a server brings your bill to the table, and you pay when you're ready. Dean says this method of ordering/paying is in place to further the casual, comfortable and laid back atmosphere. This also means you are in charge of your evening, not the establishment. There was a couple who came for dinner, but only had 30 minutes. The restaurant was packed, but they were able to place their order, eat and pay in their time limit, and still enjoy the Famoso experience. Now, this isn't to say this is a regular thing for the restaurant, but it does show the flexibility of Famoso. That couple stayed for 25 minutes, while we (and a few other people) were there for hours.
But what won't take hours is the food! Four appetizers came to the table, starting with the Polpette Al Forno – or meatballs. The meatballs were tender, juicy, and not dry with a light basil taste and a light spice, but not too much that the spice is overpowering. The taste was furthered even more by the fresh and creamy ricotta and shaved grana padano, which compliments very well with meatballs.
Next we tried my favourite appetizer of the day: the fire roasted tomato bisque. The soup made from fire roasting the imported Campania tomato, brings a smooth consistency. The flavours were very clean, with a prominent tomato taste, but you get the flavour of cheese in every bite (which totally caught me off guard, but was an awesome surprise). We really couldn't stop eating this dish. Honestly, if I was at home, I may have licked the bowl clean. Dean told us that people ask for the recipe for this soup all the time, and now I can honestly say I know why. The soup is served with soft, oven baked flatbread. I think Dean should consider selling this by the gallon. I would totally be first in line.
Next we had an order of the Mediterranean flatbread, which by the way, comes out on a huge platter. The flatbread was soft yet crisp, and is topped with garlic, oregano, feta, and extra virgin olive oil. The feta flavour pulls through and is very prominent, which I think may have been just a touch too salty for me. The bread is served with a side of house-made hummus and tzatziki. The Hummus itself was hearty, and light in salt with chunks of chickpea in it. The tzatziki was very fresh and very creamy. It was almost reminiscent of sour cream, which balanced out the flavours of the bread beautifully.
Our fourth and final appetizer was the gorgonzola and walnut salad. I normally don't like to order a salad at a restaurant, because I tend to be disappointed with the results, but something seemed different about this one. So I thought, why not? Let me tell you, I am so thankful I got the salad. This salad is made with romaine lettuce, gorgonzola cheese, walnuts, semi-dried cranberries, and a gorgonzola walnut vinaigrette. The flavours are harmonious and balance very well with each other. I loved how the cheese was balanced by the sweet cranberries, and the walnuts added a nice crunch to the salad. What I especially enjoyed was the dressing. There was just the right amount on the lettuce, and I really liked how it was made with the same ingredients that are already in the salad, because the flavours of the ingredients in the salad itself aren't compromised by an overpowering dressing. If you want a nice lunch, I would highly recommend this salad and a bowl of their tomato bisque. How can you go wrong?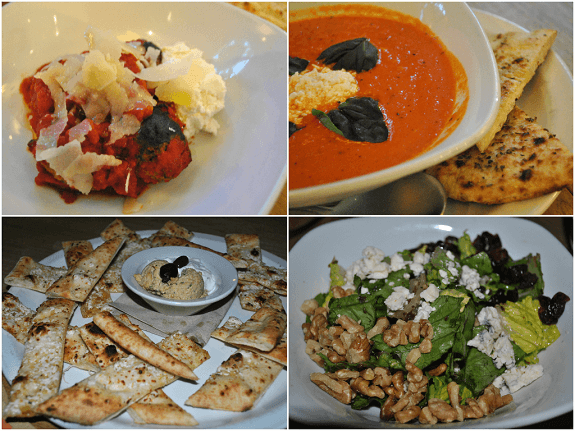 As we were ordering our pizzas, I noticed that there was vegan cheese and the option for a gluten-smart crust on request on the menu. It is gluten-smart and not gluten free because the gluten-free dough might come into contact with wheat flour (which is a special low-gluten flour from Naples) and they don't want to be misleading to people with allergies. Dean says that this allows everyone who walks through the door to have a good time, eat good food, and not worry about being accommodated.
There are two pizza options: the authentic Neapolitan pizza which is comprised of traditional Italian flavours and ingredients (many of which are imported from Italy), and what they call the 'New World' Pizza, which is the same traditional delicious thin crust but topped with awesome non-traditional flavors from around the world like moo shoo BBQ duck, and sweet BBQ chicken as an example. We honestly didn't want to be adventurous that night, so we ordered from the authentic side, and chose two white pizzas: the Funghi and the Cavoletti.
The Funghi is topped with two kinds of mushrooms, caramelized onions, pecorino romano cheese, and white truffle oil. The pizza was very creamy and light, and the sauce was very reminiscent of alfredo sauce. There was also a nice prominent mushroom flavour. The pizza was rustic, yet very decadent at the same time, which is what I felt mirrored the restaurant itself.
The cavoletti pizza, was amazing. One of the best pizzas I have ever had. This pizza is topped with oven-roasted Brussels sprouts, gorgonzola cheese, dates, walnuts and drizzled with honey. Normally it also comes with prosciutto chips, but since I am a vegetarian, we got them on the side. Now, you may be thinking, "What in the heck is he telling us to eat?" But hear me out. I am a huge fan of the salty and sweet combos, and this is exactly what this pizza delivers. The walnuts add a lovely crunch to the pizza, while the rest of it felt smooth and creamy. If you're feeling a little daring, or like trying something new and are a fan of the salty-sweet combo like I am, I would recommend the Cavoletti pizza.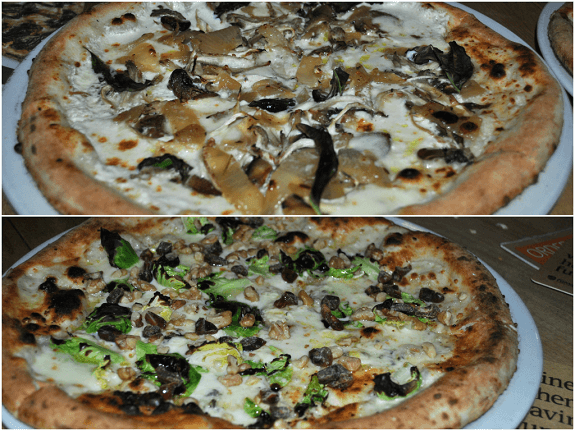 What made these pizzas amazing however, is its quality. After eating a whole pizza, you don't feel like there is a brick in your stomach because of the 00 (double zero) flour which is very low in gluten and easily digestible. That, and the pizza isn't an oily, deep dish like we normally eat from the large chains across Toronto. The crust also really makes the pizza special. It is light and airy, almost like fresh bakers bread. This pizza is made to be eaten hot and fresh out of the oven, so don't be surprised to see owner Dean running food to the tables. He doesn't run food to just preserve the true Neapolitan pizza experience, but also because he loves seeing his guest's faces when they get their food, which he says, "it's like I'm watching them unwrap a Christmas gift with excitement".
This is what makes this restaurant special, where you can feel the love Dean has for his staff, and vice versa. He runs food, cleans the bathrooms, sweeps and mops, because he doesn't believe in the "do as I say, not as I do" motto. I like seeing this in an owner, because it not only shows humility, but also that he is willing to do what it takes to please his guests and his staff, who he talks about like family.
After our pizzas, we had to digest a little, so Dean joined us for a conversation. We started off talking about how he and his brother Chad (who is the owner of the Yorkdale Mall Famoso location) fell in love with the restaurant in Alberta, and wanted to bring it to Ontario. He also mentioned that the entire staff that evening, minus one person, has been there since their grand opening. That is a true test of character in the restaurant world, which normally has a high turnover rate for servers. But the conversation skewed eventually, and the three of us ended up having an hour long conversation that had nothing to do with the restaurant. This comforting attitude is mirrored in the whole restaurant.
To end off our night, we had some amazing desserts, starting off with a sweet and delicious drink, the Peppermint Nutella Mocha. This rich and decadent beverage is made with steamed milk, peppermint schnapps, lots of Nutella, and topped off with whip cream and chocolate. It was like drinking a creamy and rich hot chocolate, which is balanced with the peppermint. What was also nice was that you couldn't taste the alcohol, so you could enjoy the wonder that is Nutella.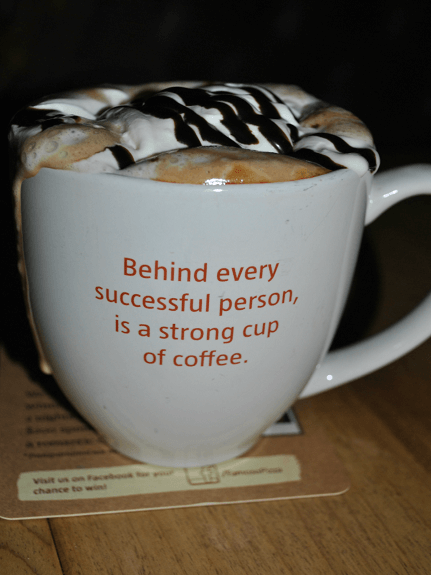 We then tried two of their gelatos: the wild BC blueberry, and, of course, the Nutella gelato. The blueberry gelato was super creamy with a strong natural fresh blueberry taste, not artificial and was made with real blueberries. It is super refreshing, and was a good choice. The Nutella gelato tasted just like its name sounds. It has a nice hazelnut flavour, mixed with a beautiful creamy milk chocolate taste (another full disclosure. I hate chocolate ice cream, but I ate the entire scoop of Nutella gelato. That says something.). Before we move on, I want to make one comment that involves the whole meal. The only item frozen in the restaurant is their gelato, and nothing else.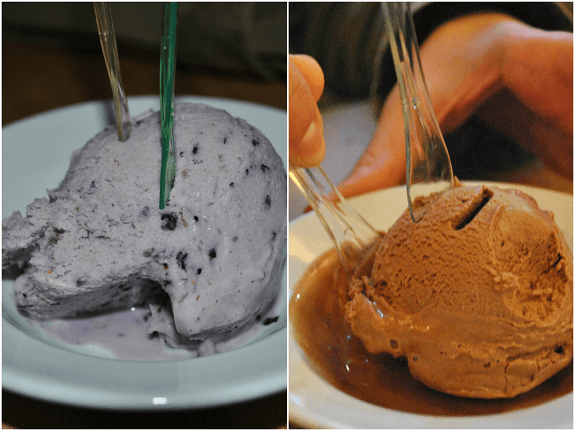 Next we moved onto the classic Italian dessert, the tiramisu. This dessert comes straight out of Italy. No, really, it is imported from Milan. It is very soft, with layers of delicious cream, which is sweet but not overly, which is very reminiscent of cake.
Finally we were delighted to a true sweet-treat, a concoction they call Dolce & Banana. This dish is made with oven roasted bananas coated in caramelized brown sugar, crushed pecans, caramel sauce, topped with a scoop of vanilla bean gelato. The bananas were soft but sweet. The crunch from nuts added a new dimension of texture to the dish, and since the banana is caramelized with sugar, it too adds a crunch and a lovely brûlée taste to the bananas. The dish however wouldn't be complete without a scoop of the super creamy, clean tasting, and delicious vanilla bean gelato. This is such a simple dessert, but the flavours are complex, and it seemed like the flavours were different in every bite. At one moment you would get more brûlée, or more vanilla or just banana. Truly a delicious way to end the night.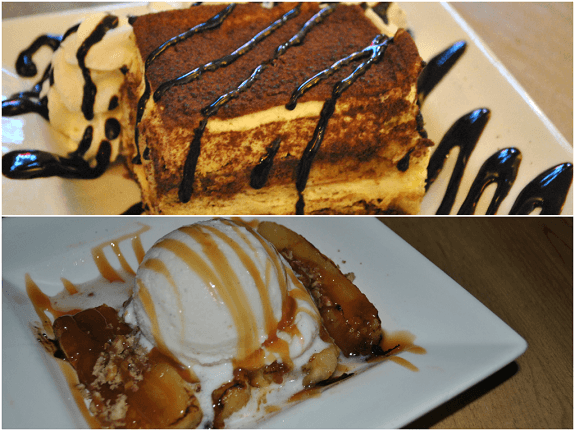 When I go again, I definitely want to take advantage of their various deals and specials, like their Thursday drink specials where you can get $4 pints and $5 cocktails. If you're a wine lover, every Wednesday is Vino Wednesday or 'Wines-day' as Dean cleverly put it where they take $15 off the price of their reserve bottles of wine. But my favourite deal has to be the Cineplex movie deal, where on Tuesday you can add a movie ticket to any pizza for only $6, or $8 on any other day.
I thank the amazing staff and Dean for an incredible opportunity, and an amazing experience. I have never felt so welcomed in a restaurant before, and I really hope you all get a chance to experience the wonder that is Famoso Annex for yourselves.
Famoso Annex – 386 Bloor St W
Toronto, ON
(647) 748-2333