Shizen Spa – Luxury, Peace & Tranquility for Mind & Body
As we all know, sometimes life can get the best of us. Stress, worry and anxiety are terms and feelings I am all too familiar with. And the odd time things occur that even the best deep breathing exercise or yoga class can't fix. During these times I would happily like to announce (or scream from a mountain top) that I have found my official go-to stress relieving, mind clearing 'happy place;' Shizen Spa. (Pronounced She-Zen.)
Now I know most of you haven't had the sheer and utter pleasure of meeting me in person and getting to know me (lol) but for those of you who have, it is probably a safe assumption that you know how my brain works; constant over-drive. It is VERY hard for me to 'shut my brain off,' and truly reach a state of pure relaxation. However, after my first visit to Shizen Spa I am gushing with happiness to report that this has all changed.
From the moment I walked out of the doors from my harbor front condo I was already in a fairly decent mood anticipating the afternoon to come, but as per usual my brain was working over time and thoughts ere flying in and out so I quick I could barely even take note. I made my way through the busy streets of Toronto, working up a wee bit of a glisten (this is how I refer to what most people would call SWEAT, but this girl doesn't do such a thing, oh no!) I was happy to finally reach 200 Victoria Street where Shizen Spa (pronounced She-Zen) located within trendy downtown Pantages Hotel. The elevator took me to the 5th floor where Shizen Spa calls home. From the moment I entered the spa and was greeted by the smiling and friendly receptionist I knew I was in for a lovely afternoon. I changed into a robe and slippers, locked up my belongings and was immediately ushered by Lily, my therapist for the day, into one of the most relaxing rooms I've ever had the pleasure of being in. Dim lighting, and the sounds of relaxing piano music and waves paired with large cozy white leather fainting couches made for the perfect place for me to settle in with a glass of water and de-stress in preparation for my treatments. Lily returned and lead me into the treatment room. I could immediately feel such a positive and caring vibe from Lily; her soft voice and big smile was therapeutic all on its own. I really got the feeling that Lily had genuine care for her clients and a passion for her art.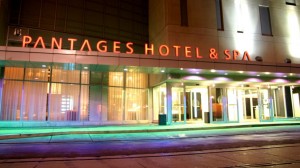 The first treatment I received from Lily fell into the category of Body Treatments and was called the Aromatic Cellulite Treatment; combining the effects of anti-cellulite oils, anti-water retention and detoxifying clay for an immediate slimming and toning result (each 75 minute treatment is $110, or you can purchase a package of six treatments for $550.) Lily began by exfoliating my 'problem areas,' (which she described as NOT needing this treatment—Oh Lily, I adore you!) followed by removing the exfoliant with hot towels. The treatment consisted of a deep massage using anti-cellulite oil, application of a thick mask after which I was cocooned within a sauna wrap. The mask needed to set in for 10-15 minutes during which Lily gave me an amazing scalp massage… I was in heaven! After the mask I took a nice, hot shower and was then massaged again with double slimming cream.
75 minutes later and I was in a state of pure euphoria! My mind is clear and at peace (other then the million thoughts I was having about the wonderful things I was dying to write down regarding how much I was enjoying my treatment and my therapist.) I snuck a peak down at my freshly treated legs, and they were gleaming; looking more smooth, tight and toned than ever! Success!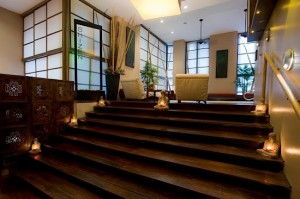 Lily then began my next treatment; a Deluxe Supreme Guinot Facial, the ultimate celebrity-style treatment leaving your face feeling fabulous and 'red carpet ready' (120 minutes for $190.) Before the treatment began Lily covered my eyes and used a special light to check out my skin and analyze what skin type I was and determine if there was any sun damage. My facial consisted of the usual process, cleansing, exfoliating, toning, a pealing facial mask, moisturizer and a massage but this particular treatment was anything BUT the 'usual.' This was truly the most luxurious facial I had ever received. While my mask set in I enjoyed a thorough neck, shoulder, arm and scalp massage from Lily, which was easily described as amazing. Upon completion I quite literally felt as though I had been re-born, and had an over-whelming feeling that I NEVER wanted to wear make up again! My skin just felt so fresh, cleansed and healthy! I took my time getting up off the massage table, as my body was in such an intense state of nirvana.
After every treatment your therapist makes a diagnosis on what treatments would be ideal for you in the future and what products you will benefit from. They truly put a lot of care and work into establishing a proper regiment designed especially for you.
As I floated home I could feel all the negativity inside me melt away. Even as I walked through the insane crowded streets of pushy after-work, anxious Torontonians I felt at peace with the universe, as though all my 'problems' were disintegrating into thin air. My usual walks through out Toronto almost always involve headphones, and a mission like determination to reach my goal, but today was different. I left my music in my purse and just enjoyed all of the sights and sounds our beautiful city of Toronto had to offer, looking down here and there to make notes on my Blackberry of all the beautiful feelings I was experiencing. So intensely that at one point while typing I almost fell down one of those flights of stairs that lead into the subway… twice… and nearly walked into several construction sites.
By the time I got home I couldn't wait to book another treatment at Shizen Spa. So I did just that! One week from that day I would have a couples massage (60 minutes for $360) and a spray tan ($40) at the Cosmopolitan Hotel location of Shizen Spa. I had a wonderful 'single girl' day at the spa, so now was time to experience it from the other side of the spectrum.
That week seemed to go on FOREVER in anticipation of my next visit to Shizen Spa (especially since this time I would be accompanied by my special someone) but finally Tuesday night arrived and my love picked me up and off we went to 8 Colboure Street; Shizen Spa at Toronto's Cosmopolitan Hotel. Once again, we were greeted by a lovely and friendly receptionist within the pristine facility. We changed into our robes, got cozy in the lounges beside the Jacuzzi and relaxed waiting for our therapists. But a mere few moments later they showed us to our massage room and left us alone to get comfortable on the side-by-side massage tables. The setting was just so romantic that I became pleasantly over-whelmed and I couldn't imagine sharing this experience with anyone else. Candle light and soft music with the sounds of waves made it very easy for us to simultaneously fall into a deep state of relaxation.
Sixty minutes seemed to fly by and by the end of our massages we were at one with each other; both of us feeling totally relaxed, stress-free and closer to each other than ever.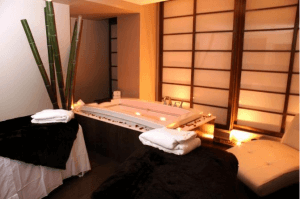 After a refreshing hot shower I began my spray tan treatment. It took about 30 minutes start to finish (which is slightly longer than I am used to as I typically use the automatic spray tan machines.) But the extra time spent was definitely well worth it. The technician took her time with the airbrushing gun, making sure my body was coated evenly and fully. After the application process was complete she instructed me to remain in the room for ten minutes to allow for the product to set in. Instantly I saw color! And it was only going to get better as the hours went on. By the next morning I was sporting a radiant, bronze and beautiful sunless tan! Something wonderful I noticed that set this spray tan apart from others I had received in the past is that there was very minimal odour and the scent I did experience was not unpleasant by any means (which is HARD to find in a spray tan!) Shizen Spa will absolutely be my new go-to hot spot for spray tans—hands down. And for those of you who dread the cliché "Snooki effect" (you know the oompa-loompa from Jersey Shore) some people experience from spray tans, I am happy to report there wasn't even a hint of orange– just an even, bronzed glow that lasted twice the amount of time I was used to in a spray tan. In fact even as I write this (eight days later) I am still gloriously GLOWING STRONG!
All in all my time spent at Shizen Spa was fabulous from the minute I stepped in the door the moment I left. I would absolutely recommend either location for anyone looking to treat themselves to some much deserved relaxation and pleasure (because we ALL deserve this!) The service was top notch, the facility gorgeous and the treatments were the best I've ever had! You will NOT regret indulging in any of the fabulous treatment options Shizen Spa has to offer… This is a promise! After visiting Shizen Spa I have made a vow to myself to make more time to relax and treat myself to things that make my body and mind feel good… And I STRONGLY recommend you do the same!
Shizen Spa has a wide variety of products and services available. Everything from luxurious facials and massages, to waxing, tinting, manicures, pedicures and anti-aging treatments. And for all you guys out there who think your too manly to go to the spa, Shizen also offers a special menu of treatments specifically tailored to men. Complete with waxing, pedicures, massages, facial– everything us ladies enjoy so much, men can also treat themselves to. There is even in-room treatments for guests of the hotels looking to indulge themselves.
As always, I would love to hear about your own personal experiences. Feel free to e-mail me your gossip or inquiries at aly@TorontoCityGossip.com.
In the meantime be sure to follow me @TdotTweetHeart on Twitter for timely updates on my brutally honest pursuit of love and deliciousness. And while your at it, go ahead and follow my favorite new friends on Twitter: @ShizenSpa, @Pantageshotel & @CosmoToronto
Shizen Spa at The Cosmopolitan Hotel 8 Colbourne Street, Toronto, Ontario — 416.350.2424 or 800.958.3488
Shizen Spa at The Pantages Hotel 200 Victoria Street, Toronto, Ontario — 416-369-7882 or 866.852.1777
www.ShizenSpa.ca