Frank's Kitchen
Frank's Kitchen is a premium romantic restaurant located in the College Street and Little Italy area of Downtown Toronto. It specializes in continental cuisine, fine dining, full dinner menu, and local foods in a casual atmosphere. Run by husband and wife team Frank Parhizgar and Shawn Cooper, Frank's Kitchen features a complete continental inspired menu, and much more in a casual setting. Since opening in 2010 it has become one of the most talked about and sought after restaurants in Toronto and you will need to allow at least two weeks to book a reservation.
The restaurant is also known locally as a "Scratch Kitchen" because everything that can be is made from scratch. To do this, Frank is up by 7:00 am every day to shop for each day's ingredients. This means that the menu changes seasonally. He also makes frequent trips to St. Jacobs to buy lamb and he ensures that every part of the animal that can be is used. The restaurant's 'family' tree, found to the left of the entrance, includes the entire staff, front to back, as well as their two major suppliers, St. Jacob and Kensington Market.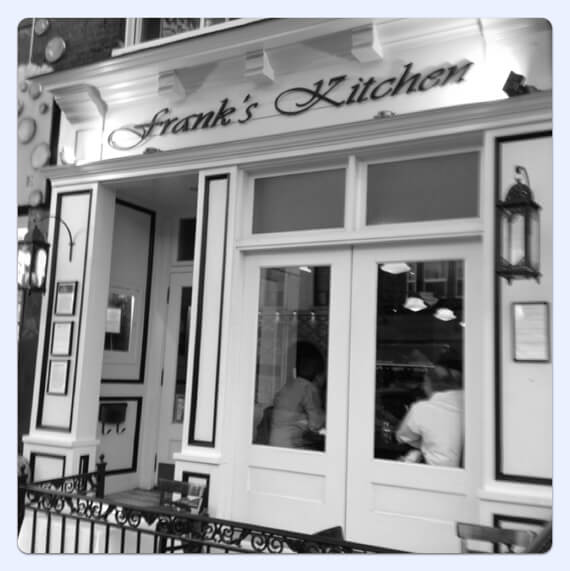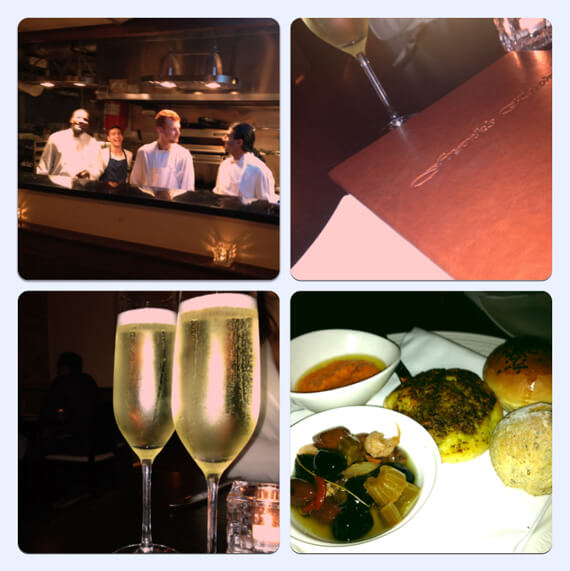 When we arrived, Nina, our server, came over and introduced herself to us while promptly offering us our menus, which showcase Frank's journey through his life – different places he's lived in, people he's learned from etc. As a result, the menu is extremely passionate and powerful. Nina's personal favourites, but only, you understand, if she had to choose are the Oysters Rockefeller and the Steak, which is aged from 68 days, and quite literally convinced her to stop being a vegetarian. To quote her, "I dream of it".
After talking to Nina and Shawn we decided to take a slightly different approach and allow Frank and his staff to plan the course of our evening, no pun intended, with the one exception of starting the evening with our signature glass of Prosecco.
We had hardly time to blink before Nina brought us Frank's freshly made bread, which takes four hours to make each day. As a treat Frank also sent us out his Antipasto Plate for us to try – my favourite, a lovely mixture of olive bread, salad and cold cuts of meat. The cold cuts tasted straight from Nonna's Cantina and had the perfect accompaniment in Foie Gras, a lovely treat from the chef.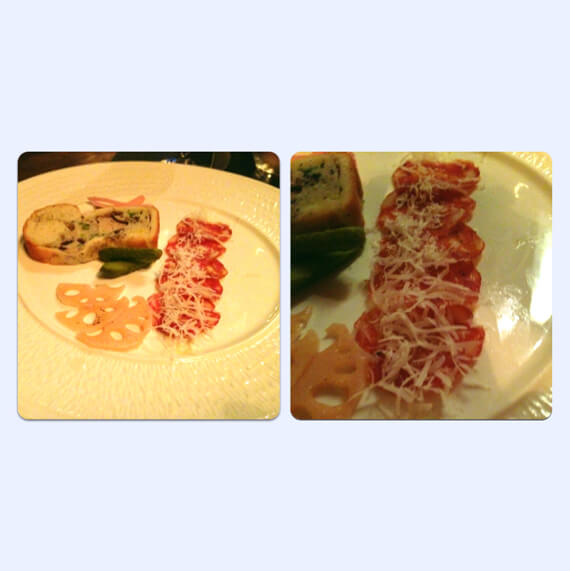 To accompany the bread and the antipasto, two dishes we were sent, Amuse Bouche, which is fried goat cheese croquet sitting on top of a tomato and cucumber salsa, and Rockefeller Oysters with a spicy lobster taco. The taste was as amazing as was the presentation. We felt like we were on holiday in Paris or Monte Carlo rather than downtown Toronto.
I have never anticipated eating an oyster the way I did this particular evening, and I have never tasted such a delicious way of preparing an oyster. I was very impressed, and my companion, who isn't even a fan of oysters, said that she could eat these over and over (as she mentioned multiple times). Consisting of salty and sweet flavours and a combination of spinach, bacon and hollandaise sauce, they were not too fishy but were deliciously creamy. The salsa with the goat cheese had an ideal crunch to it, but at the end of the dishes we kept praising the Rockefeller Oysters. A must try – wow!
To cleanse our palate Frank sent us a mixture of two salads on the menu, the 32 Ingredient Spring Vegetable Salad and the Buffalo Mozzarella salad. Each and every single ingredient complimented the melt-in-your-mouth-fresh buffalo mozzarella.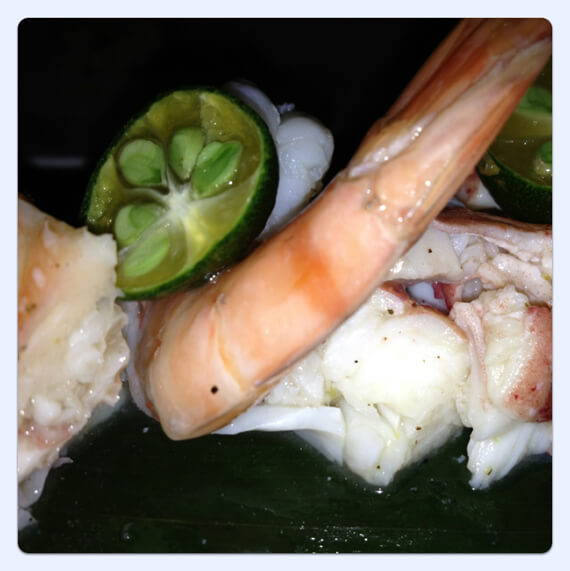 For a second dish we received a miniature version of the Tuna Tartare and the Seafood Platter of crab, lobster and shrimp, brought in from Daily Seafood, accompanied by a wedge of lemon, individual Calamansi Limes, which are more tart than sour, Vodka Lime and Avocado Sauce and a house made Cocktail Sauce, which rests on a block of ice (that Nina insisted we didn't have to eat). The Tuna Tartare was light, refreshing and perfectly creamy – it is one of my favourite dishes and this was an impressive one.
Alongside the fish dishes, Warren, our wine waiter, paired us with a traditional styled New Zealand Sauvignon Blanc to enhance the citrus in the dishes. I have to note that the homemade seafood sauce is mouth-watering. I am a huge fan of horseradish so I could have added a tiny bit more but other than that it was delicious. The seafood was fresh and the wine pairing was ideal.
We needed to take a break so we were brought a Lemon Sorbet palette cleanser, topped with fresh basil – this was an extremely tart treat. We agreed that it requires a warning sign, but it does its job. This was the first time I'd ever experienced a palette cleanser like this, but I welcomed it with open arms, or more accurately, an open mouth.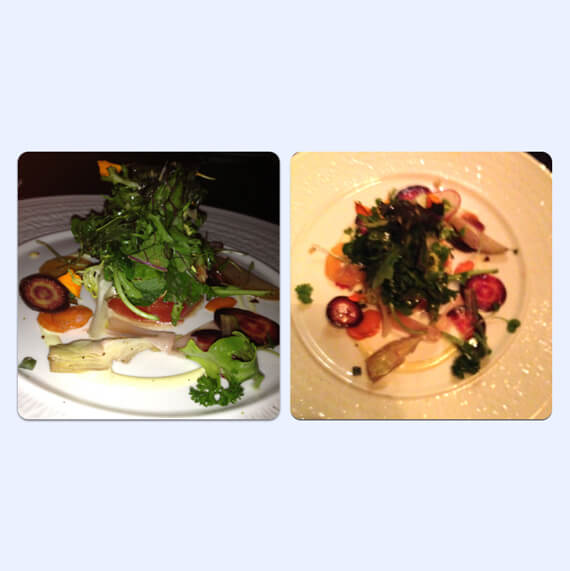 To keep us in suspense about the next course, Shawn personally brought over glasses of red wine, but didn't tell us what sort as the pairing would give have given the game away. When the course arrived it was Ontarian Lamb in a Syrah reduction with a Ratatouille and White Bean Puree. The lamb was tender and the shoulder fell apart upon the touch of the fork. This dish was clearly Mediterranean inspired which was extremely evident while eating the vegetables which made the plate extremely flavourful.
We had to take a breather and head right to dessert. A Strawberry Puree with Calamansi Sorbet, to add some citrus flavour, with fresh basil and fruit topped off with sparkling wine which was accompanied by a macaroon filled with brie cheese inside. They like to refer to the puree as "Strawberry Consomme" but for us it was more like "giggly soup" – it's fun fizzy fruity and feminine, the perfect female dessert. The house made macaroon with the brie was quite a delight, and quite possibly unique? This was the first time I had tried a "dessert soup", which can only be found at Frank's Kitchen but I'm sure the idea will catch on.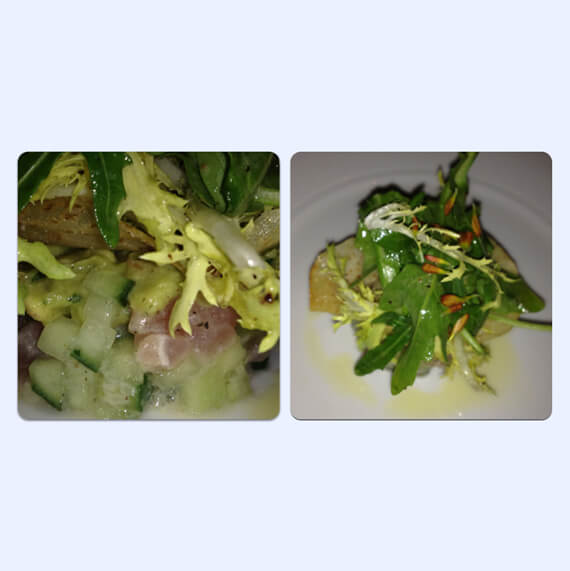 Next was my favourite, Crème Brûlée, served with handpicked, wild blueberries. Ah, I just LOVE when I'm surprised by a Crème Brûlée! The appearance was so decadent and it was exactly how it is supposed to taste, with the perfect combination of crunch and softness. Shawn had no idea of my obsession with Crème Brûlée but read me the moment I walked in and insisted that we try their Brûlée. Now that is talent, and I'm so glad she did.
The atmosphere in the restaurant is almost heavenly, with candlelight, soft music, dim lighting, modern decor and wood finishing. All in all it is an extremely comfortable and relaxing atmosphere.
Shawn, who has been in the restaurant business for 25 years including five years at the Platinum Club, runs the management front end of the business. Shawn does not believe in "two seatings" as each table needs a minimum of two hours to dine and also to ensure that the level of service is up to par. Saturdays need to be booked a month in advance – Frank's Kitchen is small and sought after, and has become a phenomenon in just two short years. For the procrastinators amongst you, here's a tip: try calling day of for cancellations, a day before Saturdays and be put on waitlists.
Frank is like the old school village grandma turned city living. He is insanely passionate about his Superman Chef ways, which is notable on the faces of each and every single staff member. Frank is the definition of "crazy chef" it is truly his art form. This crazy chef works over 100 hours a week and still finds time to take pottery classes to make his plates "from scratch". He is a true artist and I don't have the words to express my admiration for him. Everything in the house from the wall painting to the artwork to the table tops have been family built "from scratch". The atmosphere is very New York, though without the nose in the air of course!
A tasting menu is offered to anybody in off of the street. Every person in the restaurant receives an Amuse Bouche and an "intermezzo" as a free gift with each purchase kind of deal. Who doesn't love surprises? I love that they want their patrons to smile!
Little Italy/Portugal Village
588 College St
Toronto, ON M6G1B2