Scarpetta
Could it be? Had it actually finally arrived? On this night I would be attending Toronto's location of celebrity Chef Scott Conant's authentic Italian gem Scarpetta and I had been anticipating this night for WEEKS!
7:30 p.m. rolled around as my guest and I walked through the doors at The Thompson Hotel that leads into Scarpetta. Greeted by very friendly staff, we were seated at a large half-moon shaped booth, which was roomy and cozy and could have fit far more than my party of two. Sommelier, Jordan, made his way to our table and introduced himself. Immediately I knew this night was going to be memorable. You could tell Jordan was highly educated and loved to share his vast knowledge with the guests of the restaurant. I couldn't wait to see what he had in store for us.
We began with a glass of Prosecco which aaalways wins my heart over. What a delightful way to start off what was going to be a delicious dining experience and what came next I was by no means prepared for.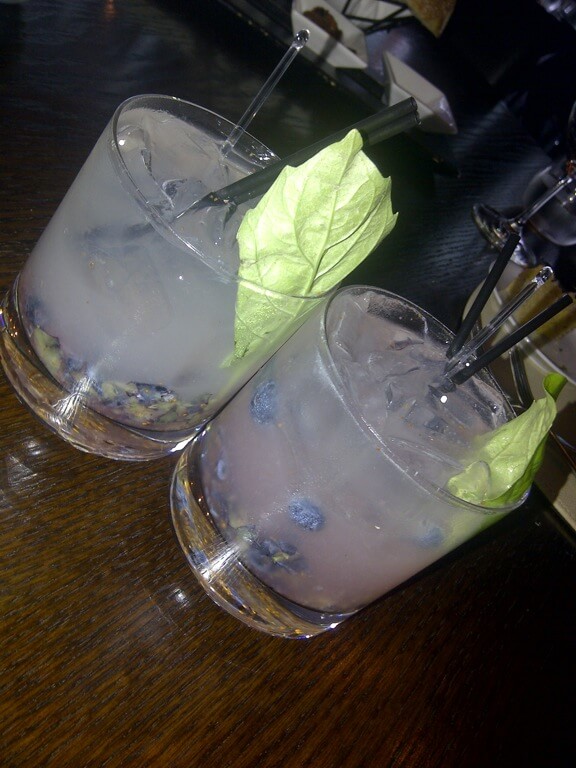 I have always spoken highly about (what I refer to as,) the "muddled fruit beverages" I have experienced at the different establishments within The Thompson Hotel; the absolutely amazing berry mojito at The Counter, and the refreshing and heavenly strawberry mojito on the rooftop patio, and this cocktail would definitely be joining it's two friends within my rants. Ladies and gentleman I present to you the Padovano; a delightful blend of Absolut acai, limoncello, blueberries & fresh sour. What a beautiful little creation this was. A pretty pale purple in color, this drink was the perfect balance of bitter and sweet. Garnished with fresh basil; this cocktail is a must try for sure.
The evening was officially on a roll and we were only two drinks in when Dominik, our server for the evening, appeared at our table with some very attractive dishes for us. Referred to as "the duo," and appearing on the menu as the first two items on the Primi Piatti (or First Plates,) section we were presented with the Yellow Tail (served with olio de zenzero & pickled onion, $17,) the Tuna "Susci" (alongside marinated vegetables & preserved truffles, $17,) and the Crispy Fritto Misto (a mixture of seafood, vegetables, herbs & lemon, $15.)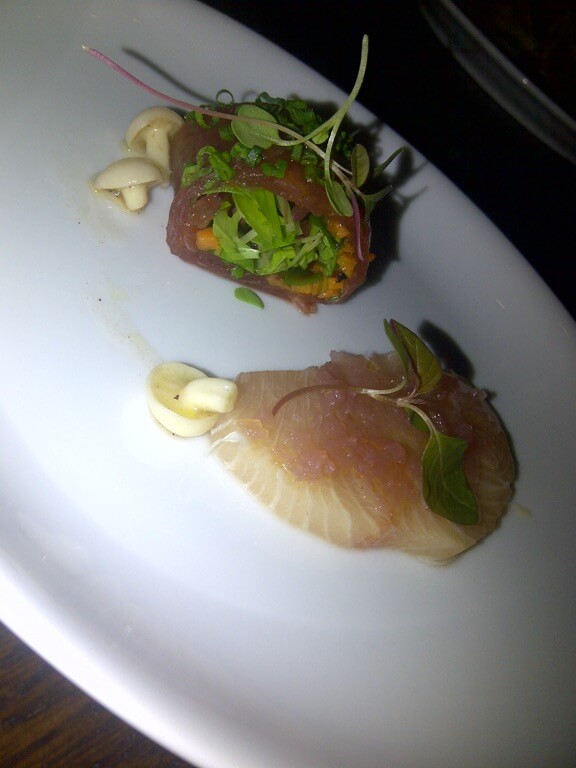 The yellow tail was tender and melted in your mouth, and the flavor from the pickled onion was a perfect pairing.
The tuna was superb. The dish was salted perfectly and the crunch from the vegetables alongside the tenderness of the tuna made for a delightful mixture in flavors and textures.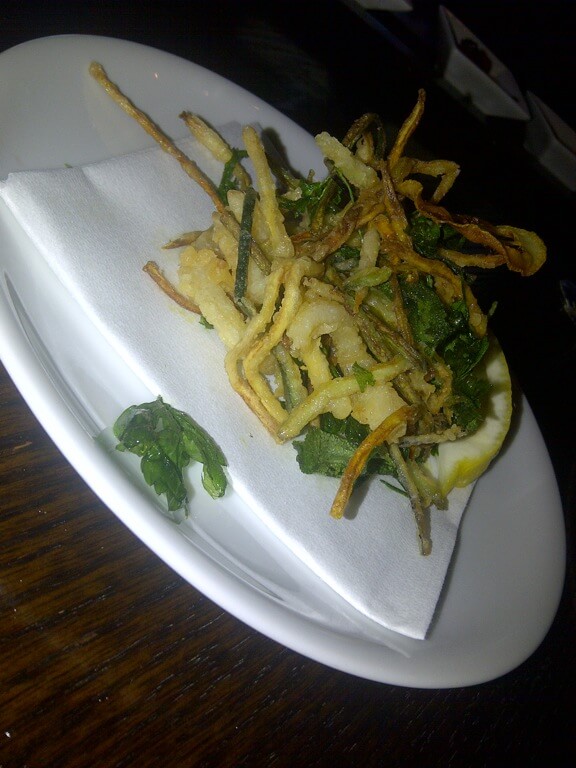 The crispy fritto misto was slightly salty, but I wasn't complaining. It was crispy and light, however slightly difficult to eat (ladies don't order this dish on a first date!) Something I absolutely LOVED about this dish; the "toasted crispy" herbs. Rosemary, sage, garlic, lemon and parsley were all toasted to perfection within the seafood and vegetables. This was herbs unlike I have ever witnessed them before. The little fried pieces of herbs were such a fabulous addition to this dish and I simply could not get enough of them!
As we satisfyingly completed our first round of primi piatti, Jordan brought us his pairing for our upcoming dishes; Primitivo "Sud" 2008 Feudi di San Marzano from the South of Italy. He also took a few minutes to inform us that Scarpetta's wine list was 100 per cent Italian and is broken down by regions. "It's too easy to just have the same list as everyone else," Jordan explained, "Italian wines offer something for everyone."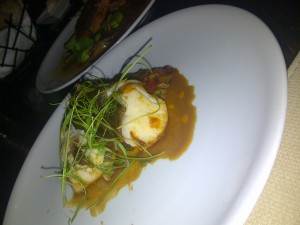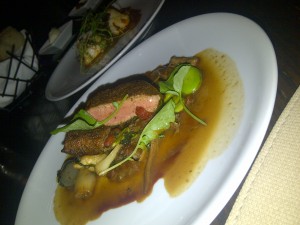 Next up were three more selections from the primi piatti section of the menu; Scarpetta's #1 selling and the Chef's signature appetizer, the Creamy Polenta (with fricassee of truffled mushrooms, $15,) Braised Short Ribs of Beef (with vegetable & farro risotto, $16,) and Grilled Mediterranean Octopus (served with crispy potatoes, shallots & caper-chili vinaigrette, $17.)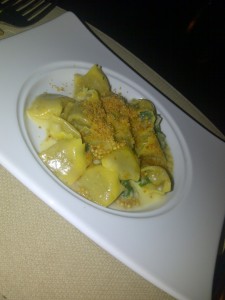 I took a moment to just sit back and take in the sights and scents of all the dishes before me, but this moment was but only seconds in length for I could not WAIT to get started trying them out. After my first bite of the creamy polenta I instantly knew why it was Scarpetta's #1 selling starter dish (also named in Toronto Life's Top 25 Dishes,) as it was creamy and delicious and full of bold flavor. It was a warm and cozy dish that filled my mouth with satisfaction! I couldn't bare leaving a single bite on the plate. My guest, who accompanied me on this evening, refuses to EVER eat mushrooms EVEN when I cook for him! But on this evening he decided to be daring and took the plunge. His words exactly "if ever there was a dish that could change your thoughts on mushrooms, this is it!" The truffled mushrooms were cooked in a chicken stock, however should you ever be dining with/as a vegetarian just let your server know and the chef will prepare it with a vegetable stock instead. I would order this dish again in a heartbeat!
The braised short ribs, prepared in a red wine reduction, were full of smoky, rich flavor and the vegetable risotto was delightful, had a nice crunch to it and went very well with Jordan's wine pairing.
The grilled octopus was quite literally perfectly prepared. First blanched, then grilled, this octopus had the ideal texture you want in a dish of this nature. The caper-chili vinaigrette was such a great addition to this dish as it complimented the other ingredients rather than over-whelming them as I have experienced before elsewhere. A must-try, friends!
To go along with our next dishes we would be drinking Falanghina "Sannio Falanghino" feudi di San Gregorio from the Southern Italy (where Scott comes from.) This wine packed a crisp, savory nuttiness and is the signature wine from this particular wine maker.
The first two of the next four dishes we would experience were from the Paste (Pasta) section on the menu; Agnolotti Dal Plin (short rib & bone marrow with pickled mustard seed, $23,) and the chef's signature pasta, Spaghetti (in a tomato & basil sauce, $24.) The next two from the Piatti (Plates) section; Roasted Sable Fish (with concentrated tomato & caramelized fennel, $32,) and Cumbrae's Farm Lamb Loin (with smoked lamb neck stufato, mint & barolo reduction, $37.)
The agnolotti dal plin was sealed by pinching the perfect little pockets of pasta together, filled with a lamb pate and topped off with buttery and crisp marinated mustard seeds, toasted bread crumbs and shallots. The sauce was light and rich all at the same time. This was definitely an indulgence comfort food style entree. Very tasty indeed! And by far the least messy pasta dish I have ever eaten (first date material for sure!)
The spaghetti was prepared al dente; simple and fresh with a little kick to it from the pepperchino flakes. I usually prefer my pasta be served a little more well done, but this dish made me an al dente believer. In my eyes, it could have been a little saucier as I am typically someone who is all about the sauce rather than the pasta itself, but my dinner guest was someone who appreciates both pasta and sauce equally and said he was quite pleased with the ratio. The basil is by far the predominant flavor in the dish but does not over-power by any means. It simply spoke with a loud and strong voice for the dish, which was a very bright one indeed.
Of course each dish was paired perfectly with Jordan's pick. The sable fish and lamb's pairing would take us over to Northern Italy with a lighter Pinot Noir with hints of strawberry.
The sable fish, which is the chef's signature entree, was best described as melt in your mouth amazing. Not a single hint of fishiness whatsoever, this dish was prepared in a concentrated tomato reduction and red wine sauce. The fennel stood loud and proud and the sable fish skin was crisp and buttery. What a delightful dish and perfect combination of ingredients! I would order this dish again and again and strongly suggest you do the same, friends!
The lamb on the other hand, I doubt I will go back for seconds. The lamb itself was quite tasty and done to perfection (prepared rare,) but I was not a fan of its surroundings; artichoke, fava beans, tomatoes and turnips. Execution was not the issue here but rather the flavor combination coming from the other ingredients in the dish. Enough said.
I think it's just about time for dessert! Out came two glasses of Visanto, (Italy's answer to a French dessert wine,) alongside two items from the Dolce section of the menu; Amedei Chocolate Cake (with burnt orange-caramel gelato & espresso sauce, $11,) and Tiramisu In Peidi (with cocoa nib tuile & caffe latte gelato, $11.)
The amedai chocolate cake was a fudge flavor explosion! (Yes, I realize how tacky that just sounded.) It was decadent and… wait for it… my favorite: OOEY-GOOEY! The rich, dark chocolate was balanced nicely by the orange-caramel gelato.
Over the past months as I have been traveling from restaurant to restaurant on my endless pursuit of deliciousness, I have found myself in front of MANY a tiramisu and still I have yet to see two that are alike. Every restaurant has their own signature style for this dessert. As beautifully presented as Scarpetta's tiramisu was, I am sad to say it was not my favorite of many I have tried. It was delicious, no doubt about it, but it won't be taking the #1 spot on my list.
We finished off the evening with a couple of cocktails; the Verona (aperol, white wine, prosecco and blood orange juice,) and something prepared especially for ME, an espresso martini. (I knew I had a whole night out ahead of me and after all that food, I needed a little boost.) It was exactly what I needed, it tasted delicious and gave me the energy I needed to keep the night going. As for the Verona, well you know me, anything with a splash of prosecco and I am a happy gal. Very refreshing and would be the perfect beverage to accompany brunch (or a hang over.)
All in all I must say it was a fabulous night out at Scarpetta. The atmosphere, food, service, the crowd and music were all an A+ in my eyes. I think it is safe to say that I would recommend Scarpetta to anyone looking for a fine Italian dining experience who doesn't mind spending a little money. You will be guaranteed fresh and delicious cuisine and impeccable service in the company of King West and The Thompson Hotel's finest. What more can you ask for? Bon Appetite.
As always, I would love to hear about your own personal experiences. Feel free to e-mail me your gossip or inquiries at aly@TorontoCityGossip.com.
In the meantime be sure to follow me @TdotTweetHeart on Twitter for timely updates on my brutally honest pursuit of love and deliciousness.
Scarpetta-
550 Wellington Street West
Toronto, ON
(416) 601-3590
http://www.thompsonhotels.com/hotels/toronto/thompson-toronto/eat/scarpetta