Cocoa Latte
Another hot, summer Wednesday; the sky isn't looking so clear as I gaze out my window and sadly I am anticipating it to pour. But suddenly there comes the sun! The ladies and I, Natasha and Alyson, have a reservation for 11:30 a.m. for brunch. Our destination is a little North West of the downtown core off of St. Clair. Knowing the neighborhood quite well and that most of the food establishments around there are always quite pleasing, I become a excited!
Cocoa Latte prepare yourself for three really hungry ladies! Upon our arrival, I notice cute little table out front with an older lady, (picture the neighborhood Grandma type,) sitting out front enjoying her coffee- it felt like a moment out of a movie. The lady chats us up prior to our entrance, providing a very welcoming feeling to the shop. You can tell she just loves to socialize and there's nothing wrong with a little bit of friendliness.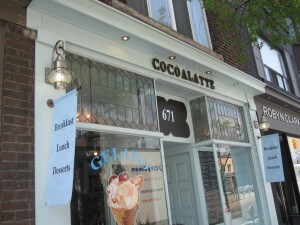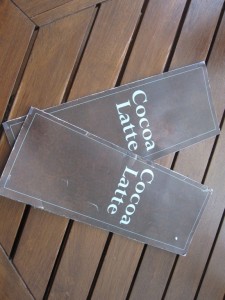 Sandra and Carlos are a married couple who are the founders of Cocoa Latte: breakfast, lunch and dessert bar. We were welcomed by Sandra- she happened to be the one taking care of us this afternoon. The first beverage served to us was the mixed berry lemonade created with real saturated berries. Being a lover of lemonade, I knew I might be tough to impress especially since I can remember my grandmothers lemonade was to-die-for, literally! As simple as lemonade is to create, it is still quite tricky to get it right balance of bitter and sweet. Here at Cocoa Latte, I was quite impressed as the berry lemonade was extremely refreshing and deliciously bitter; ideal for a hot summer day. The other day it inspired me to take my shot at making it at home while I was entertaining family friends. However, I added an extra ingredient to spike it up a bit.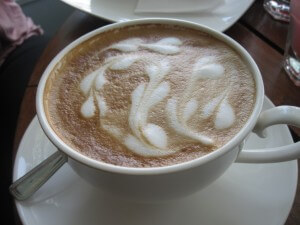 Known for their cappuccinos, my excitement for coffee arises. I am a big critic and particularly picky because I just love the taste of coffee. Sandra informed me about their signature cocoa latte. It is made with real chocolate, coffee and steamed milk. Can I tell you how excited I was when she brought it out. I just had to have the first sip and boy did it taste "oh so good." It tasted like the perfect drink to sip on sitting in front of the window watching the snowfall down. It was ONE OF THOSE if you know what I mean. De-li-cious! Then there was the cappuccino- big BIG BIG fan of these when they are made right. I am not talking about Starbucks cappuccino's- those are for amateurs- no offense. Lovely presentation here too and you can taste the quality of the beans. Next was the good old Americano Macchiato- for the serious coffee lovers this one is a keeper. One of these will definitely get you through the day. Two shots of espresso from Segafredo Zanetti extra strong will do you more than enough justice. A world renowned café brand.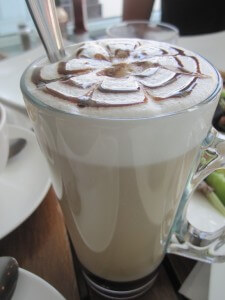 I couldn't help but admire the menu. Sandra explained to us that they are "Sopa Del Dia," in translation gluten and trans fat free.
We started off with an avocado salad as our appetizer. The salad is dressed with lemon juice, olive oil, and pepper and served with home made bread sticks that were still warm. Did I mention they are multi-grain bread sticks toasted with olive oil and rosemary? It was very fresh and I found the ingredients balanced perfectly. The avocado was enhanced perfectly by the lemon juice. The salad was constructed of mixed greens, avocado, tomatoes and red onions drizzled with our zesty citrus vinaigrette.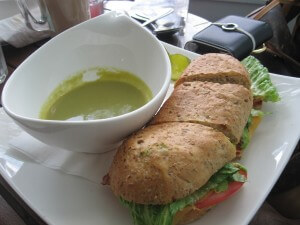 I'm getting the impression that their mission is to provide fresh dishes that scream simplicity. And to prove it our second entrée came out. It consisted of a panini and two sandwiches: Avocado B.L.T., California Club and a Vegetarian Panini.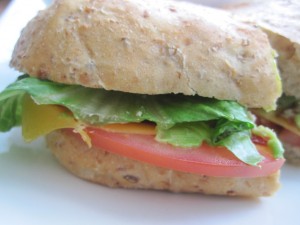 The Avocado B.L.T., was a pure indulgence dish as it contained crispy bacon with the avocado, tomatoes, romaine lettuce, and mayo; it was so delicious, thankfully I had a small portion.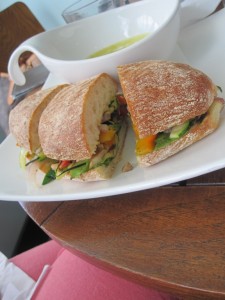 The Vegetarian wrap/panini was fresh tasting with the warmth of the grilled zucchini, red onions, peppers, spinach, avocado and mushrooms melting in your mouth. The veggies aren't soggy in any way shape or form instead they have a nice crunch to them.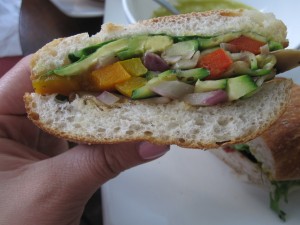 Lastly, my favorite brought me back to childhood memories. My mother use to send me to school with sandwiches just like these. It gave my taste buds that "home made" sensation. I loved it. The smoked turkey, swiss cheese, red onions, avocado, mixed greens, light mayo, mustard and fluffy bread just made it absolutely the perfect sandwich. The bread is so fresh there where I had to inquire if they made it on site. Doce Minho is the Portuguese bakery that delivers the moist and delicious bread daily. It is so soft that it is light to bite into, MMMMmmmmm. Our sandwiches and panini were accompanied with a side of asparagus soup which was nice and warm- not too creamy or salty. Our portion size was half of what regular is- one full bowl would definitely fill you up.
Break time. We are all pretty full at this point so we all decided to take a breather and enjoy the rest of our coffees. More so I am enjoying all three. The Americano even to my liking was getting a bit strong for me. Too many sips will mean the shakes. I know when I have to put down the cup. When we gave the signal that we were ready, Sandra came over and explained the next dish to be one of their popular dessert dishes: The Berry Passion Waffle. A scoop of hazelnut gelato, topped with their gourmet strawberry topping and fresh blue berries was "Oh, so yummy." The waffle was moist not crispy and typically it is a scoop of vanilla but they did it a little different for us. I love gelato and 'tis the season for that right now.
This shop is a little bit of heaven. Lots to choose from at your fingertips. Breakfast, lunch, coffee, dessert, oh My! Carlos is from Northern California so the "grab and go" lifestyle that is light and fresh was the inspiration And if you're planning on staying a little longer, Cocoa Latter offers a small courtyard out back. This place is definitely a must try. I give it two thumbs up. For a place that has only been open for 8 months, there is constant traffic coming through the door. Not to mention they are supporters of local businesses as all of their food is locally grown. Even the coffee comes from Classic Gourmet, which is just north east of the city.
Just a couple of stores down you will find Cocoa Latte's sister store called Clay. Clay opened it's doors in Dec 2010 it's a kitchen and home decor boutique. You know what I like about this boutique the most is they are community friendly- they carry a wide selection of brands but most importantly have a wide selection of Canadian made and locally made products. A truly owned family business that cares about the success of it's community and country as well. Check out www.clayhouse.ca.
So remember when you are enjoying breakfast, lunch, dessert or coming in for a delicious coffee, don't forget to take a peak inside Clay, I can assure you it's impressive.
Cocoa Latte
671 St Clair Ave. West,
Toronto, ON
(416) 792-8696
www.CocoaLatte.ca
*Family photo taken from Cocoa Latte Facebook Page.