Brioche Doree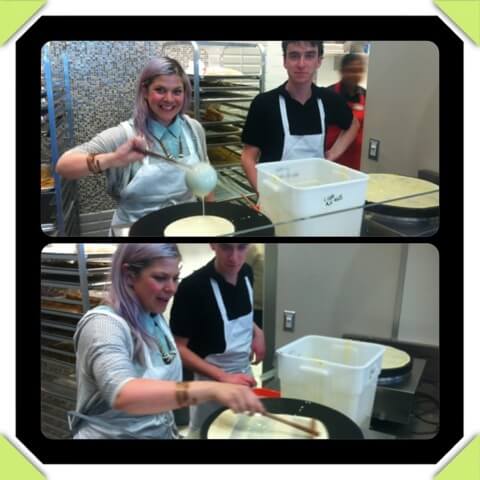 As I walked through the large doors of Brioche Doree, the new Parisian inspired bakery at the corner of King and Bathurst, my nose was filled with the smells of toasty and sweet buttery goodness. The new kid on the block may be new to Toronto however; Brioche Doree can be found in many other cities and airports all over the world, offering fresh baked pastries, cakes, sandwiches, soups and the ultimate French treat, crepes!
The large red and white sign over looking King St West cannot be missed. The space inside is a beautiful modern cafe, the concrete walls and exposed pipes throughout offer an industrial twist. There are pops of red everywhere in signage, chairs and seating that give it a sexy yet cozy Parisian feel. I loved the famous quotes and tid bits of information on chalk boards that lined one of the walls. One that stands out is a quote from Julia Child "If you are afraid of butter, use cream". I am later told that the particular look of this space will continue to be the prototype of the new and renovated Brioche Doree spaces around the world – exciting! More exciting news is the licensed patio coming in the summer to this location at King and Bathurst – follow them on twitter for all the details @BriocheDoreeCA.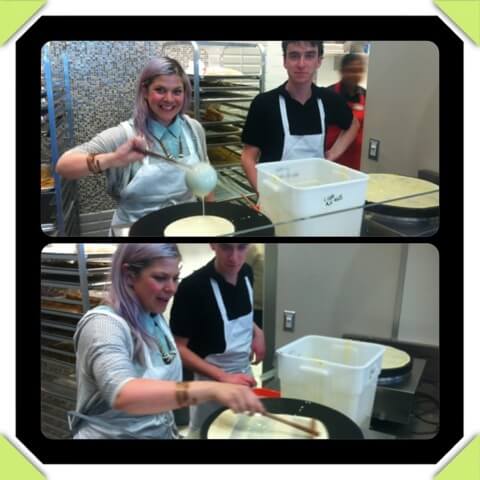 After a quick tour and salivating over all the prepared food and fresh baked loafs of brioche, I got the opportunity to go behind the counter and make my very own crepe, also the very first one I had ever made. And who better to teach me than Alexander from Brittany France, the birth place of the uber thin pancake like delicacy. Let's just say he made it look easy and that I shouldn't quit my day job. Even though my crepe skills need a little bit of work, I made sure we would be eating the one I made for dessert, Alex promised it and some sweet toppings would be over at our table after lunch.

We ordered a cappuccino and made ourselves cozy on two bright red stools by the huge front window – perfect for people watching and enjoying the sunny days to come. We shared two of their homemade sandwiches – smoked chicken breast with lardons, swiss, mayo and Pate with cornichons, lettuce Dijon ($7.45 each). Both were tasty – the bread was fresh, the chicken and lardons were deliciously smoky and the crunchy cornichons went so well in the Pate sandwich. We also tried two of their house-made sides – steamed green beans with almonds, red peppers tossed in vinaigrette and a chorizo sausage potato salad with pesto and wilted spinach ($3.45 each). I couldn't get enough of that potato salad and will be going back again for more.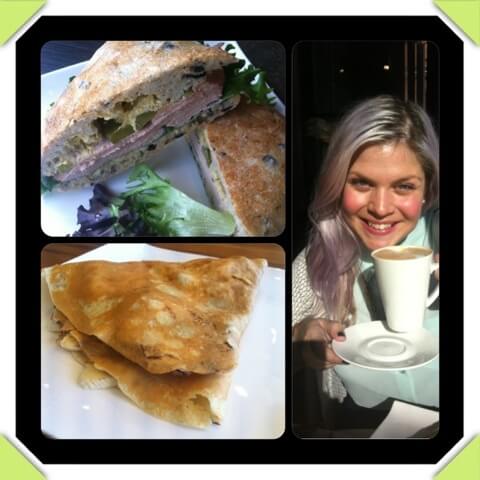 As promised the slightly misshaped yet delicious crepe I had made earlier showed up at our table. Filled with nutella and bananas, it was the perfect ending to our Parisian bakery lunch. Savory crepes ($6.45) are also on the menu if you are not looking for an ooey gooey sweet one ($4.95).
The service was spot on and very attentive, whether you are looking for a place to meet for brunch or a quick take away lunch this place has everything you need to satisfy your coffee fix, sweet tooth or hungry belly.
Brioche Doree
650 King Street W
Toronto, ON M5V 1M5
http://www.briochedoree.com/home/

About Erin Scheel
Food Lover • Blog Girl • Recipe Rebel! My name is Erin and I am in a constant search for a full belly. I have lived in Toronto most of my life and have been enamored with the city's food culture and fascinated by the culinary possibilities this city has to offer on a daily basis. I'm really into cooking, vintage clothes, chocolate milk, craft beer, french fries, leftovers and then working it all off at the gym! Read it and eat it here: www.erinlovesfood.com, Twitter: @erinlovessfood, Instagram: erindotcom