Chococrepe
At first, Nutella was out of the question. Dewey Truong was dead set on solely using Valrhona chocolate. Crepes are almost instantly associated with the hazelnut spread, and alas Truong agreed to allow it in his shop. While it's visible on the shelf, it remains yet to be seen on the menu.
My dear friend and I had each settled on a savoury crepe, and a sweet one after asking our waitress, also named Kim for her opinion when out walked the affable Dewey. He insisted we up the ante. And, so we ordered 5 of the 12 savoury selections to share.
A former Montrealer, Dewey birthed the cafe on Queen Street West last December. Its inception began eight years ago, but two years ago is when they decided to "just do it" to borrow Nike's signature catch phrase. "They" refer to Dewey and his pal, Chococrepe's manager, Andres Valdivieso. The two teamed up to make the creperie a reality after growing up on crepes in Montreal. The question was raised as to whether to open up in Montreal, or Toronto, and lucky for you they chose YTZ. Now, that we have that covered, who is the head chef? That position is actually occupied by both Dewey and Andres.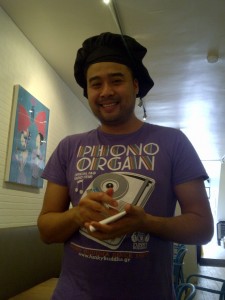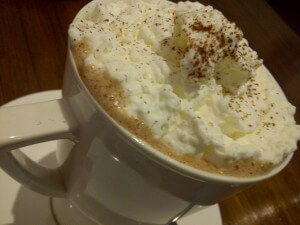 Before we get to our crepe consumption, we began with a hot chocolate. And, not just any ol' cup of hot chocolate: we sipped on a seductive pumpkin hot chocolate (Dewey's fave). You have the choice to go light and have them use milk, or go rich with cream. You may also choose between milk chocolate, or dark chocolate. I went with the milk and milk chocolate, and preferred it to my friend's dark chocolate. (Although, he enjoyed it very much). I thought mine would be insanely sweet, but I was rather surprised. The lack of sickly sweet drinks can be attributed to the fact that Chococrepe does not include syrup, or powder mixtures, only real Valrhona cocoa in their recipes. The Lychee White Chocolate is an intriguing choice, and one that has customers coming back.
Unfortunately, for you the crepes all look the same on the outside, and we all know it's what's on the inside that counts. The photographic attempt to capture what is contained between this heavenly envelope failed. You'll just have to go, and try them yourself.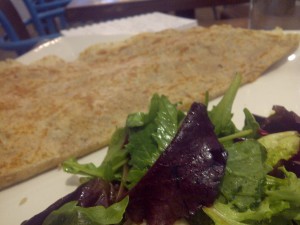 We began with the no.1 bestseller: Chipotle Chicken. This popular thin pancake came packed with chicken, arugula, mozzarella and chipotle mayo. My buddy and I quickly understood why this order tends to fly off the shelf. The poultry, and its accoutrements have definitive kick. My threshold for spice continues to climb, and I'd classify this dish a step above novice. Spice beginners need not worry however, just sip on some hot chocolate. Or, order your hot chocolate cold. Dewey has cracked the code to keeping the consistency of hot chocolate while serving it chilled.
Dewey wanted us to try the Mango Chicken. He certainly did not have to twist our arm. The chicken, mango mayo, cheese and lemon leaves were quite appealing. While the lemon leaves provided a nice zest, the mango mayo was a little too sweet in my guest's opinion. Both chicken crepes came with a mixed green salad and French dressing that is made with apple cider in house.
Goat Pear was served next. This crepe was filled with goat cheese, pears and came with honey on the side. This is not something I would normally have ordered, but my friend seemed keen. I am wary of mixing fruit into my meals, but I'm glad we tried it. It was a nice blend of savoury and sweet all rolled into one.
The Pulled Pork accompanied with a carrot slaw was a recommendation of Dewey's. While my ami does not partake in pork consumption, I knew I'd regret not trying it. While I applaud the genius behind the idea of making a pulled pork crepe, my one complaint would be less sauce, and more pork. Delicious none the less, the sauce was a little too on the saccharine side. It needed a bit of bang to counteract the sugar. The slaw was a winning combination.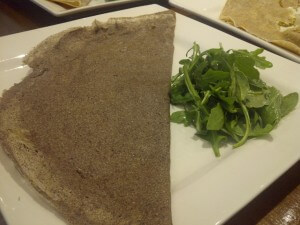 The extent of my knowledge of buckwheat was the character from The Little Rascals. If you were as blissfully unaware as myself, you'd learn buckwheat is actually a seed, and regardless of its name is not of the wheat family; making it a healthy alternative for Celiac sufferers. Dewey suggested we should try one of our crepes a la buckwheat. Last but not least, came the [buckwheat] Mushroom Delight– a Kim suggestion. I have only recently come around to eating fungi, and this crepe has made me wonder what I've been missing all those years spent mushroom-less. The white truffle oil, wild mushroom and swiss cheese concoction was one of my faves. The sharpness of the swiss was exquisite, and struck a nice balance between the different textures. The vinaigrette atop the greens is a complimentary blend of pear, mustard and balsamic vinegar.
To our credit, we managed to save room for dessert. And, thank goodness we did, because the Salted Caramel was immaculate. I can confidently say it was the best crepe I've ever had. I think my tongue died and went to heaven after tearing into the delicately folded crepe filled with dulche de leche, and fleur de sel.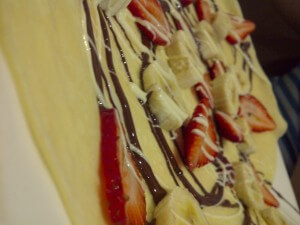 Berry Banana was recommended by both Kim and Dewey. Actually, they said anything with chocolate would be a wise choice. Topped with bananas, strawberries and drizzled with not just dark chocolate, but white as well. Wisdom never tasted so good!
Traces of its French inspiration are evident in the decor, and ornamentation @Chococrepe. The blue and brown furniture, along with the french country style are warm and inviting. The pops of colour in the art work which adorn the walls compliment the bold flavours that grace Chococrepe's plates. Chococrepe's musical stylings are also rooted in Dewey's hometown, with several tracks of Montreal's Coeur de Pirate playing in the background.
One final note, if you'd like to prolong your Chococrepe experience, purchase their baked goods from behind the counter, and be on your merry way.
P.S.: Chocolate fondue is also featured on the menu. Here's to delightful dipping– bon appetit!
kimberly l. |