Capital Espresso Bar
For most in Toronto, myself included, starting a day off with the proper cup of coffee can set the tone for your day. There are those who prefer Starbucks or Tim Hortons; and there are those who prefer a good, neighbourhood café coffee shop.
When I walked into Capital Espresso Bar, I was greeted by Maggie, one of the three owners.. After meeting co-owners Damien and Alex while living in the area, the dream of opening an independent coffee shop in a place they all had ties to. That dream became a reality in November 2010.
One thing that I have noticed with independent coffee shops in Toronto is that a lot have an 'après ski' feel to it. With the wooden tables and stone brick on the front sidewall, it was similar to what I have seen; a warm, welcoming feel to it. All of the décor was designed and crafted by Maggie's husband.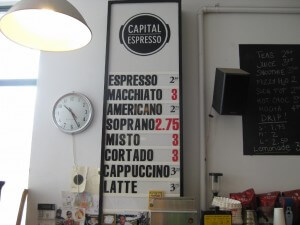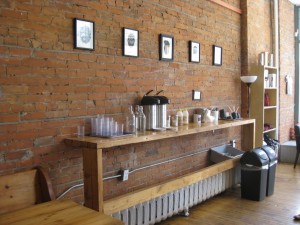 To start, I had one of my favourite morning drinks, a Cortado. The usually milder coffee had some bite to it that I was not used to. A bit of a change but still very smooth tasting. The presentation of the coffee itself was clean and had a lot of care put into it. A nice way to start off the morning!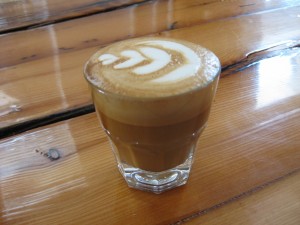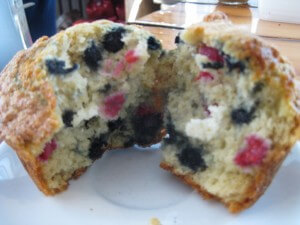 One of the most exciting parts of going to any independent coffee shop/espresso bar is getting to try the baked goods, especially that are made in-house. After learning that Maggie studied pastries in France prior to opening Capital, I was eager to try the original 'Berry Mascarpone' muffin. In it, raspberries, blueberries and a little bit of mascarpone cheese. Having just come out of the oven, it was delicious. The cheese was a subtle addition and did not overpower the rest of the flavours. Indeed, a very nice way to fill your stomach in the morning.
One of the reasons I enjoy reviewing espresso bars is that I never have to worry about leaving tired, as I am pumped full of caffeine. Capital was no exception. Following the cortado and muffin, I tried one of their most popular summer selections, the Iced Americano. To my surprise, it was not too strong and quite refreshing. However, cooling the coffee with ice causes it to dilute the flavour of the coffee if it is not consumed quickly enough. I have been to places that prepare the coffee through a chilling process that does not 'water down' the coffee. Although refreshing, you just have to drink it rather quickly.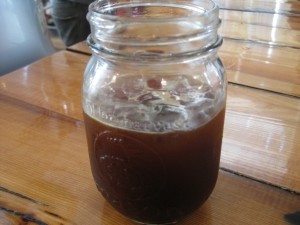 Following the Iced Americano, I tried my classic, staple selection – a Macchiato. This macchiato had a very sharp taste and quite a strong flavour. Although very nice with a little hint of cinnamon, it was a little stronger than I am used to with other macchiato drinks.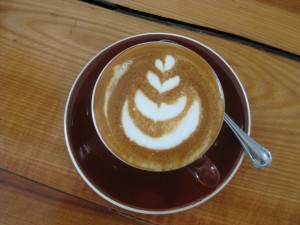 To finish off, I had a shot of straight espresso. Not served piping hot, it was a very nice way to finish off my Capital experience. It had a smooth aftertaste and was easy to drink straight without anything needing to be added.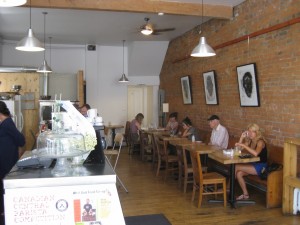 Overall, I had a very nice experience at Capital. Although I do feel that there could be a little more done with the décor – something to jazz it up a little bit. It was a little cluttered towards the back counter, and since presentation of both the product and place is very important to me, it was something that I noticed when walking in.
Though, I did notice that with the constant flow of traffic of people, and the way that Maggie and staff interacted with their customers, that this was a place of familiarity and returning customers. Having personal ties to the area helps too I am sure as they Maggie, Damien and Alex represent the attitude and vibe of the area.
Thank you to Maggie for a great morning.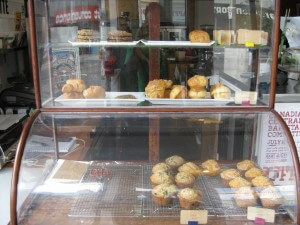 Capital Espresso Bar is located at 1349 Queen Street West in Toronto.
Hours of Operation
Monday-Friday – 7:00 a.m. – 8:00 p.m.
Saturday-Sunday – 8:00 a.m. – 8:00 p.m.
Are open on holidays except Christmas
Twitter – @capitalspro
JT