Fusaro's
Pat Belsito has been proudly serving up his family recipes for the past 14 years. His two restaurants, Fusaro's, are named after his mother. Growing up in an Italian family, Pat spent a lot of time in the kitchen. So much in fact he's made it his home. After studying at George Brown, Pat took his passion for food and his inherited knowledge of Italian cuisine and pursued a dream, to open his own restaurant.
Fusaro's first location on Spadina just off the hip Queen West strip opened 14 years ago. With it's patio prime for people watching, it's a fun busy spot. The newest location of Fusaro's opened 2 years ago on Richmond East in Corktown. A great place to either grab a bite and go, or sit back and relax, you'll find the food at Fusaro's fresh, comforting, and traditional.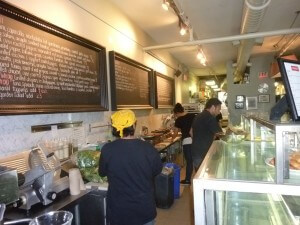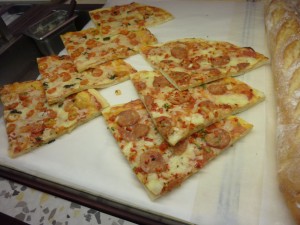 The menu consists of a variety of paninis, pizzas, and pastas, as well as a few specialty items like veal parmigiana. Pat likes to create a daily feature. On my visit it was a fresh in house made papardelle in a light olive oil and garlic sauce. You can really taste the difference between a fresh made pasta and one that came in a box. And Fusaro's olive oil is a very high quality, with it's light almost green colour and fresh citrusy taste, you know you're getting the real deal.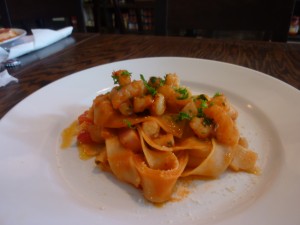 The Panini Otto (#8) was a nice combination of sweet bell peppers, moist chicken, tender spinach leaves, provolone cheese and a rich basil pesto mayo. Mmm. I even took two paninis for the road to sample with a friend. One with a nice spicy capicolo and another vegetarian. None of the paninis disappointed.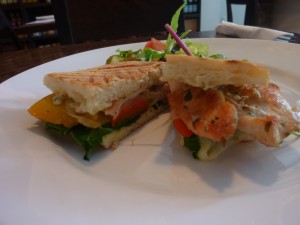 Fusaro's also offers a weekend brunch. I sampled the Calabrese breakfast, which was sort of like an Italian Benedict. Fried egg over spicy sausages served on a crusty bread with seasoned tomato sauce & mozzarella cheese. With 3 other breakfast choices, you will be able to find something to suit everyone.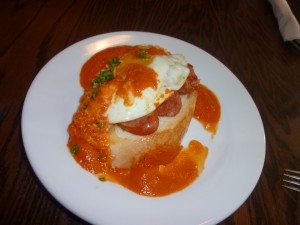 The portion size is good and the price point is fair, expect lunch and a non-alcoholic drink to set you back a little under $10.
Fusaro's two locations are open Monday to Friday from 8 to 7, and open for weekend brunch plus more, 10-4 on Saturday & Sunday.