Chef Tony Glitz Presents Real Sports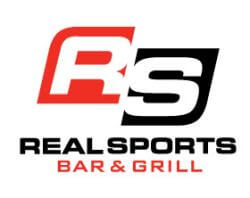 Being an avid fan of almost every sport, I spend countless hours shouting, cheering and hoping, too often ending in disappointment. Nevertheless, finding the ideal place to endure the roller coaster ride of emotions during a game is a quest that all sports fans can understand. The sheer size and reputation of Real Sports is no secret, being recognized by ESPN as the #1 Sports Bar in North America. Still, the number of TV's (200) does not speak to the underlying atmosphere and energy of Real Sports.
Lots of TV Screens
When the four of us arrived we were seated in a main floor booth, dead center of the famous 39′ wide television. This is obviously a premium location in the bar, but a quick scan around the room makes it clear that no matter where you're sitting, there will be a plethora of screens to choose from. Such a selection is important, especially due to the fact that the Leafs were playing Tampa that night.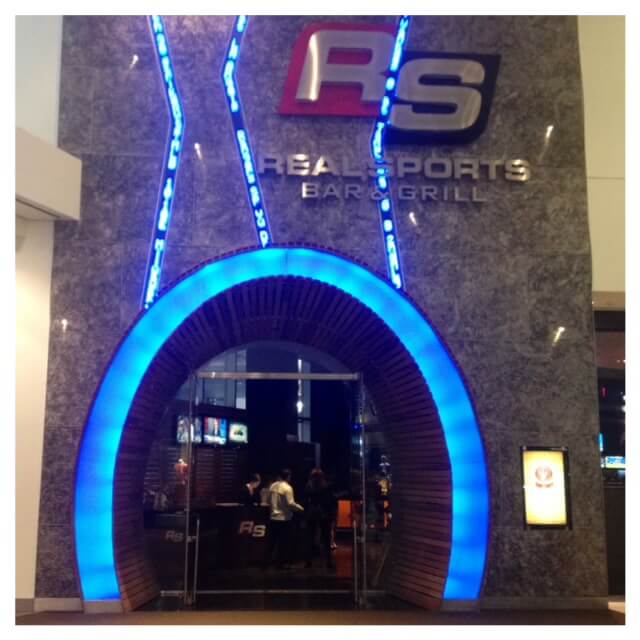 Wide Variety of Beer Blends
Our server, Rebecca, attended us surprisingly quickly for such a busy night and was extremely knowledgeable regarding all aspects of the food and drink selections. For our first round of drinks, we decided to try the new beer blends, a mix of beer and specific ciders, liquors or flavorings. I personally love beer the way it is and don't see any need to change something so perfect, but the beer blends are surprisingly tasty.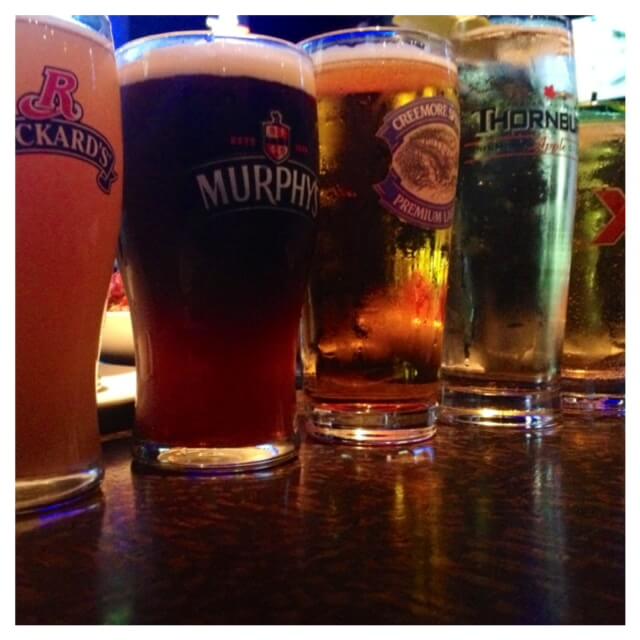 We tried five different blends: the Afternoon Delight, Strawberry Chocolate Dunk, Ginger Spice, Peaches and Creem, and my favorite, the Beer'ita. It is a mix of Jose Cuervo Gold, Triple Sec, lime cordial and Dos Equis, and just as it sounds, it is incredibly sweet and refreshing, tasting like something you could be drinking on a beach in Mexico. The Ginger Spice, mixed of Thornbury Cider and Ginger beer, was another popular blend at our table. Initially I wasn't a fan, but it's the type of drink that grows on you, eventually draining the glass rather quickly. It reminded me of Christmas, with a strong festive ginger taste, I felt it grew on my so easily due to my long-standing relationship with crown and gingers.
Awesome Appetizers
Anyway, to complement our beer blends we also ordered a round of appetizers, including Chef Tony Glitz's award winning Thai Sweet Chili chicken wings. Real Sports jokes that these wings were "the recipe that got Chef Tony the job", and I honestly don't doubt it. The wings were cooked just the right amount, not to crunchy but not too soft. Lightly coated in the original, sweet sauce, these wings alone were the definition of an ideal wing. In fact, there is not much else I can say that hasn't already been said by the numerous critics praising them, including those who voted these wings #1 at the Toronto Wing Festival.
Following these sweet bits of heavenly goodness was a wing of completely different style. The change up to the Southern Carolina style, which, as one might expect, happens to be much spicier, was a surprisingly pleasant transition. At first glance, the mustardy sauce didn't generate much excitement out of us, but upon further inspection our judgment couldn't have been more wrong.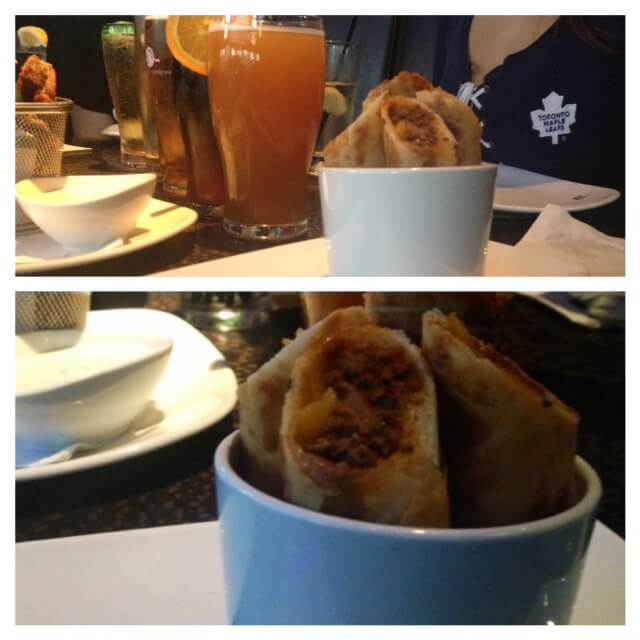 Not as critically acclaimed, yet I would argue just as equally satisfying as the Thai Sweet Chili, these wings took me on a trip to a more southern place. The combination of spices evokes an appreciation for the uniqueness that differentiates this wing from the classic styles we traditionally indulge up here in the Great White North. I must say, the intensity of the spice isn't for the faint of heart, but if you're looking for the type of wing that will take your taste buds for a ride, look no further.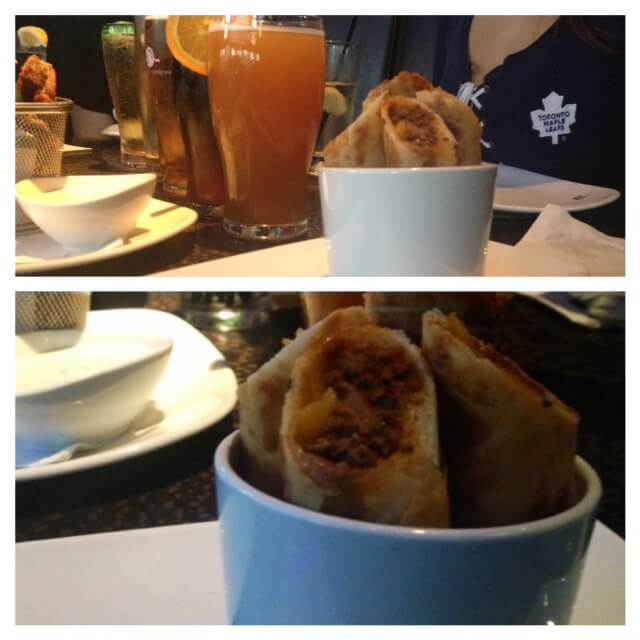 In addition to the wings, we also tried the Cheeseburger Spring Roll, because, well look at the name. Literally a cheeseburger in a spring roll, it resembles something that Cheech & Chong would have dreamed up. The flaky crust surrounding a juicy burger filling is one of the smartest inventions I have ever had the pleasure of tasting, and this was the first I have ever heard of such a creation. The roll was crisp and not too oily, which made for such a light tasting burger, it felt as though my diet wouldn't even feel bad that I was cheating on it. These are an excellent choice for the burger lover.
Magnificent Riblets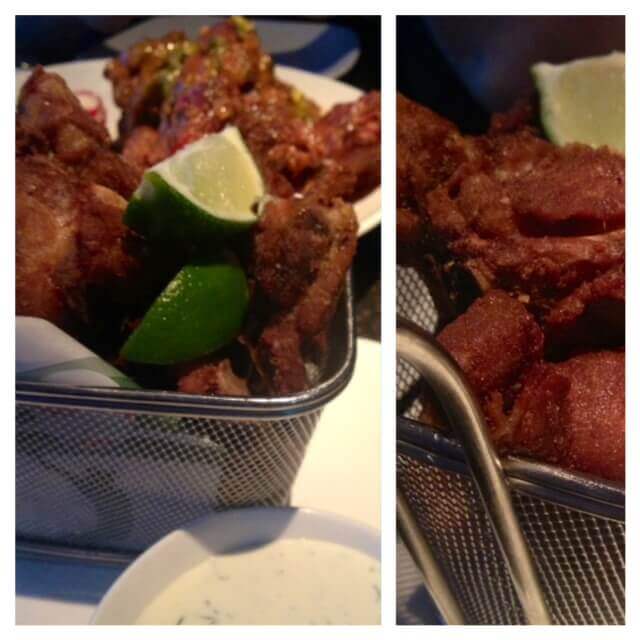 To top off our first round of appetizers, we were fortunate enough to taste the best riblets this side of the 49th. Yes, I can make a statement that profound with absolute certainty simply because seldom have I found someone that can perfect the riblet. Slow roasted, topped with a homemade lime salt, and dehydrated with lime zest to open up all of the sense… wow. It wasn't difficult to see why Chef Tony was so excited for us to try this magnificent creations.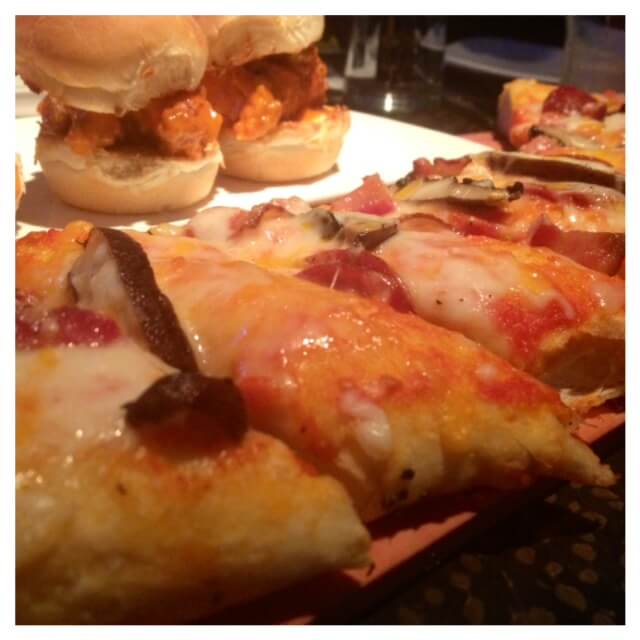 Before I continue, let me confess that at this point in the night, most of us, admittedly so, weren't far off from being full, yet the thought of walking away from the menu never crossed our minds due to what we had experienced thus far and what was still in store. So out came the second round of appetizers, this time smaller than the first. For a night watching Canada's sport, in North America's best sports bar, Chef Tony's version of the Canadian flatbread was the most fitting dish of the night. Served on a hockey stick, this home made three cheese blend, with a crust made and imported specifically for Chef Tony out of Quebec, was baked to perfection, it would have made New York pizzerias jealous. And for those grease haters out there, do not fear, this 'za felt nearly grease-free which allowed for a complete taste of the fresh ingredients.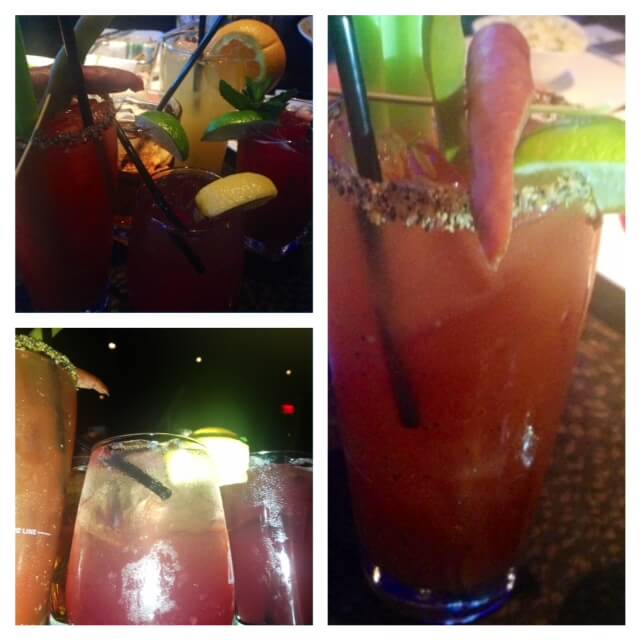 To make something so good even better, Real Sports donates leftovers to Second Harvest every, single, day. Taking a short break to help wash down the food, we were able to sip from such cocktails as the Puck Bunny, the #Winner, the "New" Old Fashioned, the Grapefruit League, and the Dark + Stormy. Though we loved all of the drinks, there were two that stood out. The #Winner (Smirnoff Vodka, Red bull, Gatorade, and OJ) literally tasted like orange Gatorade, which made made everyone agree how cautious one would have to be not to consume too many. The Grapefruit League, which is a mixture of Smirnoff Vodka, grapefruit juice, POM Wonderful lime juice, agave syrup, and mint, quite simply tasted like summer. We all envisioned ourselves sitting on a patio at dusk in the warm summer breeze having one too many. Alongside the pizza, out came the Buffalo Crispy Chicken Sliders. These were bite-sized, real meat chicken tenders, basted in classic spicy Buffalo sauce, and much like the pizza, the dough was imported, this time from Chicago. According to the Chef himself, it took a long time of searching to finally discover the perfect bun for these sliders. To give you a sense of what these buns were like, have you ever tried homemade dough fresh out of the oven? Yeah, they were that good.
After taking a twenty minute intermission to let some of our food and drinks settle, our main course finally made it's grand appearance. To begin, the Buffalo Baseball, a 10oz sirloin smothered in Buffalo hot sauce and blue cheese, seemed like something you would read about in cook-books. Aged 45 days and exceptionally marinated, this local cut of meat was an orgy of tastes. Paired with a few massive, well-battered onion rings that could be mistaken for donuts, and the outstanding Little Ninja Coleslaw, this plate was unanimously deemed a serious must-try.
We then moved on to the breakfast burger, which as you may have guessed, did indeed have a fried egg on-top. What I loved most about this burger was the simple, yet beautiful combination of my favourite foods in the world, all in one (maple smoked bacon, eggs, caramelized onions, cheeseburger). Though there wasn't anything fancy about the burger itself, we all agreed that the fries did exceed our expectations. Typically, especially in a sports bar, one would expect the type of fries that can be interchanged at almost any establishment. But Real Sports fries, coalesced with the garlic aoili dipping sauce, made for a marvelous experience by making a traditional bar dish taste similar to all-dressed chips. In the midst of devouring all of this food, we were sampling delicious drinks like the Toronto Mule, the Real Aid, and the Silver Bullet 10. Above all else, the Real Aid was my personal favourite, with it's beautiful combination of Cherry Brandy, Melon Liqueur, Amaretto cranberry juice, and Blue Red Bull. Being an athlete, for some reason I felt as though I wanted to sip on this at halftime during a game; it felt that refreshing yet made me feel that good.
The next dish we moved on to was the Cajun grilled wild blue marlin. Besides being one of the tastiest fish on the planet, the mixture of corn, spinach, and bacon succotash topped off this filling plate to perfection. And as a man who doesn't fancy the sea, this marlin was an exception, hands down. But if there were a prize awarded for biggest surprise of the night, the cheddar studded meatloaf would have taken it home. For two of us at the table, meatloaf had historically been a dish best avoided; for the other two, meatloaf wasn't necessarily a favourite but more like something they could just "get through". Fortunately for all of us, this particular meatloaf took us by storm, so much so that we took some home for our family to try – literally. Simply said, there was something about Chef Tony's homemade BBQ jus that was so good it left us wanting more and for some strange reason, it reminded me of home. What made it even better was the mashed potatoes. Going into the night, we were all joking about how chefs are often judged on their mashed potatoes, but after one taste of Chef Tony's, it was no joke. For any serious mashed potato lovers out there, you have found your place.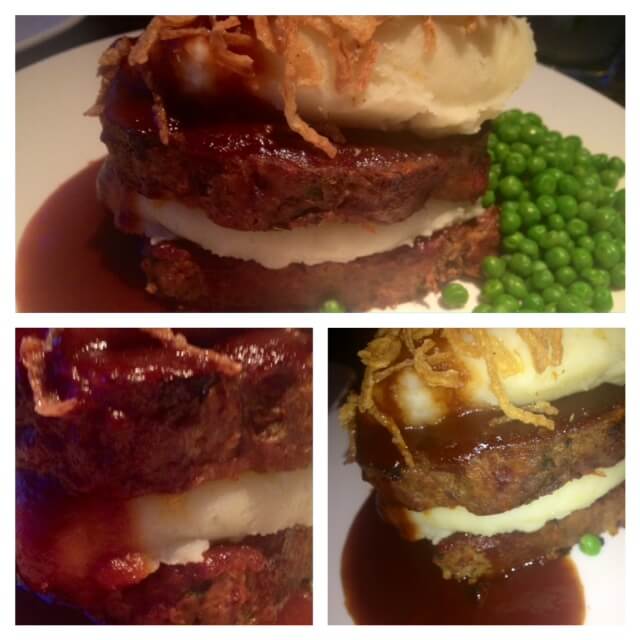 For a last round of cocktails between the end of our main course and dessert, we sampled some classics, and some new twists. The Arnold Palmer Cocktail, mixed with as expected, Arnold Palmer iced tea, also has vodka and grenadine, giving this classic refresher a nice cocktail taste. The new Crown Royal Black is paired with Jagermeister and Coke to create Real Sports own version of the Back in Black. Basically, if Jager is one of your favorites, then this is an ideal after dinner cocktail, with the dark, smooth feeling of this drink providing a relaxing mood. The Blu Bomb had the completely opposite effect, mixed with Raspberry Vodka, Creme de Banana, Blue Curucao, Fresh Raspberries and Sprite, this quite literally was an attack on your taste buds. Clearly a very sour, berry taste this cocktail was the type you'd want to wake you up after dinner and get you ready to go right until last call.
Stuffed to the brim at this point, we weren't even sure if we'd be able to make it through dessert. Still, out came two of the most savory desserts I have ever tasted: The Peanut Butter Pie and Murphy's Irish Stout Cupcake. The Peanut Butter pie looked so simple and innocent, little did I know that we would devour it in record time. A soft peanut butter filling sitting on a thin Oreo cookie crust, this pie is a definite must try if you're a Reese's fan, which I hope most people are. With a reinvigorated hunger from the beautiful taste of the pie, we turned our sights on Murphy's Cupcake. Bailey's cream cheese frosting was mounted on top of a larger than average chocolate cupcake, hiding the Molten ganache in its center. Something about biting into a pastry with a surprise in the center is always fun, and this time I was pleasantly surprised at the excellent ratio of ganache to batter. Instead of creating the sticky mess I expected, the ganache melted splendidly into the cupcake, making enjoying it much easier. The flavors of the icing, batter and ganache did not overwhelm each other, but rather complimented each other soundly.
Foregoing the typical coffee with or following dessert, we decided to sample other Real Sports drinks, namely their shots. In our one and only round, we each sampled a different shot. The Viva Puff, Sour Patch, Jack & The Giant Peach and the Patroness. To my delight, I had the Viva Puff. I still don't understand how, as the shot is only Raspberry Smirnoff and Creme de Cacao, but it literally tasted just like the marshmallow cookie I used to crave as a child. From what I could infer from my friends face, the Sour Patch (Hpnotic, Sourpuss Raspberry, Sourz Apple, Sugared Lime) has quite the sour kick to it if that citrus taste is your favorite.
Wrapping up the night with such varying shots was only fitting for a conclusion of the journey we had embarked on hours earlier. We were lucky enough to sample Real Sports new dishes, cocktails and beer blends, as well as their classics. Most of what we tried was something completely new to me, or something I thought I knew, with a new twist to it. In fact, that is probably what I liked most about Real Sports, everything was different or exceptionally superior to any traditional sports bar food. This uniqueness, the ambiance, and the always helpful staff are the three reasons I conclude that Real Sports deserves all of the credit it gets.
**Special thanks to Chef Tony Glitz for arranging such a memorable evening for us.
Written By: Blake Culver & Chris Jugovic
Real Sports Bar & Grill
Address: 15 York St, Toronto, ON M5J 0A3
Phone:(416) 815-7325
Twitter: @RealSports