Top 5 Sports Bars
The Blue Jays have just began what will hopefully result in a winning season and every one is excited for TFC. The Raptors season has just come to an end and before you know it Football will be starting up again. Toronto will be hosting Canada's first MMA UFC fight on April 30th – how exciting! If you don't have tickets to these events, not to worry! Toronto has some of the best sports bars in North America for you to sit back with some friends and enjoy all of your favorite sporting events.
1. Real Sports
This is an obvious number one choice of mine as it is North America's number ONE sports bar! It out beats the infamous ESPN Zone Times Square in New York City and it's right here in our beautiful city.
Located at Maple Leaf Square and adjacent to Air Canada Centre, Real Sports Bar & Grill is the most authentic sports experience you can get outside the playing field. Real Sports Bar offers an extensive menu that includes Cheeseburger Spring Rolls, Quesadillas Sliders and 12 types of burgers as well as traditional sports bar fare.
A highlight for you beer drinkers – there are 112 taps featuring more than 29 brands of beer. The 25,000 square-foot, 1,000-seat sports bar is also home to 199 High -Definition televisions and a two-storey HD screen which is the largest indoor restaurant screen in North America. You can see if from almost anywhere in the house.
Attempt to conquer Real Sports Bar & Grill's Hail Mary – a 67 oz. Canadian AAA grill roasted rib eye. It comes with one-pound of fries and a pound of coleslaw. Finish the entire dish in under an hour and you will be featured in the Real Sports Hall of Fame – are you up for the challenge?
http://www.realsports.ca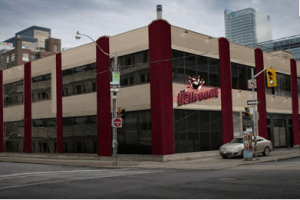 2. Ballroom "Eat.Drink.Ball"
This is number two in my books hands down. Those of you who have had the pleasure of visiting this creative little masterpiece most definitely understand why it landed the number two spot.
A boutique bowling alley in the heart of downtown Toronto offering an entire top floor for sports lovers. During the summer it has a massive extended patio for you to enjoy and 52 LED television screens so you won't ever miss a beat. The booths are large and cozy, the bar area is intimate and the menu is creative, fun and delicious offering a little something for everyone. Between the two expansive floors this spot can accommodate up to 900 guests.
The chef has created some outstanding eats. Their 'almost famous grilled chicken wings' and 'loaded nachos' are my personal favorites.
Make sure you take a second to notice all of the unique finishing's the masterminds behind this adorable space have added to the inventive décor. My favorite ais the bowling pin light fixtures. You have to see for yourself to understand exactly what I'm talking about.
http://www.theballroom.ca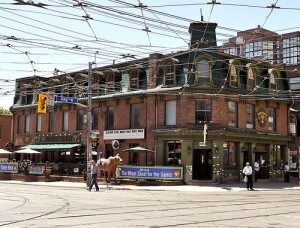 3. Wheat Sheaf Tavern
Talk about vintage! This is Toronto's oldest bar. Having first opened its doors more than 150 years ago in 1849 – a place where soldiers could stop by for a quick pint back in the day; it truly boasts that "cheers" feel to it. One individual known as "Shadow," who use to be a frequent regular to the tavern a few times per week for decades, recently passed away and was given a plaque in his memory which hangs above his favorite table. Truly touching!
Dimmed lighting, exposed brick walls and keeping up with the times, 13 HD TV screens are scattered throughout this brick building. This is a mans-mans atmosphere for sure. Being a men-only enclave until 1969 – the testosterone levels remain high.
I watched one of the last NFL games of the 2010 season here around the heavy wooden tables and the intimate atmosphere made it that much more lively and exciting. It has even been rated the best chicken wings in the city. I don't necessarily agree, but perhaps pop by and check it out for yourself, as I have heard many people who disagree with my opinion. Wheat Sheaf Tavern offers some great weekly specials including: Sunday-Tuesday after 5pm with the purchase of an alcoholic or non-alcoholic beverage you receive your chicken wings at half-price.
For the summer the tavern offers a 50-seat patio along Bathurst Street where you can often see tour busses passing by on occasion. On the walls of Wheat Sheaf you can see portraits and signatures to certify its patronage.
This place is a must for any wing, beer and avid sports fan.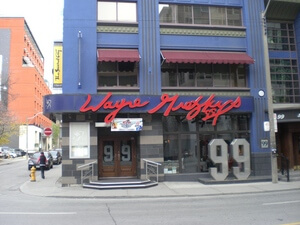 4. Wayne Gretzky's
Who can forget this classic downtown bar that sits right in the heart of the Entertainment District that remains a favorite to many. Gretzky's continues to be the go-to sports bar downtown, (that is, until Real Sports came into town.) This place is affordable and casual and that's what sports bars are suppose to be like, right?
This museum-like restaurant displays Wayne's career highlights throughout. Plasma screens showcasing the best in HD sports programming – it has a very home-away-from-home feel to it; warm and comfortable. Many people enjoy Gretzky's for their annual super bowl parties.
The Oasis rooftop patio is a favorite to many in the summertime. It is constantly playing host to locals in the city summer after summer. The atmosphere is cozy and comfortable, (feels like someone's backyard really.) It's the perfect escape from the office during a hot summer day. Just head down to Gretzky's with some colleagues to watch the evening game and enjoy a few beers – you won't be disappointed.
http://www.gretzky.com/restaurant/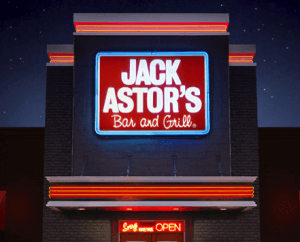 5. Jack Astors
A fun atmosphere, a great menu with delicious food , fantastic cocktails and television screens everywhere. The Front Street location has hosted many athletes after games at the ACC or Rogers Center. My personal favourite during the summer is the location at Dundas square. The patio is divine and the atmosphere because of all the students is always lively.
All of the locations have great patios for the summer time and have amazing caesar's for all of you Caesar lovers and its never-frozen chicken fingers are a must try.
http://www.jackastors.com
I know the majority of men enjoy watching sporting events in the comfort of their own homes if they aren't watching them live. I know this because I've taken polls several times and the answers are always "the clubhouse," "the mancave," or "my living room". I understand and appreciate this! (The answers always give me a good chuckle.) However, if you feel like getting catered to or a friend is pushing you to head out and watch the game at a local watering hole – I believe these are some pretty good suggestions that can give you that home-away-from-home feeling. Enjoy!
Cheers.