A REAL Sports Bar
Growing up as a child in the 80's there was nothing more I looked forward to than Thursday nights. Aside from it being homemade pizza night in my big Italian household, it was also my favorite night of television. NBC's classic Must See TV lineup – The Cosby Show, Family Ties, Cheers and (if I was good boy all week) Night Court – was something my family looked forward to watching together each and every week. While my parents were more interested in instilling the values that the Huxtable's and Keaton's tried to impress upon their viewership, I was completely in love with Cheers and the concept of an establishment where you could go and simply hang out. Here were a bunch of complete strangers standing beside a bar, having a few cocktails, shooting the breeze who suddenly became like family over the course of each visit to Sam Malone's bar. When I grew up, I wanted to hang out in a sports bar. I wanted to be Norm Petereson (although I'm probably more the know-it-all Cliff Claven type.) The atmosphere, the joking, the camaraderie – I was so excited to be a part of it all. This was the place to be. I still find it peculiar that a 10 year old boy would have aspirations as such but it certainly goes to prove the effect of television on young minds.
When my 19th birthday finally rolled around (ok, 17 ½ birthday – who didn't have fake ID?!?) my buddies and I hopped in my dad's 1986 baby blue Oldsmobile Cutlass Ciera and ventured off to our local neighborhood sports bar. I walked in fully expecting the entire bar to shout "Mike" and be greeted with a freshly poured cold one. What I discovered was the complete opposite. The joint was a dimly lit, smelly, smoky room with bad attitudes and sloppy drunks on bar stools. Additionally, they had a menu of terrible food (did you ever notice Cheers never served food?) room temperature beer and pushy waitresses. I was not impressed. My childhood dream of hanging out at a friendly place where everybody knew my name was derailed in a flash by this seedy booze can. Over the years my experience with sports bars has not improved. The status quo of a limited menu, cheap beer and a few large screens has come to be accepted as the standard in this city (even amongst some of the bigger chains.) Considering what a sports-mad city we are, I would think that by now we would be more accommodating to the need of the sports fan and provide some much needed variety. Is there really a distinct difference between Jack Astors, Kelsey's, St.Louis or Shoeless Joe's? I would argue not.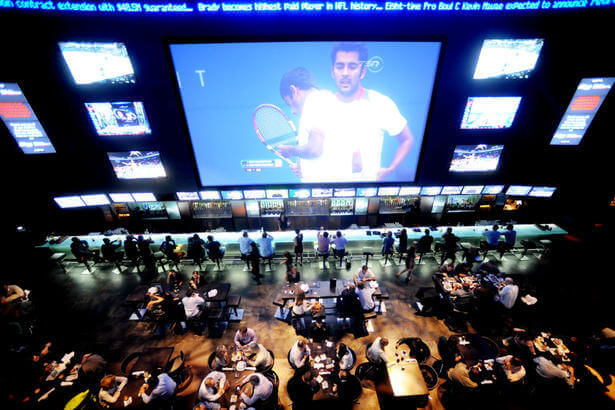 On a recent Friday night, a good friend of mine scored some sweet seats to a Raptors game and was nice enough to invite me as his guest. He suggested we grab a quick bite to eat before the game at a new sports bar that Maple Leaf Sports and Entertainment had opened adjacent to the Air Canada Centre. Great – just what we needed – another monotonous sports bar. Furthermore, considering the sad losing state of the Maple Leafs, Raptors and Toronto FC, what would lead me to believe that this organization was capable in fielding a winning restaurant?
The two of us walked into Real Sports Bar and were completely blown away. This is exactly the type of place I had dreamed of as that 10 year old boy watching Cheers. This place was insane – huge screens everywhere (199 screens to be exact including North America's largest HD movie theatre size screen,) upbeat atmosphere, smoking hot waitresses (they didn't resemble Carla Tortelli or Diane Chambers in the least but I more then welcomed the deviation from the Cheers experience in this case,) great tunes and the best part; people having a great time!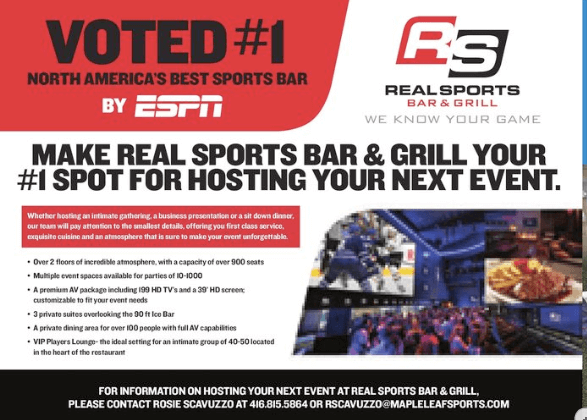 The experience went from good to better. Our server provided us with a huge list of draft beer to choose from. Even more impressive, each beer was served in a proper brand glass which is critical for taste (think Bier Market mentality.) The best part was yet to come. We opened our menus to discover a wide variety of unique and delicious looking choices that were unlike anything we've seen in Toronto's sports bar circuit. Appetizers such as Creamy Tomato Soup or Cheeseburger Spring Rolls could be complimented with a main of a Grilled Portobello Sandwich or Dark Braised Lamb Shank. And not to worry, classic favorites like Chicken Wings (with some outrageous and tantalized sauces) or Nachos were there for the taking. Have an even bigger appetite? Try the Hail Mary Challenge – 67 ounce Canadian AAA Grill Roast Ribeye with one pound of fries AND one pound of coleslaw. Finish it in under an hour and it's FREE (although you might be considered one of the most disgusting human beings ever to actually ingest all that food,) "whimp out" for $74.99 and of course, if you're a Habs or Sens fan you get a slight mark up to $149.99!
After draining one too many cold beers and devouring an amazing Filet Mignon Sandwich (ten out of ten!) we packed up and were ready to hit the game. Truthfully, we didn't want to leave. Each and every staff member was pleasant and said hello at each encounter, every game we wanted to see was playing on one of the TV's in the house, people were having a great time all around and the mood was just starting to pick up even more.
Thankfully, my confidence in sports bars has now been restored. Real Sports is an inviting establishment that puts the customer first and ensures that our culture of sports enthusiasts is correlated with the experience they have to offer at their restaurant. They get it! Although the place is huge, it has that Cheers feeling where walking in you feel like you want to be there. What more can you ask for? Oh – maybe just one thing – perhaps MLSE could try and put as much thought and care into delivering a great product like Real Sports Bar as they do in the awful Leafs, Raptors and Toronto FC. This city needs a championship!