17Steps
As I walked up to 17 Step's Bloor and Runnymede location I was not sure what to expect as I descended to its front door. The underground space was a lot larger than I would have thought. It was full of wood beams, blue and green colours, beautiful unique art work on the walls, delicious smells and lots of interesting design touches stand out.
Daniel Kanelos, the owner of the 3-year-old Mediterranean inspired restaurant greeted us when we arrived. We ordered a pint from the selection of local and European beers they had on tap and followed Daniel on a short tour of his place. He is very passionate about what he does, which shows in the love and effort he puts into the restaurant and food on a daily basis. Local artists are invited to display their art on a few walls for a chance to sell their pieces, 100% of the profit goes to the artist. Daniel tells us he loves being able to help out the local artists in his neighborhood.
There are several places to sit, but the one that stands out the most is the large chefs table for ten. A chef tasting dinner, uniquely created by the chef that day is hosted here twice a week by reservation only.
Daniel shares with us some great stories of his travels in Greece and how he acquired some of his amazing interior design touches while my date and I look over the menu. There are a few dishes that stand out; since it is a tapas style menu priced between $7 – 15, we ordered a few things to start us off.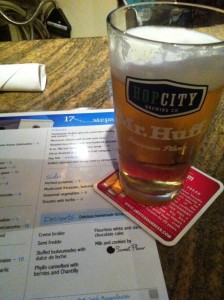 The branzino ceviche was refreshing and one of the items I knew I wanted to try as soon as I looked at the menu. It was full of citrus and had the right amount of cilantro, I was happy it didn't take over the dish. It was just fish which I enjoyed; there were no veggies or other filler in it.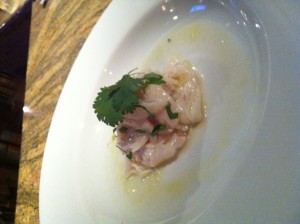 The house made chorizo was served with grilled peppers and onions; it was packed with a punch of spicy and salty flavors. We dug in and didn't come up for air until it was all done, I would order this again in a second.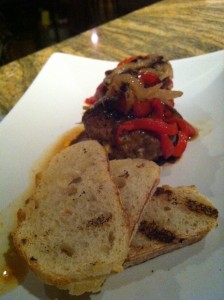 As soon as we both saw the lamb carpaccio on the menu – it was a sure thing. We had to have it. Thinly sliced lamb was served to us accompanied by fried capers, pecorino and arugula. It all went together very well – the lamb was subtle and squeezing a little lemon on top balanced the dish perfectly.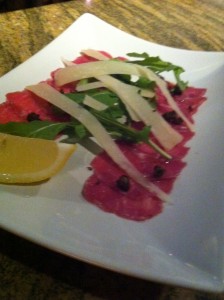 We took a small break and sipped on a nice red suggested by the server (who knew all of the wines very well) while we ordered our last few items to share.
The very large homemade gnocchi were like fluffy clouds of ricotta in my mouth (not that I know what clouds taste like, but you know what I mean). They were soft, light and covered in a super fresh simple tomato sauce – just like Nona would make!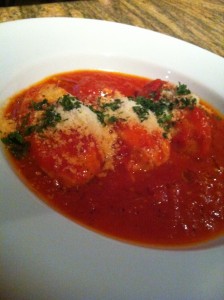 I am not a big sardine fan but went for it anyway – they were de-boned and stuffed with a roasted red pepper mixture. If you like the taste of sardines, you will like these.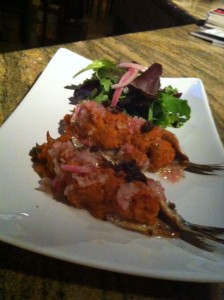 As you know French fries are my weakness, so as soon as I saw these paired with truffle and Gorgonzola, I had to have a bite. The fries were cut thicker (I prefer a smaller cut, they get crispier that way) and topped with chucks of the cheese, which got nice and melty on top of the warm fries – the combination was great!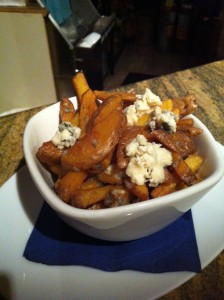 The menu at 17 Steps changes here and there based on what the chef can get his hands on, which makes it an ideal place to drop into on a regular basis for drinks and great food whenever you feel like it.
Call for reservations and specials
17 Steps – Restaurant and Bar
647-349-2341 

2241A – Bloor Street West, Toronto, ON M6S1N7 
* Located southwest of Runnymede and Bloor Street Intersection near Runnymede TTC Subway.

About Erin Scheel
Food Lover • Blog Girl • Recipe Rebel! My name is Erin and I am in a constant search for a full belly. I have lived in Toronto most of my life and have been enamored with the city's food culture and fascinated by the culinary possibilities this city has to offer on a daily basis. I'm really into cooking, vintage clothes, chocolate milk, craft beer, french fries, leftovers and then working it all off at the gym! Read it and eat it here: www.erinlovesfood.com, Twitter: @erinlovessfood, Instagram: erindotcom