Top 5 Pizza Slices in Toronto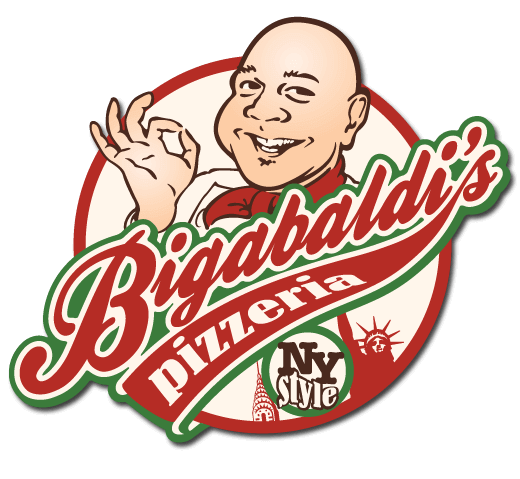 In the recent past, it seems Toronto has become battleground central for designer pizza wars. Between Terroni, Libretto and Queen Margherita Pizza all claiming to have the best pie in town, it's been a constant onslaught of online debate and forum as to who makes the best and most authentic pizza. While I've enjoyed eating at all three and find them equally as good – QMP a little better admittedly – I've been forced to ask myself a simple question as I've waited for close to two hours in some of the line-ups out these restaurant's doors: When did pizza become so chic?
I have an absolute fascination with pizza. Like Vince Vaughan said in Wedding Crashers: "it's like pizza – it's doesn't matter if it's bad or good because in the end it's still pizza". Personally, I don't care if it's a civilized pizza from one of the prissy joints above or a dirty 3 AM drunken slice from Commisso Brothers because it's still all delicious. If my waistline approved, I would have pizza from breakfast, lunch, dinner and all snacks in between. I've been to Italy more times than I can remember and have trouble remembering some of my relatives names but have no problems telling you the names of the best pizza in Sicily, Rome or San Remo.
When first introduced into North America during the influx of immigration in the mid-1900's, pizza took on a different form. Gone were the sit-down style thin crusts as shops began serving a larger and thicker style form to be eaten quickly and be transportable. The pizza slice was born! New ingredients were introduced and styles varied depending on the city. New York City has long been known as the pizza slice capital of the world but Toronto doesn't seem too far off. With our large first generation Italian population combined with our city's love of eating out, it's not surprising that we produce so many good slices.
As I tend to eat way too many slices, I've decided to offer my top 5 slices in this town. Enjoy!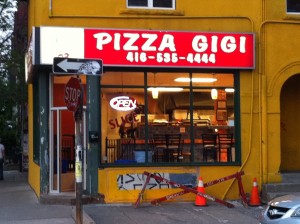 5 – Pizza Gigi (189 Harbord Street, Toronto)
This would have been near the top of my list if it weren't for all the heroin and crack being peddled out the back door. Their slices are legendary – beautifully delicious crust and just the right amount of cheese. You always get your slices perfectly cooked and so many good combination of toppings. At a certain point though, your moral code has to take over and you can't support a place that enables so many junkies lying out on our streets.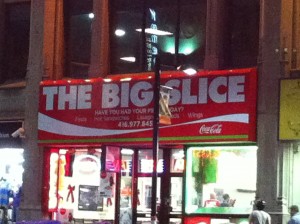 4 – The Big Slice (385 Yonge Street, Toronto)
http://www.thebigslicepizza.com/
The largest slice of the bunch but most resembles a New York slice. You only need one slice to satisfy any craving and you're most likely to have one at 3am. While not a big fan of fruit on pizza, I have to admit their Hawaiian is my favorite here. The ham is diced perfectly and covers the entire slice. Additionally, I've never been a huge proponent of dipping sauces with my slice but the crust here warrants a sauce as easily the best part of this experience is putting those last few mounds of goodness into some ranch dip.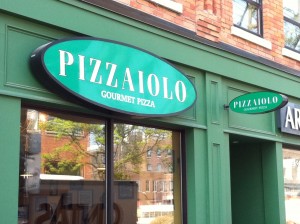 3 – Pizzailio (Various Locations)
http://www.pizzaiolo.ca/
Let's make something clear: Pizza Pizza, Pizza Nova, Pizzaville and all other chains in this city make some disgusting pizza. While I'll certainly eat this seemingly cardboard pizza, I have to exclude all the big boys off my list with the exception of Pizzaolio. These places are popping up all over the city and I couldn't be happier.
While not my top establishment, they make my favorite slice in the world: The Soprano (Sopressata, Sundried Tomatoes, Gorgonzola, Mozzarella and Sauce). Seriously, I could wipe my entire body down in this slice if it were socially acceptable. The saltiest thing you'll ever eat in your life – a 2-litre bottle of water is mandatory immediately after – but also one of the best.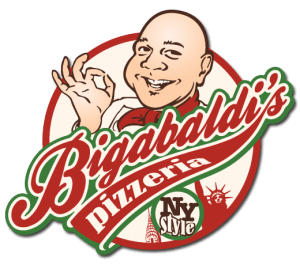 2 – Bigabaldi's (1 Romar Crescent, North York)
http://www.bigabaldis.com/
My new favorite place in the city. This hole-in-the-wall joint opened up near my dad's house in the northwest end of the city at Marlee and Lawrence. Their slices are huge and their toppings so fresh. Gourmet ingredients highlight the menu but their ability to experiment with classics seemingly bring me in there two to three times a week. The owner has been a staple on the Toronto food scene for years and it shows in the products he delivers. While not pizza, his fried dough knots served with marinara sauce might just make you reconsider your existence on earth. Sooo good!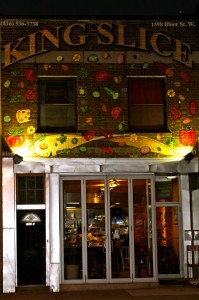 1A – King Slice (1598 Bloor Street West, Toronto)
http://www.kingslice.ca
I have to admit – I was absolutely secure in my choice for a Top 5 when I submitted this article for posting. I then got a suggestion from @MissNatashaJ to check out King Slice. I had heard whispers about King Slice from a few folks in passing but have never had the desire to check it out because of it's non-central location. As luck would have it, I was in the area over the weekend and decided to give it a shot. Boy, was I ever glad I did. This place had everything I want in a slice – big slices (and when I mean big, I mean unreal bigger-than-my-skull big), fresh toppings and an amazing variety of choices. I was ambitious and ordered two slices and quickly realized I needed to take one of them home to finish later. The best part was the tomato sauce – amazingly sweet and tasty. It's quickly leaped to a respected 1A and would have taken over 1 if not for the location. Maybe I should move just to be closer to it – doesn't sound too unreasonable.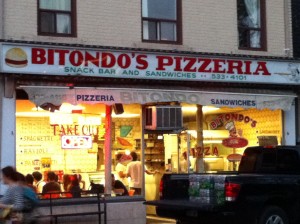 1 – Bitondo's (11 Clinton Street Toronto)
If you haven't tried it, TRY IT! It's at the top of this list for a reason. Get there. Now.