TRX Training at In-Body Training
If you stay on the fitness carousel long enough, you're bound to hear about TRX training: a suspension workout that leverages your bodyweight and gravity to perform a multitude of exercises. Olympians, the U.S. Military and Navy Seals use this training system. So, naturally I am ready for the challenge
At 4pm I arrive for my TRX session with Joyce of "In Body Training." Joyce is warm and her presence would disarm even the most apprehensive client. I begin to survey the chic New York style exposed brick studio. The deep chestnut wooden floors, fireplace, mirror and bright windows make me feel like I have stepped into a room from House and Home magazine. Lounge music fills the air and I see the bee-striped TRX cables innocuously hanging from the ceiling beam with a piano in the distance. Who wouldn't want to train in this studio day and night? And frankly what woman wouldn't want to look like Joyce, a former gymnast, with her petite and toned body like Laura Croft in Tomb Raider.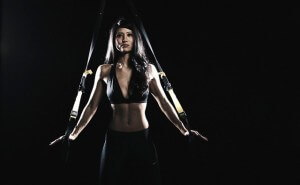 Critics of TRX argue that unless you are fit to begin with you will not have the pre-existing strength to stabilize your body through a TRX workout. Joyce however, breaks down the movements on a mat building up your strength, stability and awareness before even introducing the TRX. We begin with a Pilates warm up on a foam roller finding deep core muscles for balance and stability. Gradually she guides me into variations with arms or legs off the floor, followed by forearm planks and spinal twists. Joyce gives clear instruction on what is needed for the TRX work ahead and provides the necessary tools for safety and success
Sipping water I watch Joyce fluidly demonstrate a squat holding onto the cables. I immediately notice the functional hand grips that take wrist pain out of the equation. Moving through split squats with my foot in the stirrup and side lunges my weaknesses from right to left become visible. Joyce notes that identifying imbalances in the body is one of the benefits of TRX. I simulate a push up with my body on an incline and nose facing the floor. The 3-D full range body movement feels amazing through my shoulders and my core is on over drive stabilizing in every maneuver.
Joyce's keen eye watches for the precision in each of my movements and she challenges me appropriately. She explains, "The steeper the body angle and the further away you are from the TRX anchor the more difficult the exercise becomes." My heart rate is elevated as she alternates the tempo of "knee tucks" where I place my feet in stirrups to suspend them off the ground, then draw my knees in and out supported on my hands. I imagine James Bond, Elektra and Jason Bourne performing this workout; action heros who are shredded but have never lifted a weight.
There are few criteria I demand of any physical activity I weave into my life:
Equipment requirement must be little to none. I need to be able to travel with it e.g. yoga mat, rock climbing shoes, or in this case TRX cables. Functional fitness is key. Like most people I just want to be fit, look fab and have fun. It has to be a total body workout. Gone are the days of calling chest and back a full body workout. In this fast paced world we need to be able to do a workout in under an hour and feel satisfied from back to front and head to toe.
TRX meets all of these requirements plus with hundreds of variations I will not be bored anytime soon.
"Exercise doesn't have to be about what you are losing. It should look at what we are gaining," Joyce explains with bright eyes and smile that says she is a living example of this very notion. How much did I love this workout? Well, I have asked "Santa" for a TRX and more sessions with In-Body Training.
For more information about Joyce and In-Body Training visit: www.inbodytraining.com
Author: Natalya, www.natalyayogapilates.com

About Natalya Sebastian
Natalya is a fitness and health devotee with her hand on the pulse of what's innovating in Toronto's fitness community. She's been teaching Pilates and Yoga for over a decade, is a former professional contemporary dancer, freelance writer, Mother and lover of life. Notable fitness career highlights include working with Athletes, guest appearances on ET Canada, contributions to Canadian Living, Tonic Magazine and leading Pilates and Yoga classes all over the GTA. What can you expect from her biweekly column? An educated fitness professional's scoop on any given workout. Catch Natalya reviewing everything from a rock climbing gym to a Jiu-jitsu class, spinning, parkour, barre classes, yoga for the hardcore, yoga for the newbies and so much more. Have a fitness question? Need information on a workout method, style or training? Email Natalya at: info@pilatesbodyworkout.com or visit her website at http://www.pilatesbodyworkout.com & sister-site: http://www.pilatesmommyworkout.com