W Burger Bar
On one sunny Friday evening a friend and I made our way down College Street looking for something delicious to have for dinner and maybe a few cocktails too. We happened to notice W Burger Bar and decided it was just the thing we were looking for on this particular evening.
After being greeted kindly we were seated at a small booth within the bustling upscale burger joint. We started off with a couple of martinis; the Pink Grapefruit (Smirnoff vodka, triple sec, grapefruit juice and grenadine,) along with the Blueberry (Smirnoff blueberry vodka, triple sec and lime juice.) The Pink Grapefruit was simply adorable to look at, pretty and pink– refreshing and quite enjoyable if your in the mood for something with a kick. The Blueberry I found needed a hint more blueberry flavor, but the lime taste really came through nicely.
I took a look over the cocktail menu and noticed it offered a lot of great deals for shots and other drinks. A whole list of $2 and $3 shots, along with $9.99 shots of Patron Silver, $6.99 Jager-bombs, $9.99 martinis, and $9.99-$11.99 pitchers of beer. Very cool!
Looking around the establishment I noticed people of all ages– a mix of the after-work crowd, students, large groups of friends, and couples. No matter who you are, you're almost guaranteed to fit right in at W Burger Bar.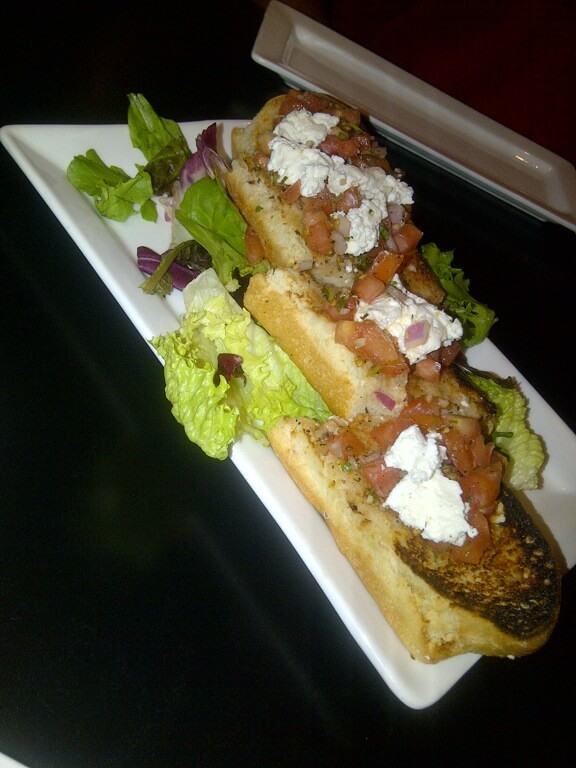 As a starter we had the Bruschetta ($5.99) which was piled high with fresh tomatoes and tons of goat cheese. The bread was so fresh tasting and is baked in house twice a day. The bread could have been slightly toastier, but the freshness it brought to the dish had me not minding so much. The topping was bright and delicious, and the fact there was lot of cheese is always a good thing in my books!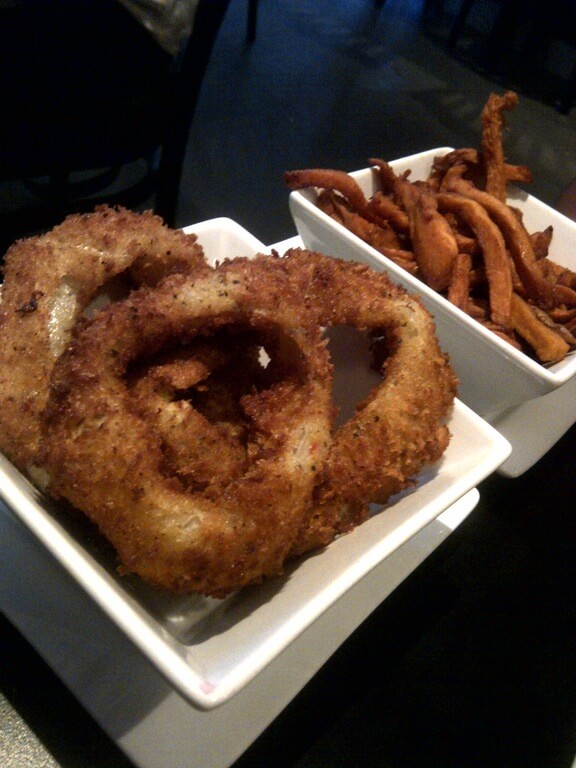 Next up was our entrees; a heaping serving of both fresh baked in house panko-breaded onion rings ($3.99) and sweet potato french fries ($3.99) served along side two delicious dips. And the star of the show– the Slider Sampler ($17.99) combining six of W Burger Bar's best burgers in slider version– turkey, beef, kobe, pulled pork, lamb and bison! Oh my! I simply could not wait to dive in and sample each and every single one of the marvellous looking little creations.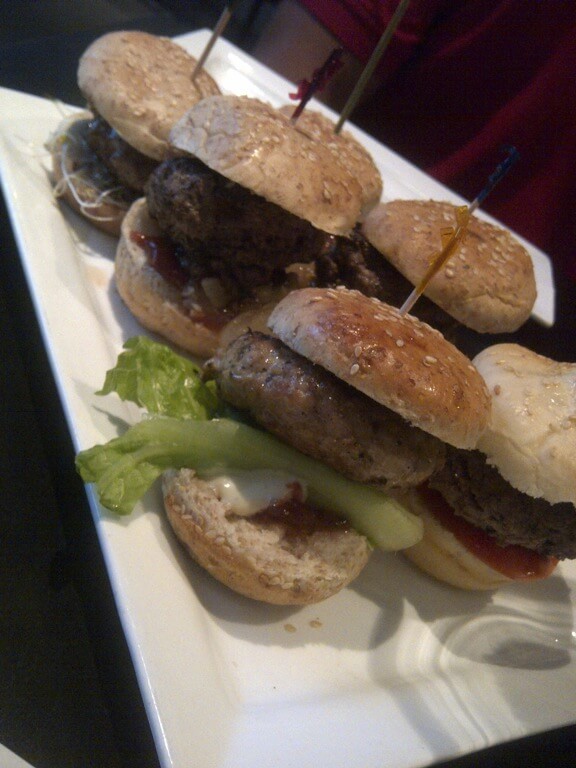 So let me tell you just what I thought:
First off the traditional organic, antibiotic/hormone free, Canadian grown beef burger– excellent texture, very straight forward. Simply delicious and juicy.
Second was the Kobe– tasty as expected, but the blue cheese topping over powered the taste of the kobe slightly and I truly found more enjoyment in the beef burger over the kobe.

The third burger I tried was the pulled pork as it had been staring me in the eyes ever since the platter was set before me and I couldn't wait another moment to dive in. And let me tell you– if you are looking for a burger type dish, but something a little less traditional, this is a must-try! A little bit of bbq-deliciousness! The meat was tender, and the sauce was smoky.
Forth on the hit list was the lamb. It was done to perfection, cooked to medium with a hint of pink, very juicy and flavorful. If you are a lamb lover, you will absolutely love W Burger Bar's take on a lamb burger.
The turkey burger was fifth to be tasted. VERY flavorful, and prepared with a great combination of spices. I personally love turkey burgers and this burger had a lot to live up to as I have tried my share of turkey burgers, but it definitely stood tall in my eyes. A must-try!
Last but definitely NOT least was the bison burger which was the one I was most excited for as my love affair with bison has been going strong. YUM! I loved the combination of dijon mustard with the taste of the bison. This was by far my favourite of the evening.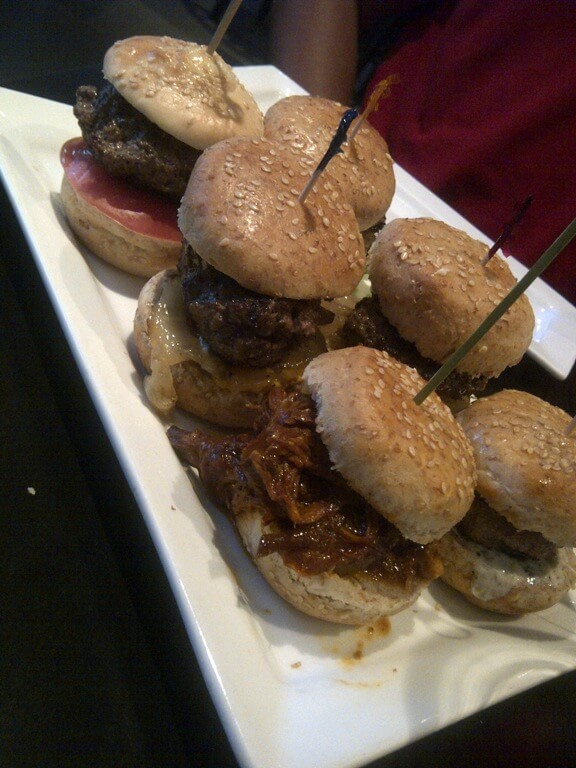 I must add that NONE of the burgers we tasted were greasy at all, and were very guilt-free. Rest assured these are not your typical greasy, fast food hamburgers, but are more healthy-feeling with a gourmet taste and look. This also applies to the the onion rings and fries. Tasty, crispy, delicious and not at all greasy.
Over the course of the evening I had the pleasure of meeting the owner, Sean Woolf. Coming from a hospitality background, W Burger Bar is Sean's very first restaurant. He explained to me that all the ingredients used are fresh and local. When I hear that a restaurant supports local produce I always get a happy feeling inside.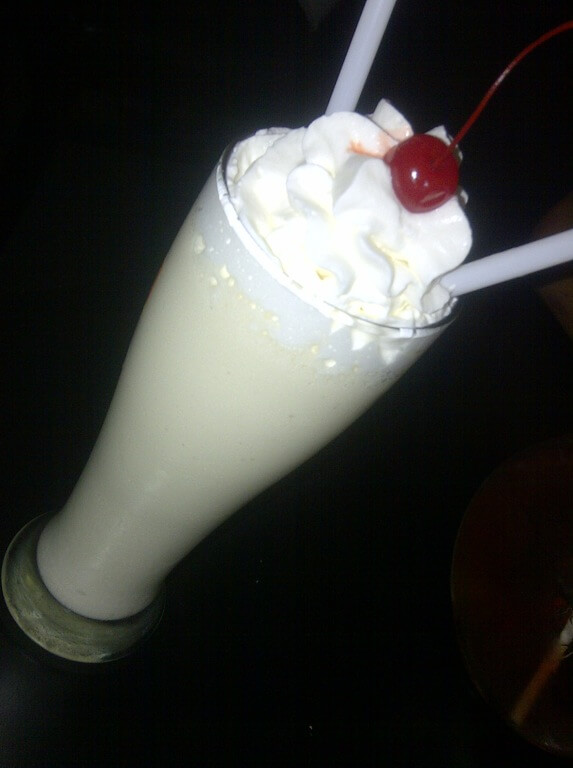 To finish off our evening we would try something very unique on W Burger Bar's menu, and something I personally had never tried before– a spiked milkshake and a fish bowl.
The spiked milkshake we opted to try was the Spiked Russian (Kahlua, Smirnoff vanilla vodka, white creme de cacao and vanilla ice cream, $9.99.) I wasn't quite sure what to expect but when I tasted it I immediately thought that this was the perfect combo of two of my favourite things– dessert and booze! Sort of a 'liquid dessert' if you will. However I must say that I couldn't really taste the alcohol, but for a beverage like this I don't think i would want to. It was sweet, creamy and ohhhhh sooo yummy! Everything you would want a milkshake to be, with the delightful addition of 2 ounces of alcohol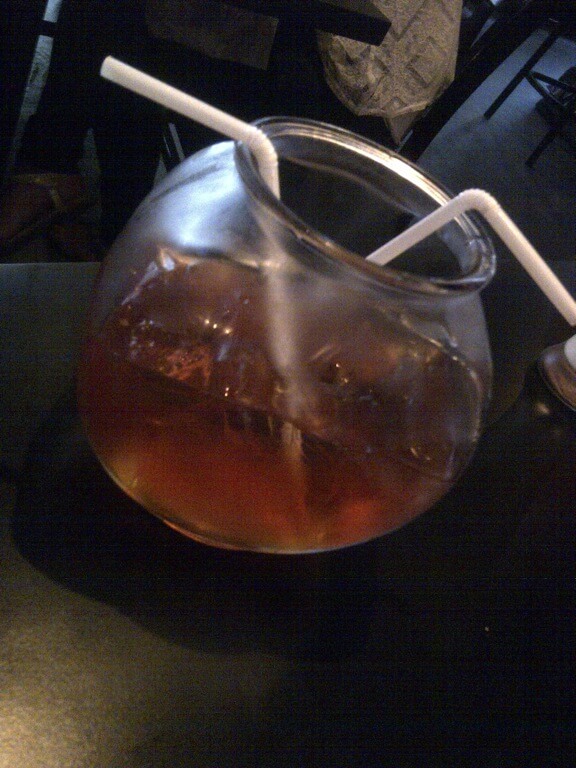 The fish bowl we tried was the Watermelon Wave (2oz Smirnoff vodka, melon liqueur, topped with soda and a splash of lime & cranberry juice, $9.99,) and let me tell you, I could have sipped the entire thing to myself it was so good. Refreshing, fruity and served in a cute little fish bowl. A perfect drink to cool off for Summer.
What a lovely evening at W Burger Bar. Great service, along side delicious cuisine and drinks in an intimate, bustling environment. If you are in the mood for a healthy, grease-free alternative to your typical 'fast food' burger, and some cheap drinks, then I suggest you wait no longer to try out W Burger Bar. I promise you won't regret it!
W Burger Bar:
10 College Street.
Toronto Ontario, Canada.
Phone (416) 961-2227
Email:info@wburgerbar.com
www.WBurgerBar.com